By Amy Castor and David Gerard
DS: Do you recall ever saying "I did all the crimes and not Caroline"?
SBF: I think the question you're trying to ask is, "Is Caroline Ellison a margin trade?" And I would argue that she could be, under some circumstances.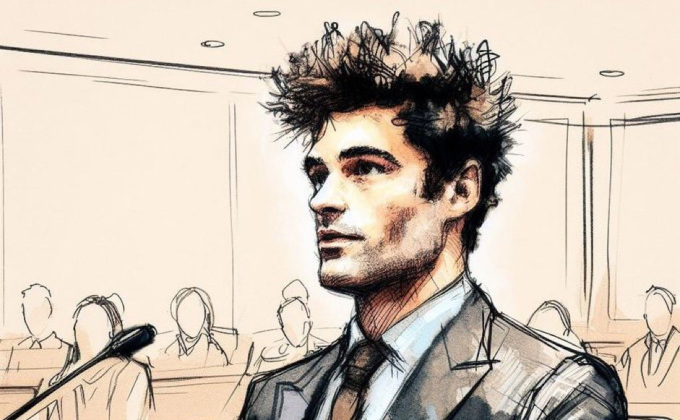 AI-enhanced courtroom sketch of Sam Bankman-Durden, as supplied by the defense.[citation needed]
Sam's trial: closing arguments
Sam Bankman-Fried did indeed take the stand at his criminal trial — a very bad idea. As we predicted last week, the prosecution went in for the kill.
The prosecutors "beat him like a piñata," wrote Verge reporter Elizabeth Lopatto. She describes how US Assistant Attorney Daniella Sassoon, who appeared deceptively timid, "simply unhinged her jaw and ate Bankman-Fried." [Verge]
The question in a complex financial trial like this is: how will the jury respond? Not so well. Lopatto watched "jurors shake their heads, frown so hard their lips disappeared, and make prolonged eye contact with each other." As the day wore on, she "saw the mood in the jury box darken. At least three jurors were visibly fed up with Bankman-Fried's 'don't recall' followed by the exact statement he'd been asked about." [Verge]
Both sides gave their closing arguments on Wednesday. Prosecutors argued that Sam is a liar who built a "pyramid of deceit" to grab the money. Sam's lawyers tried to paint him as a misunderstood wayward nerd who got in above his head.
If Sam is found guilty, Judge Lewis A. Kaplan will determine sentencing per guidelines. The guidelines for fraud include dollar amounts. Crypto valuations at mark-to-market are so large that Sam would almost certainly get maximum sentences.
David will be writing an in-depth review of Michael Lewis' appalling FTX book Going Infinite, so stay tuned for that. By far the best character is FTX CEO in bankruptcy John Jay Ray. He had Sam's number from the start, and gave Sam all the attention he deserved — which was none. "I looked at his picture and thought, There's something wrong going on with him."
UPDATE: The jury has reached their verdict: GUILTY. ON ALL CHARGES. Seven charges in five hours of deliberation — just long enough to get dinner. A trial on the charges that weren't in this trial is currently scheduled for March 11, 2024. Sentencing will be March 28, 2024. [Twitter, archive; Twitter, archive]
Deputy: Count 4? Guilty.
Count 5: Guilty
Count 6: Guilty.
Count 7: Guilty.
Deputy: Thank you.
Judge Kaplan: There's another question, Andy.
Deputy: Either or both?
Both.

— Inner City Press (@innercitypress) November 2, 2023
FTX sues Bankman and Fried
It finally happened. Ray has sued Sam's parents, Joseph Bankman and Barbara Fried, on behalf of FTX. How will they pay their son's legal fees now? [Complaint, PDF]
This is Ray at his best. He completely exposes Sam's parents for who they are. It's clear they were deeply involved with FTX at every level. They were supposed to be the adults in the room, but it turns out they were seduced by the money too.
Pavel Pogodin, 1971–2022
One thing we noticed: Ray's suit against Sam's parents mentions an "Attorney-1" who is now deceased. This would be Pavel Pogodin, who was bringing all those class actions against crypto exchanges and companies a few years ago. Ray didn't note that Pogodin was deceased in his June 2023 suit against FTX lawyer Daniel Friedberg, so it looks like he only just found out too.
Pogodin died of heart failure in the Dominican Republic on July 8, 2022. He was 50. His business, Consensus Law, was based in Puerto Rico. [Nevada, #37, archive; death certificate]
Fattening the pig
We talked before about a fourth 2023 bank failure — Heartland Tri-State Bank of Elkhart, Kansas became insolvent to the tune of $54 million, due to a "huge scam," and was closed by the Kansas State Bank Commissioner on July 28. [FDIC press release]
Precisely what happened was a mystery at the time. You'll be as unsurprised as we were to find it was crypto.
On July 5, Heartland CEO Shan Hanes asked a customer to loan him $12 million. Shan had some money in crypto — or, it turned out, the bank's money. But the money was stuck, and $12 million would surely unstick it.
The customer declined to help — "he told Hanes it sounded like a crypto scam." The customer then relayed the bizarre conversation to a board member. Hanes lost his job, and the bank went under.
Lots of details are still missing, but Hanes apparently got caught up in a pig butchering scam — where the victim is led to put in more and more money to get existing funds out. Literally a bank CEO fell for this. We're looking forward to the full FDIC report. [Bloomberg, archive]
Tether, my old friend
Tether is making loans it doesn't need to again — printing unbacked tethers and accounting them in the reserve as "loans," as revealed in the 2021 CFTC settlement.
Interest rates are high, so Tether could make plenty just on short-term treasuries … if they have the billions of US dollars they say they do.
Matt Levine notes that "there is no financial reason for Tether to want these loans. Everyone involved in Tether can get dynastically wealthy and live an easy life by putting all the money in Treasury bills." [Bloomberg, archive]
So why the loans? If we had suspicious minds, we'd think all the tethers being deployed recently were being used to pump the price of bitcoin — very easy when trading is as thin as it is lately.
Tether says the loans are "secured" — though not what with or how much of it. [WSJ, archive]
Temperature drop
It's been nearly one and a half years since Celsius Network froze withdrawals in June 2022, and customers are still waiting and hoping to get some of their money back.
If the bankruptcy plan supported by creditors is approved, Celsius will be reborn as a crypto mining company — a Hail Mary pass that only works if number goes up. Celsius will distribute $2.03 billion in ETH and BTC, as partial repayment, and stock in the new company.
This "NewCo" will be seeded with $450 million — a ridiculous amount for an unprofitable business. We wrote earlier how crypto miner Riot makes most of its money from not mining bitcoin.
Customers would also have a stake in litigation against Alex Mashinsky and other former executives who have been charged with fraud by federal prosecutors.
The SEC is not happy. They consider parts of the plan supplement are "inconsistent and raise concerns under the federal securities laws" — specifically, that Coinbase would be too much of a broker and master trading service, one of the things the SEC is suing Coinbase over. They're also concerned that the CEL token is too much like a security. [Doc 3522, PDF]
Judge Martin Glenn is asking the SEC to hurry up and issue a decision. He is weighing approving the plan so creditors can start getting back a portion of their money — that remaining $2.03 billion [Bloomberg, archive]
If the SEC refuses to approve the plan — which we think is highly likely — Celsius will simply move to liquidation. As they should have long ago, and saved a fortune in lawyers' fees.
These were the voyages
The Federal Trade Commission has fined Voyager Digital's corpse $1.65 billion for the company lying its ass off to customers that it was FDIC-insured back in the day. The FTC also charged Voyager CEO Stephen Ehrlich and his wife Francine over the lies about FDIC insurance. Voyager has settled the charges, and the fine will be suspended, so Voyager can return the money to creditors — but the Ehrlich charges have not been suspended. [FTC]
The CFTC is charging Ehrlich with fraud and failure to register. [CFTC press release; CFTC complaint, PDF]
The Voyager liquidation plan was filed on May 27. It's been six months and four hundred court filings since then — so there's no news, but it's very finely detailed no news. Presumably, customers will eventually get at least a few pennies on the dollar. One day. [Liquidation procedure, PDF; case docket]
The proper regulator for crypto is the Justice Department
SafeMoon was a Ponzi box crypto token whose pitch was that it was safe and would go to the moon! If you sold your SafeMoon, the system would tax you a percentage of the sale, which would go into a locked liquidity pool. This incentivized hodling.
Anyway, the developer-promoters stole the liquidity pool funds and spent them on living it up.
Two SafeMoon executives, John Karony ("CPT HODL T MUN") and Thomas Smith, have been arrested. A third, Kyle Nagy, remains at large. The DOJ has charged the trio with money laundering, saying they used $200 million in customer money to buy real estate and custom sports cars. The SEC has filed civil charges for fraud and offering unregistered securities. [SEC press release; complaint, PDF; Justice Department; indictment, PDF]
Hong Kong is cracking down on crypto exchanges following a series of arrests linked to the JPEX exchange. JPEX, which launched in 2020, was a high-profile platform in Hong Kong, plastering its logo all over train stations. JPEX is accused of defrauding 2,400 people of USD$182 million. This comes just as Hong Kong was looking at how to encourage crypto a bit more. Whoops. [SCMP; Protos]
ASIC has sued Bit Trade, Kraken's Australian affiliate, over its margin trading product — the margin facility constituted a credit product and Bit Trade didn't do a market determination first. ASIC first warned Bit Trade about selling this product in June 2022. The first hearing in the present action was on October 12, 2023. [ASIC; Amended Concise Statement, PDF; Capital Brief, paywalled]
Regulatory clarity for the UK
In the UK, the Financial Conduct Authority has warned crypto firms of jail time if they don't comply with the new financial promotion rules that took effect as of October 8. [FCA letter, PDF; Protos]
The UK government's crypto enthusiasts previously pressured the FCA to let (unnamed) crypto firms into the British market — "some of which are now under criminal investigation by the US Department of Justice." The FCA sensibly did not let these grifters in. [Guardian, archive]
The FCA has issued a warning about the Bitfinex crypto exchange: "This firm may be promoting financial services or products without our permission. You should avoid dealing with this firm." Bitfinex is most put out after all its "detailed discussions with the FCA" — which apparently didn't end in Bitfinex not doing the problematic things. [FCA; Bitfinex blog]
Binance has finally stopped accepting new UK customers. So that's nice. [FT, archive]
The Morgan Stanley era of Twitter
Twitter was the town square of crypto. You could find the latest news and engage with all sorts of people who understood and followed the space. As well as the bots, spammers, and idiots, of course.
But Twitter is going down the toilet. Engagement numbers are through the floor. (We're seeing this ourselves.) The site is all but unusable without Blue Blocker, which automatically hides and blocks the paying Twitter Blue subscribers — too many of whom are bots, spammers, and idiots.
What's left of crypto Twitter is drowning in more spam than ever before.
Twitter's new founder Elon Musk and ablative CEO Linda Yaccarino insist that everything is going great, with excellent numbers and tons of money. But these claims don't match what everyone else sees, or the incredibly low-rent advertisers the site gets these days. Visa Corporation's ad spend on Twitter dropped from $77,500 in Q3 2022 to just $10.00 — that's ten dollars — in Q3 2023. [Media Matters]
Yaccarino is pitching a plan to X Corp's bankers to get Twitter back into the black by making the site not an advertiser-repellent toxic waste dump. [FT, archive]
Implicit in that plan is that the bankers foreclose on X Corp, dump Musk, and keep Yaccarino.
We don't know if Yaccarino is smart or convincing enough to pull this off. She had a disastrous conference interview at Code 2023 in late September. But it's the obvious and sensible plan. [Verge]
Yaccarino is talking up subscription income, but that's also dependent on the non-toxic-waste angle. Twitter is just not making the money it needs from the blue-check conspiracy theorists.
Yaccarino is a proud MAGA Republican. But we presume she can also understand the need to court the center — because that's where the money is.
If far-right free-speech social media sites were what advertisers wanted, Parler would be a new tech giant — and not dead. Go fash, lose cash.
Good news for bitcoin
PayPal's 10-Q filing with the SEC for the third quarter of 2023 includes this line:
On November 1, 2023, we received a subpoena from the U.S. SEC Division of Enforcement relating to PayPal USD stablecoin. The subpoena requests the production of documents. We are cooperating with the SEC in connection with this request.
If you've seen crypto press stories detailing how the sky is falling and this action is gross regulatory overreach, keep in mind that the text above is the entire information we have so far. [10-Q]
Zhu Su of Three Arrows Capital, who crashed in June 2022 and took a huge chunk of crypto with them, was jailed in Singapore for four months on a contempt complaint from 3AC liquidators Teneo — who had obtained a Singapore court order for Zhu to cooperate in recovering creditor assets. Teneo wants Kyle Davies from 3AC too. [Business Times]
Crypto mining rig manufacturer Bitmain is having a hard time. It's stopped all employee bonuses and cut base salaries by 50%. [CoinTelegraph]
Enterprise blockchain is not doing so hot. R3 is firing 20% of staff. There are lots of pilot programs out there, including ones that the press and promoters furiously insist are totally doing serious business — but somehow nobody much ever seems to deal with any of these in real finance. [Bloomberg, archive; R3]
Media stardom
Amy is quoted in El Mundo talking about NFTs. [El Mundo, in Spanish, archive]
Your subscriptions keep this site going. Sign up today!