"It can't be that stupid. You must be explaining it wrong." Brilliant. Thank you for the supreme stickers, @davidgerard! If you've found David's articles as helpful as I have, support him on Patreon so that he can continue to write more: https://t.co/CXW0LLf6Pg pic.twitter.com/HWPsjAlLzd

— Jack Lowe (@MrJackLowe) March 8, 2022
I hate the guts of Shakin' Stevens for what he has done
I noted in Foreign Policy last week that Russia couldn't use crypto to get around sanctions. They'd need huge cash transactions, on the order of hundreds of millions of dollars — and there just weren't that many actual dollars in the crypto trading system. But I thought sanctioned individuals could maybe get a few millions in cash out, if they did it carefully.
So sanctioned Russian crypto holders are showing the calm restraint we've come to expect from crypto bros — they're in Dubai trying to liquidate billions of dollars' alleged value of bitcoins, in single lumps. From Reuters:
One crypto firm has received lots of queries in the past 10 days from Swiss brokers asking to liquidate billions of dollars of bitcoin because their clients are afraid Switzerland will freeze their assets, one executive said, adding that none of the requests had been for less than $2 billion.
Good luck with that. Perhaps they can dump their hodling over-the-counter, at a swingeing discount. [Financial Post]
Ethereum mixer Tornado Cash — which is run by known and touchable individuals — says it won't implement sanctions on Russia, and it doesn't have to, because it's an anonymiser. I'm sure that's definitely the one weird trick that will completely fox everyone involved in policing international sanctions. [Bloomberg]
After dragging their feet as absolutely long as they could get away with it, Coinbase finally blocked 25,000 blockchain addresses linked to sanctioned Russian users — both known addresses of sanctioned individuals, and addresses that blockchain analytics suggest are linked to the sanctioned individuals. Coinbase says this is 0.2% of their 11.4 million active monthly user base. [Bloomberg]
English scheme
Good news for Bitcoin in the UK — the Financial Conduct Authority has told crypto ATM operators to shut all their machines down, or face enforcement action.
Coin ATM Radar shows 81 machines operating in the UK, or one for every 750,000 people — further proof that we're still early. There are eight companies operating the machines — none of whom are licensed by the FCA to do so.
One such company, Gidiplus, recently lost an appeal they brought against the FCA. Gidiplus Bitcoin ATMs were one-way — they only sold bitcoins for cash, Gidiplus didn't buy bitcoins from customers.
The FCA refused Gidiplus' application on the basis that neither Gidiplus nor its owner, Olumide Osunkoya, could be trusted to comply with money-laundering rules, given his admitted history of lying to banks about his business:
In an interview he gave to the police in 2018 who were investigating possible money laundering breaches, he misled three banks as to the true nature of Gidiplus's business. He acknowledged that he had deliberately not informed the first two banks that Gidiplus was a CATM [crypto ATM] business on the basis that, if he had done so, the accounts would have been shut down immediately.
The tribunal rejected the appeal. [FCA; Daily Telegraph; tribunal decision, PDF]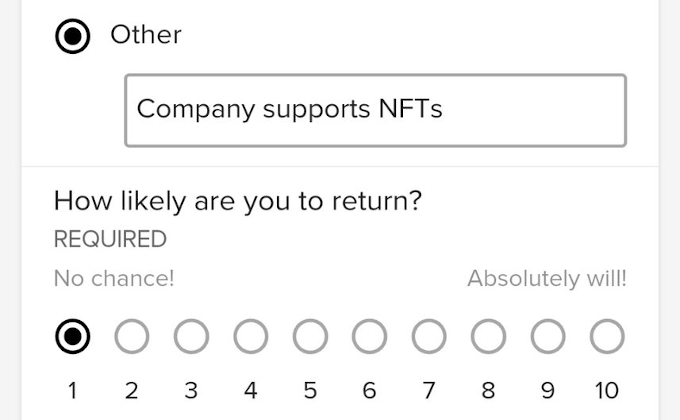 Monkey laundering
Underwear subscription service MeUndies tweeted a Bored Ape on 27 January, with plans to print Bored Apes on underpants. After the sort of customer backlash that always follows plans to go NFT, the company has reversed the decision. [Twitter; Reddit]
Molly White of Web 3 Is Going Great notes that the Bored Ape that MeUndies tweeted, BAYC #3986, "has been repeatedly listed for sale every few days since. Why would they keep trying to resell if they were planning to use it for a line of products?" Replies speculate that MeUndies discovered too late that the NFT market is fake and secondary sales pretty much don't exist; that they were reluctant to take a loss, but couldn't make a sale before they had to announce they were dropping the NFT plan. [Twitter]
In the early 2000s, LimeWire was one of the most popular MP3 download sharing networks. The name "LimeWire" is relaunching as an NFT marketplace. From DRM-free music to music-free DRM. [CNBC]
Molly White did a talk to Stanford students about user generated content on the blockchain, immutability, and how to deal with abusive users. [YouTube]
Mere pseud mag ed
What does the Associated Press expect from its NFT programme? To put its entire archive of text and pictures behind impregnable DRM. Copying AP images should not be possible, and independent non-AP archive sites should not be possible.
Dwayne Desaulniers, the executive in charge of the NFT project, seems to have been told that this level of DRM is a thing that can be done. It's not a thing that can be done. "gack! from our industry's perspective, the internet has deeply dreadful shortcomings." I bet it does. [Twitter; Twitter]
The Associated Press launched its NFT programme with a photo of an overcrowded rubber refugee boat off the north coast of Libya. After universal backlash, the AP deleted the image, calling it "a poor choice of imagery for an NFT." [Guardian]
If someone from the Associated Press ever asks to take a photo of you, get a guarantee in writing that it will not be turned into an NFT, listing enforceable financial penalties should they do so.
Kicker conspiracy
English Premier League team Manchester City has a new sponsorship deal, with crypto exchange OKX! (Formerly known as OKex.) There is the minor detail that the advertisements originally offered crypto derivatives, which are illegal to sell to retail investors in the UK. OKX removed that bit when Joey d'Urso called from The Athletic UK. [Athletic UK, semi-paywalled]
John Terry's totally-not-officially-Premier-League Ape Kids Football Club NFTs are down 90% in price since launch. You'd almost think the NFT market was fake. England internationals Tammy Abraham and Ashley Cole have quietly deleted their endorsements. [Athletic UK, semi-paywalled]
Crypto.com has been doing the rounds of the Australian Football League, the latest victim being the Fremantle Dockers. "Partnering with [name of club] demonstrates our continued commitment to the AFL and Australian sport, and cements our position as a leader in the Australian market," said Crypto.com General Manager Asia & Pacific, Karl Mohan, in four supposedly different press releases. The AFL has previously declared McDonalds "the official restaurant of the AFL" — so for all their popularity and buckets of money, it's not like the AFL ever had standards. [Fremantle Dockers press release; Richmond press release; Giants press release; Suns press release]
Carpe Diem
Hannah Murphy and Kiran Stacey have an amazingly good long read in the Financial Times on the misbegotten nightmare zombie project that was Facebook's Libra, later Diem. (I'm quoted, and Libra Shrugged is mentioned.)
It was Secretary of the Treasury Janice Yellen who delivered the coup de grace, two years after the July 2019 Congressional hearings struck the mortal blow. Jay Powell of the Federal Reserve was happy for Diem to proceed with their retail stablecoin, with the dollars held in Silvergate Bank — but Yellen wasn't.
The new details on the collapse of Diem are remarkable. Did you know Facebook went to the Winklevoss twins to try to save Diem? [FT, paywalled]
Regulatory clarity
Sam Reed from BitMEX has pleaded guilty to violating the Bank Secrecy Act by willfully failing to maintain an anti-money laundering programme at BitMEX. Reed will pay a $10 million fine, like Arthur Hayes and Ben Delo did. [Justice Department]
The SEC has charged siblings John and Tina Barksdale with taking over $124 million from retail investors through two fraudulent unregistered ICO offerings of "Ormeus Coin," from 2017 to the present day. The Department of Justice has also filed fraud charges against John Barksdale. [SEC press release; SEC complaint, PDF; Justice Department press release; Justice Department indictment, PDF]
BitConnect is a crypto Ponzi scheme that collapsed in January 2018. The US Department of Justice finally indicted the actual founder of BitConnect, Satish Kumbhani, in late February 2022. Sure took their sweet time on this one. Kumbhani has since disappeared. [press release]
Lie dream of a casino soul
In February Korean crypto exchange KLAYswap was hacked by forging BGP, the Internet protocol that tells data packets where to go when you try to access an Internet address. A post on Freedom to Tinker sets out precisely what happened — the attacker sent a fake BGP route, got the exchange's customers to load their malicious JavaScript file instead of the real one, and took their cryptos. The attacker even got an SSL certificate to authenticate their fake download. The good bit — this attack is almost impossible to mitigate against, because it's inherent to how the Internet works. [S2W, in Korean; Freedom to Tinker]
Binance claims that it now has two-way access to bank transfers via Paysafe, in euros (via SEPA) and pounds (via Faster Payments) for all European customers, except those in Switzerland or the Netherlands. Despite claiming to accept pounds, Binance is still not allowed to actually operate in the UK. [Binance]
Things happen
The Eastern Caribbean Central Bank's DCash CBDC went out of service on 14 January — because a cryptographic certificate expired in the instance of Hyperledger it runs on. After replacing the Hyperledger installation with a later version, service finally resumed on 9 March. [ECCB]
Republican senators are blocking President Joe Biden's nominations for the judiciary. What do they want? Senator Cynthia Lummis wants Wyoming's dodgy "SPDI" crypto banks to get accounts at the Federal Reserve. That's it, that's the blockage. [American Prospect]
Tether ran a streamed presentation in Lugano, Switzerland, on 3 March, "Lugano's Plan ₿" — featuring Paolo Ardoino on stage, and the elusive iFinex CEO Jean Louis Van Der Velde by video. Michele Foletti, mayor of Lugano, declared that Tether would be legal tender in Lugano! He later clarified that Tether was legal tender in the sense of not being legal tender. But you could pay for things using Tether, if the shop accepted it. [Swissinfo]
Samson Mow, who put together El Salvador's Bitcoin Bonds, has finished working at Blockstream. He looks to branch out into "nation-state Bitcoin adoption!" [Twitter]
DAOs remain foolish. Getting an unincorporated bunch of guys together and making up your business organisation as you go along is a recipe for disaster, fraud, unanticipated unlimited personal liability, and — of course — comedy gold. [New York Times]
Hot takes
Ben McKenzie, world's most famous nocoiner, is interviewed in The Cut. [The Cut]
Motherlode is a podcast series about the cypherpunk subculture of the 1990s, particularly through the lens of Julian Assange. Episode 6 has a bit about my old anti-Scientology site on Suburbia.net [Suburbia], whose sysadmin at the time was Julian Assange (27:38 on). Episode 7 is on Wikileaks, with me from 22:10 — Assange has said that the experience of hosting my Scientology site helped him realise Wikileaks could work. [Art19; Art19]
Received a scam email from "MetaMask" and have been sure to respond pic.twitter.com/7X84yb26oH

— Punished Tsukasa Sagawa (@Bloonface) March 5, 2022
I honestly have no doubt that $BTC will go to $1,000,000 at some point.

I have produced a complex model (in Excel) to support it.

I hope you enjoy. pic.twitter.com/Q1xMfPZI4K

— Charlie (@btc_charlie) March 6, 2022
I think if Putin tries LN we can write a kid's book: "Lightning Network and the time when Putin tried to evade sanctions just to end with his transaction stuck due to lack of a channel with enough liquidity"

— 🔥 Mario Gómez :: El Señor del Caos :: γ 🔥 (@mxgxw_gamma) March 10, 2022
Your subscriptions keep this site going. Sign up today!