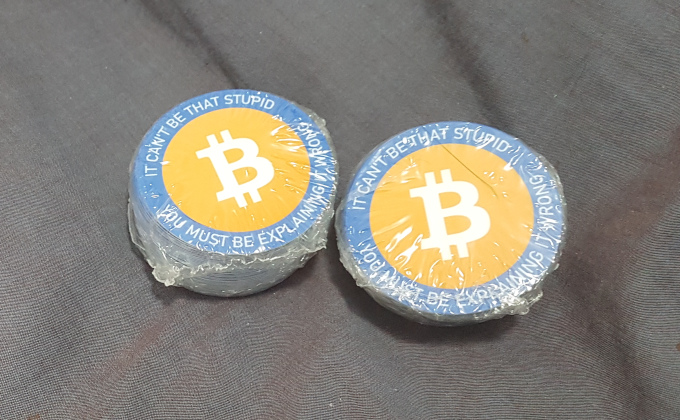 English scheme
The UK cryptocurrency industry is very concerned that the Financial Conduct Authority is taking its sweet time getting back to them on their fitness to operate in the country — and the companies may not be registered by the 31 March deadline.
"Without approval before the revised deadline of March 31, the future of crypto firms' UK operations — including exchanges, wallets and an array of other businesses — is uncertain."
Unnamed "industry insiders" describe this as "A huge own goal," "Completely mad," and "A sh-t show." Apparently this is a problem for the FCA, and not just for the industry insiders. [The Block, paywalled]
The Block wrote in February that there were 69 new entrant firms and 27 existing firms waiting for news — including the crypto side of online bank Revolut as one example. The Block didn't get a comment from the FCA for this story — nor did it note failing to get a comment. They asked, right? [The Block]
Coincidentally, the FCA just happens to have put out a press release about how it protects retail investors. The top type of scam reported to the FCA is crypto scams. Over the last six months, the FCA opened over 300 cases concerning dodgy crypto firms. There are 50 live investigations in progress, including criminal probes.
The press release also brags that "The latest data shows a quarter of applications from firms wanting to join the consumer investment market are being stopped by the FCA."
So I suspect the UK crypto industry can go whistle. [FCA]
Gas! Gas! An ecstasy of fumbling
Ethereum is really truly decentralised, honest, and definitely not a wholly-owned subsidiary of ConsenSys — despite Infura, the only way to use the Ethereum network at any speed, blocking a swathe of countries in response to US sanctions pressure.
Amongst many other services, the OpenSea NFT marketplace and ConsenSys' MetaMask wallet software depend on Infura. Blocks were reported from Venezuela, Iran and Lebanon, with other jurisdictions apparently affected. Infura apologised for an overly-broad block at their end. [The Block; Twitter]
Many aggrieved users had thought MetaMask was a self-hosting wallet — when instead, it mixes the worst of self-hosted brittleness with the worst of custodial central control.
Look, you don't have to use MetaMask! You can always, uh, telnet to port 30303 on a node, after you've worked out on a pocket calculator or maybe a slide rule all the bytes to send down the line as your transaction. If the node doesn't run on Infura too. See? Completely decentralised.
("Send a stamped, self addressed envelope along with your transaction instructions and 20 bucks to Vitalik Buterin c/o the Ethereum Foundation and they'll send confirmation in no more than 5 business days." — DoctorOrrery)
Lie dream of a casino soul
BitMEX executive indictments: Arthur Hayes and Ben Delo entered a plea and paid a fine. Sam Reed doesn't seem to have negotiated a settlement, and his case is still in play — the judge ruled that Reed had had sufficient notice that his alleged money-laundering misconduct was illegal, so the case can go to a jury. [Law360, paywalled]
Jaryd Koenigsmann's Australian crypto exchange MyCryptoWallet appears to have been running on air since at least March 2018. The liquidator says: "Based on the information currently known, I do not believe the director has any defence available to avoid personal liability of a potential insolvent trading claim."
When the Sydney Morning Herald started investigating, the exchange accused them of running a "negative shill campaign … It is quite upsetting to hear you are creating an article about false negativity regarding MyCryptoWallet rather than the amazing ground-breaking blockchain technology we offer Australian users." So it's good that everyone is now completely aware of how ground-breaking blockchain technology works in practice. [SMH]
Baby's on fire
"Incentivises renewables" my buttcoin. Bitcoin mining got even dirtier after miners relocated in June 2021, following China's crackdown on mining. The share of renewables in the electricity mix of miners dropped from 41.6% to 25.1%. The carbon footprint of the network increased by 17%. [ScienceDirect]
The EU Parliament scraps the proof-of-work ban that would have been part of the Markets in Crypto-Assets (MiCA) guidelines, in the hope of getting the guidelines voted through sooner rather than later. How annoying. [BTC-Echo, in German]
US crypto mining company Layer1 accuses US crypto mining company Blockbase of "double-dealing" in signing a deal with US crypto mining company HIVE (not the fork of Steem), on the basis that Layer1's deal with Blockbase included exclusive ownership of Blockbase's technology and intellectual property. Let them fight. [Law360, paywalled]
Coiners: Be your own bank!
India: Yes.
India now plans to tax crypto earnings at 30%, and a 1% tax on all transactions. Binance's local branch, WazirX, maintains that this is good news for Bitcoin in India! [Government of India, PDF; CoinDesk; CoinDesk; LiveMint]
The Reserve Bank of India (RBI) plans to launch a CBDC for the 2022-2023 financial year! The use case is absolutely unclear — given that the Unified Payments Interface is here and works well — and nobody has any idea what specific form this CBDC will take.
The difference from UPI is that the RBI CBDC "will be based on cutting-edge blockchain technology," which I would guess means a back end data store running on Hyperledger. So the use case seems to be exuberance for technology, without all that tedious technical understanding. [Bloomberg; Times of India]
Blockchains may have weaseled their way into the Indian bureaucracy — but cryptocurrencies are trash. T. Rabi Sankar, the deputy governor of the RBI, wants a complete ban on cryptos. He likens them to Ponzi schemes. "We have examined arguments by those advocating cryptos should be regulated and found that none of them stand up to basic scrutiny." Remember that the attempted Indian ban on cryptos was in the wake of a massive crypto-based Ponzi. [RBI; CNBC TV18]
Fol de Rol
This is the cyberpunk future we deserved — the first NFT rugpull by a nation-state. The deputy Prime Minister of Ukraine, Mykhailo Fedorov, asked for donations in crypto to the war effort against Russia, said that donors would get an NFT … and changed his mind. Most donors seem to think getting rugged by a country is pretty cool, in fact. [Twitter]
We should have thanked our good fortune to only have Razzlekhan, really. The promotional video by Randi Zuckerberg — sister of Facebook founder Mark — for her NFT line is really quite something. This was tweeted by an NFT pumper; you'll see in the replies her outrage at Randi intruding on her pitch. [Twitter]
Sotheby's cancelled a $30 million NFT auction at the last minute. It's not clear if there was a rugpull, a copyright violation, or if it was just that no qualified bidders showed interest in time. [Fortune]
A Gala Games developer speaks on the company pushing NFTs to its development team: "There was no attempt to make a potentially balanced take. Here's some potential drawbacks: everybody f—ing hates it." [Vice]
South Sea bubble
Lord Fusitu'a is putting forward his bill to make Bitcoin legal tender in Tonga. This is modeled on El Salvador's Bitcoin Law. Fusitu'a is very big on the remittances use case; remittances made up 39% of Tonga's GDP in 2020, with transaction costs of around 10%. [RNZ; Global Economy; World Bank]
Palau has kicked off a digital residency scheme — sort of. Palau was cautious of cryptos, after the PalauCoin scam in 2019. [Island Times, 2019; Island Times, 2019] So now you can buy a US$248 NFT ID card letting you use a local address and trade cryptos. You won't get residency, be able to open a business, or become a citizen. NFT use case found: selling a more elaborate nothing. [Thomson Reuters]
Central banking, not quite on the blockchain
China's e-CNY — the CBDC formerly known as DC/EP — has an update from project lead Mu Changchun. e-CNY is faster than Visa, but slower than AliPay and TenPay. There are software and hardware wallets, which can transmit money offline. [Atlantic Council]
Revolving door news — the Boston Federal Reserve and the MIT Digital Currency Initiative wrote a possible CBDC implementation. It turns out that a pile of ex-Circle staff had joined the Boston Fed and worked on the project. [Washington Post]
VoxEU: Central bank digital currencies risk becoming a gigantic flop — a CBDC needs a clear consumer use case (as I never tire of repeating). "What is the market failure that would justify central banks entering business areas that have so far been operated by commercial banks and private retail payment system providers?" [VoxEU]
Things happen
The case of the Estate of Dave Kleiman v. Craig Wright stops here — the Kleiman team asked for a partial retrial, claiming violations of a court order during the proceedings. Judge Beth Bloom has said no and hell no, and they can go away and stay away, and keep this clown show well out of her courtroom. [Order, PDF]
The Steam game store accepted bitcoins for a while, back in 2017. What led to Valve dropping crypto payments on Steam? About half the payments were fraudulent. [Rock Paper Shotgun]
Guo Wengui files for bankruptcy. His debtors are mostly people who sued him for non-payment of debts. Guo founded G-Coin, which landed him one billion dollars in fines from the SEC and New York, and its successor Himalaya Coin (H-Coin). Guo's associate, dollar-store Rasputin Steve Bannon, was arrested in November last year on Guo's yacht. [Twitter thread]
The cryptographic assurances of the blockchain protect your bitcoins utterly! Except when someone tortures you with weapons and boiling water while they're asking about your key. The robbers' total take was £970. Warning: the description of events is pretty graphic. [STV]
Hey, remember that time in 2018 that the venerable OpenVMS operating system went blockchain, with Hashgraph? I wonder whatever became of that. [press release, 2018]
Hot takes
Patrick McKenzie, who works at Stripe, writes a basic primer on how international banking works: "Moving money internationally." [Kalzumeus]
The Case Against Crypto: Martin O'Leary, Creative Technologist at Watershed in Bristol, sets out an excoriating takedown of crypto in the art world. [Watershed]
The more I learn about crypto the more I hate it.
Thanks @davidgerard pic.twitter.com/IRUTKDJfca

— ZP (@ZombiePresident) March 2, 2022
hello i'm from the tech industry. today i'm going to explain how to solve all problems with whatever it is you do! based on my experience of writing software! which means i'm qualified to solve any problem in any field. i have checked this with zero people

— Kate (@thingskatedid) March 1, 2022
the people who go online every day to cyberbully NFT purveyors are not being compensated or appreciated by the world at large, but you should know that your work is important and regular people love what you're doing. and it's funny when they delete the NFT. thank you

— drewtoothpaste (@drewtoothpaste) February 24, 2022
If you ever feel lonely just write Metamask in a tweet

— Jason Choi (@mrjasonchoi) March 3, 2022
Your subscriptions keep this site going. Sign up today!