I was rambling a lot on Twitter about why Russia couldn't use cryptocurrency to evade international sanctions. So James Palmer pinged me on Tuesday, I put a piece together by Wednesday evening, and it's just gone live. [Foreign Policy]
The reason is simple and obvious: the actual dollars don't exist in the crypto trading system for Russia, a $1.5 trillion economy, to replace its foreign exchange via crypto without anyone noticing.
North Korea managed to evade sanctions with crypto — by laborious chain-hopping over many months, for maybe tens of millions of dollars. And North Korea was busted because it was all visible on the various blockchains.
Sanctioned individuals may be able to launder some cash through, on the order of millions. Crypto laundering works like any other money laundering — shell companies, front men, complaisant banks. You'll catch them the same way you catch any other kind of money laundering. If they're dumb enough to do crimes on a permanent public ledger, all the better.
There was also a silly story in Reuters claiming that Tether was being used to get money out of Russia — which turned out to be a spike to $33 million in the total volume in one day on the USDT/RUB pair on Binance. Perhaps one guy got his rubles out. That story was really a nothingburger, but I noted it because it got some media play.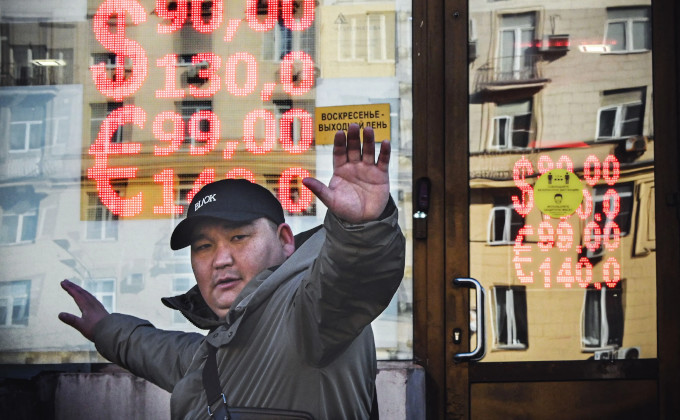 A man walks past a currency exchange office in central Moscow on 28 February, by Alexander Nemenov, AFP.
Your subscriptions keep this site going. Sign up today!