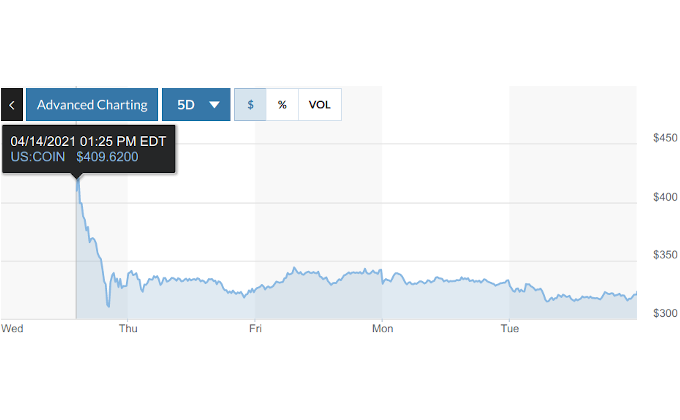 The Bernard L. Madoff Memorial Coinbase Listing
On 14 April 2021, Coinbase listed on NASDAQ as a public company! On the same day the Bitcoin price peaked, and Bernie Madoff — the patron saint of Bitcoin — died.
Being a public company brings much closer attention to just what's going on here, without the sort of dumb excuses that crypto bros will accept. Coinbase's stock price is unsustainable — the starting price was at 79 times revenue, let alone earnings. For comparison, Palantir's direct listing was at 19 times revenue. [FT Alphaville, free with registration]
The stock price has behaved accordingly — and went from $409.62 on launch day, to $319.00 as I write this. [MarketWatch, archive]
The other nice thing about a public listing is that the Coinbase stock price is a proxy for the price of Bitcoin — and you can't short Bitcoin reliably, but you can certainly short stocks reliably.
The Coinbase listing was thoroughly in the spirit of crypto offerings — insiders dumped a pile of their shares immediately, including the chief financial officer selling 100% of hers. Apologists swooped in to say that they only sold vested shares — which means, the shares they actually had, and not the shares they didn't have. [Twitter; OpenInsider, archive]
A lawyer — specifically, a professor of contracts — looks at the Coinbase terms of service, and specifically the requirement to take disputes to arbitration. She's unconvinced the terms are even enforceable. [ContractsProf Blog]
Martin Walker and Winnie Mosioma: "Many cryptocurrency exchanges are now making proud claims about their regulated status, but does 'regulated' really mean what investors think?" A review of sixteen crypto exchanges.  [LSE Business Review]
Not so much a revolving door as a recirculating sewer — Brian Brooks, formerly of Coinbase, and then of the Office of the Comptroller of the Currency, becomes the CEO of Binance US. [CoinDesk]
Bitcoin is just Avon for men in their late 20s don't at me

— CryptoCharles (@CryptoCharles__) April 12, 2021
Hashrate go down, number follows
Bitcoin is so robustly decentralised that a power outage in a single area — or, by some reports, in a single data centre — in Xinjiang took half of Bitcoin's hashpower offline, across multiple "independent" mining pools. Decentralised! [NASDAQ News]
An accident in a coal mine on 10 April didn't directly stop the flow of electricity — but it did lead to widespread safety inspections in various industries. This included Bitcoin mining data centres being shut down. [Crypto Briefing]
The Bitcoin hash rate dropped from 220 exahashes per second to 165 EH/s. The rate of new blocks slowed. The Bitcoin mempool — the backlog of transactions waiting to be processed — has filled. Transaction fees peaked at just over $50 average on 18 April. [Johoe's Bitcoin Mempool Statistics, archive of 20 April 2021; Ycharts, archive of 20 April 2021]
This turned a slight dip in the BTC price over the weekend into a crash — from $64,000 down to $51,000. It's hard to pump the market if you can't move your coins.
Though that hasn't stopped Tether doing two-billion-USDT pumps. I'm sure this is all 100% backed with something that won't crash if you look at it funny.
Binance finds itself suddenly unable to fulfil withdrawals of crypto — direct from them to you on the blockchain, without even being able to blame the legacy financial system. Affected tokens: BNB (BEP2 and BEP20), USDT (TRC20 and BEP20) BTC, XRP, DOGE, BUSD (BEP20). But I'm sure it'll all be fine, and Binance definitely have all the cryptos they claimed to. [Twitter, Twitter]
You can cash out any time you like! As long as nobody else is trying to.
who decided to call them NFTs instead of GIF Certificates???

— adam j. sontag (@ajpiano) April 18, 2021
Q. What do you call unsmokeable mushrooms?
A. Non-Tokeable Fungi
NFTs have a problem: number go … not up. It turns out there isn't a secondary market for NFTs — nobody buys them after the pumpers have had their turn. [Bloomberg]
"It's not meaningful to characterize a concept as a financial bubble," said Chris Wilmer, a University of Pittsburgh academic who co-edits a blockchain research journal, and thinks playing with words obscures that NFTs were a month-long bubble.
Some news stories called NFTs a "stimulus-led fad". Now, you might think that was a remarkable euphemism for a blatant pump by crypto bros to fake the appearance of a market.
Popular NFT marketplace Rarible has been targeted by … scammers and malware! Unheard of in crypto. [Bleeping Computer]
Brian Livingston's newsletter Muscular Portfolios traces a bit more of the follow-the-money on Metakovan's purchase of a $69 million NFT. [Muscular Portfolios]
Kim Parker: Most artists are not making money off NFTs — and here are some graphs to prove it. [Medium]
Minty Bingo for when NFTs die and everyone comes back crying https://t.co/1aCPplzdui pic.twitter.com/j725JsoIzq

— 🖤 Pins, Liminal Gremlin Clown 🤡 (@Lokinne) April 6, 2021
He is genius in allocation of space
Proof-of-space crypto may do to hard disks and SSDs what proof-of-work altcoins did to video cards. Bram Cohen's Chia network seems to already be leading to local shortages of large hard drives — prices in Hong Kong for the 4TB and above range are up to triple the usual price.[HKEPC, in Chinese; WCCFTech]
How wonderfully energy-efficient is proof-of-space? Not so great — Shokunin tried out the client: "I tested this Chia thing overnight. Gave it 200GB plot and two CPU threads. After 10 hours it consumed 400GB temp space, didn't sync yet, CPU usage is always 80%+. Estimated reward time is 5 months. This isn't green, already being centralised on large waste producing servers." [Twitter]
David S. H. Rosenthal noted precisely this in 2018: "One aspect of the talk that concerned me was that Cohen didn't seem well-informed about the landscape of storage … If the cloud companies chose to burn-in their new drives by using them for Proof of Space they would easily dominate the network at almost zero cost." [blog post, 2018]
Baby's on fire
CoinHive used to host crypto-miners on web pages — scraps of JavaScript that would use your electricity to mine for Monero. The service was also popular with web malware vendors. CoinHive shut down in 2019. The coinhive.com domain name is now owned by security expert Troy Hunt — if you go to a page that's still trying to load the CoinHive script, you get a page that warns you about cryptos, web-based malware and cross-site scripting.  [Troy Hunt]
There's enough Bitcoin mining in China that the Bitcoin mining alone is a serious problem for the country to meet its CO2 targets. [Nature; The Economist]
David S. H. Rosenthal on how Bitcoin mining can never be green — because the carbon footprint is the point. [blog post]
Gothamist: Andrew Yang Wants To Turn NYC Into A Bitcoin Megahub. That Would Be Terrible For Climate Change. "Bitcoin advocates never talk about displacement because it makes the numbers sound bad," I was quoted as saying. [Gothamist]
The Times: The idea of bitcoin going green is laughable — hey Bitcoin, this is what attention from the mainstream looks like. [Times, paywalled, archive]
while y'all are over here getting excited over NFTs I'm making the original NFT pic.twitter.com/Jcf01LB0BZ

— yves adele fartlow (@vogon) April 5, 2021
ICO, ICO
The SEC has sued LBRY over their 2016 ICO — and their still-ongoing offerings of tokens in a manner that, on the face of it, appears to be a ridiculously obvious unregistered offering of securities. The SEC investigation has been going on three years. LBRY decided to market more tokens last year, which may have been the last straw for the SEC. [SEC press release; complaint, PDF]
LBRY has struck back! With a site called HELP LBRY SAVE CRYPTO. The FAQ on the site makes a string of assertions which are best answered "read the complaint". [HELP LBRY SAVE CRYPTO]
Paragon was an ICO for "blockchain technology in the cannabis industry". It was, as usual, an illegal offering of unregistered securities. Paragon settled with the SEC in 2018 — they had to return everyone's money, and pay a $250,000 fine. Shockingly, the pot coin guys turned out to be flakes — Paragon defaulted on its settlement. [WSJ, 2019, paywalled] Paragon's founders have disappeared. Aggrieved investors tried to mount a class action last year. [CoinDesk, 2020] Only $175,000 of the SEC penalty was paid, and this will be distributed to Paragon's investors. [Order, PDF]
In SEC v. Ripple, the SEC has been denied access to eight years of personal financial information of Ripple executives Brad Garlinghouse and Christian Larsen. [Order, PDF] And Ripple has gained partial access to SEC discussions on whether XRP was a security, as compared to BTC or ETH. [CoinTelegraph]
The independent Telegram messaging service, beloved of crypto pumpers, will be a thing of the past — Pavel Durov was so screwed by paying back the investors in Telegram's disastrous ICO that he's now planning to take the company public. According to a claimed leak from the investment bankers preparing the offering, Telegram plans to sell 10% to 25% of the company in a direct US listing, in the hope of $30 to 50 billion, likely in 2023. [CoinDesk; Vedomosti, in Russian]
The SEC has published a "Framework for 'Investment Contract' Analysis of Digital Assets." None of this should be news to anyone here, though that won't stop the crypto bros yelling like stuck pigs. [SEC]
Economists may sometimes say that the sky is green. The average crypto person will fight you on a 67 tweet thread arguing the colour of the sky is wet and in any case inflation is making the Nash equilibrium Llama.

— 𝖤𝖽𝗆𝗎𝗇𝖽 𝖲𝖼𝗁𝗎𝗌𝗍𝖾𝗋 (@Edmund_Schuster) March 9, 2021
My beautiful launderette
The Bank for International Settlements has a new report: "Supervising cryptoassets for anti-money laundering." BIS concludes: "the first priority should be implementing the FATF standards wherever that has not taken place yet. This is the absolute minimum needed to mitigate the risks posed by cryptoassets at a global level." This isn't saying anything controversial, or advocating anything that isn't happening — but crypto bros wishfully thinking the FATF ratchet will stop tightening on crypto are incorrect. [BIS, PDF]
More on Signal and MobileCoin — Dan Davies (author of Lying for Money, a book that everyone reading this blog should read — UK, US) points out that the FCA already considers doing financial business over WhatsApp, Telegram or Signal "self-evidently suspicious." In real finance, the traders' chat channels are logged for compliance — because, without that, traders reliably dive headlong into illegal market shenanigans. And often, even with compliance logging. [Financial News, paywalled; Twitter]
Dan correctly describes the innovation of MobileCoin: "pass on illegal inside information, receive payment and launder the proceeds, all in the same app!" [Twitter]
The IRS wants information on Kraken crypto exchange customers, and on Circle customers — the latter may include when they owned Poloniex. [Forbes; Justice Department]
Turkey gives cryptocurrencies official legal recognition as a payments mechanism, regulating their use either directly or indirectly! All use of cryptos in payments is banned. [Reuters; Resmi Gazete, in Turkish]
Welcome to finance Twitter. Please select your Guy:
-Programmer trading in IRA
-Leftist sympathizer, detests coworkers
-Mysterious furry rumored to hav $500M AUM, 40% returns every year somehow
-PhD high energy theory retired at 34
-Guy with tinder name John-MBA,CFA like LinkedIn

— smoking delta 8 out of dirty gravity bong (@neoliberal_dad) November 7, 2019
Central banking, not on the blockchain
The Bank of England and the UK Treasury are forming a task force on central bank digital currencies (CBDCs). One of the task force's vague and ill-specified jobs will be to look into whether they can find a use case for this in the UK — where most cash-like spending is actually a card anyway. [Bank of England]
The Bank has been terribly excited about the fabulous possibilities of blockchain since they first noticed Bitcoin in 2013 — they've put out a pile of speculative papers, but none with an actual use case. That's fine — speculating on weird possibilities is one of the things a central bank research unit does. (See Libra Shrugged, chapter 15.) But starting at an idea without a use case is the problem with blockchains in general.
The Wall Street Journal has a pretty generic article on China's DC/EP, but it includes the detail that the latest trial includes e-CNY that expires — "Beijing has tested expiration dates to encourage users to spend it quickly, for times when the economy needs a jump-start." So even if DC/EP turns into Alipay-but-it's-PBOC, being run by the PBOC means they can do interesting things with it if they need to. [WSJ, paywalled]
The New Republic: Cryptocurrencies Are the Next Frontier for the Surveillance State — on the surveillance potential of CBDCs. With quotes and ideas from Libra Shrugged. [The New Republic]
So far in 2021 #Bitcoin has lost 97% of its value verses #Dogecoin. The market has spoken. Dogecoin is eating Bitcoin. All the Bitcoin pumpers who claim Bitcoin is better than gold because its price has risen more than gold's must now concede that Dogecoin is better than Bitcoin.

— Peter Schiff (@PeterSchiff) April 16, 2021
Things happen
Dogecoin is having another price pump, firmly establishing DOGE as the true crypto store of value and BTC as a deprecated altcoin. The big pump coincided with 400 million Tethers being deployed. Everything I said in February in my Foreign Policy piece on Dogecoin applies twice as hard. [Reddit]
Australian plans to put disability payments on a … blockchain! It'll work great! Right? With a quote from me. This particular bad idea somewhat resembles the plan to put welfare spending onto a blockchain that the UK government put into its 2016 paper "Distributed Ledger Technology: Beyond Blockchain" [gov.uk, 2016], which I wrote up in chapter 11 of Attack of the 50 Foot Blockchain. [ZDNet]
The Marvelous Money Machine! A children's book for grown-ups. This is great. Pay what you want for the PDF. [Gumroad]
Facebook's WhatsApp Pay Brazil has still not been allowed to go live, in the version where it hooks into the national PIX retail real-time settlement system. [Reuters]
Der Spiegel: the German COVID vaccine tracker was going to use five blockchains! It will now use none. Nice try, IBM. [Der Spiegel, archive]
Crypto guy loses a bet, and tries to pay the bet using the Lightning Network. Hilarity ensues. [Twitter thread, archive]
PayPal lets you make payments with crypto! If it's crypto you already had in your PayPal crypto holdings — which you can't top up by depositing crypto from outside, only by buying crypto on PayPal with money. [Reuters]
Why do this? The CEO of PayPal is a massive coiner, but he also has to worry about things like "the law." So this gets crypto into news headlines on the company dime.
Living on video
Here's the third pocast I did last week: Dunc Tank with Duncan Gammie! Talking about Attack of the 50 Foot Blockchain and the crypto skeptic view. [Podbean]
I went on NTD again to talk about crypto "market cap" and how it's a meaningless number, starting 11:35. [YouTube] And to talk about the Coinbase listing, starts 13:43. [YouTube] My laptop webcam is still mediocre, but it was better than the other Zoom experts' webcams.
The Naked Scientists podcast has done an episode on "Bitcoin Decrypted: Cash, Code, Crime & Power". This is going out through BBC Radio 5 Live in the UK, and Radio National in Australia. [my segment; whole podcast]
Byline Times: "So who is behind the onward march of the crypto, nearly 13 years on from the credit crunch and the arrival of Bitcoin and the thousands of digital currencies in its slipstream? The short answer is: idealists, ideologues and opportunists." With a quote from me. [Byline Times]
Sydney Morning Herald: 'Financial weapon': Bitcoin becomes another factor in China-US contest — with quotes from me. [SMH]
I spoke to CNet about altcoins. [CNet]
Investor's Business Daily: Bitcoin Hits Tipping Point After Skyrocketing On Investment Mania — with quotes from me. [Investor's Business Daily]
learning how to regurgitate on demand like a frightened vulture for the next time a man tries to explain cryptocurrencies to me

— Kat Maddox (@ctrlshifti) April 8, 2021
Your subscriptions keep this site going. Sign up today!