Below: book words in progress, ably assisted by past asset bubble veteran Inch.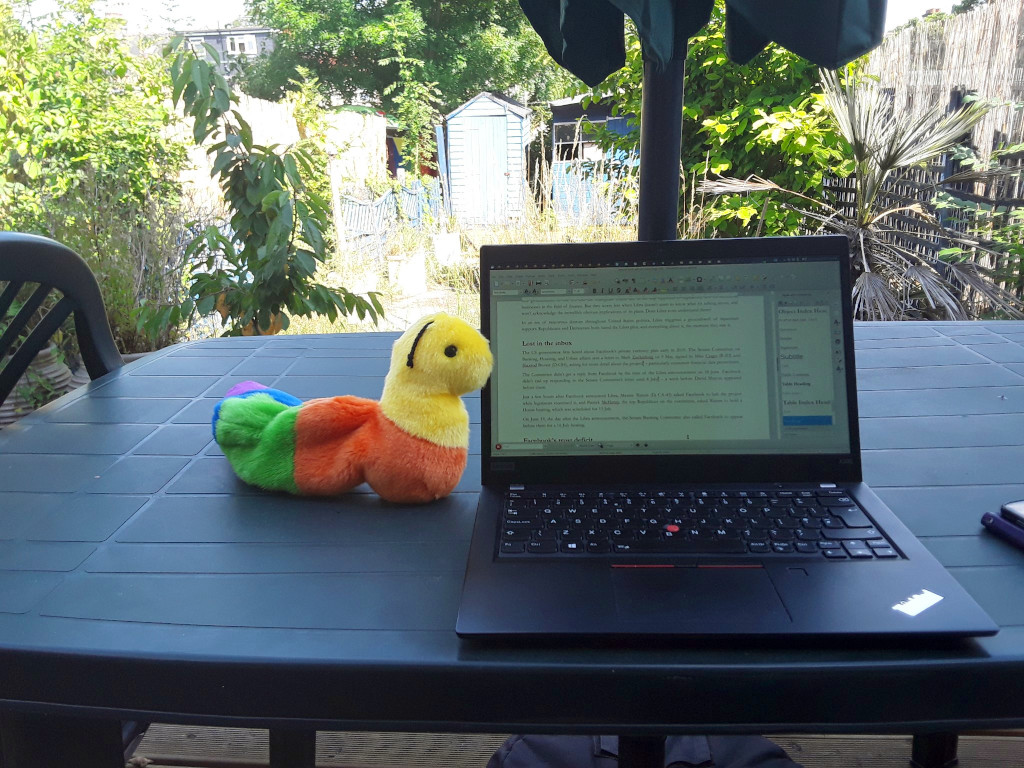 Corona-chan rides a pale horse, but on the blockchain
It's right there in the white paper — cryptocurrency is about government handouts! Which is why 75 "blockchain" companies received over $18 million in Paycheck Protection Program payments from the US government. [CoinDesk]
After all, it was good enough for the Ayn Rand Institute, who wrote a detailed explanation of how it was good as long as it was them doing it. [Reuters; Ayn Rand Institute] Anarchocapitalists talk a lot, but the government teat is pretty much always the ultimate desired customer for capitalism in the real world.
The class action against Jacob Kostecki for the Massive Adoption crypto conference scam continues — but Kostecki has asked for a 60 day delay to allow a full response, due to COVID-19. [Twitter]
The trial in Kleiman v. Wright has been delayed until 13 October 2020, because of Administrative Order 2020-41, which delays all Florida jury trials, also due to COVID-19. [PDF; PDF]
My prediction for what the top 10 crypto's will be in 2021:

1. My bags
2. My bags
3. My bags
4. My bags
5. My bags
6. My bags
7. My bags
8. My bags
9. My bags
10. My bags

— Anthony Sassano | sassal.eth ⛽ 🏴 (@sassal0x) July 13, 2020
More fallout from Wirecard UK
In the UK, the Financial Conduct Authority has produced new guidance for payment and e-money firms on safeguarding customers' money. The word "Wirecard" doesn't appear — but this is completely about Wirecard. [FCA, PDF]
New Money Review has a nice history of how Wirecard UK ended up backing so many prepaid cards around Europe — including the crypto-backed cards from Crypto.com and TenX. The FCA locked the cards — and hence customer access to their own funds — to make sure customer money wasn't misappropriated to shore up the German parent company, as had happened in previous large financial collapses. There were reasons to worry — "According to one of the pre-paid card firms caught up in the funds freeze, Wirecard's UK subsidiary did not allow it to identify all the accounts where its customers' funds were held." [New Money Review]
At the block we have identified 3 buckets of crypto firms:

1) scams
2) shady; but probably not doing super illegal stuff
3) not shady but low chance of viability

— Frank Chaparro (@fintechfrank) July 15, 2020
I heard it on the blockchain
California's Blockchain Working Group produces its recommendations! As far as I can tell, the plan is to use Hyperledger to make the Department of Motor Vehicles even more annoying. [Announcement; report, PDF] The announcement is great too:
These are all worthy goals, but even after a year of leading a group of professionals devoted to studying and implementing such technology, I still wonder at the luster blockchain holds in the public imagination. Is the potential impact of blockchain equivalent to that of the internet itself? Or is it a significant but passing fad, to be superseded by the next innovative database architecture?
Or is it a pile of trash that pretty much any data store is better than? Nah, couldn't be that.
Time to call the Office of Fair Trading — the "Centre For Evidence-Based Blockchain" site is not a blank page. The page is built in painfully slow React, to simulate being on the blockchain, or having a JavaScript coin miner. [CEBB]
Telegram is finally shutting down the TON test net. "06.07.2020: We are discontinuing our support of the test network of the TON Blockchain. Our remaining validators will be switched off not later than 1.08.2020. Please save all relevant data and terminate your testing process." [test.ton.org, archive]
Payments in Singapore are going DLT! Well, no — Accenture and JP Morgan did a proof-of-concept (the level below pilot scheme) for the Monetary Authority of Singapore of what a payment system might look like, using R3 Corda and JP Morgan's Quorum fork of Ethereum. There's an Accenture report on the POC — they spent five years noodling around, making a toy mockup version of an oversimplified multicurrency payment system. So that's nice. Next steps: none listed, at all — but there's lots of potential for "viable use cases," if anyone ever finds one. [MAS, PDF]
"Blockchain? You mean git for conspiracy theorists?"

— Senior Oops Engineer (@ReinH) July 13, 2020
Dislike button
Libra's Director of Policy, Julien Le Goc, told the Global Digital Finance virtual conference on Wednesday 8 July: "We've not abandoned the multi-currency stablecoin, drawing its DNA from the special drawing fund, which remains an important design feature."
Presumably he means the Special Drawing Right — the SDR, an accounting unit based on a basket of currencies — which is not actually a currency itself, but just a matter of how the IMF and the Bank for International Settlements keep their books. Unless you are literally the IMF or BIS, it makes no sense to count money in SDRs.
Libra is still hoping to create a new regulatory compliance framework, in an "ongoing dialogue" with regulators and central banks.  [CoinDesk]
The Financial Action Task Force has produced its report to the G20 finance ministers on "so-called stablecoins," the term they use for these things all through the report. It talks about both Tether-like (single currency) and Libra-like (currency basket) versions of the idea. Unsurprisingly, the FATF recommends they be regulated to the hilt, particularly when moved internationally. [FATF, PDF]
Facebook's WhatsApp Pay in Brazil can proceed — but on a limited scale, and not for all 120 million WhatsApp users in the country. Facebook's communications with the Central Bank were done Facebook-style — very little detail, and an attempt to sneak a huge service through a tiny loophole. The central bank president said: "Prior to the launch, there was a meeting in which WhatsApp kind of explained its plan, but the central bank was taken by surprise with the launch on June 15." [Reuters; Reuters]
The central bank digital currency idea is still being dragged along — and one day, it might find a clear use case! The Bank of Canada notes some insights from field and laboratory experiments: "A necessary condition to successfully initiate and sustain the adoption and use of a CBDC is to ensure the CBDC has a clear niche in the payment landscape." Tech then use case isn't going to work. The report talks of past e-money initiatives — Octopus in Hong Kong, which was hugely successful because it had a niche; and Mondex, which failed because it didn't. [Bank of Canada, PDF]
Good news for Bitcoin exchanges
TETHER BREAKS 10 BILLION! Half of those in the past few months — as someone tries desperately to pump up the Bitcoin price number, by pumping fake dollars into the system. [Tether Transparency, archive]
In one of its expensive professional reports, Business Insider gets caught promoting Tether as an investment — something which stands a good chance of going up, apparently. Tether's entire claimed purpose is to be fixed at a value of one US dollar. But I'm sure the people who paid $495 for the report will be happy. (You should send me $5 or $20 a month instead — and I promise not to come out with stuff like that.) [FT Alphaville, free with login]
The New York appeals court finally rules on Bitfinex and Tether — they operated in New York, and are subject to the jurisdiction of the New York Attorney General's office. iFinex have a short time to produce a large quantity of discovery, that was requested in 2018. [Bloomberg; ruling]
Crypto VCs angle for the ultimate Coinbase altcoin dump — Coinbase stock! Coinbase is preparing to go public, with a direct listing rather than doing an IPO. I can't wait to see Coinbase opening its books to the SEC and hence the public. [Reuters]
The US 5th Circuit finds that there is no reasonable expectation of privacy in records maintained by the Bitcoin blockchain, or in records of transactions maintained by an intermediary — in this case, Coinbase. The defendant had been viewing child pornography — I know, unheard of in Bitcoin, right? — and had used Bitcoin on the child porn site. [Justia]
GPay was a UK crypto exchange and trading platform that was shut down as insolvent. They specialised in the KYC scam — "If clients attempted to remove funds from their trading accounts, they were advised that no withdrawals could be made until they submitted copies of their photo ID, a utility bill and debit or credit card. This level of information, however, was not asked by GPay when they accepted clients' deposits." [Press release]
cops and datamining in the pursuit of corporate profits was Satoshi's Vision iirc

might be misremembering, though https://t.co/eldQH4Qivv

— Buttcoin (@ButtCoin) July 12, 2020
Things happen
How Terrorists Use Cryptocurrency in Southeast Asia — describing how Islamic State used money laundered via crypto to fund activities in the southern Philippines. This involved small amounts of crypto per transaction, to avoid detection. [PIPVTR; The Diplomat]
How fast are the shells moving in the DeFi shell game? So fast that money comes out of nowhere! There Are More DAI on Compound Now Than There Are DAI in the World. [CoinDesk]
waiting for the defi token that pools defi loan obligations, splits them into different tiers (let's call them tranches) and resells as a higher yield product

— juthica (@juthica) June 21, 2020
Hot takes
JP Koning: How Bitcoin is like ham radio — it's archaic and clunky; at best it's a backup system, not a replacement for functional everyday systems. [CoinDesk]
Patrick McConnell: ASX — When in a hole — stop digging! McConnell thinks the Australian Securities Exchange's blockchain system should be put out of its misery — the project's way behind now, and is only going to fall further behind. Instead, they should upgrade their existing CHESS system — in the same way they quickly upgraded it to cope with COVID lockdown loads. I'd expect that upgrading CHESS would be a bit more complicated than that in practice — but the ASX blockchain project does look bogged down. [LinkedIn]
Here's an obscurity from the history of pre-bitcoin anarchocapitalist money using cryptography: The Digital Monetary Trust, which later became the Yodel Bank. It also presaged Bitcoin, by exit-scamming. [Bill St. Clair]
TL,DR: the Bitcoin revolution. pic.twitter.com/dmX7Hs5Bi0

— Trolly McTrollface (@Tr0llyTr0llFace) July 11, 2020
time's up pic.twitter.com/mfYxxHPeTk

— Neeraj K. Agrawal (@NeerajKA) July 17, 2020
Your subscriptions keep this site going. Sign up today!