Wirecard was the darling of German finance — showing that Germany could do a cool, cutting-edge fintech every bit as well as those annoying Anglo-Saxons.
The company made startling amounts of money for a payment processor — it's a good business, but not that good. So, Dan McCrum of the Financial Times looked into this and found … all manner of strangeness — nonexistent offices, untraceable clients, untraceable third-party trustees. And then he was sent leaked internal documents on how Wirecard staff could do fraud. [FT, free to read]
Wirecard fought back — and even got BaFin, the German regulator, to start a criminal investigation into McCrum, claiming he was working with short-sellers. The company even sent private investigators after McCrum.
So last Thursday 18 June, Wirecard turned out to have a 1.9 billion EUR hole in its accounts — their auditors, Ernst & Young GmbH, refused to sign off on the 2019 financial statements, claiming "spurious balance confirmations," i.e., faked letters from banks. [Wirecard]
The CEO, Markus Braun, was arrested on Tuesday as he tried to skip Germany. [Guardian] The COO, Jan Marsalek, successfully skipped Germany on Monday. [FT, paywalled]
The lack of audited accounts meant that two billion EUR of loans to Wirecard got called in. Wirecard declared insolvency on Thursday 25 June. [FT, paywalled]
Of course Wirecard were into crypto. Just a little, you understand.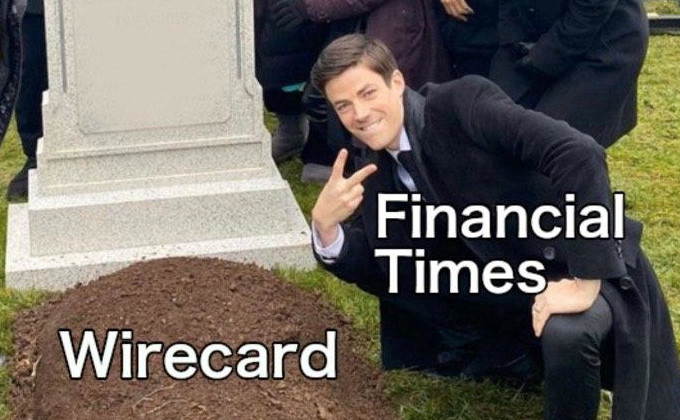 The vanishing trustee
The 1.9 billion EUR — a quarter of Wirecard's supposed assets — probably never existed. Wirecard's trustee in the Philippines, Mark Tolentino, disappeared from public view at the same time that the hole in the accounts — the money he was supposedly administering — became glaringly obvious. [Spiegel]
Tolentino took in money and claimed he had deposited it with BDO Unibank and the Bank of the Philippine Islands (BPI). Those banks say they never received the 1.9 billion EUR.
Mr Tolentino described himself on his law firm's website — inaccessible as of 22 June — as "a litigation and corporate lawyer, published author, law professor, and media personality." He was also "a former Associate Solicitor General as well as a DOTr deputy minister appointed by President Rodrigo Duterte" — which appears to be the case. [Abogado, 2017]
He listed himself as an expert in family, business and immigration law, as well as in … "Banking and Cryptocurrency Law"! [M. K Tolentino Law, archive]
How was the missing money not spotted in previous audits? It turns out that EY GmbH didn't properly check Wirecard bank statements for three years — they just accepted representations from Wirecard that the money totally existed. [FT, paywalled]
It's not clear that the money ever did exist. Was Tolentino scamming Wirecard, or just running the local end of the scam on behalf of Wirecard? And where is he now?
UPDATE: Mr Tolentino spoke to the FT, and told them he was never the trustee for Wirecard — but was a victim of identity theft by Wirecard!
Wirecard, not actually Tethered
Perhaps Tether could get themselves an audit from EY GmbH. Wirecard was the same sort of operation as Tether — book entries, claimed to represent actual money, that may or may not exist. There's a blurred line between e-money and "stablecoins." [New Money Review]
I can't find any direct connection between Wirecard and Tether, and that actually surprises me — crypto is both small and corrupt, and big scams tend to lead back to Tether.
The closest links have had some play on crypto Twitter in the past week, so I'll mention them — but I suspect they're both spurious, and not really links.
Louis Freeh is the guy who signed off on Tether's non-audit balance statement in June 2018. He also helped negotiate Allied Wallet's settlement with the FTC, after Allied Wallet served as money mules for $110 million scammed from consumers — and Allied Wallet got their credit cards via Wirecard. [FT, paywalled; AP]
However, Freeh has had links to a startling selection of companies that have had legal or regulatory issues. The Fact Freeh blog collects stories on Freeh. [Fact Freeh]
And Global Trade Solutions GmbH — the company of Ivan Manuel Molina, sometime money mule for Bitfinex and Tether — shares a Switzerland address with crypto Visa card issuers Crypto.com: Bahnhofstrasse 21, 6300 Zug, Switzerland. But that address has a remarkable number of company names attached to it, so I'd think it's just sharing a lawyer or something similar. [Google search]
Holes in accounts: 1.9b €. Your card stops working: Priceless
Merchants pretty much don't take crypto — because crypto true believers don't spend, they just hold. (See chapter 7 of Attack of the 50 Foot Blockchain.)
But crypto users also want crypto to work like money — so they can turn their cryptos into actual money, without waiting days to get cash out of their exchange.
So crypto companies often try to issue crypto-backed debit cards — these either tap into an exchange balance of cryptos, or you top them up yourself with cryptos. The merchants get paid in actual money, from the card provider selling the crypto backing.
Crypto is a disaster area for anti-money-laundering rules — because there's so much dirty money, and separating out allegedly-clean money is all but impossible.
No decently-run financial institution wants to go within a mile of this — so the card issuers tend to be dodgy chancers, crypto true believers, or (of course) both.
Enter Wirecard — who were the most recent backers for crypto Visa debit cards issued by crypto.com and TenX!
The cards were backed by Wirecard Card Solutions in the UK. The FCA suspended that company on Friday 26 June. The cards immediately stopped working. [FCA]
Cash on the cards should be safe — the FCA says that "Wirecard is required under the EMRs [Electronic Money Regulations] to maintain appropriate measures to safeguard customers money. It does this by holding it separate from its own money in accounts with banks (or another credit institution)."
The FCA advises UK customers that they should "contact their card provider directly and may do so using the contact details on their website." Passported customers elsewhere in the EU should contact Wirecard Card Services directly. (Good luck!)
TenX states that "all customer funds are safe and remain accessible as the TenX Wallet is unaffected" — so you can just withdraw your crypto balance. [TenX]
Crypto.com says: "Our team is working on processing credits to the crypto wallets equivalent to the fiat balances held on the cards. We expect this to be completed within 48 hours." [Crypto.com]
Never trust a crypto fintech
Wirecard were getting a bit desperate to shore up the business — and that's the sort of fintech that gets into crypto.
Wirecard had already inquired about working with the Telegram Open Network, before that was firmly shut down by the SEC — planning "a joint digital financial services, payments and banking platform." [Wirecard]
The company also used the buzzword "blockchain" a lot when it was in fashion a year or two ago — though it's not clear any products ever eventuated.
Whoever next offers a crypto Visa card — I would suggest you look closely into their corporate history and behaviour. And drop Dan McCrum an email.
Here's the collapse of Wirecard in video form, presented by Dan McCrum. This is a most enjoyable eight minutes. [FT, free to watch]
Your subscriptions keep this site going. Sign up today!