Corona-chan wants to be your very best friend — maybe your last friend ever! So we have some fancy masks for sale.
These exist at all because I just wanted a Squiddy the Goldman Sachs Vampire Squid mask. (Same as the shirt I favour for video interviews these days.)
These are not medical equipment — but they're decorative! Also, the closest I have to official merchandise. The Galaxy Raven mask seems to be popular, too. [Arkadian Dreams]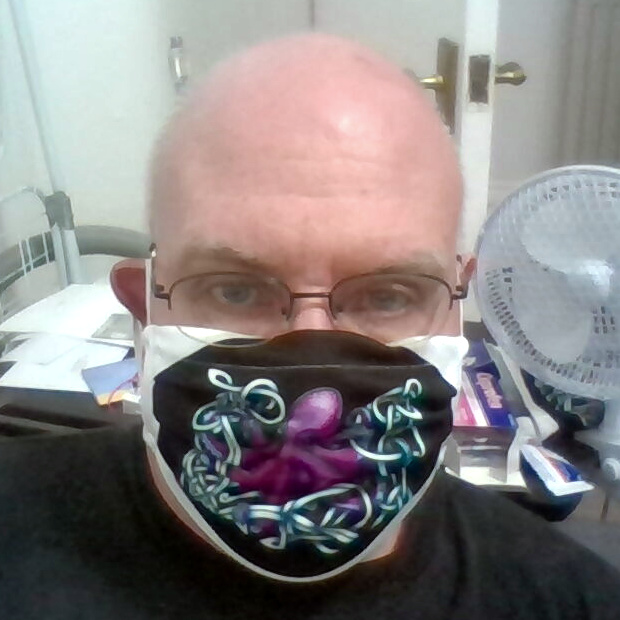 My "not buying cryptos to launder money" shirt is raising a lot of questions answered by the shirt
ESTONIA, 2017: Send your money on holiday to sunny e-Estonia, the e-country with blockchains for e-verything!
ESTONIA, 2020: I am shocked, shocked to find that these "crypto" companies are money laundering.
Billions of dirty dollars flowed through the Estonian office of Danske Bank — and the crooks are using crypto as a vehicle.
Crypto companies with an Estonian license are using those credentials to commit fraud elsewhere — so the Estonian regulator has stripped more than 500 companies of their local permits.
There's another 900 crypto companies registered in Estonia. More than half have no staff or operations in Estonia, so are likely to lose their licenses too. [Bloomberg]
The Danske Bank money laundering scandal came to light in mid-2018, after a customer blew the whistle. Estonia started investigating around the same time. [Bloomberg, 2018]
Swedish banks Swedbank and SEB fueled a similar scam in Latvia — 30 million EUR lost to "crypto exchange companies, letter box companies and Maltese banks."
Warning signals included … implausible interest rates! The excuse for the Ponzi-like yields was that the money was going to short-term loans to startup companies.
"At the address in Riga where the cryptocurrency company is registered, there is today only an old abandoned factory building in concrete from the Soviet era, which is completely empty." [SVT]
SVT says: "Cryptocurrency is, according to financial crime experts, a strong warning signal about suspected crime and money laundering." Ya don't say.
Gosh, this poker table seems completely devoid of suckers
Just as crypto is the history of financial scams on fast forward, Decentralised Finance is the history of crypto scams on fast forward — first as farce, then as bigger farce.
How DeFi works:
Yield farmers on the Compound protocol — who get COMP tokens for making transactions — are manipulating the USDT market on Compound to generate COMP for themselves, because they can.
The crypto venture capitalists who control the "decentralised" Compound protocol — most prominently Andreessen Horowitz and Robert Leshner, the CEO of Compound — are twiddling the reserve percentage, because they can. [Compound]
They aren't bothering to fix the actual broken USDT market, because they don't have to.
$COMP is being listed on Coinbase tomorrow — Andreessen Horowitz were Coinbase investors, and Coinbase are Compound investors — and I'd just like you to picture the dump after this pump. [Coinbase blog]
The purpose seems to be to skim dimes from suckers, and funnel them to Andreessen Horowitz. If you ever wonder "why did COMP think X was a good idea," that's the answer.
Crypto fans look forward to luring fresh suckers into crypto by talking up the unfeasible interest rates on DeFi — "much like the ICO bubble." [Twitter, archive]
It is difficult to overstate how laughably illegal it would be to run an "investment" market in this manner outside crypto — or inside crypto, if the SEC ever notices. This makes the Telegram ICO scam look defensible.
If you think DeFi is a good investment vehicle, and you don't know who the sucker at the table is — it's you.
Tried to pay for my coffee at @Starbucks with $DAI but the stupid barista said they couldn't accept it. Made the manager come out and he acted like he'd never even heard of @MakerDAO

I'm suing.

— NFTKaren (@defikaren) June 21, 2020
Come work for Reddit for free!
The forum site Reddit uses "karma points" — up and down votes on posts and comments. For some unfathomable reason — I would guess someone high up having massive Ethereum holdings they're stuck with — they want to do these as tokens on Ethereum, in conjunction with the Ethereum Foundation.
But Ethereum doesn't scale to cat pictures, let alone to Reddit. Even running these tokens on just two subreddits on an Ethereum testnet,  Reddit are finding that: "Community Points distributions have cost an order of magnitude more gas than all other operations combined, primarily due to on-chain storage costs associated with onboarding new users."
So Reddit is running a competition to find a scaling solution for Ethereum! You know, one of the things that Ethereum's been after since 2015.
The specification for what Reddit needs is about 1000 words. For the extensive development and computer science work they're asking for, Reddit is offering a grand prize purse of … nothing! [Reddit]
Reports from /r/fortnite are that the gamers are having fun buying each other GIFs, tipping each other tokens and so on — just as if this is an internal token kept track of in a database. Which Reddit still determine the meaning of inside the service, even if you could take your tokens outside Reddit. It's not clear the blockchain bit is going to do anything at all useful. [Reddit]
dear reddit is my plan for committing tax fraud good? pic.twitter.com/BmQ2Ya04P6

— Buttcoin (@ButtCoin) June 12, 2020
Peter Todd settles sexual assault defamation claim against Isis Lovecruft
Bitcoin core developer Peter Todd has settled his lawsuit against Isis Lovecruft over Todd's claim that Lovecruft called Todd a rapist.
The last substantive document in the case docket is a Joint Discovery Letter Brief, outlining just how little of Todd's case was left after Lovecruft successfully brought a SLAPP motion — that this lawsuit was largely frivolous.
In the SLAPP motion, the judge found that calling Peter Todd a rapist in the circumstances of this case is protected by the First Amendment: "the  public  has  an  interest  in  identifying  individuals  who  commit  sexual  abuse and accusations of abuse are matters of public concern." [Order On Defendant's Special Motion To Strike, PDF]
Here's the entire text that Todd had left to swing a case on, and he was then only allowed fragments of it, as quoted in the Joint Discovery Letter (which you should read): [Joint Discovery Letter Brief, PDF]
Third Party:  [@_willish:] Peter todd is a rapist?

Lovecruft:  yes, similar to Nadim, i personally have a story about Peter Todd and i've personally spoken with survivors with absolutely awful and horrifying reports who are terrified of him and of coming forward (rightly so) [¶] i however am not afraid and shitty dudes are going down.
Lovecruft outlines the settlement: [legal fundraiser]
The basic terms of the settlement are: Todd agreed to dismiss his lawsuit against Lovecruft, and walk away without any financial recovery, in exchange for a statement by Lovecruft clarifying that they do not assert (as they have never asserted) that Todd raped or sexually assaulted them personally.
Todd is also required not to sue any of his other accusers who testified in the case.
I'm not going to literally post "I hereby declare Peter Todd is a rapist" on the basis of this case — but I will say that suing for defamation over an indirect claim in half a tweet is going to make your public reputation worse, not better.
This is Bitcoin, so Todd's status as a conference draw will remain unaffected by his actions. [case docket]
don't mind me nothing to see here just using my first amendment right to let y'all know that PETER TODD IS A RAPIST and even though he didn't rape me he told me he would and grabbed me and the only reason he didn't succeed is that i kicked his idiot can't-do-high-school-maths ass

— isis agora lovecruft (they/them) (@isislovecruft) June 16, 2020
I fought the law, and the law won
Liberty-loving captain of industry and payments innovator Robert Farkas, of the Centra Tech ICO (July-Oct 2017), has been forced to lick the statist jackboot on the trivial grounds that everything they claimed was lies, and the alleged CEO of their company didn't … exist. [Justice Department press release]
Centra Tech pretended to be funding a crypto-backed Visa or Mastercard credit card, and to have money-transmitter licenses in 38 states. They also claimed a bunch of fictitious team members. 100,000 ETH was seized when they were busted in 2018, and will presumably be auctioned in the usual manner.
Centra Tech was the ICO that Floyd Mayweather and DJ Khaled gave celebrity endorsements for — and were duly fined hundreds of thousands of dollars (in actual money) by the SEC in 2018 for not stating their compensation in this particular unregistered offering of securities. [SEC press release, 2018]
The SEC also got an emergency restraining order against High Street Capital — a.k.a. Hvizdzak Capital Management, Shane Hvizdzak and Sean Hvizdzak — for running a fraudulent crypto hedge fund: "misrepresenting fund performance, fabricating financial statements, and forging audit documents." See, crypto hedge funds aren't all just HODLers in ties with Chromebooks! [Press release; complaint, PDF]
Good news for Bitcoin
US President Donald Trump told Treasury Secretary Steve Mnuchin in 2018 to "go after Bitcoin" as a fraud — according to John Bolton's unreleased White House memoir. Here's the entire mention of Bitcoin in the leaked PDF of the book, from Chapter 10, "Thunder out of China" (p265):
Not only was his outsized role institutionally unusual, Mnuchin's pro-China, zeal-for-the-deal approach was substantively dangerous. From time to time, even Trump saw this. At one Roosevelt Room session, on May 22, Trump all but yelled at Mnuchin, "Don't be a trade negotiator. Go after Bitcoin [for fraud]." Mnuchin, also all but yelling, said, "If you don't want me on trade, fine, your economic team will execute whatever you want."
I'd thought it was Mnuchin who set Trump against cryptos — Mnuchin apparently told David Marcus from Libra in May 2019, "I hate everything about this." [Fortune, 2019, paywalled]
How are Bitcoin miners doing after the halving? The 7-day moving average of total fresh bitcoins transferred from miner addresses on Thursday 18 June was 988 BTC, the lowest since February 2010 — which was before Bitcoin exchanges existed. There's about 900 BTC freshly created each day — so miners are consistently having to sell more coins than they mine, to keep up with their bills, and it's still the lowest ever. Hard times coming down t' pit. [GlassNode, archive]
"As soon as we see someone (using the Bitcoin machine) and they're on their cell phone, we always sort of interject just to make sure they're not on the phone with (the scammers)," Morissette said. "Usually they are." Zeid says he's fed up with it, and wants to get the machine out of his store. [GlobalNews]
Good news for Bitcoin in Venezuela! … the country's going all-in on the US Dollar, using Zelle. [CoinDesk]
Who is Satoshi? Psychics have an answer. [Michelle Whitedove]
Propositions Coiners Endorse:

> Proof of Keys
> Not using Coinbase
> Verifying the hell out of hardware wallets

Propositions Coiners Oppose:

> Auditing Tether

— Cas "Mildly Interesting" Piancey (@CasPiancey) June 18, 2020
Good news for crypto cards
Over in real finance, German fintech Wirecard has a 1.9 billion EUR hole in its accounts, and their auditors EY are refusing to sign off on the 2019 financial statements — claiming "spurious balance confirmations," i.e., faked letters from banks. [Wirecard]
Wirecard is the company that tried to get Financial Times journalists prosecuted for looking into its fabulously shonky behaviour. [Financial Times]
Wirecard were backing some crypto-funded Visa prepaid cards — crypto.com's MCO Visa Card and TenX's Visa Debit Card. Funds presently on the cards are not affected. It's probably just a huge, ongoing coincidence that crypto Visa cards keep being backed by hilariously dodgy companies. Wirecard were also looking at getting involved in the Telegram Open Network. [The Block]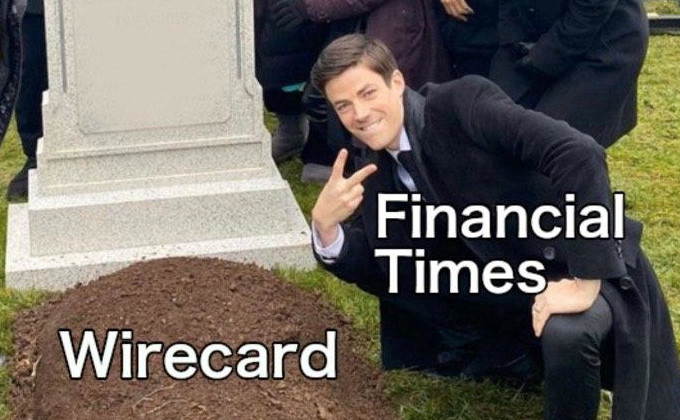 No news for Libra
At last, a use case for Facebook Pay! WhatsApp Pay in Brazil uses Facebook Pay as its backend. Facebook Pay runs on top of your existing Visa or Mastercard credit or debit card — your bank does all the messy Know-Your-Customer stuff, and Facebook just harvest the spending data.
This is distinct from WhatsApp Pay in India — which is a front-end to the Universal Payments Interface, the local real-time retail settlement system, and is still only a small-scale trial.
Libra is not even mentioned. [Facebook; TechCrunch]
Things happen
The Coinsquare crypto exchange has sent sent multiple cease-and-desist letters to ex-employees who've posted about the company on Glassdoor. Coinsquare "takes issue with a few things, including former employees comparing the company to Fyre Festival." Perhaps Coinsquare could have a Glassdoor warning notice about legal interference, the way Kraken does. [Twitter]
https://twitter.com/josephfcox/status/1272586127585587201
Shocked to see yet another Bitcoin captain of industry — BitClub CEO Russ Medlin — arrested in Indonesia for sex crimes involving children! Imagine the odds that these coincidences just keep happening. BitClub was a $722 million Bitcoin cloud mining scam — and Medlin is one of five indicted conspirators who is wanted by the FBI. Medlin had previously been convicted of child pornography offences and sexual assault of a minor under 14. [Reuters; indictment, PDF; Daily Beast, 2019]
Former CFTC chairman Chris Giancarlo declares that XRP is not a security! Hooray for Ripple Labs! Oh, there's a tiny disclaimer at the bottom: Ripple Labs employs his law firm. Here's to the revolving door reaching crypto. [IFLR]
Does anyone else have brief moments of disgust when observing what goes on in crypto?

— Rocco 🌲 (@Obstropolos) June 18, 2020
every once in a while i get some debt collection agency mail for the person who lived here before us seven years ago and i check out what he's up to on facebook. he used to be a sacred geometry guy but now he's a cryptocurrency guy and he sells cat-size bandanas

— hen-wen (@spindlypete) June 20, 2020
Your subscriptions keep this site going. Sign up today!