Joker hysterical face
Facebook is making a play for the Metaverse virtual currency market with their third attempt at a private currency — "Zuck Bucks." That's the internal name, anyway.
"Zuck Bucks" won't be a cryptocurrency — the plan is an in-house gaming currency, in the manner of Facebook Credits a decade ago.
Facebook is also considering "social tokens" or "reputation tokens", to turn the act of participating in a Facebook group into a way to scrabble for pennies. They're also floating the idea of "creator coins" in Instagram.
Facebook CEO Mark Zuckerberg confirmed that Instagram would be supporting NFTs. There's also a planned Facebook NFT pilot for mid-May, followed by testing of Facebook groups open only to those with the right NFT.
Facebook is trying to work out "the least regulated way to offer a digital currency," which sounds just darling.
Meanwhile, Facebook Financial has been haemorrhaging staff since late 2021. As well as Libra co-founder David Marcus, Facebook lost engineers, compliance staff, "and nearly its entire legal team."
Marcus has been replaced by Stephane Kasriel, former VP of product for Novi Wallet. Before that, he was CEO of Upwork. [FT, paywalled]
Facebook plans to take a 47.5% cut on virtual asset sales in its Metaverse, which doesn't exist yet. [CNBC]
If the metaverse does happen I at least want to secure the dumbest, most insane job available in there.

Tree impersonator. D&D fake snack usherette. Pro league cybersex referee. Private detective but only for dogs. School bully espionage solutions. Teletubby hunter.

— Laurie Charles (@thestuffofmemes) April 5, 2022
Look, know
Worldcoin is Y Combinator and OpenAI founder Sam Altman's attempt to do a cryptocurrency that he just gives away free! He's just nice like that, see.
They're making sure coins only go to individuals by … collecting scans of people's eyeballs.
Worldcoin distributes eye scanners called Orbs to operators around the world, in a sort of multi-level marketing arrangement, complete with sales conferences for Orb operators.
It isn't working out so well. The organisation turns out to be suffused with crooks and corruption from top to bottom. How completely unpredictable!
"Worldcoin is already wrestling with a host of problems, from managing angry Orb operators to concerns that the company is using its cryptocurrency as a way to amass millions of biometrics and perfect a new kind of authentication technology for the blockchain era" — collecting as many people's eyeball scans as possible really obviously being the fundamental point of the exercise.
"We didn't want to build hardware devices — we didn't want to build a biometric device, even. It's just the only solution we found." Perhaps you could try not doing that then. [Buzzfeed News]
Can't wait to tell my boss I'm being sued for defamation for saying crypto is a scam. pic.twitter.com/rPv9uCxuq5

— Liz 🦑 (@_lizbarr) April 8, 2022
Bingo master's breakout
Bitcoin miner Riot Blockchain (RIOT) produced 511 BTC in March and holds 6,062 BTC. CoinDesk somehow completely fails to ask the obvious question: Why are they holding? [CoinDesk]
HIVE Blockchain Technologies produced 278.6 BTC and over 2,400 ETH in March. As of 3 April, HIVE held 2,568 BTC and 16,196 ETH. [press release]
Miners just love holding cryptos, see. It's not that they can't sell them for fear of crashing the market, because number can only ever go up.
Crypto miner Marathon is exiting the Hardin coal-fired power plant in Billings, Montana. It was getting a bit too much attention — too much, ahahaha, heat. Bitcoin is green, you know. [Billings Gazette]
The metaverse is very funny because it's basically everyone in corporate America being so horny for monetization they forgot to even make the thing they're trying to monetize first and now they're just hoping you won't notice before you throw money at it

— Christopher (@BunchesOfBees) April 8, 2022
Turn that bloody blimey Space Invader off
CCP, makers of Eve Online, have tried repeatedly over the years to come up with business lines other than getting people to play their game of Spreadsheets in Space. On Monday, they announced that blockchains and NFTs would not be amongst these attempts. [Eve Online]
What provoked this announcement from CCP? Probably the dismal failure of CCP's new NFT line. sinful_sophistry from Reddit does the numbers: "their first batch of NFTs had 4 sales, totaling 26 tezos, 3-4 months ago when 1 tezos was 4.5 dollars. Since 10% of each sale went to CCP, they made around 11.7 dollars off the whole endeavor, minus development costs." [Objkt; Reddit]
Ubisoft's Ghost Recon Breakpoint NFT promotion sold a total of $396 worth of NFTs. Ubisoft has pulled the NFTs, and thanks all the buyers: "You own a piece of the game and have left your mark in its history." Yeah, thanks. Ubisoft is still doing NFTs for other titles. [GamesIndustry.biz]
F1 Delta Time is the Animoca NFT game that lost its license to use Formula 1 trademarks, and rugpulled all the NFT buyers. Luke Plunkett notes that the game "had a melbourne grand prix … which raced around sydney harbour. please note how they've taken the actual melbourne course design and just … pasted it onto the sydney image. so half the track is underwater. remember, this wasn't some bootleg fan game. this was an officially-licensed F1 product. which put out press releases. featuring the underwater track." [Twitter]
Animoca founder Yat Siu says that getting their backsides kicked off the ASX for non-compliance was good news for Animoca, and unleashed the regulatory shackles that would have stunted the firm's rapid growth, akhully. [AFR; AFR, 2021]
NFT marketplace LooksRare admits that by trading volume, most activity on the site is users selling tokens to themselves to help earn rewards in the form of more coins. They incentivised wash trading. [Bloomberg]
Richard Waters at the Financial Times on Web3: "The main applications — non-fungible tokens (NFTs) and decentralised finance — are founded almost entirely on financial speculation and regulatory arbitrage. When the speculators take a bath and regulators decide it's time to close the loopholes, what will be left?" [FT, paywalled]
seeing someone you're a fan of announce they're doing NFTs: terrible. disappointing.

missing that announcement and only learning about the situation from their follow-up notes app apology cancelling the NFTs: incredible, hilarious, like seeing the face of god

— soul nate (@MNateShyamalan) April 13, 2022
I've got this letter before me. It's buff with a confidential seal
Bitcoins have been called "pedo pesos" since the early days. It turns out paedophiles are stupid enough to think Bitcoin was anonymous too. IRS Criminal Investigation busted every single customer of the site Welcome To Video that they could. Content warning: suicide, child abuse (not graphically described) — this is an unpleasant story about unpleasant people. [Wired]
Crypto has "exploded since 2017," says Ryan Korner, head of the IRS Criminal Investigation division in Los Angeles. "We're at a point where it touches almost every investigation that we work in one way or another." [Bloomberg]
For its 2022-2025 planned programme, the Financial Conduct Authority is adding 80 staff to boost its enforcement operations against "problem firms" — specifically including crypto. "Risks to consumers and the market must be appropriately mitigated. This may require further crypto asset regulation as the industry evolves." [FT, paywalled; FCA, PDF]
Crypto is hiring Washington, DC officials as absolutely fast as it can. Prospect suggests that the Biden administration needs to shut and lock the revolving door as quickly as possible. [Prospect]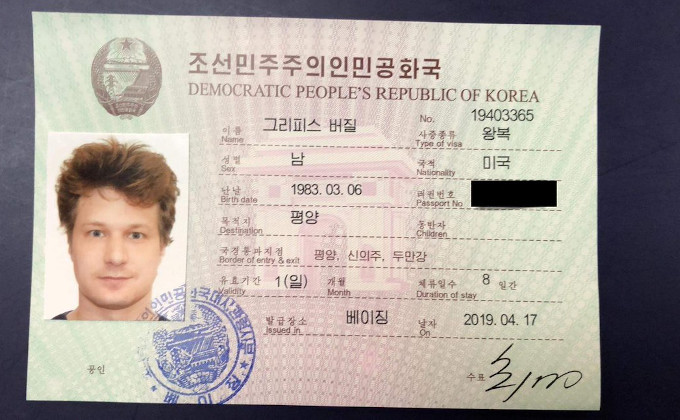 Jawbone and the air rifle
Virgil Griffiths gets 63 months in prison and a $100,100 fine for his visit to North Korea, which totally wasn't with the endorsement of his employer the Ethereum Foundation, as such. Judge Kevin Castel was pissed. [Daily Beast; case docket]
The co-creator and main financial beneficiary of the Torment Nexus, from the famed SF novel "Don't Create The Torment Nexus," is appalled that the Torment Nexus is being used for torment. Joe Lubin laments the amount of fraud that happens on Ethereum. [AFR]
Ethereum's transition to proof-of-stake is delayed again, as is tradition. Maybe 2023? Who knows! [Web 3 Is Going Great]
Meanwhile, Vitalik Buterin reassures us that 2018 "will be the year where all of the ideas around scalability, Plasma, proof-of-stake, and privacy that we have painstakingly worked on and refined over the last four years are finally going to turn into real, live working code." [TechCrunch, 2018]
— 👁👅👁 (@AlisonBuki) April 7, 2022
Lie dream of a casino soul
Robinhood makes a frickin' bundle from crypto trading, because — unlike stocks — they charge fees on trades. So they're doing their own crypto wallet. Cryptos on Robinhood were previously in a walled garden — you couldn't move them in or out of Robinhood, just buy or sell them inside the app. Now you'll be able to, except in New York, Nevada or Hawaii. The wallet will also allow you to self-host your cryptos, so you can lose your life savings when your phone falls into a puddle. [CoinDesk]
The Commonwealth Bank of Australia hasn't quite been able to make crypto trading open to its retail customers. They're still in detailed discussions with the Australian Securities and Investments Commission (ASIC) over the product disclosure statement, the target market for the product and consumer protection. That is: ASIC is not letting the CBA casually put crypto trading in front of grandma. [AFR]
Coinbase suspends buy orders in India less than four days after it launches locally. Coinbase was cut off from the Unified Payments Interface that hooks into every other payment system nationally, so nobody can buy anything. [TechCrunch]
Coinbase is told it can't force a crypto theft lawsuit to arbitration — the arbitration clause was ruled "unconscionable" by Judge William Alsup, as it restricts users more than it restricts Coinbase. [Bloomberg]
There's a class action against Coinbase, alleging deceptive omissions in the S-1 filing for their initial public offering. The claims are that Coinbase omitted to note that they required a sizable cash injection and that their platform isn't very robust, to a degree that was materially misleading. [press release]
It is no coincidence that I, the "King of Fun," have cornered the market on joy. It is also no coincidence that I am extremely poor

— wintbot_neo (@drilbot_neo) April 14, 2022
For very minute lolly
Molly White of Web 3 Is Going Great suggested that the Wikimedia Foundation, the charity behind Wikipedia, stop accepting donations in cryptocurrency. The discussion has concluded, and the Wikimedia community now requests that the Foundation stop accepting cryptos. This has no binding power over the Foundation, but it will be taken into serious consideration. Crypto currently makes up 0.08% of donations to Wikimedia. [Wikimedia]
After loud protests, the Mozilla Foundation is no longer accepting donations of proof-of-work cryptos, only proof-of-stake or similar. No examples are listed. [Press release; policy]
If you're looking for good causes to help you safely dispose of your cryptographic toxic waste, the Internet Archive and Sci-Hub are excellent candidates. Sci-Hub in particular can only take crypto donations. [Internet Archive; Sci-Hub]
what's that rumbling noise in the distance, slowly growing louder, you ask?

it is the stampede of crypto zealots who have never once donated to the wikimedia foundation, shouting "guess i'll take my money elsewhere!"

— Molly White (@molly0xFFF) April 13, 2022
New facts emerge
The EU is blocking high-value crypto currency services to Russia — as part of extensive new sanctions. I'm surprised they weren't before. [European Commission]
Square, I mean Block's, CashApp now has an exciting new feature. You can dump your paycheck into it for Bitcoin! This can't possibly go badly wrong. [Amy Castor]
The SEC approves Teucrium's BTC futures ETF — mostly because surveillance sharing around the CME Bitcoin Futures product is good. The SEC order directly compares the CME Futures market to how bad surveillance sharing is in the Bitcoin spot market ETFs they keep rejecting. [SEC, PDF]
BlackRock invests in Circle, and takes on the job of main asset manager for USDC. The dollar stablecoin that says it's backed one-to-one by dollars is apparently backed by whatever BlackRock puts in? [Bloomberg]
Guest informant
A paper: Positive Risk-Free Interest Rates in Decentralized Finance. Summary: it can't be done. [SSRN, PDF; Medium]
"I'm from Perth and I'll tell you there is no one on earth who is keener to find a get rich scheme than Australian suburbanites. They are the perfect suckers; they have a good lifestyle but they want more." I'm quoted in the home town paper. [West Australian]
I'm on Crypto Critics Corner! An hour of rambling tightly edited down to 43 minutes. This one seems to have gone down well. The YouTube version has actual video. [Anchor.fm; YouTube]
thanks @davidgerard 😎 #CryptoIsAScam #CryptoIsAPyramidScheme pic.twitter.com/4xOBhSwNak

— carrie h ross (@chargooond) April 9, 2022
Your subscriptions keep this site going. Sign up today!