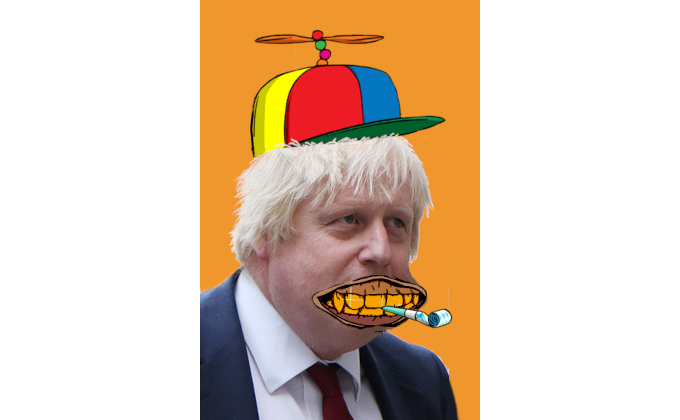 Original art by Jorge Stolfi, do not steal.
This nation's saving grace
It's full steam ahead for the sunlit uplands of Brexit Britain! "Chancellor Rishi Sunak has asked the Royal Mint to create an NFT to be issued by the summer. This decision shows the the forward-looking approach we are determined to take towards cryptoassets in the UK." You'd think it was 2018 again. [Twitter]
The Royal Mint NFT is part of a broader initiative for the UK to become a "global hub" for crypto. The City has long served the more upmarket money launderer, and this should be viewed as a pitch for that market. Particularly as the "London laundromat" just lost its lucrative customer base of Russian oligarchs. [FT, paywalled]
City minister John Glen says the government is determined to show "the UK is open for business and open for crypto businesses." [GOV.UK]
Does this mean the Financial Conduct Authority's appalling refusal to let shonky crypto garbage set up shop in the UK will be curtailed? … No. "We aren't going to lower our standards, but we are going to sustain our technological neutral approach."
The Treasury will be regulating stablecoin issuers under the FCA. Private GBP stablecoins will need to be backed by a reserve of pounds sterling — which the issuer won't be able to lend out.
Jemima Kelly, FT: "So a blockchain-based digital receipt for a JPEG that you don't actually own is emblematic of Britain's future." [FT, free with login]
Righteous maelstrom
The SEC has set out some accounting rules for crypto-assets. They're simple, obvious and the way that everyone's been doing this already: cryptos you hold on behalf of a customer should be accounted as a liability to the customer. [SEC]
This works the same way as bank deposits: the bank owns the money, but has a liability to you for it. You are the beneficial owner of the money or the crypto deposit, but in a bankruptcy you will become a creditor. So just like crypto exchanges have been presumed to work for the past decade.
Crypto pumpers know it's their duty to try to make even an innocuous regulation like this into a call-to-arms for a culture war. It's a bonding experience, like watching Tucker Carlson. So here's Caitlin Long complaining that cryptos are being treated differently to securities. Is she saying that Bitcoin and Ethereum should be classified as securities? [Twitter]
The SEC has rejected the ARK 21shares proposal for a Bitcoin ETF, for precisely the same list of reasons they rejected the last several Bitcoin ETFs — see pages 22-23 of this new rejection. I'm really not clear on the point of repeatedly submitting proposals that are trivially going to fail, again and again and again — surely this is getting a bit expensive as culture war fodder. [SEC, PDF]
Regulatory clarity
The European Parliament has voted: EU businesses will need to inform the authorities as to the sender and receiver of all crypto transactions. This includes transactions under 1000 EUR, because smurfing (sending a flurry of small transactions instead of one large one) is so easy with crypto. The requirement also applies to transactions coming from self-hosted wallets — individuals who hold their own keys. The only exemption is person-to-person transactions between individuals. The vote now has to be agreed to by the European Council. [European Parliament]
Argentina is taking a $45 billion debt deal with the International Monetary Fund (IMF). The deal explicitly discourages Argentina from pulling an El Salvador: "To further safeguard financial stability, we are taking important steps to discourage the use of crypto-currencies with a view to preventing money laundering, informality and disintermediation". [IMF, PDF; CoinDesk]
From 1 May, Indonesia will be putting VAT on crypto transactions. The Reuters report doesn't say how much the sales tax will be, though it'll be less than the usual 11%. "Crypto assets will be subject to VAT because they are a commodity as defined by the trade ministry. They are not a currency." Crypto will also attract an 0.1% capital gains tax. [Reuters]
Fol de rol
Has anyone else noticed the NFT advertising push slowing down? Venture capitalists, and others, are dropping the ".eth" from their Twitter display names. Travis Brown gives us a list of 3,900 Twitter accounts that have recently removed an ".eth" from their name. [GitHub]
F1 Delta Time, an officially-licensed Formula 1 NFT racing game developed by Animoca that launched in 2019, announced its shutdown on 15 March — and closed the next day. The game was promoted as "Play to Earn," and the NFTs were promoted as investments you would own. But Animoca lost their license to the Formula 1 branding, and rugpulled the players and buyers with one day's notice. Aninoca offered the players and NFT holders "ways in which they can participate in the wider REVV Motorsport ecosystem": instead of the Formula 1 cars their NFTs represented, those NFTs will now represent … generic replacement cars in some completely different game. The tokens are now all but worthless. [blog post; Kotaku]
It has been [0] days since the DeFi system yet again worked as designed. This time, Inverse Finance was taken for "$15.6 million" in ETH, WBTC and minor altcoins by a price oracle being manipulated. [CoinDesk]
In the quest for more money, the music industry has turned to NFTs. A pile of music news sites have gone all-in on NFT promotion of late — it's quite disconcerting. So how's Web3 going for musicians? So far, the buyers for music-based NFTs are crypto speculators, not the artists' fans. Total sales across all musical NFTs so far are $83 million — almost entirely in cryptocurrencies, on NFT platforms. Having money go directly from NFT traders to artists is better than bad — though that doesn't mean that doing an NFT as an artist is a good idea, as I set out last year. [Water & Music]
"It took me 7 steps over the course of a day to buy an NFT, showing just how hard it'll be for the market to go mainstream." The author is a crypto fan, and another of her articles argues that putting medical history on a blockchain is a good idea. But even a crypto fan found this stuff was broken trash that doesn't work. "In the meantime, I'll be counting my blessings that I'll never have to start this process from scratch ever again." [Business Insider; Business Insider]
Philip Rosedale, creator of Second Life, was interviewed by PC Gamer on the Metaverse hype — given the Metaverse pitch so far has been "Second Life but rubbish." Rosedale considers the entire precept of Web3 to be pernicious — "The Matrix is not the instruction manual. The Matrix is the warning." [PC Gamer]
I'm slightly featured in a podcast on NFTs from BBC Marathi. It contains bits from my previous chats to the BBC, introduced and then translated. Are there any Marathi speakers in the house who can tell me if it's any good? [BBC]
Get a real furioso plate
I mentioned in my article on wildcat banking that wildcat banknotes were the ICO white papers of their day: "Get a real furioso plate, one that will take with all creation — flaming with cupids, locomotives, rural scenery, and Hercules kicking the world over."
In trying to track down that quote, I finally got hold of a copy of Carter H. Golembe's 1952 doctoral dissertation, "State Banks and the Economic Development of the West, 1830-1844." Here's the footnote with the quote.
An amusing description of the kind of note which the new banks issued is contained in a letter to John R. Norton from an official of the soon to be opened Bank of Superiors "Get a real furioso plate — one that will take with all creation — flaming with cupids, Locomotives, rural scenery and, Hercules kicking the world over … P.S. Let the Bills be of large size." Letter, October 26, 1837, John R. Norton Papers, Burton Historical Collections.
Is anyone in range of the Detroit Public Library to look through the Burton Historical Collection for the original letter and its author? [ProQuest; Detroit Public Library]
New facts emerge
Netflix's documentary on the collapse of the Quadriga crypto exchange, "Trust No One: The Hunt for the Crypto King," is available now for streaming. The New York Times didn't think much of it: "it soon becomes clear that the aggrieved Quadriga users are uniquely unfit investigators of its mystery." The story centres on Tong Zou, who tried to save 2% in fees by moving his life savings from the US to Canada via Quadriga, and lost the lot. The trailer features a modem noise. [NYT; Netflix]
US crypto miner Marathon is "open to buyers." They're particularly hoping for a gullible energy company. But the crypto mining market is fine, you understand. [Bloomberg]
Hedge funds are trying to short Tether — "Some hedge funds arranged short sales of tether with Genesis Global Trading Inc., one of the larger crypto brokerages for professional investors, said Matt Ballensweig, Genesis's co-head of trading and lending." There's no details on how Genesis has constructed a short that the hedge funds think will pay out if Tether pops. There are obvious issues with going to a casino and betting the casino will catch fire. [WSJ, paywalled]
The server of Russian darknet market Hydra, reputedly one of the largest, has been seized by German police. 543 BTC was seized in the process. [BKA, in German; Bleeping Computer]
The Australian Competition & Consumer Commission is suing Facebook for not doing enough to stop deceptive cryptocurrency ads featuring fake celebrity testimonials. "The essence of our case is that Meta is responsible for these ads that it publishes on its platform." [ACCC]
Which non-sanctioned entities are going to buy El Salvador's Volcano Bonds? "There is a ton of wealth that is outside the banking system and wants to remain outside it," said "one industry executive who has experience of working with Bitfinex." Does that translate to anyone other than "crooks"? [FT, paywalled]
On 19 May 2021, the Bitcoin price crashed to $30,000. Short sellers had deals all lined up on Binance. The platform crashed — and the short sellers lost their money when Bitcoin quickly went back up over $42,000. (Coinciding with Tether sending 500 million tethers to Binance.) The Binance users are bringing an arbitration case against the company. If they win, the next trick is working out where Binance keeps its money. Ben McKenzie and Jacob Silverman tell some of their stories. [Washington Post]
Guest informant
"MEV" (Miner Extractable Value) is a crypto jargon term for "everyone down to the crypto miners will front run your transactions if they possibly can." Here's a paper by Julien Piet, Jaiden Fairoze and Nicholas Weaver on MEV. [arXiv, PDF]
Can crypto rewards win over gen-Z consumers? (No.) With quotes from me. [Raconteur]
A Viral Case Against Crypto, Explored: The video essayist Dan Olson explains the dangers lurking in the culture and ideology that surround digital currency. Warning: This episode contains explicit language. [NYT, audio]
Rohan Grey spoke to Crypto Critics Corner about the ECASH act. [Crypto Critics Corner, audio]
I'm delighted for Ben McKenzie to take point as the World's Most Famous Crypto Critic. This article gets Ben's public service message across in the first few paragraphs, and that's what counts. A counter to that awful Roose bilge, my goodness. [NYT]
Jacob Silverman was interviewed by AJPlus about his recent interest in the problems with cryptocurrencies. [AJPlus, archive]
This CoinTelegraph piece on nocoiners starts with me calling coiners f—wits, which is about right. My quotes are good and make my points. You can also read about how I was housemates with Andrew Fenton from CoinTelegraph a few decades ago. Caution: contains strong language, mostly from me. [CoinTelegraph]
Every crypto hack post-mortem is basically people you wouldn't trust to competently build a message board were trusted to manage hundreds of millions of dollars and their poorly designed security system failed. https://t.co/ov4xEBWN6V

— Dare Obasanjo (@Carnage4Life) March 30, 2022
a small problem with the "code is law" bros is that they are completely wrong about how laws work and how code works and how society works and how cognition works and

— Senior Oops Engineer (@ReinH) April 1, 2022
When people tell me something is "innovative" I just use the word "fraud" interchangeably now

— Cas "Orson Newstat" Piancey (@CasPiancey) April 5, 2022
fun fact: the reason your internal body temperature rises when you are infected is because viruses are using your body to mine for bitcoin

— Uncivil Engineer (check bio) (@uncivil3ngineer) June 10, 2021
Your subscriptions keep this site going. Sign up today!