Support my work by signing up for the Patreon — $5 or $20 a month, or what you have. It really does help a lot! [Patreon]
Sign up to get this newsletter (and the other blog posts) by email! [scroll down, or click here]
Hey, the loved one's second album is out next month, and it's up for preview! You should most certainly pre-order it for £7 download! [Bandcamp]
Silence, hexagon
Twitter is offering NFT avatars to users who buy Twitter Blue for a few dollars a month! Your profile picture is displayed in a hexagon, rather than the usual circle. You can only set the NFT avatar in the iOS app, and your NFT has to be from a verified collection on OpenSea. [Twitter]
Normal tweeters — ones who despise NFT bros — were delighted to have Twitter helpfully mark those users who it was an ethical imperative to cyber-bully. As usual, the Onion is straight-up news coverage of the near future. [The Onion]
There are already several applications to auto-block anyone with an NFT avatar:
Twitter is wholeheartedly embracing the true power and potential of NFTs. Justin Taylor, head of consumer product marketing at Twitter, really wants people to be able to use "unverified" NFT collections — that is, just steal some art and mint it as an NFT. [Twitter, archive]
(I changed my own Twitter avatar to a pentagon, to show my allegiance to the fiat petrodollar.)
Good news from Russia
The Bank of Russia has issued a consultation paper that proposes a complete ban on cryptocurrency use or mining:
The growth of cryptocurrencies seriously jeopardises Russians' well-being and the stability of the financial system and causes threats associated with the use of cryptocurrencies for illicit settlements.
The bank proposes blocking financial institutions from touching cryptos, and blocking all buying or selling of cryptos with actual money. If crypto is a better payment system, then a CBDC will do the job just as well. The bank points to China as an example of how you can just kick crypto out if you really want to. [Reuters; CBR, PDF, in English]
Meanwhile, Ivan Chebeskov, director of the financial policy department of the Ministry of Finance, told a Russian crypto conference that he wants to regulate cryptos rather than ban them. "We need to give these technologies the opportunity to develop," he said, whatever that actually means. [RBC, in Russian]
The one man has cast his one vote — President Vladimir Putin favours the Ministry of Finance proposal to tax and regulate crypto, "according to three people familiar with the matter." Crypto mining would be restricted to regions with a surplus of electricity. The Bank of Russia criticised the Finance proposal. [Bloomberg]
Why everybody hates Binance
Now up: parts 2 and 3 of the comedy gold series in which an undercover journalist gets offered a six-figure job as Binance's Senior Regulatory Advisor, with completely made-up qualifications that nobody checked, and a fake photo on a fake LinkedIn.
How could this happen? Basically, everyone in Binance's compliance department at present is an unqualified clown. "I was told that I should expect the environment at Binance to be 'disorganised' … Not wanting to send forged documentation, I simply did not send anything and told my contact at Binance that I was considering my options. They sent me the offer letter anyway." Part 4 to come! [Disruption Banking]
To be fair, Binance regards the compliance department as a sort of funny toy balloon mascot. Binance routinely keeps anti-money-laundering checks on its customers as weak as they think they can get away with. "Reduce KYC. Raise Limits. BEST COMBO." They withhold information from regulators. They ignore the compliance department's recommendations. CZ wanted "no kyc." [Reuters]
I know nothing! Nothing!
Well, I certainly didn't expect Michael Patryn, of the late Canadian crypto exchange QuadrigaCX, to show up again. Perhaps he'll help Jennifer Robertson in her promotional tour for the book Bitcoin Widow.
Robertson was raked over the coals on The National, CBC's flagship current affairs programme — including being asked why the hell she won't just let Cotten's alleged body be checked, if as politely as possible. Amy Castor's on this segment too; I didn't get on camera, but helped a bit with the research. [YouTube, 24:40 on] CBC wrote up the segment as an article. [CBC]
The Toronto Star has an interview with Robertson as well. [Toronto Star]
CBC The Current with Matt Galloway spoke to Robertson. Galloway comes across as wondering just how naive Robertson was. Robertson won't authorise exhuming Cotten as it would just feed conspiracy theories. [CBC, 01:38 to 21:10]
Galloway: "Did you ever ask why hundred dollar bills were scattered around your house?"

Robertson:  "It was kind of a Gerry thing."
Amy Castor was also interviewed on CBC On The Coast about the collapse of Quadriga. [CBC]
Bitcoin Widow was the No. 6 best-seller in non-fiction in Canada for the week ending 26 January. I've still seen no proper reviews of it apart from mine and Amy's. [Toronto Star]
Stephen Kimber, who ghost-wrote Bitcoin Widow, asks just what the number-go-up enthusiasts who put their money into Bitcoin, and into Quadriga, were thinking. When the news came out in early 2019 about Quadriga collapsing, I remember there was very little public sympathy for Quadriga's investors — I had Canadian interviewers asking me why anyone should care about these greedy dolts who wanted unregulated finance, and got it good and hard. And theft is bad — but I concur that it's important to keep in mind that the victims were, in fact, for the most part, greedy dolts. [Halifax Examiner]
Regulatory clarity
SEC rejects First Trust SkyBridge's proposed Bitcoin ETF. Page 15 sets out the fundamental issue — none of the wash trading, whale manipulation, exchange information security or fraud, mining manipulation, misleading market information manipulation or issues with Tether that the SEC has objected to in previous proposals have been addressed. Anyone putting forward another Bitcoin ETF had better get around to all that, then. [SEC, PDF]
The Bank of Thailand, the Thai Ministry of Finance and the SEC are restricting the use of cryptos as payments in Thailand. [BoT]
In a new cybersecurity law, Myanmar's military junta will be banning VPNs and cryptocurrencies. Using cryptos will get you six to twelve months' jail. [The Register]
After banning crypto advertising, Singapore has shut down down all the crypto ATMs. [Bloomberg]
The SEC is looking into Celsius Network, Voyager Digital Ltd. and Gemini Trust Co. as part of an inquiry into companies that pay interest on cryptocurrencies. [Bloomberg]
Industrial estate
There's a claim going around the crypto press that Google will be partnering with Coinbase and Bitpay!
The entire claim is a throwaway in the last paras of this Bloomberg story about Google Pay: [Bloomberg]
Tiptoeing into crypto also could help Google entice users. Google has partnered with companies, including Coinbase Global Inc. and BitPay Inc., to store crypto assets in digital cards, while still having users pay in traditional currencies. Ready said Google is looking to do more of these partnership, though the company still isn't accepting crypto for transactions.

"Crypto is something we pay a lot of attention to," he said. "As user demand and merchant demand evolves, we'll evolve with it."
In context, it's talking about crypto debit cards via Google Pay. Which isn't nothing, but it also isn't new.
Wireless enthusiast intercepts government secret radio band and uncovers secrets and scandals of deceitful-type proportions
Decrypt dives into the "secret" Biden administration plot to … hand control of stablecoins to the banks! [Decrypt, archive]
The article's thesis is that government hates crypto 'cos it's just too beautiful, OK. The piece reads like a particularly paranoid CoinDesk op-ed.
Back here in reality, the US government has been shouting its concerns from the rooftops since the 2019 Libra hearings — Libra Shrugged, chapters 10 and 13 — in the futile hope that anyone from crypto will listen.
The US government ignored cryptocurrency until David Marcus and Mark Zuckerberg were stupid and arrogant enough to put their crypto project forward as a serious threat.
You do understand that Libra got 100% of financial regulators' attention worldwide, right? Central banks are still worried that someone who isn't a blithering idiot will try to do a systemic-scale private currency. Even the recent Bank of Russia report mentions Libra/Diem on the third page.
The Biden administration is not the Trump administration. But the opposition to Libra was bipartisan — that these crypto morons cannot be allowed to mess with the real economy.
Libra showed the danger, and the bureaucracy didn't forget with the new President. The previous President's Working Group on Financial Markets put out an excoriating report on stablecoins in December 2020. The new administration's intentions are milder.
How do you think the guardians of the dollar were going to respond? Everything that's happening now started then.
Crypto has made itself a matter of national security — ransomwaring the Colonial Pipeline is an example of how to be clever, but not smart. Plans to deal with crypto as a national security issue have been in progress since the Trump administration — and Biden looks to be implementing some of these plans in the coming weeks. [Barron's]
The US government's thinking on crypto is only "secret" if you've been trying extremely hard to pay no attention for years at a time, and prefer crypto paranoia to reading things.
Things happen
I added this to the piece a couple of days ago about Diem being sold off for spare parts, but I'll note it here too — the Wall Street Journal reports that Silvergate Capital (the holding company for Silvergate Bank) is buying Diem's "technology" for "about $200 million, a person familiar with the matter said." I would just love to see what Silvergate thinks it's getting two hundred million dollars' worth of. Or if there's some other reason to throw $200 million down this black hole. [WSJ, paywalled]
The International Monetary Fund has concluded its 2021 Article IV consultation with El Salvador. The IMF thinks El Salvador had a good COVID response, has too much public debt, and should remove Bitcoin's legal tender status. The country's much-desired $1 billion loan didn't even get a mention. [IMF]
Crypto mining in Svaneti, Georgia is causing power outages. [Eurasianet]
The Times: "Bitcoin crash: Inside the crypto firms taking millions of our money."  UK crypto firms are dodgy as hell, despite customer expectations that any effective regulation exists. [The Times, archive]
Chainlink, 4chan /biz/'s favourite minor altcoin, has hired Christian Catalini, formerly of Diem, as a technical advisor. [CoinDesk]
A happy user gives the official phone app for China's e-CNY (formerly DC/EP) CBDC a 5/5 review. Unlike Alipay or WeChat Pay, there is no limit on transaction amounts for the highest level of Know-Your Customer. (You can set limits for sub-wallets.) And under RMB 2000, your transactions are anonymous — the PBOC doesn't care. This is not the case for Alipay or WeChat Pay. I'd like to see official word on that anonymity, but the key point is that the app is competitive with the incumbents. [LinkedIn]
24-year-old Australian crypto Ponzi scammer Stefan Qin does an interview a few days before going to prison for seven and a half years for fraud. The slightest glimmerings of self-realisation, way too late. This is eleven minutes, and it's a must-watch. [YouTube]
Hot takes
Jacobin: "Cryptocurrency Is a Giant Ponzi Scheme: Cryptocurrency is not merely a bad investment or speculative bubble. It's worse than that: it's a full-on fraud." A surprisingly good article from Jacobin. Perhaps Reason will be next? (Perhaps not.) [Jacobin]
Jason Knight: Should I use a blockchain in my product? 2nd edition. "Answer a few simple questions in this fully updated questionnaire, you can find out quickly whether Web3 is a good fit for your new product or business idea, and get suggestions as to which technologies to use and essential implementation guides. Let's go!" [One Knight In Product]
Dan Olson (Foldable Human) has done a two-hour video on NFTs, "Line Goes Up," and it's excellent. And I'm not just saying that because he loves my book. Alli Kirkham, the cover artist, squeed when she saw her cover design on the video. [YouTube; Tumblr]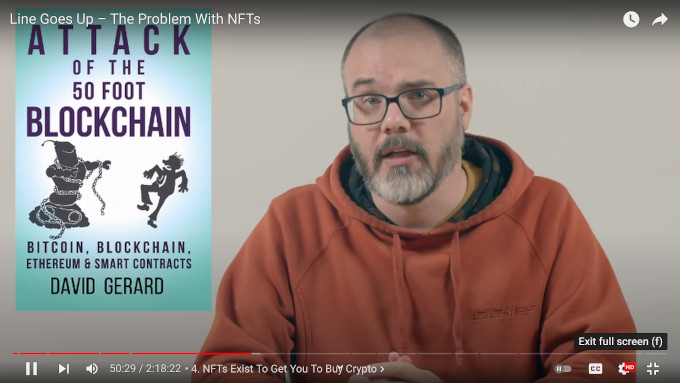 I tweeted the words "Ethereum Classic" once several weeks ago, and since then have been showing up in a bi-weekly update on the top ETC influencers. Sadly I'm down to #16.

This tweet should put me back in the top 10.

— Dan Olson (@FoldableHuman) January 14, 2022
2000s iTunes:
"hey buy this content! It has DRM!"

2010s Bandcamp:
"hey buy this DRM-free content!"

2020s N F T marketplaces:
"hey buy this content-free DRM!"

— Tom (@NowWeAreAllTom) January 19, 2022
I think people want ungovernable systems with the idea that will be more fair, but what you actually get is something that becomes maximally unfair (and possibly permanently broken) as soon as there's an unforeseen problem https://t.co/PoXep4Ve2U

— badidea 🪐 (@0xabad1dea) January 18, 2022
Remain calm. pic.twitter.com/Z2zla0f5cY

— US Consumer Product Safety Commission (@USCPSC) January 21, 2022
For anyone that bought in at 60k+ have you tried being simply 'free in the bear'. https://t.co/obuqNGnOE7

— Red (@thomas_k_r) January 23, 2022
how are you doing people who run crypto twitter accounts

— McDonald's (@McDonalds) January 24, 2022
Imagine paying $200k for Harvard Business School and on the first day of your big crypto VC job you're told to open a Discord account and pretend to be a 19-year old hentai addict

— nicoglennon.eth (@nicoglennon) January 26, 2022
"Do you make the same mistakes you did in the past?" Asked Frogman's partner to Pumpy.

"Well, I do keep buying completely illiquid, worthless NFTs off the floor every time an influencer shills one, so yes." pic.twitter.com/lga48MkpOK

— Rational Aussie♟️🎈 (@rationalaussie) January 27, 2022
Your subscriptions keep this site going. Sign up today!