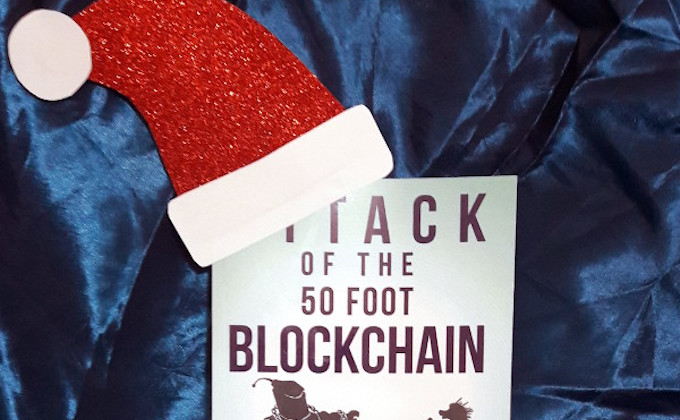 I'll admit that if it turns out to be Gerry in the coffin, and he isn't on a beach somewhere, I'll be just a little disappointed
The QuadrigaCX documentary Dead Man's Switch — with star talking heads Amy Castor and myself — is now up for streaming on Discovery+, and will be broadcast on CBC at 8pm on Sunday 2 January. [Discovery; CBC]
With the film publicity, the press is going through the whole Quadriga mess from first principles yet again. Just in time for Jennifer Robertson's book!
New York Post: "Mystery of crypto CEO who died — or did he? — taking $250 million with him" — with quotes from me and director Sheona McDonald. "Gerry, the front man in the operation, was a very charming fellow and Bitcoin fans are gullible. Talk to them about the future of money, throw in a few buzz words and they believe any garbage." [New York Post]
Amy gets her picture in the Wall Street Journal. [WSJ, paywalled]
The New York Times also liked Dead Man's Switch — and lists me as a star, buddy. [New York Times; IMDb]
Regulatory clarity, mate
Suburban Australians have long been incredible suckers for any get-rich scheme you can name, since the 1960s — pyramid schemes, multilevel marketing, and now crypto scams.
The government represents the people — so they're being gullible suckers too. The Treasurer, Josh Frydenberg, has promised a "massive shakeup" to crypto regulation. Even as he looks a bit like he doesn't quite understand the words he's reading out. There will be some regulation on crypto exchanges, so that's nice. [Youtube, from 3:00]
Frydenberg and the Senate also want to force through a CBDC — even though the Reserve Bank of Australia has already said a CBDC still doesn't have a use case — and add some ill-specified corporate recognition of DAOs. The DAO proposal is directly inspired by the Wyoming legislation to that effect. [AFR; AFR; Senate report, PDF]
Einstürzende neubauten
The state of New South Wales in Australia has a problem — shoddy property developers using their own shoddy private certification authorities to push through shoddy buildings.
There's a massive scandal of defective apartment buildings — and developers who go "bankrupt" before legal action can be brought, then everyone involved reforms the next day as a new corporate entity.
This happens even with allegedly classy buildings — see this Google review, for example: "From the first to last day moving, my apartment had constant issues. The overall attention to detail is horrendous … Amenities are world class but unusable due to being under constant maintenance." [Google Maps]
So let's fix a scam — with two scams! We'll take a blockchain derived from the Australian Securities Exchange's years-late trading blockchain, that still isn't live — presumably Hyperledger Fabric with smart contracts in DAML. Then we'll bung a massive wad of cash to KPMG, and also involve one of the allegedly questionable property developers in question — and build … a slow database, administered by a central government entity. There's also "AI" in there too, for some reason. [ZDNet]
The entire point of governments is to be the trusted third party. This is a database.
We could unwind the incredibly flawed private building certification regime, and empower a regulator to enforce the standards … or we could delay any effective action from happening with a crypto handwave.
Buddy, they won't even let me funge it
The unofficial Wikipedia NFT sold for $750,000. I can probably reveal now that the numbers Christie's were talking to Jimmy Wales about the NFT fetching were on the order of $5 million. The strawberry iMac that Wikipedia was created on sold for $187,500, which is excellent actually. [CoinTelegraph]
OpenSea used to have a notification form for blatant theft of artists' work to make NFTs. They've taken that down, and now demand full DMCA contact details from the artists, which they pass to the NFT scammers. But a much quicker workaround is to send your DMCA notice direct to Google, where the images are hosted — so NFT buyers can delight in their cryptographic tokens pointing to a "404 File Not Found." [Twitter]
Serial over-promiser Peter Molyneux, long-past creator of actually popular games such as Black and White and, for the past decade, founder of multiple failed Kickstarters, is now selling imaginary land in a Play-To-Earn virtual world game called Legacy — "the first ever Blockchain Business Sim." I'm sure that appeals to someone. He's so far taken in 13,365 ETH — about $54 million — of very dumb money. [Ars Technica]
Ubisoft's gaming NFTs are not taking off like a rocket. As of 20 December, there had been 15 sales total, to a value of 94.49 XTZ, or $396. Ubisoft forgot the bit where the NFT "market" is fake, and you need to wash-trade your token up to lure in the suckers. [Twitter thread]
"Hostility towards NFTs has been a rare unifying factor across gamers of all stripes." Destroy NFTs in gaming with the Doom mod that lets you mass-murder the Bored Apes by screenshotting them with your hand-held camera. [PC Gamer; ModDB]
Sometimes the story demands you go above and beyond in subjecting yourself to the affluent at their dumbest. Adlan Jackson, reporting for the Verge, sneaks into one of the "exclusive" Bored Ape parties — a pile of boring and unstylish young men, and dubious facilities cleaning. I did learn that "The Bored Apes themselves are a shoddy appropriation of the Japanese streetwear brand A Bathing Ape." [The Verge]
Gawker: "NFT art combines the nuanced social awareness of computer programmers with the soulful whimsy of hedge fund managers. It's art for people whose imaginations have been captured by a new kind of money you can do on the computer." [Gawker]
The Third Man
The FT does a deep dive on Jean-Louis van der Velde, CEO of Bitfinex and Tether — an all-but-invisible man of mystery, to the point that some of us wondered if he even existed. He does, and FT have a rundown on his career. [FT, paywalled]
Van der Velde has mostly lived in Hong Kong since going to university in Taiwan in his twenties. He was in sales at various electronics companies through the 1990s and 2000s. A creditor summarises van der Velde's time at Huashun Electronics in Shenzhen: "The company was poorly managed and it could not repay the money."
He generously gives his time in the academic world:
Shih-wei Liao, an associate professor at the National Taiwan University who has known the Tether chief for more than 30 years, said van der Velde had made a big contribution to students on a blockchain course they ran together, particularly in teaching ethics.
Tether were most upset by this story. [Tether]
Things happen
Here's a long Twitter thread of Salvadorans who say money disappeared from their Chivo wallet. They're mainly hardcore Bukele fans … because there's nobody else left using Chivo. [Twitter]
Peter McCormack, the host of Bitcoin maximalist podcast What Bitcoin Did, has bought his local tenth-division football team, Bedford FC! Club management quit immediately. McCormack says that buying Bedford FC was "a childhood dream" — and never mind that he'd originally wanted to buy the rather larger seventh-division Bedford Town FC, but was turned down. McCormack also doesn't seem to know that the "real" in "Real Madrid" is Spanish for "royal." [Protos]
I'm told that Venmo allows you to buy Bitcoin without asking for your Social Security number … which they'll then demand when you want to cash out. So PayPal have learnt the first rule of running a crypto exchange: dollars go in, and never out.
GovInfoSecurity: "Treasury Official Urges Congress to Regulate Stablecoins: Official Overseeing Financial Stability Says Lawmakers Must Act Quickly" — with quotes from me saying what a good idea this is. [GovInfoSecurity]
H&R Block is suing Jack Dorsey's payment company Block, formerly Square, over that company's new name. [The Verge]
Tabletop games are a thriving niche interest, and quite a lot are launched on Kickstarter … until Kickstarter announced plans to go blockchain. The bigger creators are now working out where to jump to. [Dicebreaker]
It has been [0] days since … well, you know the rest. This time it's Grim Finance, which was hacked for an alleged $25 million in illiquid tokens, via a re-entrancy bug in the smart contract. Good to see that Solidity programmers have learnt not a damn thing since The DAO in 2016. [Reddit; Twitter]
This is so hilarious and true: pic.twitter.com/tZ9izeeecV

— Nicholas Weaver (@ncweaver) December 21, 2021
a normal person explains cryptocurrency: pic.twitter.com/FVSIGcaMcD

— Avalon Penrose (@avalonpenrose) December 22, 2021
Your subscriptions keep this site going. Sign up today!