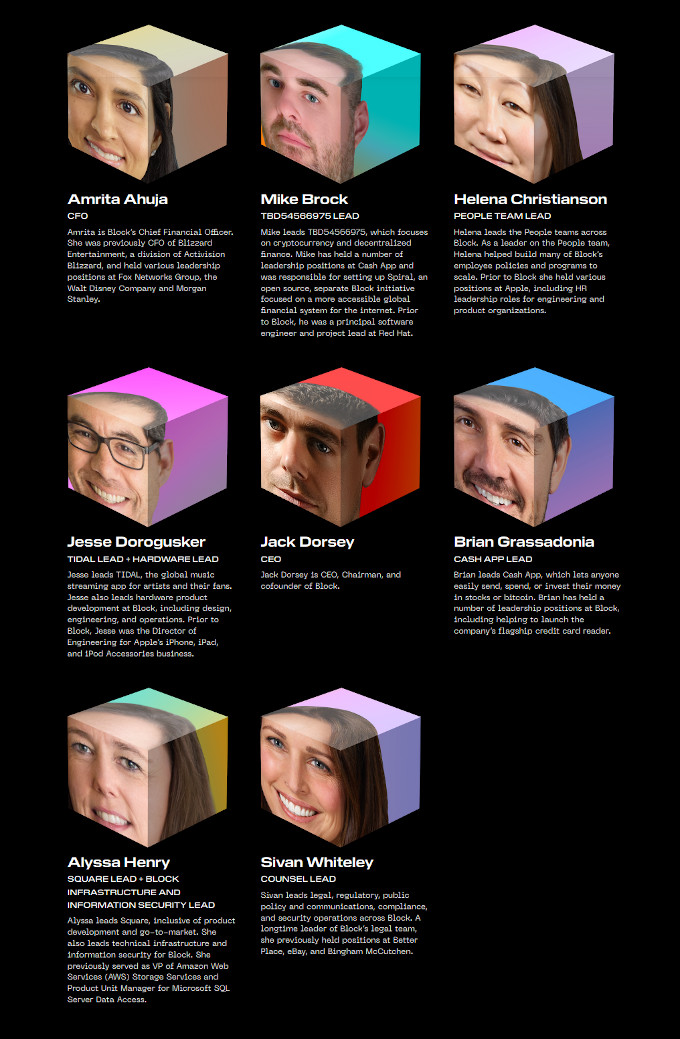 Let's do financial shenanigans … in Minecraft
The above image is not someone poking fun at Jack Dorsey. It's a screenshot of the team page on the Investor Relations subsite of Block — the new name for Square, Jack Dorsey's payments business. Dorsey's left Twitter, to concentrate on going full blockchain, and renamed Square accordingly. [Block; CNBC]
You'll be delighted to know that someone's already written a Block-head Generator. [Twitter; glitch.me]
Dorsey's TBD decentralised exchange project has published an incomprehensible white paper. Apparently, this will bank the 1.7 billion unbanked. [TBD; TBD, PDF]
"square, having an entirely functional business providing turnkey pos solutions that actually work was clearly ripe for disruption" — infernal machines
Notice me, senpai!
CoinDesk never heard a rumour about proper investment bankers even glancing at Bitcoin that it didn't rush to print. This week's is that Goldman Sachs and JP Morgan are looking at lending actual money, using Bitcoin as collateral. [CoinDesk]
Goldman Sachs correctly considers Bitcoin trash. So they're trying to construct a backing made of synthetic products — i.e., bets on the price, such as CME Bitcoin futures, which are bought in dollars and paid out in dollars — so that they do not, at any stage, risk touching a bitcoin. Squiddy* wants some slight protection if Bitcoin goes bad — say, if BTC/USD drops 20% in a few minutes, as it did last night — and the collateral is suddenly worthless. The regulators also have to go along with the specific product they come up with.
The real story is that the whales — "large institutional trading firms," per the article — want (or need) to realise the face value of their bitcoins, and they can't, because there just aren't enough actual dollars in the market. This is the same reason miners are keeping a "stockpile" of unsaleable bitcoins, as I've noted previously.
So the whales are going to Goldman Sachs to ask for a loan backed by their unsaleable bitcoins, even though the collateral can't possibly cover for the value of the loan even if Bitcoin doesn't crash. It's a way for the whales to cash out, and leave Squiddy holding the bag. I expect Squiddy is fully cognisant of this, and this is the scenario they're trying to construct a buffer against.
* Traders nicknamed Goldman Sachs "Squiddy" after Matt Taibbi called the bank "a great vampire squid wrapped around the face of humanity" in 2010. [Rolling Stone] I'm annoyed that I can't find a Wikipedia-quality source for the fact that traders and finance nerds call Goldman Sachs "Squiddy" now.
The unofficial Wikipedia NFT
Jimmy Wales, founder of Wikipedia, is auctioning the strawberry iMac he started Wikipedia on! And also, an NFT of the first Wikipedia edit. [Christie's]
The money will be donated to free-culture charities. This won't include Wikipedia — Jimmy is taking care to stress that the Wikimedia Foundation is not involved with this at all. [The Verge]
I've known Jimmy since Wikipedia's early days — and he's read my books and knows what I think of all things crypto. He went to Christie's to auction off the iMac. Christie's suggested doing an NFT, and he asked what I thought. I advised against the plan — I thought it was a bad idea and would get a bad reaction from the Wikipedia community, and from the general public, for all the reasons NFTs are bad.
Christie's were pretty sure the NFT could make quite a chunk of money — enough that even I was trying to think how we could do this without alienating the community and public.
But Jimmy decided on balance that it was worth going ahead, buying a carbon offset for the NFT's share of Ethereum mining, and so on. So here's to some money for the charities. At least the strawberry iMac is a legitimately cool souvenir item.
The other story here is that Christie's is actively promoting NFTs to sufficiently famous customers. Which is not surprising, as it's free money for a cryptographic hash, and they made millions from the $69 million JPEG that Beeple wash-traded with Metakovan.
If you're in the UK, please do send a Wikipedia-ish donation to Wikimedia UK, 'cos they don't get nearly enough from the mothership. They don't accept cryptos, sorry. [Twitter; Wikimedia UK]
Why Gaming NFTs Will Never Work. "I don't want to spend too much time on our differences though, and instead rally around our similarities — namely, we all hate NFTs." An excellent single-paragraph summary of what the heck an NFT is: [The Gamer]
A brief rundown of what an NFT is — it takes a picture on the internet (of which there are an infinite number) and arbitrarily attempts to limit the number available by selling digital ownership receipts. You can still right click and save for free, but you won't 'own' the image, not without the receipt. Sound stupid? Great, you're all caught up. Oh, and it's also tremendously bad for the environment, thanks to the huge energy drain caused by the underlying blockchain technology that powers it.
The NFT market is made of wash trading. The top 10% of traders have traded 97% of NFTs. 10% of buyer-seller pairs make up half the volume. The secondary market is a minority — "less than 10% are sold at least once within one week after the primary sale, and only about 22% within 1 year." [Scientific Reports; supplementary information, PDF]
Desperate Finance
The Badger DAO was pwned for $115 million of cryptos by hacking the website front-end, and stealing the coins directly from the users. [The Block]
Crypto lender Celsius lost $54 million in the Badger hack, as spotted in on-chain data. [BlockWorks]
Internal emails show Celsius suspending their CFO Yaron Shalem as of November 18 — over a week before they admitted his arrest publicly. [Blockworks]
The SEC is looking into crypto lender BlockFi's "high yield" crypto accounts. 'Cos if you offer interest on money loaned to you and you're not a bank, then you're offering an investment contract — a security. [Bloomberg]
Don't take me down to Bitcoin City
For your amusement, here's Blockstream's proposal for El Salvador's Volcano Bonds. This is the 9 November 2021 edition, where $500 million goes on buying bitcoins, and $500 million is spent buying … mining rigs. [PDF]
Here are the promotional slides for Bitcoin City that President Bukele played behind his speech announcing the project. [Arquitectura Viva] The architect, Fernando Romero — billionaire Carlos Slim's son-in-law — recycled an old 2012 rendering he'd done, and added a Bitcoin logo. Romero neglected that a flat circular city makes no allowance for the lumpy real-world geography in that part of La Unión. [Twitter thread, in Spanish]
The Lightning Network is more reliable than Chivo. Payments sent from the Bitcoin blockchain or the Lightning Network to Chivo sometimes just … don't get there. [Twitter thread, with videos]
Here's a Chivo ATM showing a Windows 10 blue screen. [Twitter]
ZDNet: Volcano-powered Bitcoin City could be Bond villainy or the state of play in 2021 — with extended quotes from me on how dumb an idea this all is. [ZDNet]
Baby's on fire
What happened to all the Chinese mining rigs? The Financial Times tracked the exodus. More than two million rigs left China. Of one sample of 432,000 rigs, most ended up in Russia (200,000), Kazakhstan (87,849), the US (87,200), Canada (35,000), Paraguay (15,500) and Venezuela (7,000).
Russian mining company BitRiver claims to be running 200,000 ex-Chinese rigs. Roman Zabuga from BitRiver says "The focus of the market has shifted from a lack of equipment to a lack of space for its placement." He said that BitRiver had turned down an offer of another one million rigs, for lack of anywhere to put them.
About 700,000 Chinese rigs went off and haven't been switched back on — mostly S9-generation rigs, which are all but unviable now. [FT, paywalled]
Those who set up in Kazakhstan have discovered that the power is cheap — but not reliable. The miners are enough to overload the local grid. There's a reason the US and Canada are highly favoured destinations. [FT, paywalled]
GPU makers are increasingly disengaging from crypto miners. Nvidia has moved most of its production to gaming, and AMD is "not servicing" the crypto segment. [The Register]
Contact Energy in New Zealand wants to build a "data centre" in Clyde in central Otago for UK company Lake Parime, to run off hydroelectric power from the Clyde Dam. The "data centre" is a shipping container with louvre vents, Lake Parime does crypto mining, and they want 10 megawatts — more power than the town of Clyde uses. Residents are not happy that this drain on local renewable energy resources is (a) crypto mining (b) of no benefit to the local community, or indeed the country (c) trying to sneak in by stealth. [RNZ]
Craigness
The jury in Kleiman v. Wright is deadlocked. The judge asked them to come to a decision, as a lot of people had spent a lot of money on this case; apparently, this was meant to convince a jury who'd been asked to rule on a pile of abject nonsense. [CoinDesk]
Along the way, Craig Wright posted threats of legal action against Kleiman's expert witnesses as they testified, because he's just nice like that. [Protos]
Bitcoin: Be your own bank!
India: Yes.
After a massive crypto-based Ponzi scheme, India tried banning crypto in its entirety by way of the Reserve Bank of India issuing a regulation that banks couldn't serve crypto entities. The Supreme Court knocked down that regulation, and said the government had to make a law.
The law has been in the works since, and is close to being finalised. Regulated crypto trading may or may not be allowed, but using crypto for payments definitely won't be. Crypto firms can't advertise either. It's not clear who the regulator will be. The government may impose hefty capital gains and sales taxes. India likes the idea of a CBDC, however. The final version is expected in two to three weeks. [Economic Times; Reuters]
Failson à la Mode
London fintech and not-a-bank Mode told the world that it was giving Bitcoin rewards to shoppers at UK retailers such as Boots, Homebase and Ocado. Mode shares went up 15%!
Unfortunately, Mode's claims were denied by the retailers in question. Mode clarified its previous claims, and the share price dropped back down. Mode is totally still launching its crypto cashback in 2022, and definitely has forty or more online retailers on board, for sure. [FT, paywalled]
Mode is the latest project of Jonathan Rowland, large adult failson of former Conservative Party treasurer David "Spotty" Rowland, money manager for and good friend of Prince Andrew. Jemima Kelly at FT has previously documented Rowland the Younger's ten-year string of inept failed entrepreneurial initiatives, funded by pater's bankroll. [FT Alphaville, 2020, free with login; FT Alphaville, 2020, free with login]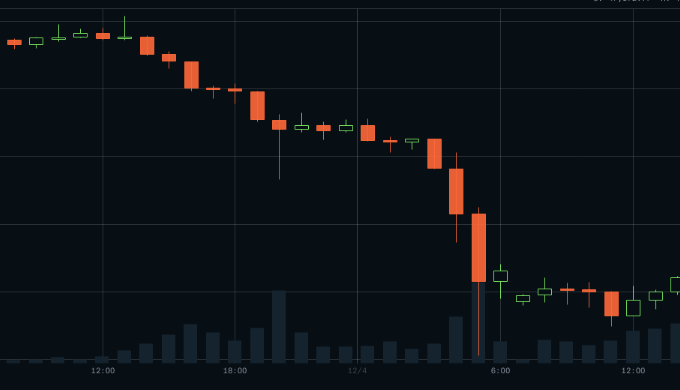 Things happen
Bitcoin crashed to $42,000 last night! Someone sold 1,500 BTC, and that triggered a cascade of sales of burnt margin-traders' collateral of another 4,000 BTC. The Tether peg broke too. The surprising thing this time around is that all the crypto exchanges didn't simultaneously need urgent scheduled maintence. [CoinDesk]
China still hates crypto. Three crypto media outlets — Chainnews, ODaily and BlockBeats — have been shut down, and several mining pools are now blocked by the Great Firewall. [The Block]
The IRS seized $3.5 billion from crypto-related fraud in fiscal 2021. [Yahoo! News; IRS, PDF]
Vice wrote up the collapse of ConstitutionDAO in detail. Their token, PEOPLE, is being traded on Uniswap as a negligible-volume minor altcoin. [Vice; CoinTelegraph]
Bitcoin adoption in the enterprise is doing so incredibly well that insurers are no longer offering coverage against ransomware, as costs are going through the roof. [Reuters]
John Kiff and Jonas Gross have written about retail CBDC considerations. CBDCs are mostly being floated in less-developed countries where commercial bank payment networks aren't very good or aren't up to the task — hence the Sand Dollar and eNaira. [CoinDesk]
Bitcoin and other cryptos have slumped after record highs. Is market manipulation the reason why? An interview with me by Euronews. This was two weeks ago, before the crash last night. [Euronews]
Vou começar agora o livro do @davidgerard pic.twitter.com/yQQMizLiHm

— Maldição de Cassandra (@bicicreta) November 29, 2021
Your subscriptions keep this site going. Sign up today!