I got a fresh pile of signed author copies of the books — £25 the pair, plus postage £6 UK, £10 Europe or £12 rest of the world. If you're in the UK and order this weekend, I can post the books on Monday and they should arrive in time for Christmas!
Subscribe on Patreon! Your $5 or $20 or whatever each month helps the hits keep coming. Tell your friends and colleagues!
And you can click here and enter your email address to get every new post emailed to you.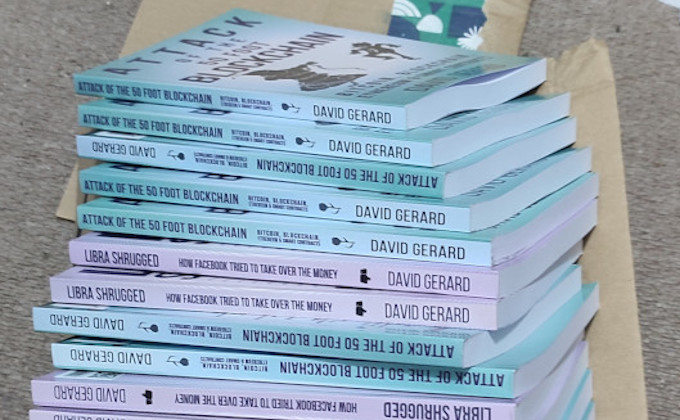 Boss makes a dollar, I make a Diem
David Marcus, a founder of Facebook's ill-fated Libra cryptocurrency initiative — which you can read all about in Libra Shrugged — has left Facebook. There's no details on what he's doing next. He says that "my entrepreneurial DNA has been nudging me for too many mornings in a row to continue ignoring it" — that is, working on a zombie death march product like Libra/Diem just gets wearying. [Facebook; The Verge]
After Morgan Beller and Kevin Weil left Facebook, Christian Catalini remains the only Libra founder still involved with Diem. Though Catalini's been back at MIT's Cryptoeconomics Lab since July 2021. [LinkedIn]
Marcus has left having finally released a Libra-related product — WhatsApp has launched payments in the US with Facebook's Novi wallet, backed by the Pax Dollar (USDP) stablecoin! [Twitter; The Verge]
This is absolutely not USDP tokens being transmitted between users' phones. The USDP are held in reserve by Novi, and all the user sees is a number changing in Novi's custodial wallet database. So Paypal, but it's Facebook. This is the same as the way it worked in the Guatemala trial of Novi.
That is, Novi will use a blockchain in the most effective way possible — not using it at all.
There is a layer of people operating at the ceiling of the economy quite literally in a permanent state of financial psychedelia

— thomas (@thomas_k_r) December 11, 2021
Corporate monkey laundering
NFTs warrant shame, ordure and rotten tomatoes. We need to make NFT promoters feel as stupid and shameful as they are.
Fortunately, this is how the general public already feel about NFTs.
If it's a naïve small artist, give them one chance. Anyone else really should know better by now.
NFT apologists — or those who say we shouldn't shame the crypto pumpers behind this garbage, for some reason — just keep turning out approximately 100% of the time to be crypto pumpers, or heavily involved in crypto pumping companies or organisations. Must be repeated coincidence.
There are genuine artistic possibilities in NFTs — as there are in anything — and I look forward to the present reprehensible NFT market we actually have being firmly consigned to the dustbin of history with a resounding clank so they can happen.
In the meantime, NFT promoters need to be forced to walk the streets ringing a bell, yelling "UNCLEAN," and wearing a scarlet ฿. Shame NFT promoters as absolutely hard as you can. The public is on your side.
A very good morning to whoever in McDonald's marketing thought they should get into NFTs, and scored the headline "McDonald's McRib NFT Project Links to Racial Slur Recorded on Blockchain." The owner of the-boss.eth, an enthusiastic OpenSea and DeFi user, sent a deposit of 0.000069 ETH to the McRib NFT's smart contract address with a racial slur in the memo field: "ay yo n—a gibsme sum of dat mcrib". And now it's there forever. Well done, all. [CoinDesk]
Ubisoft's NFTs are a hit with the employees charged with putting them into games! "I still don't really understand the 'problem' being solved here. Is it really worth the (extremely) negative publicity this will cause?" [Kotaku]
Aspiring scammers discover they're the sucker — rapper Tekashi 6ix9ine produced a line of hideous NFTs. "Jacob", who is a "crypto enthusiast and investor who's been studying blockchain tech since 2017," bought $40,000 of these JSON files on a blockchain with a web address for a horrible picture inside. The NFTs supposedly offered all manner of events, access and ongoing royalties for the buyers — but "it turned out to be a huge scam," Jacob tells Rolling Stone. The team claims a "hack." [Rolling Stone]
South Park has given its take on crypto and NFTs. [Twitter]
This huge push every company seems to be making toward NFTs reminds me of that anecdote about a Yahoo exec claiming Tumblr was "going to be the next PDF," and that the shareholder class that sets the goals of the tech industry consists of people who are not very smart

— Campa Claus 🎁 (@campawsa) December 9, 2021
Web4 will be fought with telnet 80
The point of web3 is to get a different three companies to own everything. That's it. That's the entire purpose of this huge venture capital push.
The Register explains Web3 in approximately these terms — with quotes from me. [The Register]
Tante: The Third Web — why Web3 is bad and awful, from first principles. [blog post]
Shocked, shocked to hear that a Metaverse info bot started spewing vaccine conspiracy theories. [Bloomberg]
— Lucavita 🐱 (@lookabee83) December 15, 2021
Nobody say der P-vord
CoinDesk says the quiet part out loud: [Twitter]
Yes, it's a Ponzi scheme. But who cares? So are the dollars in your pocket.
"But the US dollar is a Ponzi" is a standard Ponzi scammer excuse. Bernie Madoff used this excuse. I think Charles Ponzi might have used a version of it.
But try telling a coiner that other things supposedly being bad doesn't make your fraud somehow good.
Joe Wiesenthal from Bloomberg called out CoinDesk's tweet as dumb and bad. Marc Hochstein, CoinDesk's executive editor — who has his Urbit address as his Twitter name, because of course Hochstein is into Urbit — protested that the headline didn't fully represent the context in the original article; the writer was describing some coin's argument. Gosh, if only the site's executive editor had any power over CoinDesk's headlines or social media! [Twitter, archive]
blockchain people like "lol the internet had skeptics too" but you know i bet there were also people questioning putting radium in toothpaste

— eevee (@eevee) December 16, 2021
Good news for Bitcoin
The supposedly trillion-dollar Bitcoin market seems unable to fund the Bitcoin core developers. But as long as number goes up, I guess everything is fine. Hey, having no devs for several years worked fine for Dogecoin! [Twitter]
I said a couple of weeks ago how large Bitcoin holders were trying to get loans of actual dollars, using their bitcoins as collateral — even though the market is so thin that the collateral couldn't possibly cover the debt without crashing the price, because the actual dollars don't exist in the market, and these loans are a way for the whales to stick the lenders with their unsaleable bags of coins. MicroStrategy did a presentation to investors on 16 December, outlining precisely this scheme — to "either put a mortgage against it and generate long-term debt under favorable circumstances, which we could leverage up against the bitcoin." [MicroStrategy, video; The Block]
Iceland has a shortage of electricity, resulting in cuts to actually-useful industries — and no room for new crypto miners. [Bloomberg]
Kazakhstan turns out to suck as a place to mine bitcoins — power is cheap, but the grid just isn't up to the demands of the crypto miners after power plant maintenance in October took 1,000 megawatts offline. The Kazakh government has put limits on crypto miners. [Bloomberg]
Binance Asia Services has withdrawn its application to operate in Singapore. Binance.sg will shut down by 13 February 2022. [Forkast; Binance]
I am Craig Wright. I will prove it by not having Satoshi's private keys.

— keyan 🍏 (@k00bideh) December 10, 2021
Bitcoin reaches out to industry
The State of Virginia Legislative Branch is exploring Bitcoin in the enterprise! The enterprise Bitcoin software started on Sunday 12 December at the Department of Legislative Automated Systems and spread to almost all legislative branch websites. Responders to the ransomware attack include IT staff for the US House and Senate, and the Capitol Police. West Virginia has also been affected, and ransomware has taken out state payroll. [Richmond Times-Dispatch, archive; 13 News, archive]
Advancing Bitcoin's enterprise use case has minor casualties along the way — in this case, cream cheese. Schreiber Foods in Wisconsin's factories and distribution centres were hit by ransomware in October. [Bloomberg]
A new enterprise use case for blockchain! Glupteba is Windows malware that sets up a botnet to steal user credentials and mine cryptocurrency on infected machines, and it uses the Bitcoin blockchain to get updates to its list of command-and-control servers. Channels for end-users to get infected include ads for Bitcoin trading software. Google has been working with Cloudflare and other vendors to cut off the botnet, and is even suing its operators, Dmitry Starovikov and Alexander Filippov, who are thought to be in Russia. [Google Threat Analysis; Google Safety & Security; complaint, PDF]
You could just pay for coffee normally, but with Bitcoin you get to take off your shoe and get your foot fondled by an old man while he scans for a Qr code? Crypto is the future. https://t.co/LFfC0dt1rK

— Spurt Magoo (@spurtmagoo) December 11, 2021
Don't take me down to Bitcoin City
Local press in El Salvador notices just how dodgy a company iFinex is, and how unfit they are to be issuing sovereign debt. [Elsalvador.com, in Spanish]
It looks like Chivo has a new development and business team, being put together by white-label crypto exchange AlphaPoint. [LinkedIn, archive; AlphaPoint]
I'm also told that Lemon Cash in Argentina were not, in fact, the developers of the first version of Chivo — despite their claims to be.
ive cancelled this project due to of people getting mad at me. thank you to the 1 guy who bought it https://t.co/Brsl4OtyAT

— wint (@dril) December 18, 2021
Things happen
The Federal Reserve has eight pages of emails involving Federal Reserve chair Jerome Powell or Federal Reserve governor Randal Quarles discussing the matter of Tether settling fraud charges with the New York Attorney General. All eight pages were withheld from public release under FOIA, under the deliberative process exemption. [Twitter; Dropbox, PDF]
The People's Bank of China is working with the Hong Kong Monetary Authority on how to hook China's eCNY central bank digital currency (formerly DC/EP) into Hong Kong's excellent existing payment and inter-bank networks. [CoinDesk; Shanghai Securities News, in Chinese]
IMF: Global Crypto Regulation Should be Comprehensive, Consistent, and Coordinated — else trading immediately moves to the least regulated casino. "Uncoordinated regulatory measures may facilitate potentially destabilizing capital flows." [IMF]
A talk by David S. H. Rosenthal: Can We Mitigate Cryptocurrencies' Externalities? "The prospects for mitigating each of the four attributes are dismal." [blog post]
everyone hates NFTs because we all suspected they were stupid and then we were culturally forced to learn about them and they're way stupider than what we even thought

— cullen 'swamp trash' crawford (@HelloCullen) December 9, 2021
I just browsed Crypto YouTube for an hour and have determined we deserve to dump to 0.

— eric.eth (@econoar) December 17, 2021
The verb 'defile' was first recorded in 1275–1325, and comes from the Old French word 'defouler,' meaning "to trample on, violate."

— Dictionary.com (@Dictionarycom) December 14, 2021
My mom has a new boyfriend and recently he said that "NFTs are ugly cartoons" and a "multi level marketing scheme for virgins". When I tried to explain the fundamentals of the blockchain to him he said that he "right clicked on your mom's pussy last night". Any advice?

— Spurt Magoo (@spurtmagoo) December 1, 2021
Your subscriptions keep this site going. Sign up today!