I spent three months not getting this damn Libra book finished, basically because of Covid-19 stress — my 2020 Apocalypse Bingo card, probably like yours, is now 27 pages of fine print, with stapled-on bits falling off. (This is, of course, good news for Bitcoin.)
So a few days ago, I started scribbling mind maps to try to get an outline together — and not just 40,000 words of disorganised pieces. Pictured below: ten pages of chicken scratchings. I now have an outline that is shaped a lot like a book! (You can read the outline if you're on the Patreon.) Now to actually write it. 1,300 organised words so far today!
("Sorry, you never asked so I never gave you the advice that while writing your first book is just failing at not writing a book the second book is actually a lengthy process of realizing that nothing you did on the first book actually works reliably." — Elizabeth Sandifer)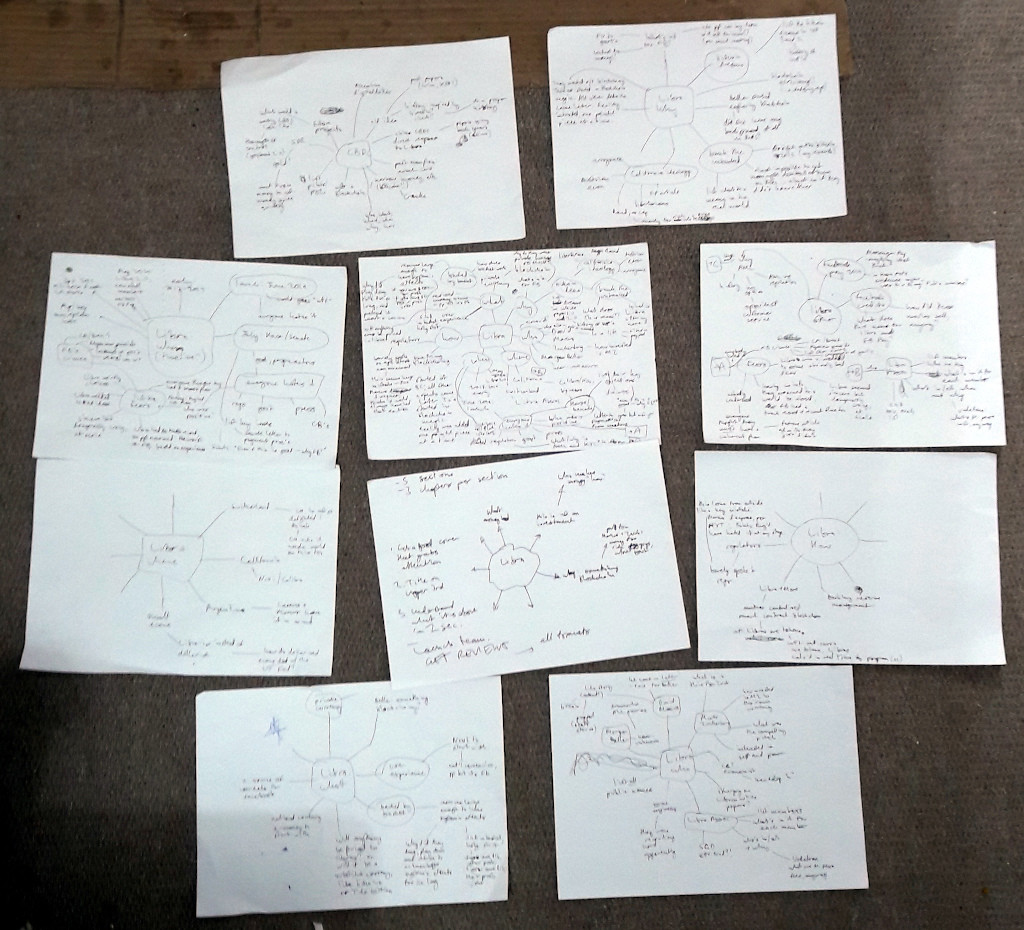 Quadriga: it turns out Gerry Cotten stole all the money
The Ontario Securities Commission has published its investigative report on QuadrigaCX … dated 14 April. It took the staff requesting an order to get it released. [press release; report; order, PDF]
The report itself is a great read — very clear and accessible. The upshot is what you expected — Quadriga was a massive scam all the way down, and Gerald Cotten was running it like a Ponzi scheme, paying out withdrawals only with deposits, to fund his lifestyle. Cotten also traded on the platform, front-running his customers. He blew another CAD$28 million of cryptos trading on other exchanges.
What happened at Quadriga was an old-fashioned fraud wrapped in modern technology. There is nothing new about Ponzi schemes, unauthorized trading with client funds and misappropriation of assets.
The OSC bends over backwards to say "not all crypto exchanges" — though I remind you all of the Bitwise report to the SEC [PDF] about how 95% of reported exchange volume was obviously fake, because the numbers weren't statistically plausible. And as for Canadian exchanges in particular, see below in today's newsletter about Coinsquare.
CBC has a nice rundown. [CBC]
There's no word as yet about whether Cotten's alleged body has been exhumed for testing, though it seems likely the answer is "no" — Cas Piancey has been calling around the RCMP, and has yet to find anyone who'll admit the question is even in their purview. [Twitter]
The extent of Cotten's trading against Quadriga customers was huge. This chart shows that from the beginning, Cotten accounted for a significant portion of trading volume on Quadriga: pic.twitter.com/KJ9BhnuhmD

— Evan Thomas (@evanmthomas) June 11, 2020
I fought the law, and the law fought back
In April 2018, the Reserve Bank of India issued a regulation that banned banks from serving cryptocurrency companies, and in March 2020 the Supreme Court quashed it — though banks were still reluctant to deal with crypto companies.
So the Indian government plans to come back with an actual law, that will quite definitely ban cryptos — good and hard. "A note has been moved for inter-ministerial consultations," a senior government official told the Economic Times. In July 2019, a government panel had prepared a draft law with harsh bans of all private cryptocurrencies, and it looks like they want to use a version of that. [Economic Times]
Why does the Indian government hate cryptos so much? Because of a massive crypto-based Ponzi in 2017. "This is the story of the bitcoin evangelist turned conman Amit Bharadwaj and his companies in the 300 million USD cryptocurrency Ponzi scheme." [Medium]
Good news for Bitcoin exchanges
Bitcoin use case found! Vanity film projects. Ben Mezrich wrote a book about the Winklevoss twins, founders of the Gemini crypto exchange: Bitcoin Billionaires (UK, US). This is now being made into a film, with the Winklevoss twins as the funders and producers. [Deadline]
The district court in the case of the bankrupt Mt. Gox crypto exchange did nothing wrong. Mt Gox owner Mark Karpelès was found guilty of manipulating electronic data, though not embezzlement — Karpelès appealed, but the high court has upheld the decision. [Associated Press]
The complaint in the big class action against Bitfinex and Tether, alleging they used tethers to manipulate the price of Bitcoin, has been amended. [Amended complaint, PDF; case docket]
The Coinbase crypto exchange's Coinbase Custody International arm announced on 30 May it was adding support for Tether withdrawals and deposits. They rapidly deleted the tweet — but CoinDesk wrote it up. "The original announcement was followed by a spike in the number of active addresses." [CoinDesk]
Yet another successful use case for blockchain — this time helping small entrepreneurs break into telecommunications! The Coinsquare crypto exchange in Canada suffered a customer data breach — and the hackers plan to use the data to crack customer accounts by SIM-swapping. #adoption #moon [Vice]
Coinsquare also got caught wash-trading — on the direct orders of CEO Cole Diamond — through 2018 and 2019. Motherboard obtained leaked emails and chats. Yes, wash trading is specifically illegal in Ontario. [Motherboard]
https://twitter.com/bryanrbeal/status/1271928495795572739
ICO, ICO
The Coinbase crypto exchange's venture capital backers have massive bags of dead minor altcoins that they would desperately love to be able to dump on retail — this time around, it's Aave, Aragon, Arweave, Bancor, COMP, DigiByte, Horizen, Livepeer, NuCypher, Numeraire, KEEP Network, Origin Protocol, Ren, Render Network, Siacoin, SKALE Network, Synthetix, and VeChain — and I bet you haven't heard of half of those either. The SEC should be looking into every single one as having been sales of unregistered securities, and this listing as another example of the dump-on-retail scam the SEC defeated in the Telegram ICO. [Medium]
Hester Peirce has been nominated by President Trump's office for a second five-year term as an SEC Commissioner. This has to be confirmed by the Senate, but it's quite unlikely she'll be rejected. This is good news for ICO scammers who thought the US was completely out of play. The SEC is also down one commissioner, since Robert Jackson Jr. left in January 2020 and hasn't been replaced. [Bloomberg Law; Pensions & Investments]
Justin Sun paid $500,000 for JustGame to build a version of the Fomo3D automatic Ethereum chain-letter for his TRON blockchain. The dapp never took off … and the developers vanished. You'd think this was the crypto world or something. Of course, Sun didn't pay $500,000 of actual money — just that much worth of TRON tokens. [Decrypt]
The death of Civility
Civil, the confused and incomprehensible "journalism on the blockchain" ICO, has finally shut down, and "will be folded into Civil's main investor, blockchain studio ConsenSys, to develop new product strategies."
Says Vivian Schiller, ex-President of the Civil Foundation: "Whether it was ahead of its time or just never viable is hard to say." I'm pretty sure I could say which it was. At the height of Civil's nonsense, I spoke to so many journalists who just could not figure out how the hell any of this was supposed to work, except the promise of magical Internet money.
And then, of course, Civil ripped off a pile of its journalists.
A comment on the article: "Central to Civil's problems: Good editing. Its staff was unable from the start to explain itself, its technology or its mission in plain English intelligible by mere mortals. (I speak from experience as an early applicant.)" [Poynter]
You are missing the meta-purpose. Civil has become a story in itself. Journalists will be compensated in CVL when writing about Civil on Civil. It's great a great system, actually

— 𝖤𝖽𝗆𝗎𝗇𝖽 𝖲𝖼𝗁𝗎𝗌𝗍𝖾𝗋 (@Edmund_Schuster) October 11, 2018
Craigness
A recent letter from Dr Craig Wright's lawyers SCA Ontier, sent to Blockstream, lists a couple of Bitcoin addresses that it claims belong to the Tulip Trust — the trust that supposedly holds the keys to the early bitcoins mined by Bitcoin creator Satoshi Nakamoto.
SCA Ontier sent this notice to Blockstream, on the theory that Blockstream employ a pile of Bitcoin core developers — and can therefore be held responsible for the ownership of bitcoins at particular addresses.
One of these is the address that contains 80,000 BTC stolen from the Mt. Gox Bitcoin exchange in 2011. [Twitter; Decrypt] Coming soon: Wright accidentally claims to be Dread Pirate Roberts from the Silk Road darknet market.
Things happen
The US Office of the Comptroller of the Currency is seeking submissions on how to tweak banking regulations relating to cryptocurrency. You should get your responses in by 3 August 2020. [OCC, PDF]
Libra has appointed Sterling Daines, currently a Managing Director and Global Head of Financial Crime Compliance at Credit Suisse, as their new Chief Compliance Officer. He takes up his new job later this year. [press release]
Western Union has made a bid to buy Moneygram. [Bloomberg] The crypto world wonders how this will affect Ripple's deal with Moneygram. I assume that if Ripple keeps giving Moneygram free money to be its friend, that'll be just fine.
Forward-thinking crypto entrepreneurs use creative destruction to optimise energy production! Bitcoin mining farms built their own power transformer stations to connect to the local grid and steal electricity, a Russian state-owned provider says. #greenbitcoin [CoinDesk]
A successful business with a genuine use case for cryptocurrencies is expanding into related spinoff business! #adoption The Revil ransomware gang has started auctioning data skimmed from their victims, or at least threatening to. [Krebs on Security]
Brilliant.org is a maths and science educational site for children, doing amazing business during the Covid-19 lockdown. The hard-working tech hipsters of Brilliant appear to have run out of adults to hawk their massive bags of cryptos to — so they're producing videos to tell kids how great cryptos are, and how blockchains work. I would like to see a full disclosure of the crypto holdings of everyone involved in this thing. [Twitter; Brilliant]
The US government has put a $5 million bounty on Venezuela's head of crypto, Joselit Ramírez. [Decrypt] This is the guy who ordered actual Petro creator Gabriel Jimenez to be detained, and forced him to work for the military at gunpoint.
You'll be shocked to discover that Bitcoin mixers, a mechanism designed to obfuscate transactions, are used for money laundering — Europol has written a report on the Wasabi Wallet mixer, and just how much darknet market activity was going through it. Larry Cermak notes that copies of the report have been disappearing — possibly because the report sets out precisely how to use a mixer in this way. [Report, PDF; archive, PDF; Twitter]
Following the science
Marc Ohm, Henrik Plate, Arnold Sykosch, Michael Meier: "Backstabber's Knife Collection: A Review of Open Source Software Supply Chain Attacks". The supply chain they're talking about is when you compromise a dependency — like when hackers got into node.js-based wallets by compromising a deep-down component module on NPM. [arXiv, PDF]
When the TornadoCash Ethereum mixer went full DAO, I noted that cryptography is harsh and unforgiving, and simple user errors can leave your backside hanging out — and reveal your secret transactions to anyone who knows what to look for. Some researchers have written up worked examples of this. Cryptography is not magical security dust. [arXiv, PDF]
Custody of cryptos turns out to be one of the hardest problems in the space. And not just because irreversibility is deeply foolish — "Lack of legal clarity poses investor risks if crypto custodians go bankrupt." Ya don't say? [SSRN, PDF with login; The Block]
Some light summer reading
Steve Tendon is determined to build a blockchain island … somewhere. He's the guy who got Malta into blockchain dreams, and is hoping to do the same with — or to — the Marshall Islands. Decrypt interviews him. [Decrypt]
Amy Castor interviews Emin Gün Sirer for Decrypt. [Decrypt]
Gazpacho on SomethingAwful brings to our attention The Crypto Company — "a sports bra innovator turned blockchain pioneer (no, i'm not joking, that actually happened)". The Crypto Company has published its 10-K for 2019. "I don't believe i've ever seen a 'bank overdraft' line in a 10-K before. it's going to be a challenge to reverse the trend and make something of that remaining pocket cash. Maybe they can bring the bra folks back to work on some face masks." [Twitter]
Holli Bohren is now the Chief Financial Officer of Brave Software, makers of the Brave web browser. Back when she was working for Bitesize, they were refusing to pay a click affiliate, and the affiliate took them to court. To me this reads like Asshole v. Asshole, but Bitesize look like the bigger assholes — and the court concurred. [Casemine]
Cas Piancey: The Mystery Man Behind Coinmarketcap Is No Mystery At All [Medium]
Cas Piancey: Comparing Tether to a bank: stop it. Get some help. [Medium]
Martin Walker: Impossible Finance: "Cost Averaging Down." [Medium]
Tim Swanson: 40 cointroversies to look into over the summer. Number one: who hacked Bitfinex? [Great Wall of Numbers]
A Twitter thread that collects dozens of implicitly and explicitly racist tweets and retweets (mostly retweets) from Nick Szabo over the last two years. [Twitter] I've written previously how, while the Bitcoin subculture is not actually a pile of racists, the crossover is a bit large for comfort.
Back in the real world, the entirety of finance is a derivative of a real economy where people make and do things. With the real economy shut, stocks are going up and down wildly, being traded purely for speculation on speculation — so they're basically cryptos now. And the microcap stocks are bottom-of-the-barrel ICO tokens where the project died two years ago, but the token still inexplicably has a price above zero.
So enjoy reading about Dave Portnoy, founder and CEO of Barstool Sports — who started a microcap trading blog, on the specific premise that he had no idea what he was doing. Dave's trading blog has gone oddly quiet since a stock he pumped on video went hugely up just before plummeting — while he waits for a knock on the door from the SEC. See, just like ICO tokens! [FT Alphaville, free with login]
Every Bitcoin Twitter feed reads like someone who got in at $18k and they really need you to bail them out.

— SwiftOnSecurity (@SwiftOnSecurity) February 11, 2020
Your subscriptions keep this site going. Sign up today!