I took two weeks' holiday to get some serious book writing done. It turned out I was a bit preoccupied — as you probably were too.
But here's a picture of my cat chasing a feather on a pole. She came over and pawed at it to get me to pick it up and taunt her with it.
If you want to support my writing — as well as the cat pictures — $5 a month is equivalent to the drink you can't presently buy me, once a month. And you can sign up for every blog post by email — for free!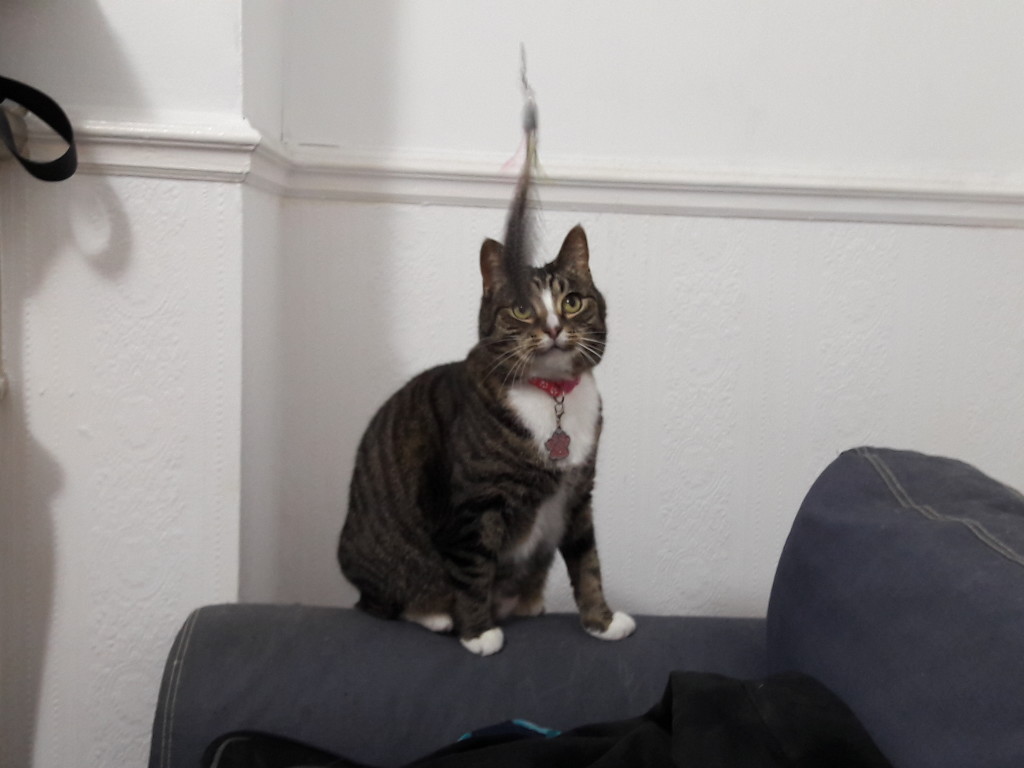 Hello, hello, baby. You called, I can't hear a thing
The SEC has been granted its devastating injunction against Telegram being allowed to distribute Gram tokens. So Telegram has asked if they can still distribute the Grams to non-US investors — since about three-quarters of the money was from outside the US. [Skadden, PDF]
Telegram first asked to release Grams to non-US investors back in November 2019, when they responded to the SEC's October 2019 complaint. In "THIRD DEFENSE: LACK OF EXTRATERRITORIAL AUTHORITY", Telegram said:
Telegram's purchase agreements with foreign purchasers are not domestic transactions. Accordingly, the SEC lacks extraterritorial authority over any of the transactions between Telegram and foreign purchasers. [Answer to Complaint, PDF]
Telegram want the sales to their Russian investors to stand — and to make Grams tradeable on non-US exchanges, at least.
The SEC responded today. The SEC calls Telegram's attempt to narrow the injunction "procedurally barred and legally meritless" — Telegram advances new legal arguments in their letter, making this "a motion for reconsideration in disguise." [SEC, PDF]
I would be very surprised if Judge Castel narrows his injunction to say non-US sales are fine. The injunction is preliminary, not final — and the SEC has strong concerns, which the judge has agreed are legally robust.
Former CFTC chair Gary Gensler says that Judge Castel's injunction, and the reasoning behind it, is the final nail in the coffin for the silly notion of SAFTs — that calling your token sale a "Simple Agreement for Future Tokens" will let you magically transmute a security into a non-security. "If the token, even two or three years later, is being bought in anticipation of profit, relying on some common enterprise, it's still a security." [Decrypt]
Telegram did speak to its investors about refunding the unspent portion of the proceeds from the ICO — and, since all the markets in everything have crashed, at least some of the investors are interested in taking what they can get. Yakov Barinsky of HASH CIB told Tass: "many, at least 10 investors I spoke with, are inclined to accept 72% of the invested funds. Considering what is happening in the financial markets, this offer now looks like much better than in October." [Tass, auto-translation]
One anonymous investor told Barinsky that half the investors want their money back "on any terms," and the other half still hope Telegram will — somehow — issue the Gram tokens. [Coindesk]
TON, the Telegram Open Network, is open-source code that anyone can download and run. So the TON Community Foundation — "a group of more than two dozen software developers and investors" — wants to launch the network, without Telegram. All they need is thirteen computers to serve as validator nodes, and to generate a genesis block, the first block in the blockchain.
But, they'd quite like the not-a-Gram tokens on the network to be of value — so, "in order to get recognized, we will need to come to an agreement with investors (at least, with a majority of them)," says the group's founder, Fedor Skuratov. [Coindesk]
A failure to adapt
"Crypto hedge fund" still means "HODLer in a tie who thinks he's a bigshot." Adaptive Capital has blown out, not just their own money, but other people's money, after Bitcoin crashed from $8,000 to $4,000 a couple of weeks ago.
Adaptive haven't said what investments went so badly they had to shut down, and there's no clear public evidence as yet of just what happened — but CoinTelegraph notes that Adaptive's collapse curiously coincides with BitMEX going offline during the crash. [CoinTelegraph]
Fund principal Murad Mahmudov's LinkedIn listed his experience as a summer intern at Goldman Sachs, and gave his current job title as "Thinker". [Twitter] Mahmudov's investment thinker-ness is of the sort that used a Technical Analysis scribble in August 2019 to predict that Bitcoin was going to "$100,000 per orangecoin." [Twitter, archive]
There's a telling phrase in that CoinTelegraph writeup: "Like many institutional investors, Adaptive Capital …" It turns out that when crypto advocates say "institutional investors," they aren't talking about outside actual-money from people with jobs — they mean their HODLer mates.
By the way — what verifiable evidence is there that Adaptive's collapse isn't just a straight-up exit scam? "Sorry, all your money's gone, LOL." I asked this on Twitter and a few people said there was something verifiable, but it hasn't manifested. I'm sure checkable evidence of Adaptive's fastidious propriety will be forthcoming, of course.
I think here of other egotistical, foolish young people doing the same sort of thing. Before he was a conservative media pundit, Jacob Wohl was a nineteen-year-old hedge fund genius who was banned for life from futures trading by age twenty. Wohl's mistake was to try the "LOL I are hedge fund" trick with non-coiners' actual money. If Wohl had got into crypto, he'd still be at it — and widely respected on crypto Twitter, with flocks of defenders for his every failure and/or exit scam.
Token printer go brrrrr
The SEC is suing Kik Interactive over the Kin ICO — and both Kik and the SEC have filed extensive memoranda asking to have the case decided by summary judgement rather than a full trial. Kik's is 53 pages, the SEC's is 75 pages; both restate the cases they've put so far. [The Block; SEC memorandum, PDF; Kik memorandum, PDF]
If you couldn't figure out what on earth the Venezuelan Petro was about — Gabriel Jiménez, who designed the Petro, finally tells the whole story in the New York Times. Jiménez originally thought the force of this technology would be enough to take down Nicolás Maduro, who he despised as a dictator — "The actual goal of the project was to change the economic model of the oppressive regime." It turns out that tokens on a blockchain don't do that. [New York Times]
("When he arrived, he moved in with his father; in a completely separate chain of events, the elder Mr. Jiménez was waiting to begin serving a three-year sentence for his role in a money-laundering scheme at a Caribbean bank." Good to hear the money launderer's son getting into crypto was just coincidence.)
The International Organization of Securities Commissions (IOSCO) looked at a hypothetical stablecoin — they mention no names, but what they describe is the plan for Facebook's Libra — and is pretty certain this would be a security in all relevant jurisdictions. [IOSCO, PDF]
The 100% centralised Cardano blockchain tried promoting itself on Wikipedia — and we pushed back, as we always do against spammers. If you're a crypto news outlet and want to run a story next time a coin promoter complains about not being allowed to spam on Wikipedia, just run any of my previous quotes on the subject with the name of the coin changed as needed, okay. [Decrypt]
Bitcoin doesn't happen
The CFTC has issued interpretive guidance on "actual delivery" for digital assets — that, within 28 days of the sale, the buyer has control over the asset, and the seller doesn't. Simple enough, and probably useful to have clearly defined. [CFTC press release]
How much use this CFTC ruling is put to is another question — it turns out the big end of the market has other things to worry about than Bitcoin futures trading. CME volume is down to a few trades a day, and Bakkt has seen zero options contracts — the ones for actually-deliverable bitcoins — since 27 February. [CoinDesk]
In the cleanup after the collapse of the Quadriga crypto exchange, Ernst & Young have just passed a pile of customer data to the tax man — "The purpose of the Sixth Report of the Trustee (the 'Sixth Report') is to seek approval of this Court with respect to matters involving the production of information to Canada Revenue Agency ('CRA')." [EY Canada, PDF; Amy Castor]
Do you go to websites to turn your Bitcoin address into a convenient, scannable QR code? A network of nine malicious QR code generators stole 7 BTC from users, this month. [ZDNet]
Nassim Nicholas Taleb wrote the introduction for Saifedean Ammous' book The Bitcoin Standard. Taleb's now blocked Ammous for promoting "conspiracy or crankish theories." [Twitter]
— FlashTrader⚡️(Ł)(◒‿◒)(₿)🚀 (@flashtrader1) March 21, 2020
A few things still happen
The Australian Securites Exchange's new Hyperledger-based real-time trading system is in acceptance testing stage — checking everything is in order — and was set to go live in April 2021, but is being delayed further due to Covid-19. It'll probably happen, though. [ASX, PDF]
Malta is cracking down on dodgy crypto companies. Remember when Malta was going to be blockchain heaven? [CoinDesk]
The Brave web browser had to stop falsely representing itself as collecting donations for unknowing third parties. What else is there to do? How about — affiliate marketing for eToro! Without the disclaimers legally required in both the US and UK. Brave staff also removed all mention of this from the Brave_Browser subforum on Reddit. [GitHub, archive]
(If you really want an ad-blocking web browser on your phone, Firefox for Android works great with uBlock Origin — and doesn't try to sell you crypto scams.)
So much for those "well-behaved" ransomware gangs — Spanish hospitals are being targeted with coronavirus-themed phishing lures, for ransomware attacks. [Computing]
My fine dudes. Question- if a woman sees you say something factually incorrect on the internet, does your penis fall off right away? Or is it more a sort of gradual withering process that can be slowed by doubling down and denial? Not a penis expert, genuinely curious.

— Naomi Wu 机械妖姬 (@RealSexyCyborg) March 28, 2020
https://twitter.com/ILCryptoLawyer/status/1244223460219531264
Your subscriptions keep this site going. Sign up today!