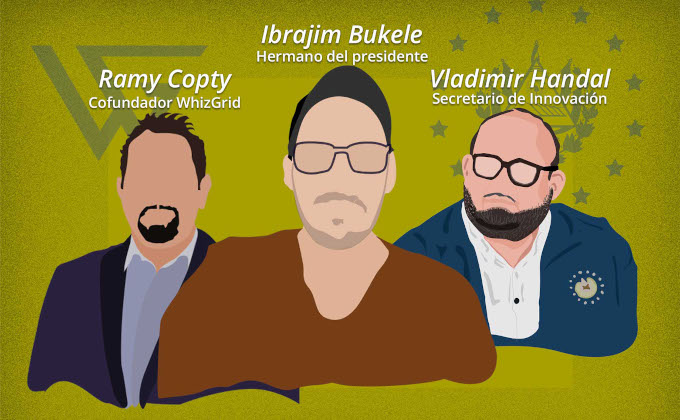 El Salvador calls Cardano
El Faro got hold of a presentation from the Cardano Foundation and Whizgrid — a white-label crypto exchange provider — to President Bukele's Bitcoin team on 4 June 2021, the day before Bukele announced El Salvador's embrace of Bitcoin.
The Zoom videos leaked last week revealed the plan to release a new electronic Colón-Dollar. This fresh leak outlines how to introduce the Colón-Dollar, pay welfare subsidies with the system, and use QR codes for daily transactions in shops. That is: they presented a completely generic electronic payment system, that doesn't benefit from cryptocurrency in any way.
(Reader tv comments: "The first slide in that presentation is so generic and slapped together that they neglected to replace the Euro sign with a dollar sign.")
The story is in Spanish, but the leaked slides are in English. The presentation is nine slides at the bottom of the page on El Faro — you need to swipe sideways to go to the next slide. [El Faro]
"Cryptoassets as National Currency? A Step Too Far" by Tobias Adrian and Rhoda Weeks-Brown, IMF. It's clear from how Adrian and Weeks-Brown talk about "cryptoassets," and that the one they name is "Bitcoin," that this is about El Salvador and nothing else. This is a perfect response from the people who know about these things, and Adrian in particular — who wrote a paper in May 2019 that pretty closely anticipated Facebook's June 2019 plan for Libra. I don't expect President Bukele to pay very much attention. [IMF]
Everybody still hates Binance
How cryptocurrency exchanges work:
Withdrawals are temporarily unavailable due to unscheduled scheduled maintenance.
Funds are absolutely safe.
Scurrilous rumours that we have been hacked, or "hacked," are entirely untrue, and we will sue anyone spreading such.
To file as an unsecured creditor, please contact our receivers, Grabbit, Skimm & Runne Accountants, at their Mail Boxes Etc in the Caymans.
Good news for Binance — the Securities Commission of Malaysia officially recognises Binance! And CZ personally! The Securities Commission has announced actions against Binance for "illegally operating a Digital Asset Exchange (DAX)" — Binance is not registered in Malaysia. [press release]
The action is against Binance Holdings Limited (Cayman Islands), Binance Digital Limited (UK), Binance UAB (Lithuania), Binance Asia Services Pte Ltd (Singapore), and Changpeng Zhao himself. Binance must disable binance.com and its mobile app in Malaysia by 8 August, stop all marketing and email to Malaysians, and restrict Malaysians from Binance's Telegram group. CZ is personally ordered to make sure these all happen.
Binance was included on the Securities Commission's Investor Alert List in July 2020. The list also contains a pile of "potential clone entities" using "Binance" in their names. [SC, archive]
The Securities Commission finishes: "Those who currently have accounts with Binance are strongly urged to immediately cease trading through its platforms and to withdraw all their investments immediately." Couldn't put it better myself.
Binance is stopping margin trading against euros, pounds or Australian dollars from 10 August, and has stopped all margin trading in any currency in Germany, Italy and the Netherlands. [Reuters; Reuters]
Binance is totally not insolvent! They just won't give anyone their cryptos back because they're being super-compliant. KYC/AML laws are very important to Binance, especially if you want to get your money back after suspicious activity on your account — such as pressing the "withdraw" button. Please send more KYC. [Binance]
CZ is looking for a patsy to stand up front while he keeps collecting the money — a replacement CEO for Binance, with a "strong regulatory background," so CZ can "contribute to Binance and the BNB ecosystem. I don't have to be CEO to do that." [CoinDesk]
The Long Blockchain of Bitcoin ETFs
Goldman Sachs proposes a "DeFi and Blockchain Equity" exchange-traded fund! [SEC filing]
The Goldman Sachs Innovate DeFi and Blockchain Equity ETF (the "Fund") seeks to provide investment results that closely correspond, before fees and expenses, to the performance of the Solactive Decentralized Finance and Blockchain Index (the "Index").
Solactive doesn't have an index of that name. Solactive told CryptoNews that Goldman would be using their "Solactive Blockchain Technology Performance Index" — which is a list of global tech companies that have, at most, put out a blockchain-themed press release. No Riot Blockchain, no Microstrategy, no Coinbase — instead, we have Nokia (who?) and Accenture. When a client thinks they want "blockchain" exposure, the advisor could just recommend this. [CryptoNews]
Solactive later told CryptoNews that they were putting together a new index for Goldman's ETF. Though the SEC filling says that the ETF is "not sponsored, promoted, sold or supported in any other manner by Solactive AG." We'll see what the eventual list looks like.
Regulatory clarity
The New Jersey cease and desist order against BlockFi offering its BlockFi Interest Accounts has been delayed, and will not go into effect before 2 September 2021. [Twitter]
Vermont's Department of Financial Regulation has also asked BlockFi to show cause within 30 days why the company should not be issued a cease and desist on its BlockFi Interest Accounts. Vermont asked BlockFi about this back in January 2021, and considered BlockFi's response "unsatisfactory." [CoinDesk]
South Korea changes its tax rules to make it easier to seize crypto to pay back taxes. [Reuters]
The new Australian Securities and Investments Commission chair, Joseph Longo, warns about unregulated cryptocurrency trading "and other economic threats to pandemic recovery." He means investment scams. [ABC]
I fought the law
For Tether's criminal investigation by the Department of Justice, and the coincidental spike in the price of Bitcoin, see yesterday's post.
Coiners' continuing assertions that anyone should assume good faith in Bitfinex or Tether when they're known bad actors in extensively documented, and indeed legally binding, detail is Upton Sinclair's law — "It is difficult to get a man to understand something, when his salary depends on his not understanding it" — on PCP.
Here's me on a Turkish crypto blog talking about Tether and USDC. Google Translate gives a reasonable rendition of my original answers. [PA Sosyal]
Virgil Griffith is the Ethereum Foundation developer who evangelised Ethereum to North Korea and got himself arrested in 2019. Griffith was out on bail, but violated his bail conditions by trying to access his Coinbase account — he got his mother to log in, which totally doesn't count, right? "Though the defendant is a bright well-educated man, his method of circumvention of the Order was neither clever nor effective," said the judge. Griffith is back behind bars until his hearing in September. [Amy Castor; order, PDF]
Na-no
Some Nano fan on Twitter wanted me to listen to a podcast featuring Nano Foundation director George Coxon. I said I'd listen for $50 — very cheap consulting indeed. After one guy tried paying me in Nano, and multiple people attempted to explain to him in small words why digital pogs do not in fact constitute dollars, another guy sent $50 in actual money via PayPal. As a man of my word, I live-tweeted the ordeal.
You'll be unsurprised to hear that this podcast did not, in fact, sell me on Nano. Nano is an ambitious but insignificant research coin, and not even a very fast one — at 70 transactions per second (for comparison, a private Ethereum instance can do 300 TPS), it's not quite taking over the world any time soon. And even without proof-of-work, Nano still wants to use Bitcoin's broken and incompetent conspiracy theory economics — it's all Austrian economics, Bitcoin variant.
If this podcast is the sort of marketing that convinces Nano's bloody awful Twitter pumpers, I can see why they're like they are. The nicest thing I can say is they're not as bad as the XRP or Iota pumpers from back in the day.
The next time someone wants me to listen to their crypto podcast, it'll be $100. That's actual-money USD, not your altcoin. A third podcast will probably be $200. I'll double the price from there until the requests stop. [Twitter]
Things happen
No, Amazon is not accepting Bitcoin, you idiots. This rumour was entirely based on a single blue-sky job advertisement for a "Digital Currency and Blockchain Product Lead" to "develop the case for the capabilities which should be developed" — which crypto promoters then pushed as far as they thought they could. [Reuters; Amazon, archive]
MicroStrategy has announced its Q2 2021 earnings. Businesses still buy their software — the useful thing that MSTR does — giving the company "one of our best operational quarters in our software business in years, highlighted by 13% revenue growth" to $125.4 million. However, "Digital asset impairment losses" are $424.8 million — it seems that Bitcoin went down. But that's fine — "Going forward, we intend to continue to deploy additional capital into our digital asset strategy." Good luck with that. [press release]
The Huobi and OKCoin crypto exchanges are closing their mainland Chinese subsidiaries — both companies' operations are now thoroughly Hong Kong-based. [SCMP]
Not your JSON, not your coins. But the Ethereum Foundation turns out to be a touchable — and suable — entity. Someone bought 3,000 ETH in the original Ethereum crowdfunding in 2015, the download of the private key failed, and the Foundation can't give them a backup copy. The Foundation offered the buyers 2,750 ETH in a settlement, but they want all 3,000 ETH. [WJLA]
Hot takes
Bruce Schneier: Bitcoin isn't usable as a currency. So if you're getting bitcoins in bulk from anywhere other than buying them, you're likely a criminal. [blog post]
Notes on Mondex, an early stored-value card, and how a lot of what they did in the 1990s is relevant to CBDCs today. [CHYP]
Samantha Keeper: The NFT Rube Goldberg Machine, or, Why is NFT Art So Lazy? "Art and automation's merger long predates cryptoart's use of procedural generation. You'll never hear NFT sellers talk seriously about that history, though, cause it reveals not just NFT art's contradictions, but also its cynical laziness." [Storming The Ivory Tower]
Even darkweb black markets don't want to deal with antivaxxers and covid deniers. pic.twitter.com/n9Pt2Q3Njz

— MalwareTech (@MalwareTechBlog) July 25, 2021
Hard to believe it's only been six months since the GameStop short squeeze kicked off a populist uprising that will fundamentally change capitalism forever.

— Osita Nwanevu (@OsitaNwanevu) July 25, 2021
Your subscriptions keep this site going. Sign up today!