Number go up! Because there's trouble at Tether. Specifically: [Bloomberg]
A U.S. probe into Tether is homing in on whether executives behind the digital token committed bank fraud, a potential criminal case … the Justice Department investigation is focused on conduct that occurred years ago, when Tether was in its more nascent stages. Specifically, federal prosecutors are scrutinizing whether Tether concealed from banks that transactions were linked to crypto, said three people with direct knowledge of the matter who asked not to be named because the probe is confidential.
That's the entire new information in the story. We don't know precisely what "years ago" means here — but I'd be surprised if the New York Attorney General didn't helpfully supply a pile of information from their recently-concluded investigation.
Remember that Bitfinex/Tether were lying to their banks all through 2017 and 2018, with banks kicking them off as soon as they found out their customer was iFinex.
This week's "number go up" happened several hours before the report broke — likely when the Bloomberg reporter contacted Tether for comment. BTC/USD futures on Binance spiked to $48,000, and the BTC/USD price on Coinbase spiked at $40,000 shortly after.
Here's the one-minute candles on Coinbase BTC/USD around 01:00 UTC (2am BST on this chart) on 26 July — the price went up $4,000 in three minutes. You've never seen something this majestically organic: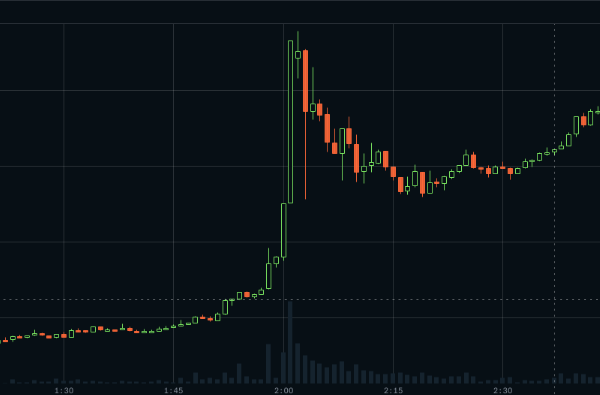 Janet Yellen, the Secretary of the Treasury, met on 19 July with the Presidential Oh-Sh*t Working Group of regulators to talk about "stablecoins." The meeting was closed-door, but a report has leaked. They're not happy about Libra/Diem-style plans, or about Tether: [Bloomberg]
Acting Comptroller of the Currency Michael Hsu said regulators are scrutinizing Tether's stockpile of commercial paper to see whether it fulfills the company's pledge that each token is backed by the equivalent of one U.S. dollar.
Amy Castor wrote up the present saga for her blog, [Amy Castor] and we both went on Aviv Milner's podcast When The Music Stops to talk about Tether's new round of troubles. It's 51 minutes. [Anchor.fm]
Your subscriptions keep this site going. Sign up today!