This blog isn't paywalled — but your Patreon sponsorship directly helps with important expenses, like incorporation documents, things to type on, and strong drink!
Your $5 or $20 a month sponsorship is also likely deductible as a business expense!
I also send out occasional stuff just for patrons — and there should be more of this soon, once I have a Libra book draft …
Also — tell your friends and colleagues they can subscribe by email, and get all posts — for free!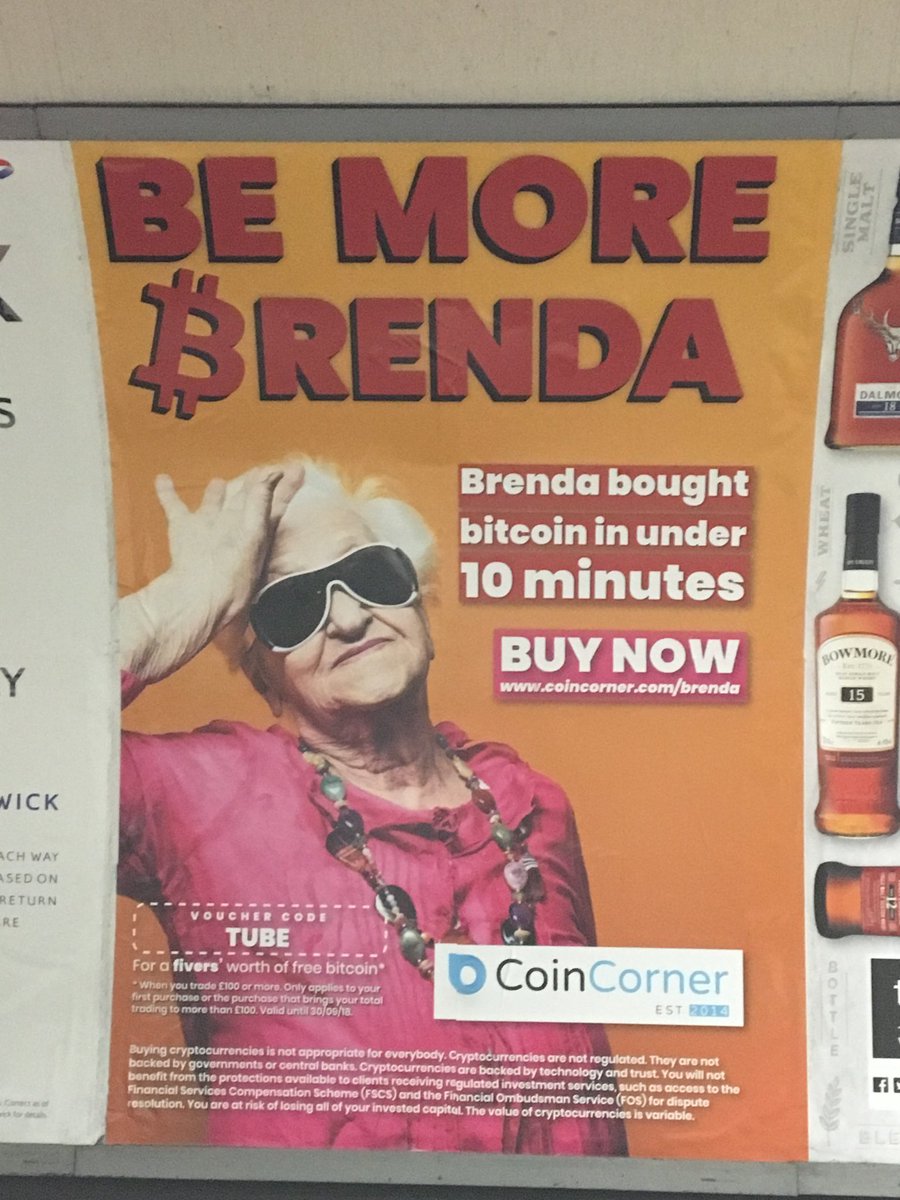 Be less Brenda — UK crypto advertising
The UK Treasury wants to regulate crypto advertising in the UK. There's a consultation document, and you need to get responses in by 25 October 2020. I urge everyone reading this to reply. [Treasury, PDF]
Section 4 sets out the plan — they want to add presently-unregulated cryptoassets, such as Bitcoin, to the list of "controlled investments" in the Financial Services and Markets Act 2000 (Financial Promotion) Order.
This will put plain old cryptos under the same marketing rules as "specified investments" (securities) in the UK — you can sell them to high net worth or sophisticated investors, but you can't market them to retail without FCA authorisation. (The FCA's Conduct of Business Sourcebook sets out the full details of who you can market what to.) [FCA]
The rationale is: "When consumers buy tokens with these characteristics, they are liable to buy them with similar expectations that consumers tend to have when purchasing regulated financial services." That is — scammers keep promoting Bitcoin as a get-rich scheme.
I was one of those who put in a submission to the Treasury's Digital Currencies Inquiry in 2018 about this, and my bit made it into Treasury's recommendations — "120. David Gerard, author of Attack of the 50 Foot Blockchain, shared this view and argued that 'it would be appropriate to put in place strong consumer protection against mis-selling crypto-asset enterprises as investments to retail-level investors.'" [UK Parliament, 2018, PDF] So I'm very pleased this is happening at last.
I fought the law, and the law won
Kais Mohammad ("Superman29″), proprietor of Herocoin, has pleaded guilty to money laundering. He ran 17 Bitcoin ATMs, charging commissions of up to 25%, without a money services business license, and knowingly ran quite a bit of money through his machines for crooks. Mohammad used to work for a bank, knew very well precisely what licensing you had to get to run a money services business, and decided he just … wasn't going to do that. This didn't work out for him. [Justice Department press release]
The Ontario Securities Commission sued Canadian crypto exchange Coinsquare for its long string of market manipulations, and reprisals against whistleblowers — and Coinsquare quickly settled. Coinsquare admits manipulation, misrepresentation, and reprisals against a whistleblower, and will pay costs of CAD$200,000 and be put under close supervision for three years. CEO Cole Diamond and president Virgile Rostand have resigned; compliance officer Felix Mazer will pay a CAD$50,000 fine. [OSC, PDF; OSC, PDF]
Twitter's Bitcoin hacker sent his paltry take of bitcoins through the Wasabi Wallet mixer. Wasabi has blogged about the coins from the hack going through their service — they directly acknowledge their use by crooks, then point out that most of their users aren't crooks! That they know of! This is not the sort of thing that will go well for them — given that FinCEN explicitly calls out Bitcoin mixers as being subject to money transmission laws. But I'm sure deleting the post where they said this will make it all okay. [New Money Review; Wasabi blog, archive]
"Regulation," I think I've heard the word
Brian Brooks from Coinbase is now at the Office of the Comptroller of the Currency (OCC), the US regulator for banks. Good: he wants national charters and not just state charters — needing to negotiate fifty-one differing regulatory regimes is bad, actually. Bad: he's still high on Bitcoin fumes. [FT, paywalled]
Brooks' appointment may be why OCC just issued a letter allowing banks to offer cryptocurrency custody services. [CoinDesk] The purpose of the OCC letter seems to be to let hodlers with a low-paperwork Wyoming bank charter go into the custody business. [press release]
Existing banks aren't showing any enthusiasm for crypto custody — and staff have commented the letter was clearly rushed through. [CoinDesk]
SEC commissioner Hester Peirce thinks Telegram should have been able to run its ICO token dump on retail, rather than being stopped cold by the SEC. Remember that if Jay Clayton leaves the SEC for his prospective job as US Attorney for the Southern District of New York, Peirce is next in line for the position of SEC Chair. [CoinDesk]
If you build it, they won't come
Remember when Bakkt was going to be the saviour of Bitcoin and bring all the institutional investors to the yard? No you don't, because remembering things means you might remember things that aren't good news for Bitcoin. No One Has Traded Bitcoin Options on Bakkt for Over a Month. [CoinDesk]
Crypto hedge funds will definitely lure all the institutional investors to Bitcoin's yard, it's just unfortunate that (rolls dice) our Chromebook got too old for updates, yes, that must be it. Prime Factor Capital, the UK's first licenced crypto hedge fund, is closing down because it turns out that nobody wants to use the services of hodlers in ties with Chromebooks. [The Block]
Things happen
The US Federal Reserve's 2019 Survey of Consumer Payment Choice is out — and pretty much nobody uses Bitcoin. The numbers show: 70.5% of Americans have heard about Bitcoin. 1% own Bitcoin. About 0% use Bitcoin for payments. The survey asked 3,363 participants, which gives a 2% margin of error, even assuming an excellent random sample — so even that "1%" result is lost in the noise. [Federal Reserve Bank of Atlanta; CoinDesk]
Sports broadcast network ESPN is doing a blockchain promotional programme! Well, no it isn't — the blockchain thing is being promoted by an unrelated Polish company called ESPN Global, with a suspiciously similar logotype. They do know that the real ESPN is owned by Disney, right? [Press release]
Centralised beats decentralised, yet again — Tether is about to have higher daily transaction volume than Bitcoin. This is on-chain transactions, not exchange transactions — where Tether outstripped Bitcoin by late 2019. [Bloomberg, 2020; Bloomberg, 2019]
Wirex will be doing crypto-backed debit cards via Mastercard. [CNBC]
Of course Jan Marsalek, the disappeared COO of Wirecard, was a Bitcoiner. [The Block]
Someone at PayPal has told someone at CoinDesk that PayPal are going to do crypto via Paxos. PayPal has sniffed around Bitcoin since the early days, so I'm not surprised there's still interest — but I'll believe it's a product when it's a product. [CoinDesk]
Mr Craig Wright's 2017 Ph.D. thesis disappeared from the Charles Sturt University website, after allegations of plagiarism — but it seems to be back up now. [CSU Research Outputs]
The endgame of proof-of-work: Litecoin enters the shadow mining era. "As revenue dwindles there is less incentive to make new mining equipment which diminishes the competition and invites the monopoly. A monopoly so tight they don't even feel like selling their equipment on the market because they make more money mining against people who don't have new toys." [Reddit]
Hot takes
Cas Piancey: White Label Exchanges, part 1 — how the generic rebranded exchange scam worked in forex in the 1990s. "Not only were these white label exchanges simple to create and run, they were equally easy to dismantle and destroy — which meant more ill-intentioned creators entering the marketplace and more consumers left with emptied wallets." Coming soon, part 2: how white label exchanges work in crypto today. [Medium]
Electric Crypto Balkan Acid Test —  crypto mining in North Kosovo, and a history of the breakup of Yugoslavia and the fate of the ex-communist states. [The Baffler]
Official Trezor blog: Jim Morrison Would Have Loved Bitcoin — explained with lyric quotes. This is definitely the stupidest thing I've read of late, and it was a tough field. [Medium]
"Bitcoin is a martial art." Specifically, Bitcoin is the mall ninja with a tinfoil katana, of money. [Citadel21]
Date Swoons As Young Professional Refreshes His Crypto Wallet Right Before Her Eyes. "We take cash, credit or the manager will put you in a rear naked chokehold until a vein bursts in your frontal lobe." [Betoota Advocate]
Heartbreaking: The Worst Person You Know Just Posted A Good Meme
— networkeffected*Ninja™ (@xusTIrettiwt) July 26, 2020
"and what was your prior employment?"

"well for the last four years I've posted on Twitter every day under the name CryptoBadger trying to get other people to buy the same digital beanie babies as me"

"Thanks for coming in! We'll call you"

— Kyle S. Gibson (@KyleSGibson) July 26, 2020
Bitcoin is an example of what happens when you take "it's not a bug, it's a feature!" too far.

— Trolly McTrollface (@Tr0llyTr0llFace) July 17, 2020
Your subscriptions keep this site going. Sign up today!