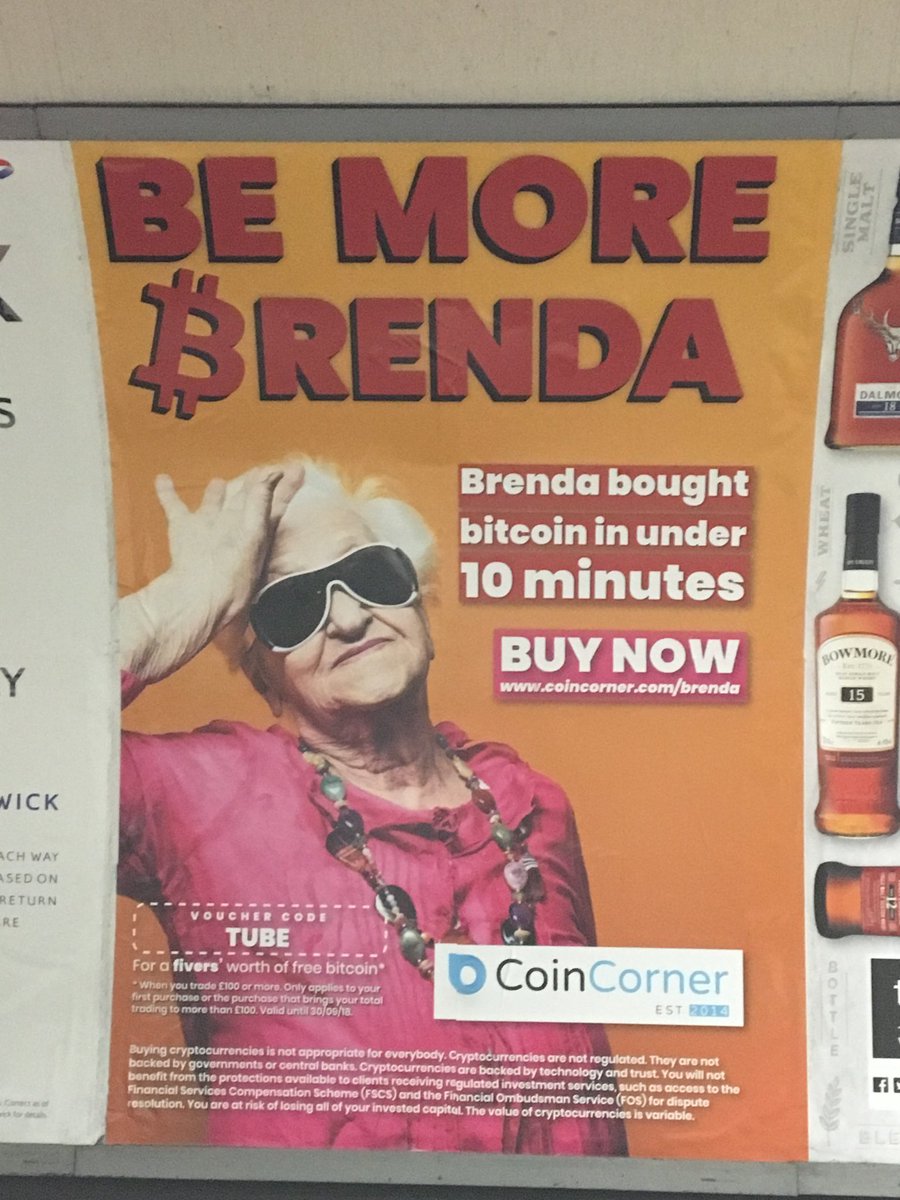 Above is an ad for CoinCorner that's currently up on the Piccadilly Line platform in Green Park tube station.
The main text doesn't say "invest," and the photo only implies "retirees" — but the disclaimer gives away their pitch:
Buying cryptocurrencies is not appropriate for everybody. Cryptocurrencies are not regulated. They are not backed by governments or central banks. Cryptocurrencies are backed by technology and trust. You will not benefit from the protections available to clients receiving regulated investment services, such as access to the Financial Services Compensation Scheme (FSCS) and the Financial Ombudsman Service (FOS) for dispute resolution. You are at risk of losing all your invested capital. The value of cryptocurrencies is variable.
(They can casually dismiss UK regulatory agencies like that because they're safely based in the Isle of Man.)
When phrases like "a whole new form of money" or "the old rules don't apply any more" start going around — people get gullible and the ethically-challenged get creative.
And one hundred percent of people selling cryptos to retirees are scammers.
What attracts people to get-rich-quick schemes?
Get-rich-quick schemes work because times are tough, and people are hurting — the economy's bad, jobs are insecure, costs of living are through the roof — and a lottery ticket chance is the only way out they can see.
Particularly when there's a weird new asset, going through a meteoric price rise, and it's all over the papers. New paradigm!
There's no way to win following the rules — but this one weird trick is my chance! I can probably trust these guys.
People in a tight position start looking at get-rich-quick schemes, and they make bad decisions and lose their money.
I've had people get really upset at me for being a douse — telling them that unless they're that good at trading in a scam-filled marketplace … they'll get skinned.
But there's no such thing as free money.
I was never a huge fan of "accredited investor" rules — that you have to have a certain income or level of assets to be able to invest in certain things. It always felt like only the rich were allowed to get richer.
My mind was changed when I looked into what happens when those rules don't exist — the retail investors get skinned. Often in sufficient numbers that it becomes a matter of public concern.
Dodgy financial instruments
There's a pile of financial instruments that scammers try to sell to the general public — Contracts for Difference, rolling spot forex, financial spread betting, binary options.
The key point is that all of these are bets — they're gambling on a financial outcome. They have their place, and that's in professional trading — but all of these have been missold to retail investors.
Crypto belongs with such instruments. Google and Facebook class it as such, and won't let you run ads selling cryptos.
(Facebook has recently re-allowed crypto-related ads — but only with their prior written permission and review. ICO ads are still banned.)
The retiree market
When I started writing Attack of the 50 Foot Blockchain, I just wanted to tell funny stories about dumb crooks. And there's plenty of those in crypto.
But then the bubble started in April 2017 — and in May, a recently-retired friend mentioned she'd read about Bitcoin in the papers — some finance sections have been incredibly irresponsible — and wondered if it would be a good investment. "NOOOOOOOO," we shouted …
Cryptocurrency is a financial instrument that's stupendously unsuitable for retail investors, and particularly for retirees. Retirees need investments that are sane and stable.
But that great big pile of money in a retirement nest egg is a magnet for scammers. Technically, for unethical financial misselling.
One hundred percent of these people are crooks. If a crypto salesman shows up to your retiree group, they need to be tarred and feathered, and run out of town on a rail.
The other pitch to retirees is using a trusted media face — conservative radio host Ben Shapiro has been pushing Bitcoin IRAs (archive) of late, through his Ben Shapiro Gold Company.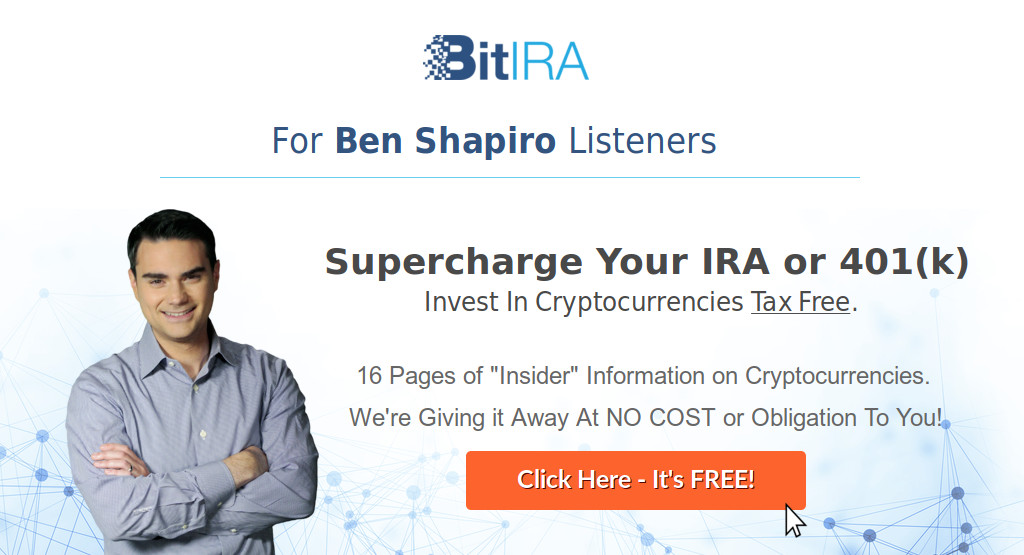 (I tried sending away for the booklet — I put 202-456-1414 in the "phone number" field and got two emails asking me to fix the phone number so they could call and talk to me before they'd send me the booklet. So they're pre-screening their suckers scrupulously. I've yet to secure a copy of this no doubt informative text, but they sure are persistent in emailing me and trying to get me to call them.)
Yes, but I want to buy cryptos anyway
We probably can't stop people buying cryptos if they want to. By all means, buy five quid of ether and watch it go up and down — it's very closely and personally educational! Particularly when the number goes down.
But treat it as having a flutter — because it's not an "investment."
Crypto advertising to the general public needs to be banned. Anyone running an ad on the Tube for cryptos is a crook. This stuff isn't even as regulated as gambling ads.
You can make money from cryptos! But it is vastly more likely that you will be the one that the first guys make their money from.
This is a zero-sum shark pool. Are you quite sure you're that good?
Remember: if it sounds too good to be true — it is.
Photo courtesy an anonymous reader. Thank you!
I hereby release my text above as CC-0 public domain — please spread it widely. (For commercial reuse, you'll probably need to send someone down Green Park tube for your own photo of the ad.)
Your subscriptions keep this site going. Sign up today!