I'm testing the WP Dark Mode plugin on the site. Press Ctrl-Alt-D to switch between dark and light mode, or the site should pick up your operating system settings.
Signed copies of Attack of the 50 Foot Blockchain and Libra Shrugged are still in stock, for £25 the pair plus postage — £6 UK, £10 Europe, £12 rest of world. See the post for details.
You can support my work by signing up for the Patreon — $5 or $20 a month is cheap insurance against crypto crashes!* [Patreon]
And tell your friends and colleagues to sign up for this newsletter by email — even cheaper insurance!* [scroll down, or click here]
 * by convincing you to dump your cryptos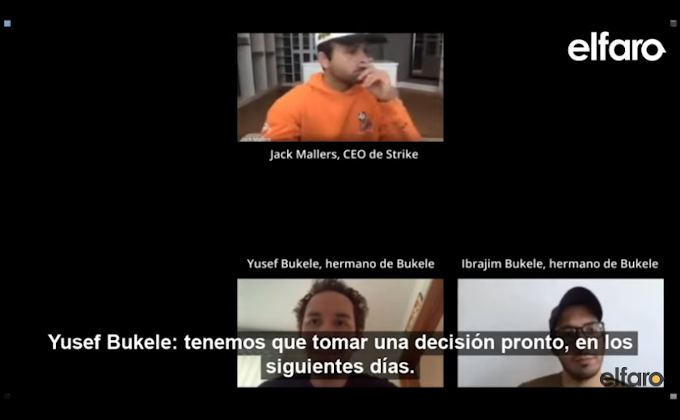 El Salvador: the Colón-Dollar CBDC
El Faro got hold of leaked Zoom chats from when the El Salvador Bitcoin scheme was being planned. Bukele wants a CBDC, the "Colón-Dollar," up and running before the end of 2021. (The colón was El Salvador's currency before they went to just using US dollars.) The plan still seems to be: print and inject "dollars" into the economy, creating them on an electronic payment system.
The government response to the leak is that the leaked talks were from before the Bitcoin Law was passed, so none of this applies now. Nobody believes this, because these talks confirm the only logical explanation anyone had for why Bukele would do the Bitcoin thing. Bitcoin was only ever an excuse to print his own dollars.
I wonder who leaked the Zoom chats, and why. Bukele is paranoid as hell, and will be hitting the roof over the leaks. The Spanish version of the article is apparently better, with good quotes. [El Faro, in Spanish; El Faro, in English; YouTube; YouTube]
A Salvadoran writes on this foolishness: "one of the downsides of being both incompetent, unscrupulous and greedy is that you become very predictable." [Reddit]
"Lorenzo," who I mentioned previously was heading the Chivo project, is Lorenzo Rey, from Dash Venezuela.
Opinion by Rubén Zamora: "El presidente contra la Ley Bitcoin." Article 7 of the Bitcoin Law, making it mandatory to accept bitcoin, may be unconstitutional — but mostly, requiring Bitcoin acceptance will be disastrous in practice, because absolutely none of the obviously necessary infrastructure exists. [El Mundo]
Foreign Policy: El Salvador's President Is Pioneering Hustle Bro Populism — not by me this time, though I helped with research. [Foreign Policy, free with login]
("Colón-Dollar" does not mean "butt-coin." It just should.)
Everybody hates BlockFi
The New Jersey Attorney General has sent a cease and desist letter to BlockFi, telling it to stop offering interest-bearing accounts in New Jersey after 22 July 2021. "Our rules are simple: if you sell securities in New Jersey, you need to comply with New Jersey's securities laws. No one gets a free pass simply because they're operating in the fast-evolving cryptocurrency market." BlockFi responds: "nuh-uh." [NJ OAG, PDF; Forbes; Twitter]
The Alabama Securities Commission director, Joseph Borg, has asked BlockFi to show cause as to "why they should not be directed to cease and desist from selling unregistered securities in Alabama." BlockFi responds: "nuh-uh." [ASC; Twitter]
The Texas State Security Board has also proposed a cease and desist. BlockFi says: "We are in active dialogue with multiple regulators." I bet they are.  [CoinDesk; Twitter]
BlockFi is talking to investors about taking the company public in twelve to eighteen months, which sounds ambitious at this point in proceedings. [CoinDesk]
Everybody still hates Binance
NatWest confirms that it too cut payments to Binance weeks ago, and limited payments to other crypto exchanges. Outraged crypto pumpers are threatening to leave NatWest for … one of the other UK banks that doesn't talk to Binance. [CoinTelegraph]
Crypto hedge funds are running away from Binance as well — some of which deal in actual money, and aren't just some HODLer in a tie with a Chromebook. [FT, paywalled]
CZ is also telling investors he wants to take Binance US public. Imagine an S-1 that spontaneously combusts on contact with air. [CoinTelegraph]
I am reminded of the saga of Roger Ver versus OKCoin over the ownership of the bitcoin.com domain — a comedy gold delight on /r/buttcoin in 2015. It involves an allegedly forged signature, and a company allegedly pulling out of a deal when they realised they were about to give a large pile of money to a convicted felon. And CZ from Binance was the OKCoin guy involved in the deal. [Reddit]
A coin found in a stable
Stuart Hoeger and Paolo Ardoino from Tether gave an absolutely amazing interview to Deirdre Bosa from CNBC — in which they completely failed to realise that real-world finance doesn't accept the sort of excuses that are good enough for their fellow HODLers. I recommend Matt Levine's summary of why what they were saying was flat-out ridiculous to people who know what any of the jargon means. Oh, Tether are totally going to do a full and proper audit this year, you betcha. [YouTube; Bloomberg]
Tether is recruiting! [Recruitee, archive] Come and be a marketing project manager: "Experience in these sectors or similar industries would be preferred but not required: Crypto, Financial, Medical/Pharma, Cannabis, eSports and Gambling." They said it, not me. [Recruitee, archive] The Reputation Manager position isn't listed any more — presumably they found just the guy they needed to organise that CNBC interview.
Paxos claims that its US dollar stablecoins are much more trustworthy than Tether or USDC, because they're regulated by the New York Department of Financial Services. I remain unconvinced, because Paxos issues snapshot "attestations" rather than full audits just like those guys, and talks about "auditors" in just as deceptive a manner. [blog post]
USDC's latest snapshot attestation now supplies as much detail as Tether's pie chart statement of reserves. The percentages are a bit less immediately concerning. [USDC, PDF]
Readout of the Meeting of the President's Working Group on Financial Markets to Discuss Stablecoins: "The Secretary underscored the need to act quickly to ensure there is an appropriate U.S. regulatory framework in place." Several months is "quickly" for a regulator. I'm still pretty sure that FinCEN will put in strong Know-Your-Customer first. [Treasury]
Tracy Alloway: Stablecoins are the new shadow banks — the way to do banklike things without all that tedious "regulation" that was supposed to head off another 2008 financial crisis. [Bloomberg]
Bennett Tomlin and Cas Piancey did a great podcast in which Rohan Grey rants about stablecoin regulation, and how pissweak money transmitter regulation is in the US. Grey's Australian nature showed through here with how many times they had to bleep him. [blog post]
Central banking, not quite on the blockchain
The Working Group on E-CNY Research and Development of the People's Bank of China (PBOC) has issued a progress report on China's DC/EP, in English.
"E-CNY is an account-based, quasi-account-based and value-based hybrid payment instrument. It has a variable face value and its value transfer takes the form of cryptocurrency strings" — whatever that actually means. It sounds like you'll have an E-CNY account, but you can also transmit tokens. The tokens can apparently be authenticated against the PBOC, in some manner.
More usefully, "E-CNY follows the principle of 'anonymity for small value and traceable for high value'" — small wallets can be anonymous, and you can get larger wallets by providing Know-Your-Customer information. Anti-smurfing provisions, to stop some aspiring miscreant just making and using many thousands of small wallets, are not detailed here.
PBOC will issue the e-CNY to operators (banks and payment processors), who will distribute it to the public.
The other interesting thing is that PBOC is finally using the word "pilot" about all the tests they've been running on DC/EP since 2019. [PBOC, PDF]
A new staff discussion paper from the Bank of Canada: The Positive Case for a CBDC. Ther use cases for a CBDC, in full: 1. if everyone stops using cash, which doesn't look likely; 2. if everyone switches to cryptos or Diem (Libra), which doesn't look likely either; 3. something we haven't thought of yet. First, assume a spherical cow … [Bank of Canada]
Despite it being all over Twitter today because it was all over the Daily Mail yesterday, there is not in fact any fresh news from the Bank of England on CBDC plans. Even if there was, it would not, in fact, be good news for Bitcoin either. [Daily Mail, archive]
Things happen
Survey from NORC at the University of Chicago: 13% of Americans "invest" in cryptos — a figure I can now quite believe, with Robinhood's popularity over the past year. The gamblers investors tend to be younger, less educated and poorer than stock investors — for the most part, the people who absolutely shouldn't be touching this stuff. 24% get their information from social media. [press release; results, PDF]
MagaCoin was an old-school altcoin grift: make a fork of Litecoin, and market it to a special-interest group — in this case, disgruntled Trump supporters. MagaCoin was, of course, an insecure scam — with a data leak, a massive premine going to the creators (just like in the good old days!), and creating a fake Political Action Committee for donations. [Guardian]
Joseph O'Connor, a.k.a. "PlugWalkJoe," is the fourth person arrested for the Twitter Bitcoin hack of 2020. Connor has also been charged with cyberstalking a minor — never heard of that sort of behaviour from a coiner, hey. [Department of Justice]
Bitcoin in the enterprise: Northern Rail (UK) looks to applying the blockchain to its ticketing system! They got ransomwared. [BBC]
The Bank of Russia has told Russian stock exchanges to avoid any security based on cryptocurrencies — anything depending on crypto prices, crypto derivatives or crypto index funds. Crypto-based securities should not be included in mutual funds. Any such assets must not be offered to retail investors. Digital assets released under Russian law and registered with the Bank of Russia are okay. [Bank of Russia, in Russian]
Signal Messenger's altcoin MobileCoin, which everyone thought was a pump-and-dump, turns out to be a pump-and-dump. The price had a pump at April's announcement, and has since gone into negligible-volume altcoin decay. [CoinGecko]
Chia prices and volume are down — and both were largely faked, but they can't even pretend any more. Here's to this particular crypto VC play leading to the ruination of all involved. [Twitter]
Seagate and Western Digital stocks are down 20% from the Chia hype peak in May as well. Hard disk supply chains are still screwed, but here's to Seagate and Western Digital having foolishly pumped production. [Yahoo; Yahoo]
This is wild: a dress-up-like-Hitler neo-Nazi, Davis Wolfgang Hawke, a.k.a. Jesse James, goes missing, turns up murdered a couple of years ago … and may have had a stupendous bitcoin stash. Hawke was also an email spammer in the 2000s: "the penis-enlargement king." [Rolling Stone]
Living on video
BBC Reel: What are NFTs and why are they worth millions? A reasonably good seven-minute segment on NFTs, with lots of me being a party douse. [BBC, video]
BBC on the FATF know-your-customer rules kicking in: EU plans to make Bitcoin transfers more traceable. David Gerard, author of Attack of the 50 Foot Blockchain, told the BBC: "This is just applying existing rules to crypto. This has been coming since 2019." [BBC]
Rare pic of LS in the wild and living it's best life. pic.twitter.com/zajJBGiEPO

— Krankorwat (@krankorwat) July 17, 2021
The celebrated John Dillinger, "alternate withdrawal technician". Bonnie Parker and Clyde Barrow, "unconventional lending entrepeneurs". 'Machine Gun' Kelly, "technology-led financial engineer".

— crossestman (@crossestman) July 25, 2021
"I'VE DONE MY OWN RESEARCH! I'VE DONE MY OWN RESEARCH," i shout, as a group of people wrestle me to the ground while i continue trying to drink gasoline from the hose you use at the gas station to fill your car up

— Shea Serrano (@SheaSerrano) July 23, 2021
Your subscriptions keep this site going. Sign up today!