You can support my work here by signing up for the Patreon! I can't promise to post an entire early draft of a book every month, even as a pile of people just signed up for that … but $5-and-up patrons will be getting the somewhat-edited drafts of the entire text through shortly. [Patreon]
Book news: the cover artist for the Libra book has been secured! It is, of course, Alli Kirkham again — the genius creator of Scared Business Guy. Also, follow the Twitter word count thread!
And, of course, tell your friends and colleagues to sign up for this newsletter by email! [scroll down, or click here]
Below: the long-suffering crypto widow, with Cygnus the rat on her head.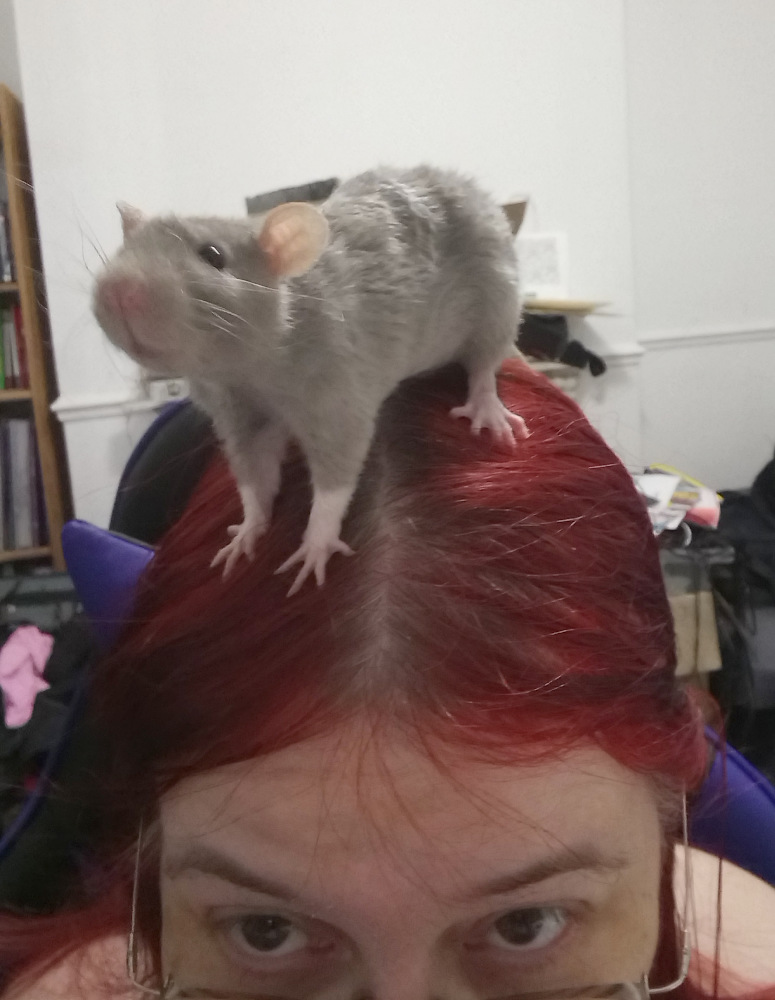 DeFi: the Three Stooges perform William Gibson
I'm not writing up SushiSwap. That was two weeks ago. We're on DeFi time now.
Oh, okay. SushiSwap just copied Uniswap's code, because that's standard practice now. Then the anonymous dude running it exit scammed. Then everyone came after him, his identity leaked. SUSHI went to 0. Then Sushi came back, and the founder — who'd been traced by pissed-off investors — gave back the money he'd exit-scammed. Sushi is now scamming deals from Uniswap, in some process I'm absolutely not going to do the reading on. You can if you like. [CoinDesk, Finance Magnates, ZDNet, The Block]
Over on FT Alphaville, Caitlin Long from the Wyoming blockchain crew promotes DeFi as being anything other than blithering scam-riddled nonsense — and thinks it should interface more closely to actual money. The commenters (including me) are not buying it, and have correctly identified this as a pitch for running your own do-it-yourself 2008 financial crisis. [FT Alphaville, free with login]
Bitcoin: so good, you have to put it on Ethereum to use it. There's a total honeypot of 69,836 "wrapped" BTC sitting on Ethereum, for the use of DeFi traders, that's just one Solidity coding error away from being stolen — sorry, I mean: redistributed to cryptographically more deserving entities, in accordance with code being law. [news.bitcoin.com]
Where does crypto's endless parade of enthusiastic suckers come from? Here's a Twitter thread from a DeFi enthusiast — "I have consistently lost money for 3 years to learn one thing that works. I am regularly awake at 4AM to find the next edge. 'It's time to find one more thing that works.'" By "next edge," he means "next hit." The thread is about the guy winning this time — but you know he'll have lost it all by the time I post this. [Twitter, archive]
Shocked to hear that yet another DeFi protocol has exit scammed — this time it's Emerald Mine on EOS. I'm waiting for one they just straight up call "PonziSwap." [CoinDesk]
Martin Walker: Do we need programmable money? (I'm on the "hahaha no" side myself.) [LSE Business Review]
Bruce Fenton does a good video that completely $100% explains DeFi. [Twitter]
This short video works to explain #DeFi, tokens, staking, farming & how it all works in as clear a manner as possible.

Please let me know your thoughts. pic.twitter.com/6DtZTTeHDD

— Bruce Fenton (@brucefenton) August 13, 2020
Good news for Tether
Over in New York, the judge orders iFinex, yet again, to turn over the Tether loan documents that the New York Attorney General requested two years ago. iFinex's response is to say "look, that was all so long ago." [CoinDesk]
The parties met in video conference on Thursday 17 September. I'm told that iFinex's lawyers admitted they don't have the requested documents; the NYAG has said that iFinex need to admit that formally. Also, the money went through various shell companies with other people's names on it, and the NYAG is going to want to know who they are.
This is good news for Tether — because it means any of the money ever existed, right?
Cas Piancey: Can Law Enforcement Stop Tether? Maybe, maybe not. [Medium]
I mentioned the Tether default swaps last time — where the Opium crypto derivatives exchange will pay out if the price of Tether drops too low. You can hedge against Tether collapsing!
I found out how this works:
This is all on the blockchain, 'cos it's DeFi.
This means it needs to be automatic. So it needs an oracle — something that presents the price of USDT against USD.
There is no USDT/USD trading pair on Chainlink — you have to do USDT/ETH, then ETH/USD, and calculate what USDT/USD would be from those.
The values for these pairs is not even coming from an actual exchange — it's coming from other blockchain oracles.
Rigging oracles is a great way to make money in DeFi, as you demonstrate that smart contracts are only for the stupidest humans.
penis, but decentralised.
This is the Nigerian 419 Scammer theory of DeFi — it's so incredibly dumb that only life's born suckers will even try. Seems to be working so far. [news.bitcoin.com]
The scene: An illegal casino. 2am.
You (examining your winnings more closely): "Hey, this money looks counterfeit!"
The House: "Bet you $200 it's real money!"
You (opening your wallet): "You're on! Here's $200 says you're paying me in counterfeit!" [spookman, Reddit /r/buttcoin]
"Don't worry, we have top-shelf lawyers and a great compliance plan! A KYC/AML program? Of course we have one!" pic.twitter.com/RLcvjfaNOj

— _gabrielShapir0 (@lex_node) September 11, 2020
Good news for Bitcoin
Michael Saylor has bought even more bitcoins on MicroStrategy's dime — 16,796 BTC for $175 million, or $10,419 each. [Twitter]
Does anyone know where MicroStrategy bought all their bitcoins? I'm wondering if the over-the-counter deal was Saylor dumping his personal stash on the company.
But if Saylor did that, I'm sure he'd have disclosed it. MicroStrategy and Saylor and two other executives paid the SEC $11 million to settle accounting fraud charges in 2000 — so there's no doubt he's more mindful of how to properly run a public company now. [WSJ, 2000, paywalled]
The story of Mode, a "Bitcoin bank" started by large adult failson and serial financial disaster area Jonathan Rowland. [FT Alphaville, free with login]
India's law banning crypto trading is progressing, and should be presented to Parliament soon. [Bloomberg]
Ransomware kills someone in a German hospital. That's good news for Bitcoin, right? [New York Times]
The intuitively correct measure of Bitcoin's unhindered rise and rise is … (scrabbles frantically) … the, uh, 200-week moving average. [Twitter]
I'm going to put a lot of money into three card monte. Everyone I watch who plays it wins: it's a sure bet.

— Angus Champion de Crespigny (@anguschampion) September 8, 2020
Good news for crypto exchanges
HitBTC stringently obeys the highest standards of know-your-customer and anti-money-laundering! Especially if you try to withdraw. [Reddit]
HitBTC also take seriously their responsibility not to deal with US customers — by keeping all their money. [Reddit]
Crypto is making new millionaires! Nocoiners are just jealous of their business success. Two Russians, Danil Potekhin and Dmitirii Karasavidi, stole $17 million by phishing crypto exchange users. If you'd had $1000 of Bitcoin in 2011, then in 2020 you'd have $0, because your Binance password got phished. [Krebs On Security]
Slovak cryptocurrency exchange ETERBASE has disclosed a $5.4 million hack. Remember, the blockchain is incredibly secure! Just not any of the stuff you use to interact with it in any meaningful way. [ZDNet]
The EFF calls on Coinbase to issue transparency reports on government requests for customer information. [EFF]
Cas Piancey: White Label Exchanges, Part II: Indicators of suspicious activity. Particularly White Label Open Source Cryptocurrency Exchange (WLOX), and how it was promoted by Crypto Capital Corp, money mules for the crypto trading system and especially Tether, until they were busted in 2018. [Medium]
Important message as we enter the next crypto bear market:

– Your portfolio will stay forever red
– Anime characters are not investment advice
– Buy ramen in bulk
– You will lose all of your money
– Once you ragequit the market will turn green again

— Steven (@Dogetoshi) September 3, 2020
Good news for blockchain
Balaji "PiTato" Srinivasan is finally doing talks on his plan to save venture capitalists from journalism by replacing the news media with an extremely large blockchain. No, it isn't any less silly than the outline of the plan that he tweeted in July. Also, the Slate Star Codex rationalists love it. Srinivasan will apparently be doing a video version some time as well. [Blog post]
Still cleaning up the backlog of ICOs — SEC Charges Film Producer Ryan Felton, Rapper T.I., and Others for Participation in Two Fraudulent ICOs for FLiK and CoinSpark, which ran from August 2017 to June 2018. [SEC]
I covered Unikrn's Unikoin a couple of years ago — a SAFT, where they didn't meaningfully check that investors were accredited. It's been shut down by the SEC — who actually required them to disable the token. [SEC]
Shocked to see that a blockchain project that would have touched something actually important has been kicked into the long grass — UBS's Utility Settlement Coin wholesale CBDC thing, which started work in 2015, has been delayed. The consortium, Fnality, blames delays in regulatory approval, and says 2021, for sure, maybe. [Reuters]
it uses blockchain https://t.co/BovtZOJSDp

— Josh Cincinnati (@acityinohio) September 11, 2020
Central banking, but not on the blockchain
The European Central Bank will be doing a public consultation on the possibility of a "digital Euro" — whatever that will mean in practice. Christine Lagarde, ECB President: "The findings of a Eurosystem taskforce are expected to be presented to the public in the coming weeks, followed by the launch of a public consultation." [Reuters]
Norges Bank's CBDC project has posted a status report. It's refreshingly short and to the point: "ehh who knows maybe, here's a list of considerations, ask us again next year maybe". Most CBDC reports end up looking like this, and at least this one's short. [Norges Bank, PDF]
If you've seen talk of Brazil approving a CBDC and WhatsApp Pay, it's all from this Bloomberg interview with central bank president Robert Campos Neto. He actually says some sort of "digital currency", and a normal sort of restricted pilot program for WhatsApp. [YouTube]
Lessons learned from the world's first CBDC: a history of Avant by Aleksi Grym, Bank of Finland. [BoF Economics Review, PDF]
Sweden abandoning physical cash may be Sweden being weird, rather than the future of money. [VoxEU; Riksbank]
Wait… you do realize that "bank the unbanked" was just a meme, right? pic.twitter.com/WK1zjF4Fo2

— 𝕄𝕚𝕜𝕖 (@mikeinspace) September 9, 2020
Craigness
Mr. Craig Wright's motion for summary judgement in Kleiman v. Wright has been denied. The motion from the estate of Dave Kleiman has been granted in part. The decision is 93 pages. Stephen Palley has tweeted a summary. [Omnibus order, PDF; Twitter; case docket]
For those who don't remember: Craig Wright spent a lot of time in mid-2016 pretending he'd invented Bitcoin — that he was Satoshi Nakamoto. He claimed a conveniently dead guy called Dave Kleiman had assisted him. Kleiman's estate has said, "if you mined a million bitcoins with Dave … where's his half?" And that's how Wright is going to end up owing half a million bitcoins he doesn't own, to the estate of the guy he didn't create Bitcoin with. The case goes to trial in January 2021.
Let me make clear — I fully accept that I could be incorrect in saying that Wright didn't invent Bitcoin. So I invite Wright to move a Satoshi bitcoin — as he has repeatedly claimed he can — and prove me wrong.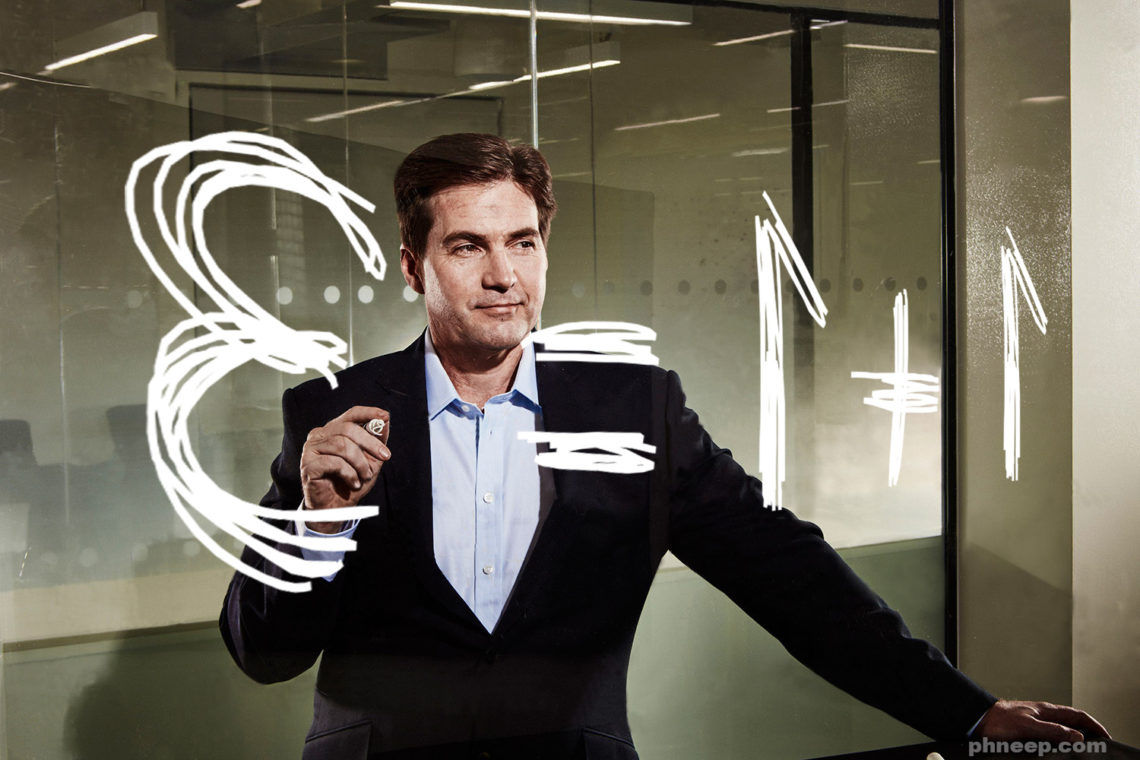 Things happen
The EU is creating a new college of supervisors to regulate "significant" digital currencies — such as Libra, and Libra, and also Libra. Bitcoin is affected, but the big push for this appears to be in response to Libra. [Euractiv; Reuters; Politico, PDF]
The Libra Association has a new member — Blockchain Capital. [Libra]
Senator Mike Crapo (R-ID) seeks clarification from the Office of the Comptroller of the Currency on their recent flirtations with cryptocurrency. Crapo is well acquainted with the dangers of crypto nonsense touching the real economy, and got stuck into Libra last year. [The Block]
The completely nuts story of the BitSonar scam: How A Ponzi Scheme Whistle-Blower Was Taken By His Own Government. This video is well worth ten minutes of your time. [YouTube]
I suppose they know their market — bitcoin.com will now sell you lottery tickets, and you can pay in cryptos. [news.bitcoin.com, Reddit]
In science, there are no stupid questions. But there are some stupid people. Question to a physicist: (1:18:19) "I geek out on blockchain. And it's a bit off-topic but … could we use blockchain to travel back from the future?" [YouTube]
It has been [0] days since a cartoon clowned on Bitcoin. [Twitter]
elmer asked me if i own any bitcoin like its 2017 or something

— Looney Tunes (@WBLooneyTunes) September 8, 2020
Everyone talks about the sucker who sits down at the poker table and doesn't realize they're it. But the real suckers are the people who sit down at a table and don't realize that what's being played is poker.

— Joe Weisenthal (@TheStalwart) September 12, 2020
If you hang out in crypto telegram groups long enough there are people who message you who want to scam you somehow, going to see how this one goes pic.twitter.com/A7w1jL66rB

— Ed Zitron (@edzitron) September 18, 2020
Your subscriptions keep this site going. Sign up today!