Today's the big day of good news for Bitcoin! I live-tweeted the day's events in a massive thread. [Twitter]
Chivo Wallet has launched! It then turned right thirty feet above the launch pad, and crashed into a lake.
Having been there and done that myself in information technology, I've rarely seen a project set up for such obvious failure from the start, by upper management who think the critical details are just a matter of shouting at people loudly enough, as the El Salvador Bitcoin project.
I'm pretty sure Chivo must not be subject to the regulations on Bitcoin wallets set out by the Banco Central de Reserva (BCR) — because the BCR regulations are relatively sensible, and there is absolutely no way this clown show could possibly meet the BCR regulations.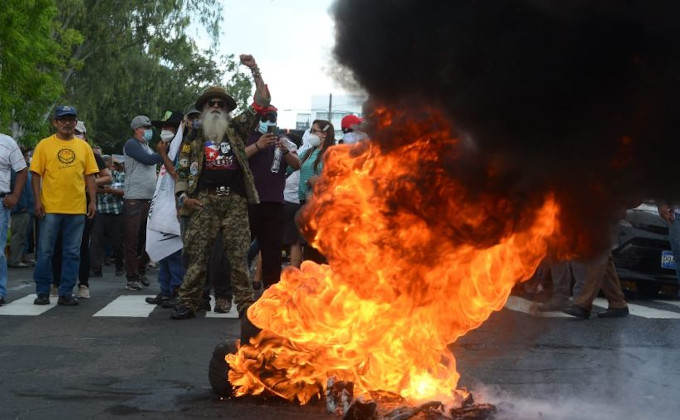 Photo by Jorge Reyes at Elsalvador.com
Chivo Wallet launches! And crashes immediately
The Chivo app was released to the Huawei store at midnight (local time, UTC-5), and the Apple and Google stores at 2am. (Huawei phones are popular in El Salvador, and can't use the Google Play store.) [WSJ, paywalled]
At 3am, the app started failing repeatedly — people couldn't log in, or were told their phone number was invalid. The image upload servers for Know-Your-Customer verification were apparently out of space. President Bukele was up at 6am, tweeting an apology. [Twitter; Twitter]
The President's excuse that the Chivo system self-DDOSed when the KYC verification servers overloaded is somewhat implausible — everyone is asleep at 3am.
Unless the system is so badly constructed that just using it at all makes it fall over. Which is, to be fair, highly plausible — this system was built by coiners.
The apps were withdrawn from the app stores while the problem was being fixed. They were re-enabled one store at a time, from about 11:30am on. [Twitter]
As I write this (coming up to 5pm in El Salvador), the app shows around 1,000 downloads on the Huawei store, and still doesn't seem to be on Google Play.
Update: Chivo finally showed up on Google Play around 10pm local time, slowly being enabled for different models of phone, so as to keep the load manageable. [Twitter]
Ulter's customer service
Ulter is the company run by Lorenzo Rey, the Venezuelan crypto enthusiast who's running the Chivo project. As you'll recall from the Chivo architecture diagram, Ulter is doing customer service for Chivo. El Faro ran a long article on Ulter this morning. [El Faro, in Spanish]
Rey and Ulter seem to have pushed aside Jack Mallers and Strike as the official government Bitcoin wallet providers.
Rey's customer service experience is running Dash Help in Venezuela. Dash is a cryptocurrency, a fork of Bitcoin. Dash Help's efforts in Venezuela failed because crypto isn't good money — shops didn't accept it, if they did then there might be only one person in the shop who knew how to accept it, and it wasn't used for remittances because Dash's price in actual money was too volatile.
So Rey and Ulter's experience in cryptocurrency is experience in failing.
Chivo is not a government company — it's a private for-profit SA. [Twitter]
Chivo's wallet design is controlled by Rey and another Venezuelan, Sara Hanna. The Ministry for Innovation have left the wallet entirely to Rey and Hanna.
When Brock Pierce visited El Salvador in June, Hanna was one of those greeting him.
The Chivo Wallet
Chivo is a custodial wallet. It works a bit like PayPal — you have US dollar and Bitcoin balances, and you can top them up or spend them. Your dollars or bitcoins are held by Chivo as liabilities to you.
You can withdraw cash dollars at a Chivo ATM. These are rebranded Athena Bitcoin ATMs, so I would be surprised if you couldn't withdraw your bitcoins from the Chivo system — your keys, your coins.
Correction: you can withdraw cash dollars if there's any cash in the machine. Some have been running out already. [Twitter]
You can withdraw and deposit dollars — and, I think, bitcoins — at a staffed Chivo kiosk. I found a photo of one Chivo kiosk with one cashier, nine paid promoters, and no customers. [Twitter]
When you sign up, you get "$30" of credit to your BTC account. You can't withdraw it — only spend it. When you do, the merchant can then withdraw the cash dollars themselves.
So far, a lot of people are going to the kiosks because they'd like $30, please — they know nothing about Bitcoin, and they don't care. They may or may not have a phone. [Twitter]
Chivo will be available internationally! The use case is, of course, remittances — actual dollars go into Chivo, the government subsidises transmission costs and keeps the dollars, and the recipient gets Chivo "dollars."
Aaron van Wirdum of Bitcoin Magazine tweeted how he successfully bought food at a McDonald's using Bitcoin — specifically, the Lightning Network, via OpenNode. [Twitter] This is not the official Chivo system, which doesn't use Lightning at all — Chivo itself is "layer two" over a back-end of bitcoins. Correction: It turns out Chivo does interface to Lightning, but this transaction wasn't done with Chivo.
The back-end Bitcoin exchange for Chivo is BitGo in the US [Forbes] and/or Bitso in Mexico. [Bloomberg] Bitso is doing US dollars via Silvergate Bank, the bank for large swathes of the US crypto industry — because nobody else will risk banking them.
The Chivo app asks for permissions to access everything — even audio. And your contacts. I suspect they just ticked all the boxes because it was quicker. Strike, for comparison, doesn't ask for nearly as much. I think the Huawei store flagged the app as possible malware, because it asks for so many permissions. [Twitter; Twitter; Twitter]
The other Chivo site
The Chivo app's privacy policy is not linked from the app stores, but is on what looks like a third-party site — chivostatic.turpialtech.com. [Turpialtech, in Spanish]
The front page of this site says "© Gobierno de El Salvador" — but, obviously, it's not on a .gob.sv domain, as you'd expect. [Turpialtech, in Spanish]
The site appears to have been designed by Turpial Development, a Venezuelan web development shop. [Turpial Development]
This site is somewhat unfinished — there's a page to top up your Chivo wallet with a card … and you'd be sending your card number over a plain-text HTTP link, without SSL encryption. The link in the site is directly to  chivoweb-env.eba-bbxfkyip.us-east-1.elasticbeanstalk.com — the Amazon Web Services name for the functionality end point. [AWS]
Update: the Google Play page links to the privacy policy on Turpialtech. [Google Play]
Mixed messages
Are there fees on Chivo? Definitely not! Unless there are.
President Bukele has flatly declared that Chivo will not charge a commission, and has budgeted for the government to subsidise the system.
However, Forbes ran a droolingly fawning article on the Bitcoin scheme which says that there will be no fees for Chivo-to-Chivo transactions — but "Funds withdrawn from the wallet, however, will incur fees." [Forbes]
Is accepting Bitcoin compulsory? Article 7 of the Bitcoin Law says so. Article 12 says that Article 7 doesn't apply if a business doesn't have "access to the technologies that allow them to carry out transactions in bitcoin" — but having the Chivo wallet would almost certainly count as having such access.
The government has claimed a number of times that accepting Bitcoin will be entirely optional — and a number of other times that it will be mandatory. At present, the law still says it's mandatory, and the government has resisted changing this. [Elsalvador.com, in Spanish]
In practice, even the merchants with a "BITCOIN ACCEPTED HERE" sign have to find the one guy in the shop who knows how to accept Bitcoin. [Economist]
Bitcoin protests at the Legislative Assembly
The people of El Salvador are not entirely happy. There were protests yesterday, so barriers were put up around the Legislative Assembly early this morning to keep protestors back. [Sky News; Twitter]
Marching citizens gathered in the Plaza Morazán and departed for the Assembly around 10am, to demand the repeal of the Bitcoin Law. The number I've seen is that over a thousand marched. [La Prensa Grafica, in Spanish; Twitter; Reuters]
Protesting citizens reached the barricades and attempted to pull them down, or jump the barrier. [Twitter; Twitter] Some citizens described the government in coarse and unflattering terms. [Twitter]
One group of protestors set some tyres on fire, providing an excellent visual representation of Bitcoin. [Elsalvador.com]
I did say in my June article for Foreign Policy: "The question is whether he can get away with bitcoin-fueled monetary policy before an angry populace starts setting buildings on fire." [Foreign Policy, paywalled]
Opposition politicians came to today's session in "No Bitcoin" shirts. [Twitter] Nuevas Ideas politicians (Bukele's party) were heckled by their constituents. [Twitter]
Las diputadas del @gpfmln @AnabelBelloso @DinaArguetasv @RocioMenjivarSV, así como @ClaudiaOrtizSV de @vamoselsalvador y se presentaron con camisetas en contra de la Ley Bitcoin previo al inicio de la sesión plenaria de hoy en la @AsambleaSV pic.twitter.com/68IxJvPi2g

— LPGPolitica (@LPGPolitica) September 7, 2021
Number go down
Bitcoin celebrated Chivo's big day by crashing. At around 15:00 UTC (10am in El Salvador), BTC crashed by nearly $10,000 in three minutes — 5% in a single minute. The price promptly bounced back up a few thousand dollars.
President Bukele said the price dip was caused by the IMF! I didn't know that. In fact, I still don't. [Twitter]
The extreme volatility seems to have been the usual cause — the big guys burning a whole lot of margin traders, liquidating $2.6 billion (nominal) of long and short positions on various cryptocurrencies. Most of the money was lost on the least-regulated crypto casinos. The Block thinks this is good for the crypto market. [Twitter]
In an amazing coincidence, every crypto exchange suddenly had urgent unscheduled maintenance, making withdrawals impossible.
If you're Salvadoran, and worried about bitcoin volatility … you're completely correct to worry.
The price dip was fabulously effective negative marketing for Bitcoin. Chivo users installed the app and had "$30" in Bitcoin in the app. They could watch in real time as this dropped below $25. A Bitcoin experience none of them will forget.

What happens next?
Elsalvador.com has added the price of Bitcoin to its front page! … in tethers, from Binance. How helpful. [Elsalvador.com, in Spanish]
Here's a post to Reddit /r/cryptocurrency detailing why the whole Bitcoin scheme is an absolutely festering pile of trash and Salvadorans hate this thing. This is from a Salvadoran crypto user and advocate, by the way. [Reddit]
El Salvador's sovereign debt is going through the floor — bonds due in 2029 went down five cents just today, and are trading at 87.6 cents on the dollar. [Bloomberg]
On September 15, the Vice-President is introducing a package of hundreds of constitutional reforms. Article 111 will be changed to restrict BCR to regulating physical currencies — digital currencies will be regulated by their own laws instead. [President of El Salvador, PDF, in Spanish]
It's coming up to 5pm as I write this. Nothing's freshly on fire. But Chivo is not making friends, and Bitcoin is not popular.
I'm sure there'll be more tomorrow. It'll be great! Even more good news for Bitcoin!
Your subscriptions keep this site going. Sign up today!