Since Tuesday, Bitcoin in El Salvador has stumbled along in the form of the Chivo Wallet. The "$30" bonus is motivating people to sign up with Chivo! Then they find out all the ways it doesn't work.
Chivo could be a good idea! A national payment system, with government backing. Public kiosks, helpful customer service staff at the kiosks. Get money moving faster, stimulate the economy.
Trust is key, though. People worry about money. A new payment system must show itself to be solid, and build itself a reputation as being solid.
In the UK, the touch-to-pay card system was created in 2007, and widely promoted by banks from 2012. It proved itself to be convenient and trustworthy — by 2017, more payments were made (both in number and volume of transactions) by touch-cards than with physical cash. [FT, paywalled]
If only Chivo hadn't been set up by overconfident incompetents.
The return of Mario Gómez
Mario Gómez is back online! He's created a temporary Twitter account, @mxgxw_gamma, and posted a video. [Twitter]
Gómez's message is that he was lucky to be someone with a network of contacts who would say something:
What would have happened if it had been someone else who doesn't have these support networks? What would have happened if I had not had the Internet? What guarantees are there that anyone else who has a different opinion is not persecuted and has options? If I am here speaking, it's for all those people who joined to denounce and expose the abuses.
He suggests you network with people, and keep speaking up.
Gómez has also been doing chats on Twitter Spaces. [Elsalvador.com, in Spanish; ElSalvador.com, in Spanish]
He says not to use the Chivo Wallet if you want bitcoins — the $30 in "bitcoins" is not transferable to other Bitcoin wallets.
Gómez also warns that Chivo has serious data protection problems. "You can't play with people's money or with their personal data."
No, your customer?
The Chivo system failed at 3am on launch day. President Bukele tweeted that the image upload server had run out of capacity.
Chivo has fixed the problem as simply as possible: the Know-Your-Customer functionality … doesn't check images!
A few people have confirmed that Chivo's customer identification accepts the following:
When it asks for your DUI (national ID card), use any image you have;
Use any photo you like as your face;
Put in a DUI number — which might even be your own — and a matching date of birth.
Chivo then doesn't do anything to verify that the photos have anything to do with the DUI or date of birth. [Twitter, archive]
Lots of people are discovering that their DUI number has already been used. [Twitter] Others are having fun with publicly-known DUI numbers — such as lists of recently-deceased people and their DUIs. These are published by insurance companies … to stop fraud. [e.g., AFP Crecer, PDF]
DUI numbers are not super-private. You use them lots in daily life, e.g., for purchases over $100. Using a DUI as the sole identification for Chivo is mind-boggling.
I expect bots will already be running through DUI numbers and skimming "$30" Chivo signup bonuses.
Chivo Wallet
The Chivo app shows 50,000+ installs on Google Play and 357,000 on Huawei. Apple doesn't display download numbers. [Google Play; Huawei App Gallery; Apple App Store]
The Google Play store rating is 2.8 out of 5, which is not good for an official national payment system. Here's some reviews (translated):
"Verification failed, enter my DUI, the phone number, the photo of the DUI, after taking the photo of my face, it says error and it doesn't work, it says verification failed, there's no way to go back or start again since they have my data, to say that I'm the same person."
"It gives me an error, it doesn't accept my PIN. To be able to re-enter I have to uninstall the app and reinstall, entering my passport # and PIN again."
"It doesn't recognize my PIN, my fingerprint, nothing … it gets very stuck, I had to uninstall and reinstall it twice …"
"I use an S21 and it only worked one day, now when I enter the app it keeps loading the transactions and I cannot see my balance or use the app for payments, at the moment they lack a lot of work for the app to work correctly."
"This is a garbage application that doesn't work … when taking the photo of the DUI the application disappears and you cannot register, this is garbage just like the dictator we have."
"The app with the most problems that I have installed on my cell. Input errors, failed verification codes. It does not recognize my password … Anyway, that's just to mention a few."
"The application is not really ready to be used. Super bad experience with most users. Few have successfully created their account."
"Error occurs when I take the photo of the DUI."
"DUI photo validation error."
"Do not download it yet, it is full of bugs, it lets you register without being verified, which doesn't work and there is no way to re-verify once registered and it's worse if you are outside the country (El Salvador), because the only number Customer Service offered is the telephone number 192, which cannot be dialed from abroad."
The app seems to need a recent phone — which is a problem when it's for the general public, who are unlikely to be able to afford a Galaxy S20. Many users hoping for a free $30 were disappointed that their phones were too old. [Elsalvador.com, in Spanish]
The network itself has been intermittently working and not working. For several hours yesterday, you could transact, but not register.
The merchant use case
Many traders who spoke to La Prensa Grafica don't want to accept Chivo. "I'd rather lose the sale," said one trader, who said she would go by President Bukele's promise on June 24 that accepting bitcoins would be optional. Others don't trust money that they can't hold in their hands. Street vendors often don't even have phones. Many of their customers are illiterate. [La Prensa Grafica, in Spanish]
(La Prensa Grafica notes that "extra options" such as transfers to banks are not yet available. They'll come "later.")
I got one report from a user about paying via Lightning Network at McDonald's:
I went to a McDonald's in Zona Rosa and tried to pay with MuunWallet and it gave me an error saying "not a Bitcoin address".

Muun can do both ⚡ and BTC but it didn't went smoothly as yesterday at Starbucks. McD gives you a printed QR.

The cashier told me it is always the case, he told me it hasn't been working and that they have made just 1 successful payment with Bitcoin since all this started.
Aaron van Wirdum of Bitcoin Magazine tweeted on Tuesday about how he used the Lightning Network at a McDonald's, and it was retweeted by President Bukele; it's not clear if this was the same McDonald's. [Twitter]
Not what you know, but who you know
Someone in El Salvador's government — or multiple someones — is leaking like a firehose to El Faro. Here's the corporate history of Chivo SA, the private for-profit company running off public funds that runs Chivo Wallet. [El Faro, in Spanish]
"A lawyer prosecuted for falsifying a will helped create the company running Chivo Wallet. The notary who attested to the legality of Chivo SA de CV, created with public resources by the Government, was accused of documentary falsification in 2020." [Factum, in Spanish]
President Bukele's Chief of Staff, Marta Carolina Recinos de Bernal, is on the US State Department's Engel List of corrupt officials. She's also a director of Chivo SA. [Elsalvador.com, in Spanish]
A lot of Chivo's problems are because Bukele's team got people they considered politically trustworthy — and not people who could do the job.
(I'm in the UK, and we're very used to this way of working. And the disasters that follow.)
Athena is up
Athena Bitcoin is a publicly traded company. Their stock price is way up — from $7.00 a week ago to $36.00 as I write this, with reported peaks over $40.00. ABIT is an over-the-counter microcap stock, not listed on an exchange, so any interest will create this sort of chart; but someone thinks the Chivo ATM contract is good news for Athena. [Yahoo! Finance]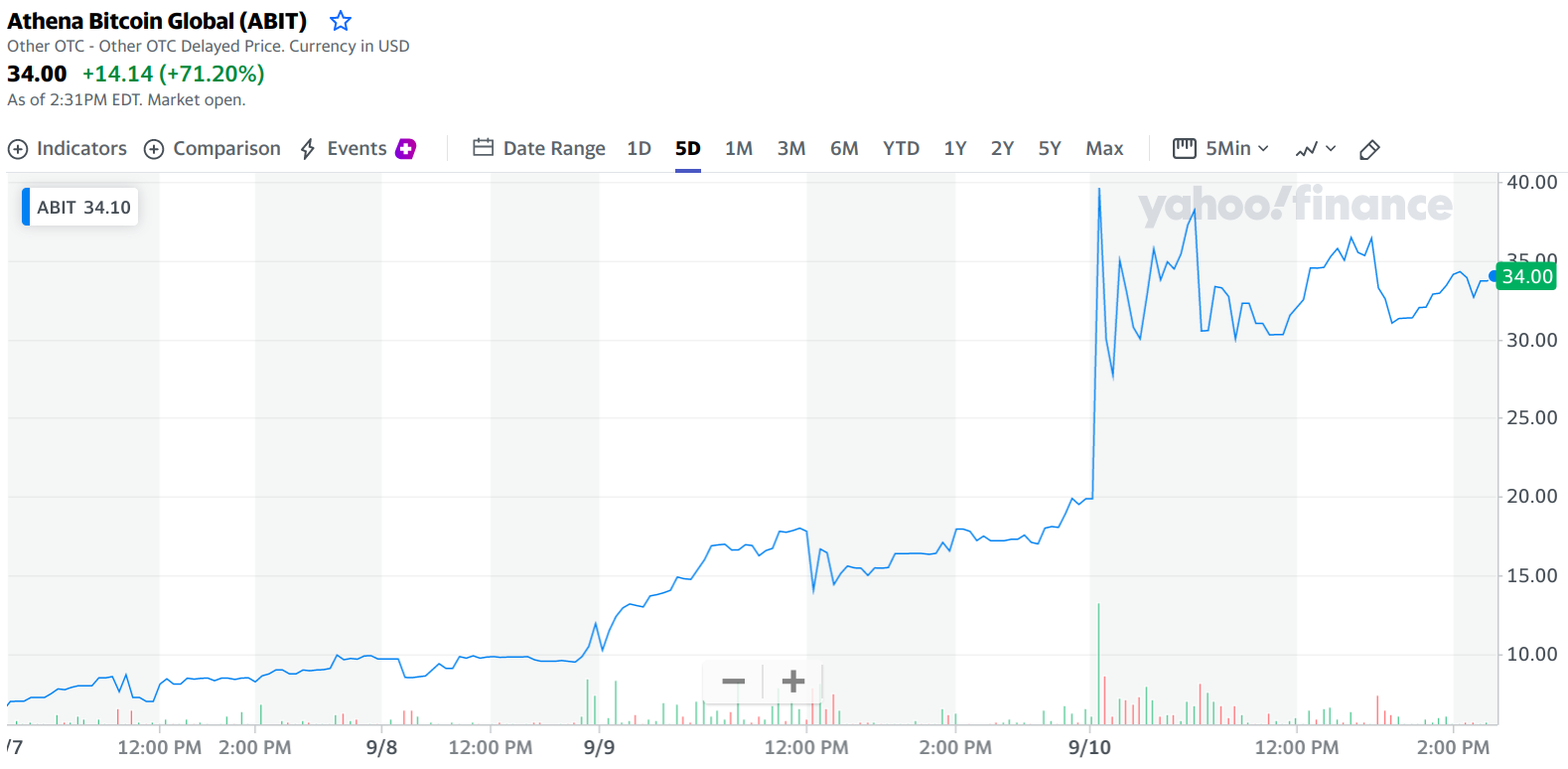 The eyes of the world
I was quoted in some news articles:
I also did TV spots for BBC World Business Report and NTD Business. [YouTube, from 16:18]
What happens now?
So far we haven't had a pile of crooks coming in to clean their dirty bitcoins, and drain the $150 million trust that was set up to buffer between bitcoins and dollars. (Because Chivo doesn't work.) So that's nice.
Instead, we've got crooks defrauding the sign-up bonuses. That's not so good.
Chivo's functionality and customer service are all but unusable, and you can't get your dollars out.
If you want Salvadorans to hate everything about Bitcoin, and electronic payment systems in general, this is a good way to get there.
Photo: a fainting goat. They fall over when they're startled.
Your subscriptions keep this site going. Sign up today!