Facebook's Diem initiative started as a cryptocurrency called Libra, which Facebook announced to great fanfare in June 2019.
Libra was going to be an international stablecoin, backed by a basket of currencies. Libra would bring fast-moving payments to the world. Libra would bank the unbanked! (Somehow.)
Libra also risked destabilising entire national currencies with the size and composition of its backing reserve. David Marcus kept saying how Libra could replace the currency of Argentina, seemingly without realising that other countries would take this as an explicit threat by Facebook to their own currencies.
Regulators around the world took one look at Libra, and told Facebook: no, and hell no.
After a blistering round of US Congressional hearings, the original Libra plan was pretty firmly dead. The project came up with a revised plan to do national-currency stablecoins — eventually, only US dollars — and applied to FINMA in Switzerland to become a payment processor. I published my book Libra Shrugged on the whole débâcle. Libra was renamed to Diem, in the hope this would appease regulators. (It didn't.) A few Libra founders left Facebook, in the hope of working on non-zombie projects that weren't trapped in development hell.
On Wednesday 12 May 2021, Diem announced that it was dropping its FINMA application, and would become a money transmitter backed by a bank, with its offices in the US rather than Switzerland. [press release]
Diem's new plan: Diem USD
The Diem USD will be a blockchain-based stablecoin worth one US dollar.
Diem Networks US — a wholly owned subsidiary of Diem Networks GmbH — will run the Diem Payment Network, a permissioned blockchain. Wallet providers, such as Facebook's Novi (formerly Calibra), will connect to this blockchain and serve end users.
The coin will be issued by Silvergate Bank — a proper bank, chartered in California, and a member of the Federal Reserve. Silvergate will manage the Diem USD reserve.
This appears to meet one concern of the STABLE Act initiative of December 2020, which sought to require stablecoin issuers to be banks. Though Rohan Grey, one of the authors of the STABLE Act, thinks it's not enough — "Diem has conceded it needs access to a US bank license to conduct its operations. But rather than try & get its own, it's playing rent-a-charter games. If Diem wants to issue deposits it should get a license. No more fintechs using banks as shields." [Twitter]
Diem Networks US "will register" with FinCEN — so it hasn't registered as yet — as a money services business.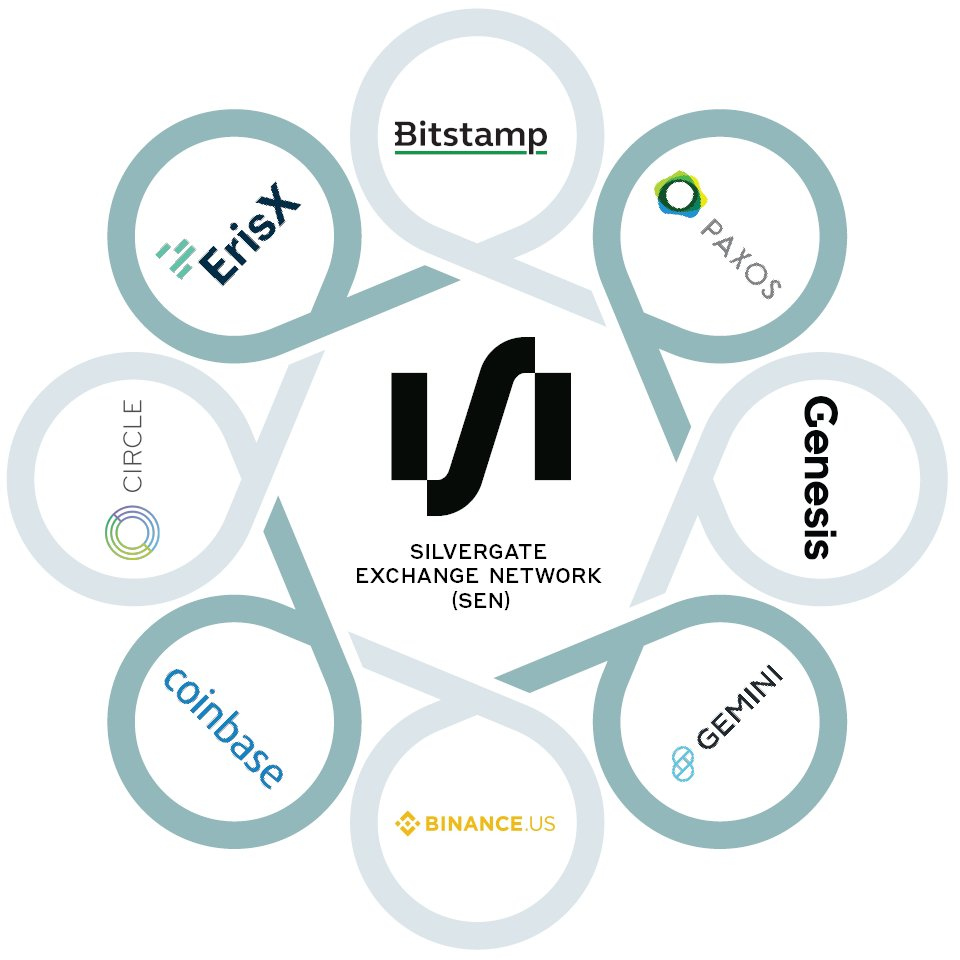 Silvergate: the real national bank of crypto
Silvergate is one of the few banks that will accept US cryptocurrency exchanges as customers.
Silvergate was founded in 1988 as a small bank serving local San Diego businesses with just a few branches. But they started in crypto in 2013, and were all-in by 2017. [WSJ]
Silvergate says it serves over 750 crypto and fintech businesses inside and outside the US — doing US dollar banking for Coinbase, Kraken and Bitstamp, amongst others. Silvergate Capital Corp's S-1 filing, from when the company went public in 2019, says that crypto was 80% of the bank's deposits at that time. [SEC]
The Silvergate Exchange Network is an internal API that lets crypto exchanges move dollars quickly between their Silvergate accounts. Y'know, just in case you thought Bitcoin was decentralised in practice. At least it's way more efficient than doing it on a blockchain would be. [Silvergate, Silvergate]
Why does Silvergate like crypto so much? Because it doesn't have to pay interest on the deposits, and can put the money in another bank and keep the interest it gets there! [Bloomberg] Per the S-1: "the majority of our funding comes from noninterest bearing deposits associated with clients in the digital currency industry." The joy of serving a captive market.
Silvergate already holds the reserves for Paxos USD and Gemini USD, so Diem USD wouldn't be a new thing for them. "Silvergate provides financial infrastructure to institutions that enable the movement of stablecoins on a blockchain." [Silvergate]
What caused this move?
Diem's press release thanks FINMA for their "constructive feedback" — I bet it was — and the "more than two dozen other regulatory authorities from around the world convened by FINMA to consider the project."
FINMA also issued a press release, saying only that the application had been withdrawn after over a year — but also noting that it had been at an "advanced stage." [FINMA]
SRF has a rather longer report — which suggests the move was due to US political pressure on Diem to set up in the US, rather than in Geneva. [SRF, in German]
Tobias Lux from FINMA told SRF that Diem could have launched in Switzerland fairly soon — the approval process was well-advanced, and there wouldn't have been many steps to go. FINMA seems disappointed that Switzerland has lost Diem to the US.
The yawning ennui of blockchain
Diem insists on still doing their planned Paypal-but-it's-Facebook — as I predicted it would end up as — on a blockchain.
The only reason for this seems to be that they think blockchains provide magical qualities that will let a large company like Facebook, working in a highly regulated sector, get around financial regulations. Per the press release:
We are committed to a payment system that is safe for consumers and businesses, makes payments faster and cheaper, and takes advantage of blockchain technology to bring the benefits of the financial system to more people around the world.
But none of Diem's restrictions are technological — they're requirements such as the ones that the Financial Stability Board put on "global stablecoins," i.e., Diem, that would restrict them from international use until at least 2023. Because the regulators already heard Facebook explicitly threaten whole countries' currencies, and are absolutely not going to let that happen.
None of this is a question of what Diem's blockchain can do — it's 100% a question of what Diem is allowed to do.
A permissioned blockchain is just a distributed but centrally-administered data store. It gets you nothing that you can't get from the conventional centralised databases that every other financial institution uses. Its only use case is press releases.
I'm presuming the blockchain software will be the Libra/Diem blockchain that Facebook has been working on for the past two years.
Facebook Engineering posted a brag about their use of the Rust programming language. There's even a paragraph on Rust's use in the Diem blockchain software — they call it a "significant example"! [Facebook Engineering]
What has this brought Facebook? Diem is a permissioned blockchain whose testnet has a top measured speed of 24 transactions per second. Looking at the various Diem testnet explorers, the system doesn't seem in recent times to have been run faster that 3 TPS. This is unlikely to be up to the task of running a national payment network.
Compare this with permissioned private Ethereum instances, which can run hundreds of transactions per second. Other private blockchains and DLTs are even faster. They'll get their stripy programmer socks taken away at this rate.
What happens now?
The current Diem plan fulfills almost none of the high-flying promises Facebook made for Libra two years ago. The only point at this stage is to let Facebook be allowed to put forward something — anything — that they might then be allowed to expand upon.
Diem US is applying for all the money transmitter licenses it will need. Novi already has licenses for 37 jurisdictions [NMLS, archive of 14 May 2021] — but Diem is operating as a separate entity.
There are still no Diem wallet providers other than Novi. A company called Fireblocks announced a wallet in March, but there's been no news since, and Diem certainly haven't mentioned Fireblocks.
As usual, Diem hopes to run a pilot system by the end of whatever the current year is at the time of the announcement. [CNBC]
It's possible that Facebook will finally cut the Diem plan down to something the regulators will let happen. Maybe this one's boring enough.
Your subscriptions keep this site going. Sign up today!