The New York Attorney General has dropped a new filing, with 29 exhibits attached, in their case concerning — not yet against — the iFinex companies, including Bitfinex and Tether. This "Memorandum of Law in Opposition to Respondents' Motion to Dismiss and for an Immediate Stay" is not yet a criminal action against iFinex — it's merely to keep the investigation open, and to get iFinex to cough up the information already subpoenaed from them.
Mostly, the NY AG is responding in detail to iFinex's claims that New York has no jurisdiction over them — pages 6 and 9 to 11 recount in detail all iFinex's links to New York State. This is after iFinex's lawyer Stuart Hoegner had represented earlier in this court proceeding that iFinex had banned New York customers as of 30 January 2017.
For me, what nails it is just how many New York clients Tether has — including such as Michael Novogratz' Galaxy Digital, whose letter to BFXNA of 15 October 2018 is attached to the filing. Novogratz claimed (archive) on 26 April 2019 that "GLXY has zero exposure to Bitfinex or Tether" — perhaps Galaxy had sold all its tethers by then.
Bitfinex opened a trading account with "a New York-based virtual currency trading firm" (unnamed, but it'd be Coinbase or Gemini) in January 2019. Documentation of this should have been produced by iFinex already — but wasn't.
Giancarlo Devasini told Bitfinex customers to send money via Crypto Capital for fast service — and, on literally the same day, was frantically contacting Crypto Capital asking why withdrawals weren't being sent out, and warning that the Bitcoin price could drop below $1000 if Tether Inc. ran out of money.
Also, iFinex helped New York companies set up foreign shell companies so they could trade with Bitfinex. And loaned tethers — did not sell them, but loaned them — to "at least one New York based trading firm". In 2019.
The facts look really pretty bad. That said, the law is not about just the facts — it's about what the facts mean. iFinex have until 22 July to respond, and the next hearing will be 29 July — perhaps they can successfully argue that two plus two only appears to make four, when actually it makes three, or five, or six hundred and sixty-six.
Oh, Tether accidentally printed five billion tethers yesterday.
By the way — Wells Fargo "does not allow transactions involving cryptocurrency."
A $600 fraud pump on the incorrect news that Tether had printed $5B. pic.twitter.com/pZUUQNTM9q

— Bitfinex Parody (@Bitfinex2) July 13, 2019
Craig Wright went into court on 10 July to argue that the federal court is  not, in fact, the proper jurisdiction for Kleiman v. Wright — and the whole case should start over in Florida state court. Which would mean another year and a half to resolve the matter — how unfortunate! Law 360 has the report (archive).
Wright submits supplementary claims as to the ownership of W & K Info Defense Research. Ira Kleiman opposes, as Wright could have submitted this any time previously — such as in discovery or deposition, when he was supposed to: "… a desperate attempt to evade this Court's jurisdiction by manufacturing self-serving and unsupported testimony."
In support of this, Kleiman attaches an affidavit from his expert witness, Matthew J. Edman — "Exhibit A and Exhibit F, which appear to be emails sent from Dave Kleiman to Uyen Nguyen on December 20, 2012, are manipulations of a PDF created from an email the Defendant sent from himself to himself on or about April 16, 2014." Edman goes through the structure of the PDFs, showing what appears to have been derived from what — and places where a hash in the metadata is the same, when you'd expect it to have changed. It's a nicely clear explanation of an important technical detail.
Law 360: "Rivero acknowledged the credibility issues of his client …" There's still, coming on 5 August, part two of the hearing as to whether Wright should be found in contempt for his previous failures to produce documents in discovery.
I agree Donald. Bitcoin is a criminal tool. Bitcoin was made by Craig Wright maybe you should put him in jail.

— KING CO฿IE (@CryptoCobain) July 12, 2019
CryptoTaxGirl on Twitter has obtained a slide deck, modification date 2 July 2019, for a talk given to special agents in the IRS Criminal Investigation division about how the IRS should deal with tax-evading cryptocurrency investors. The slides are eye-gougingly hideous, but if you hold cryptos and pay US tax, you'll want to read the deck anyway.
CryptoTaxGirl summarises the highlights. If the IRS think you're dodging your taxes, they'll use electronic surveillance, social media searches and Grand Jury subpoenas — not just of crypto exchanges, banks and money transmitters, but of social media companies, and checking if you've downloaded crypto apps. "If you reported everything correctly already though, you have nothing to worry about. If you haven't, let me help you :)"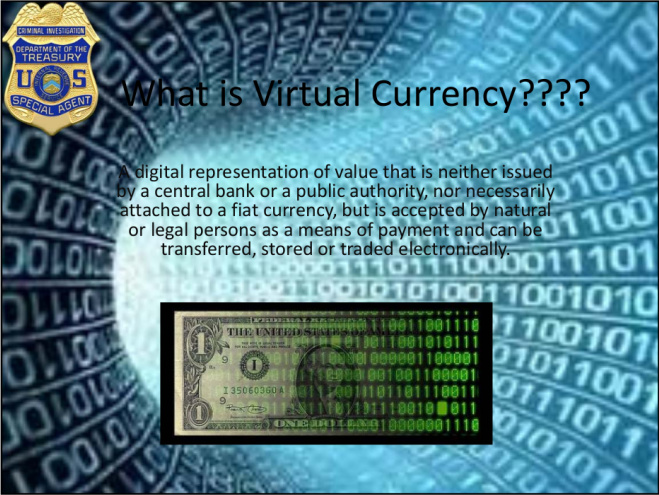 David Marcus from Facebook testifies to Senate tomorrow — here's his prepared remarks. Marcus is trying to pull a snow job on them — his comments don't address any of regulators' oft-stated concerns, and he says "blockchain" a bit much in the hard bits. Facebook are still trying to brazen this out — nobody proclaiming their "humility" has any. The question session afterwards should be a delight.
Federal Reserve Chairman Jerome Powell wants Facebook's Libra halted until regulators' concerns are addressed.
President Donald Trump tweeted that Facebook will need a banking charter to do what they're planning.
Trump also tweeted that he doesn't think much of Bitcoin, though it's not clear what follows from this — beyond the crypto press imitating headless chickens, and Bitcoin boosters declaring this the best news for Bitcoin. The price proceeded sideways.
Matt Stoller: "My thesis about Facebook going into the currency game is that it is a political misstep for the company … Credit and money is something over which we've fought wars and had depressions, with implications Facebook is ill-equipped to handle."
Adam Levitin: Facebook's Libra and Financial Inclusion — "Libra is a Payment System and that Is Why It Will Likely Fail."
Before Libra's launch, Facebook execs told us they had met with lots of regulators and central bankers and that the reaction had been "neutral to positive."

Since the launch I haven't seen many responses that could be characterized as "neutral to positive." https://t.co/Jj6kOYpFzv

— Nathaniel Popper (@nathanielpopper) July 11, 2019
Irish crypto exchange Bitsane exit scammed in June, taking 246,000 users' coins and money with it. Withdrawals started failing in May, and on 17 June their website, Twitter and Facebook disappeared, as did CTO Dmitry Prudnikov's LinkedIn. Bitsane got a lot of users during the crypto bubble because it did XRP, and Coinbase didn't at the time — CNBC's January 2018 "How To Buy Ripple" article set out how to use Bitsane.
Japanese exchange Bitpoint was hacked on Thursday evening, losing $32 million of cryptos from its hot wallet. There is gossip that it was "hacked," rather than hacked.
We don't know what happened with Voatz' West Virginia blockchain voting trial — because they won't say. Here's a paper on the information we'd need to evaluate the trial.
Blockstack finally gets approval to run a token sale as a Regulation A+compliant offering. I've long said Reg A+ is likely a better idea than a Reg D 506(c) — for one thing, you can sell to retail investors!
Remember CarlaurenCoin and their "crypto for care homes" from April? Carlauren's "luxury" care homes have gone bust, all the residents have been thrown out and the crypto plan is "on hold."
I should probably read Digital Cash: The Unknown History of the Anarchists, Utopians, and Technologists Who Created Cryptocurrency (UK, US), by Finn Brunton. Here's reviews from the Financial Times and from David S. H. Rosenthal.
The ICO book progresses. I haven't posted all week because I've been working on the KodakCoin chapter instead — currently 10,000 words into what will be a 12-13,000 word chapter. Though I'll probably put the description of SAFTs somewhere else. It's been nearly two years since the previous book, and the reason is that writing turns out to be work …
This (archive) could be the dumbest Bitcoin-pumping tweet I've seen this whole week. It amazes me how little Bitcoin's greatest advocates know about anything to do with the technology, even as they bleat that it's "secured by math":
They aren't moved digitally. They are moved electronically. That is why it takes so long for you to settle dollar transactions between banks for example. Small, but very important difference.

— Pomp 🌪 (@APompliano) July 13, 2019
I also realized too late that most students think crypto means cryptocurrency, so I've accidentally said many things in lectures that left them horribly confused… "As you know, crypto helped turn the tide of World War II."

— Arvind Narayanan (@random_walker) July 11, 2019
it can always get worse, folks pic.twitter.com/VSW093pyNk

— Buttcoin (@ButtCoin) July 7, 2019
Your subscriptions keep this site going. Sign up today!