Will Bitcoin become the world's reserve currency? @theonevortex thinks it will, but — you'll be amazed to hear — I don't. So we're doing a live video debate! Tomorrow, 1 October 2019, at 20:00 UTC. (That's 1:00 pm PST or 9:00pm BST.) Put your questions in live!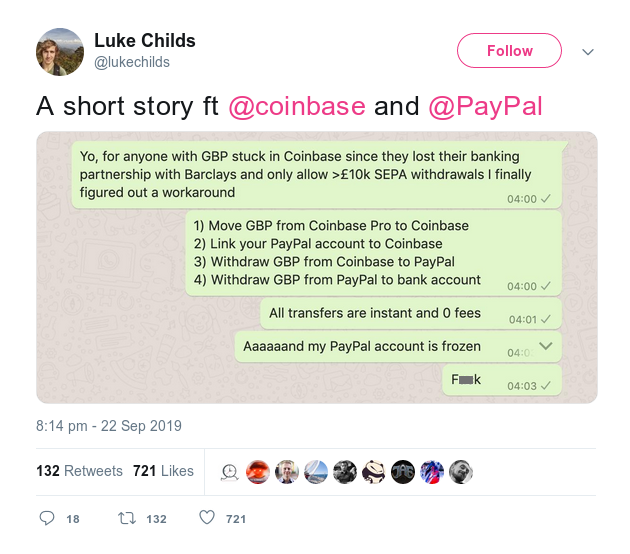 BUTTCOIN: They're all dead. Every coin's dead, Brian.
COINBASE: Bitcoin isn't, is it?
BUTTCOIN: Every coin's dead, Brian!
COINBASE: Not ETC!
BUTTCOIN: Satoshi's ever-growing teeth! Yes, ETC. Every coin. Every coin's dead, Brian!
COINBASE: BATs?
BUTTCOIN: They're dead, Brian. Every coin is dead. Every coin is dead, Brian.
COINBASE: Wait. Are you trying to tell me all the coins are dead?
Bitcoin crashed again last week — the BTC/USD price on CoinBase went from $9716 on 24 September to $7712 on 26 September. About $643 million of long bets were liquidated on BitMEX — just like what happened in May this year. Because you can make more money on a bet than it costs to rig the bet. This is — as always — good news for Bitcoin.
FT Alphaville suggests the crash could have come from the Bakkt futures market existing at all — thus forming a complete price discovery mechanism, i.e., a trustworthy way to short Bitcoin — though I have my doubts.
I'm pretty sure "institutional demand" for Bitcoin has always been a non-disprovable mirage. The Bakkt futures failed to quite set the market on fire — there are a total of 126 BTC of contracts as I write this. 32 BTC of this was on the first day, 23 September, a week ago.
Debate: Will Bakkt send Bitcoin's price skyrocketing? With a quote from me — my considered opinion was "LOL, nope."
Crypto exchange volumes are still through the floor — "trading volume down about 40% on some major exchanges in the past month" — so several exchanges are offering bounties for recruiting new signups. This is totally not a pyramid scheme! It's shaped more like a funnel.
Coinbase, desperate for trading volume, is looking at adding coins that haven't even been released yet. Quite a few of these are venture capitalist funded coins, where the VCs have already pretty much written off their investment — e.g., Telegram's GRAM token. I'm sure Coinbase board or senior staff won't have large holdings in any of these.
Coinbase has joined with several other crypto exchanges and large traders to start a Crypto Rating Council — the people trying to sell you these things are purporting to tell you how likely they are to be securities. The US laws on this are really pretty clear, but the exchanges want the sort of "regulatory clarity" that gives an answer they like. Tim Swanson points out that Coinbase tried writing a similarly self-serving Securities Law Framework in late 2016 — that was made moot by the DAO Report, and quietly shelved.
https://twitter.com/anguschampion/status/1176585959120482311
Yesterday a large shadow appeared in the shade of the catalpa and a lone cicada whistled at noon. The entrails of a freshly slaughtered pigeon broke below the support line of the large descending triangle I've been carving out for months. This is a very a bearish technical … https://t.co/3oIvQJKnLq

— Palley (@stephendpalley) September 25, 2019
Facebook's Libra has been directly inspiring central bankers to look into doing Central Bank Digital Currencies — just in case someone competent tries to do a private Libra-style coin on a large scale. But "CBDC does not necessarily need blockchain," said one Chilean official — well, of course not, since CBDC is just a buzzword too.
Libra's currency basket will be made up of 50% US dollar, 18% Euro, 14% Japanese yen, 11% British pounds, and 7% Singapore dollar. If it ever launches.
If you've seen stories claiming that Mark Zuckerberg said Libra might not launch in 2020, he didn't quite — though he did dodge the question.
Nobody:
Not a soul:
IBM: "We've spent four years on this blockchain nonsense and it's been a money pit, please, Mr. Zuckerberg, give us some juicy consulting bucks."
if you did not make a tweet about libra that went viral last week, ask yourself: why are you even on cryptotwitter?

— Georgios Konstantopoulos (@gakonst) June 23, 2019
Bitfinex/Tether got a stay on turning documents over to the New York Attorney General, while they finish writing their appeal. They have until 4 November 2019. The appeal will probably be fully briefed — both sides put in their submissions — by December, and be heard in January 2020.
Bitfinex's bank Deltec isn't just into Tether — it's also into "blockchain."
Latest in Reggie Fowler, Bitfinex's money mule — at the 16 September status conference, both the defense and the prosecution asked for a further stay until 13 November … "for the parties to engage in plea negotiations." I wonder if Reggie is going to be supplying all the evidence he possibly can against the others.
Just confirmed it today, Bitcoin is officially dead. Can't say I'm surprised. RIP 2002-2019. You had a good run.

— Buttcoin (@ButtCoin) September 20, 2019
Kik has shut down the Kik Messenger network, firing all the staff — what remains of the company is now focused entirely on selling Kin tokens to … someone, somewhere? The price as of this evening is eight ten-thousandths of a cent.
How ICOs on exciting new math coins work — Cardano may have dropped 97%, but the good news is that Charles Hoskinson had a lot of fun and made a bundle.
Kim Dotcom is finally getting into crypto! He's issuing his KIM tokens as an Initial Exchange Offering on Bitfinex. I can hardly think of a more fitting pair.
ImageProtect and KodakOne are still sending out press releases about their plans for mass copyright-trolling. I think this was the thing they announced a month ago, being announced again. We'll know they're doing anything when we start hearing about people getting demands for cash from Kodak.
The SEC has sued Nikolay Evdokimov of ICOBox for an illegal $14 million offering of ICOBox's own ICO tokens — unregistered securities — as well as trading other ICO tokens that were unregistered securities.
https://twitter.com/karbonbased/status/1175790669421522944
How unfortunate. "Anatomy of a fraud — A deep dive into one of Craig Wright's plagiarized papers" by Sam Willians shows the original 1964 paper that Wright appears to have copied for "A Proof of Turing Completeness in Bitcoin Script." (Found by Jorge Stolfi.) Williams also lists seven previous examples of apparent plagiarism on Wright's part. But I'm sure there's a perfectly reasonable explanation.
Does anyone know if Craig Wright's lawyers ever got back to Peter McCormack's lawyers? That "21 days to respond" is long up.
For the avoidance of any doubt pic.twitter.com/QAAaZ4q3KB

— Izabella Kaminska (@izakaminska) September 23, 2019
A huge Bitcoin mining farm in China has burnt down — with a 2-Hour Block Time.
Kyrgyzstan cut off 45 Bitcoin mining companies after they were found to be using 136 megawatts — or more electricity than three local regions, Issyk-Kul, Talas and Naryn.
Incognito says: pay just $200 for one of our money printing machines! Why aren't we just running them ourselves, so we can print money and keep it? Well, we're just generous, see. Incognito are running a variant on the cloud mining scam. They claim you can make money in BTC and ETH, mining at home — in fact, the only coin you can "mine" (it's proof-of-stake) is their own token. And maybe you can sell it later. "I'm just a little skeptical," says one /r/buttcoin commentator — "it can't be very sophisticated if it doesn't even have a cable looping back to itself."
Uber driver: what do you do
Me: i work in crypto currency
Him: capital currency?
Me: bitcoin
Him: buttcoin?
Me: bitcoin
Him: buttcoin?
Me: yes

— Philip London (@plondon514) August 3, 2019
"With sufficient thrust, pigs fly just fine" — RFC 1925 on the Lightning Network. The Block interviews LNBig, the single individual who supplies 40% of the liquidity on the network.
Big shakeup at CoinDesk, with Barry Silbert of owners Digital Currency Group pulling the news site into the main DCG offices — and firing long-time editor Pete Rizzo. Several other journalists have quit or been fired also. CoinDesk doesn't even carry ads any more, except for its own conferences, so I'm wondering what DCG's business model will be for CoinDesk going forward.
If you've been around Bitcoin for a while, you've probably heard that the average life expectancy for a fiat currency is 27 years. JP Koning researched this — and it turns out to be completely made-up goldbug nonsense.
Financial services are disillusioned in the blockchain. It turns out that starting with the solution and trying to work backwards to a use case doesn't work out so well.
BLOCKCHAIN GUY: if you put your data on blockchain it's uneditable by a malicious third party!
ANYONE: what if the issue is access to the data rather than the unlikely possibility an attacker will maliciously edit our entire database for funsies.
BLOCKCHAIN GUY: it only goes up!

— lvl 45 chaos potus (@thetomzone) September 27, 2019
Jamie Bartlett's spent nine months putting together an epic eight-part podcast telling the story of the Onecoin ponzi.
Telegram is taking GRAM tokens live in a month! I was quoted in Decrypt on the subject.
https://twitter.com/kevinhunt/status/1176868849851011072
Over the years, I heard a few academics refer to their "billionaire friend" who was into Bitcoin.

I wonder how many of them were referring to Epstein.

My guess, based on their connections and recent revelations: all of them.

— Emin Gün Sirer (@el33th4xor) September 9, 2019
We'll always remember with fondness that time a bunch of basement dwelling incels bought into a Ponzi scheme convinced that they were smarter than Wall Street insiders.

— Trolly McTrollface (@Tr0llyTr0llFace) September 26, 2019
https://twitter.com/thecryptodavid/status/1176628560540209152
I am thinking of organizing a comedy show called bitcoin guns and meat.

oh wait no need.

it's already on twitter.

— Palley (@stephendpalley) September 21, 2019
New self portrait: pic.twitter.com/QVGZjE97lN

— Susie Cagle (@susie_c) September 6, 2019
Your subscriptions keep this site going. Sign up today!