Crypto Capital were the money transmitters for troubled crypto exchange Bitfinex and dubious dollar-substitute coin Tether. They operated in the US through a company called Global Trading Solutions. The founder of GTS, Reggie Fowler, was indicted on Tuesday. The US Government has filed a motion to detain Fowler as a flight risk. And it's amazing.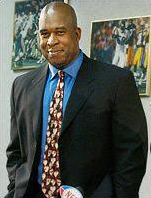 Reggie Fowler is an American football player turned businessman. His most recent brush with fame was when the Alliance of American Football, an attempt to form a new football league, collapsed after Fowler withdrew funding.
Fowler had to withdraw funding for the AAF because the Department of Justice had seized his bank accounts in October 2018 — just after Bitfinex had started sending money through Global Trading Solutions.
Fowler was indicted on 11 April 2019 and arrested on 30 April. Yesterday, the US Government moved to detain Fowler as a flight risk (PDF) — because of his "financial resources and ties to other countries," his "long history of involvement in other criminal schemes" … and that he's already tried to sabotage the investigation after saying he'd cooperate. (Quotes below are from the filing.)
When Fowler opened bank accounts for crypto banking services, he told the banks that the accounts would be used for real estate transaction. Fowler and unnamed "others" discussed in email how banks were looking into what they were doing, and agreed to change wire transfer information to obscure the scheme. Robert-Jan den Haan covers Fowler's actions in more detail at The Block.
The scheme ran internationally — "with co-conspirators located in Israel, Switzerland, and Canada." It involved a "staggering" amount of money — it received over $740 million in 2018 alone. A "Master US Workbook" shows Fowler running over 60 bank accounts worldwide, totaling over $345 million as of January 2019.
Fowler commingled personal funds with scheme funds. "Defendant has shown a willingness to help himself to these funds in the past." The members of the scheme set up a "10% Fund" from client deposits, for Fowler's personal use. The government interviewed Crypto Capital clients, none of whom realised that Fowler was taking client funds for his personal use.
Fowler was an honest enough crook to tip off his fellows in the scheme:
On or about October 24, 2018, Defendant spoke with FBI agents regarding this seizure. During that conversation, Defendant expressed his desire to cooperate and his willingness to keep the investigation confidential. The following day, the agents sent him a follow-up email. Rather than keep this email confidential, Defendant forwarded it to another scheme member. This was the beginning of a pattern, in which Defendant professed a willingness to assist law enforcement, but ultimately took actions that set back the investigation.
Fowler appears to be involved in "additional criminal conduct" beyond the present charges. He tried repeatedly to get bank loans by presenting as collateral fraudulent bond certificates, valued in the billions of dollars. He tried to use funds from the present crypto banking scheme as collateral for loans. He was caught with sheets of counterfeit $100 notes!
(What sort of greedy bozo would you have to be, to deal in hundreds of millions of dollars of crypto money, skimming 10% off … and be caught with $14,000 in sheets of counterfeit hundreds in your office.)
Fowler didn't register as a money services business in the course of this, "despite the fact that a website associated with this scheme advertised full compliance with all financial licensing requirements." I would guess that site was Crypto Capital.
Kyle Gibson notes that Bitfinex represented to the New York Attorney General that the missing money hadn't been seized.
Who the unnamed "others" in Fowler's scheme are is not yet clear. The only other indictee so far is Ravid Yosef, a resident of Israel. She appears to be a dating coach — a reader mentioned this to me yesterday, and we weren't certain — but Tim Copeland at Decrypt has posted a deeper dive into Crypto Capital, and that article seems to confirm it's the same Ravid Yosef.

Your subscriptions keep this site going. Sign up today!