By Amy Castor and David Gerard
"when crypto people say decentralized they really just mean all the rich people who control it never have to meet up and can live anywhere, it's like a job posting saying it's 100% remote, but for the rich" — deep dish peat moss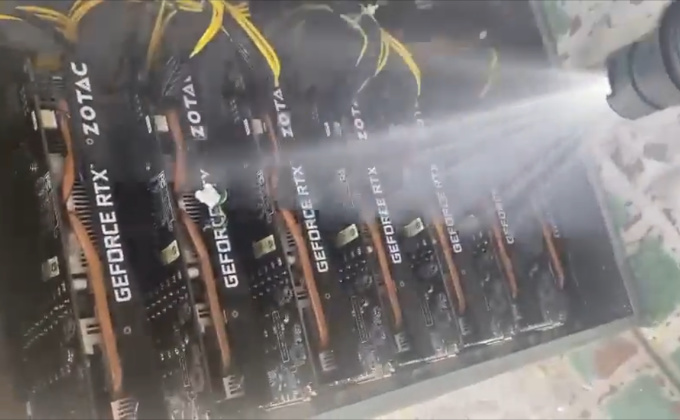 State regulators hit Nexo
When you take someone's money and promise them you'll pay them back more than they put in, that's an investment contract — a security — and you need to register with state regulators and the SEC. Crypto keeps insisting it can operate outside the rules — but that only works for so long.
Nexo is a CeFi (centralized DeFi) lender — they play the crypto markets and offer Ponzi-level returns to retail investors, if you just hand them your cryptos. Many observers have been wondering if they'd be the next to collapse after CeFi firms Celsius and Voyager.
Nexo is now being sued by eight states — New York, California, Kentucky, Maryland, Oklahoma, South Carolina, Washington, and Vermont — over its "Earn Interest Product," which offered up to 36% interest to ordinary retail investors.
Earn was utterly unregistered as a security with any US federal or state authority. Nexo falsely claimed that it had "gone the extra mile in ensuring compliance with the applicable regulatory frameworks."
The eight states issued cease-and-desist notices against Nexo offering Earn. Washington is also fining Nexo $1 million; South Carolina is fining Nexo $625,000; Maryland is fining Nexo $5,000 per violation. New York has filed Martin Act charges against Nexo, demanding disgorgement of earnings and barring Nexo from New York. [California press release; California order, PDF; Vermont, PDF; Oklahoma, PDF; Kentucky, PDF; Washington press release; Washington charges, PDF; South Carolina press release; South Carolina order, PDF; New York press release; New York complaint, PDF; Maryland, PDF]
Nexo expressed its "surprise" at these actions. Gosh! [CoinTelegraph]
New York said it had warned Nexo in October 2021 to stop offering its products in the state and to register as a securities and commodities broker or dealer, but Nexo had not done so.
Nexo told regulators that it had stopped offering Earn to US residents as of 19 February 2022. However, it allowed fixed-term accounts to automatically renew. Over 18,000 California residents have Earn accounts.
Kentucky noted that Nexo offered margin trading, without operating under any of the relevant regulations.
Some states mentioned that Nexo's Armanino Report, its much-vaunted "real-time audit," was rubbish — Nexo failed to disclose things that investment providers would be required to disclose, and its numbers didn't work according to GAAP. Armanino does not show at all that Nexo is even solvent.
Kentucky notes the concerning detail that "excluding Nexo Capital's net position in NEXO, Nexo Capital's liabilities would exceed its assets." That is, Nexo is insolvent apart from its own utterly illiquid made-up token — and the company holds 95% of all NEXO tokens ever. This is the same bind that Celsius found itself in with its CEL token. Dirty Bubble Media goes through the numbers. [Dirty Bubble Media]
The day after the states brought the hammer down, Nexo announced that they had bought an unspecified stake in Summit National Bank, which is "reinventing itself as a modern digital FinTech bank." This will surely go swimmingly. [press release]
California has been investigating other companies offering interest-bearing crypto accounts since July. "Due to market conditions, some of these companies are preventing customers from withdrawing from and transferring between their accounts." [press release]
David spoke to a room full of state and provincial regulators at the NASAA (North American Securities Administrators Association) conference in Nashville last weekend, imploring them to go hard after crypto lenders with implausible interest rates. We can see why his talk got a good reception — the regulators were already extremely interested.
Terra Luna: Where in the world is Do Kwon?
South Korea has issued a "red notice" via Interpol, asking law enforcement worldwide to help find and arrest Do Kwon, the co-founder of Terraform Labs, who issued the failed UST and luna cryptocurrencies that took the rest of crypto down with them when they collapsed.
The Seoul Southern District Prosecutors' Office issued an arrest warrant for Kwon and five others for violating capital market rules on 14 September. [Bloomberg]
Kwon is supposed to be in Singapore, according to his Twitter profile. But Singapore police say he's no longer there. Since mid-September, Kwon has been insisting, "I am not 'on the run' or anything similar." He says he's just coding in his living room. Prosecutors say Kwon is "obviously on the run." [NYT, Twitter, Twitter, Twitter]
South Korean authorities have requested that crypto exchanges OKX and Kucoin freeze 3,313 BTC, worth $67 million, reportedly tied to Kwon. [News Naver, in Korean; CoinTelegraph]
Kwon denies everything. "There is no 'cashout' as alleged, i havent used kucoin or okex in at least the last year, and no funds of tfl, lfg or any other entities have been frozen." [Twitter]
Voyager Digital: J. Pierpont Moneygone
After "a highly competitive auction process that lasted two weeks," Sam Bankman-Fried's FTX US will become the proud owners of a gaping balance sheet hole called Voyager Digital. FTX beat out the alternate bidder, Wave Financial. Binance had put in a bid at well. [press release; notice, PDF]
Voyager had previously pooh-poohed Bankman-Fried's bid for the assets, describing the offer as a "lowball bid dressed up as a white knight rescue" — but it came out a couple of weeks ago that FTX had the high bid. [CoinDesk]
The winning bid was valued at $1.4 billion, comprising the fair market value of all Voyager crypto at a "to-be-determined date in the future." Voyager values the cryptos they have on hand at $1.3 billion. Voyager's claims against Three Arrows Capital (3AC) — whose collapse took down Voyager in turn — remain with the bankruptcy estate.
As we noted previously, Bankman-Fried was always the one most interested in Voyager.
The purchase agreement still has to be approved by the bankruptcy court. It will be presented on 19 October and the objection deadline is 12 October, so we'll see what the Trustee and the judge have to say about all of this.
Bankman-Fried is also considering bidding for Celsius, "according to a person familiar with his deal-making." FTX is in the process of raising a $1 billion funding round, the same person said. That round hasn't closed yet or been made public." [Bloomberg]
It's entirely unclear what Bankman-Fried gets out of putting up a bundle of cash (or cryptos) for a couple of multi-billion-dollar balance sheet holes. Voyager is in the same position as Celsius — the liabilities are real, but the assets are fake. Voyager and Celsius are both broke. The money's gone. What was there left to buy?
We understand that FTX's initial backers were a group of shareholders of iFinex, the parent company of crypto exchange Bitfinex and stablecoin Tether — and Tether is deeply entangled in the bankruptcy of Celsius.
Does Bankman-Fried think that if he can buy the balance sheet holes, he can stop them from being examined too closely? Do FTX's backers think this? Can they all swoop in before the Celsius examiner looks too closely into things?
FTX US President Brett Harrison has stepped down. He took the job in May 2021. Crypto executives always step down when things are going well, apparently. Bankman-Fried had previously worked with Harrison for three years at Jane Street. [Bloomberg]
Celsius: Mashinsky steps down
Alex Mashinsky resigned as CEO of Celsius on 27 September, effective immediately — "I regret that my continued role as CEO has become an increasing distraction." Chris Ferraro, previously the CFO, has been appointed as interim CEO and Chief Reconstruction Officer. [press release; CNBC]
Why prompted Mashinsky to step aside? Following an investigation into "all transfers to executives and insiders" leading up to the bankruptcy, the Unsecured Creditors' Committee called for his removal. They seem to have learned something that made them uncomfortable. The UCC assures us that they will continue to pursue Mashinsky personally for their money. [Statement, PDF]
We're not really giving away anything by noting that multiple state regulators at the NASAA Nashville conference mentioned that they were quite interested in putting Alex Mashinsky's backside in jail.
Celsius gets an examiner
The US Trustee has appointed an examiner in the Celsius bankruptcy — Shoba Pillay from Jenner & Block LLP in Chicago. Pillay was an assistant US attorney in the Northern District of Illinois for 11 years — the Trustee has brought a cop in to deal with Celsius. Go get 'em, Shoba. [Filing, PDF; Jenner & Block]
During the hearing on 14 September, Judge Martin Glenn approved the Trustee's request for an examiner — a third party to look over what happened and how the company went broke. The Judge said the examiner could expand the scope of the investigation, if warranted and if the court approves. [Order, PDF]
Examiners have been appointed in major bankruptcies such as Enron, Worldcom, and Lehman — and their investigations have at times led to major lawsuits.
White & Case represents the Celsius UCC. The firm also represents Tether. Tether is a shareholder of Celsius. [press release, 2020] White & Case also represented private equity firm WestCap on its $400 million investment in Celsius. [Motion, PDF]
This is exactly why Celsius needs a disinterested party — an examiner — to investigate the firm's operations. The UCC was concerned that an examiner would duplicate their own investigations and cost the creditors more money. It's likely they will, but there's no getting around it.
Don't dox us, bro
When you file for Chapter 11 bankruptcy in the US, you are required to submit a list of creditor names and addresses, called a creditor matrix. The court uses this for sending out notices and claims information. It's part of keeping the bankruptcy process open and transparent.
Celsius had filed to seal the names and addresses of all creditors and all its employees. This was in case Celsius wanted to sell off the customer list as an asset — and to avoid harassment of crypto holders.
The US Trustee objected — and so did Judge Glenn, who made it clear that he was not going to rewrite the bankruptcy code to accommodate Celsius.
On 28 September, the court ruled and allowed only the redaction of home addresses and emails of individual creditors. [Order, PDF]
Won't someone please think of the shareholders?
In an audacious motion, two Celsius investors, WestCap and CDPQ — not creditors, but equity holders — argued that creditors, including customers, should take a bigger loss so the equity holders aren't left with nothing.
WestCap is a private equity firm and CDPQ is the Canadian province of Québec's largest public pension fund. Simon Spichak wrote about CDPQ's incredibly dubious investment in Celsius previously.
Both companies boasted about their extensive due diligence at the time. CDPQ's due diligence may largely have been that Thomas Birch of CDPQ and Alex Mashinsky of Celsius have known each other for a couple of decades. [Protos]
In a bankruptcy, current shareholders conventionally get paid last — and usually end up with zero. WestCap and CDPQ argue that the bankruptcy case might be "inappropriately and inequitably skewed in favor of the customers." Also, the bankruptcy estate should pay for their arguments to be heard. We hope Judge Glenn will fully give this motion the attention it deserves, and put it directly into the trash. [Motion, PDF]
Temperature drop
The Federal Trade Commission, whose mission is to protect consumers from fraud, deception, and unfair business practices, moved to join the Celsius bankruptcy proceeding on 13 September. The FTC has asked for copies of everything. [Motion, PDF; Coindesk]
Mashinsky had a new crazy plan, called "Kelvin," to bring the company out of debt: crypto custody solutions. This brilliant idea was revealed in recording of an all-hands employee meeting on 8 September, leaked to creditor Tiffany Fong. [YouTube, transcript, archive; NYT]
Celsius also planned to offer IOU tokens — they were literally going to call them "IOU" — to cover their debts. Audio of a meeting on 1 September was also leaked by a Celsius staff member to Tiffany Fong. [YouTube; CNBC]
Celsius published a new Expanded Coin Report, listing cryptos they have to hand. There is no "deployment" of bitcoin. They took their customers' bitcoin, sold it, and used it for other things. At the current price of BTC, Celsius has a $2 billion hole. And their own CEL token is a glaringly unregistered security with a huge amount on the balance sheet, pretending it's an asset. [Doc 881, PDF]
The Celsius UCC held a town hall on 28 September on Twitter Spaces. [Twitter]
Notorious no-coiner Nicholas Weaver filed a letter with the bankruptcy court explaining why Celsius's dreams of a bitcoin mining business won't work. [filing, PDF]
Celsius wants to sell some of its stablecoin holdings to fund its operations. Texas state agencies object, stating that Celsius hasn't disclosed how much stablecoin will be sold and how it will benefit the creditors: "Texas is extremely concerned by the Debtors' request for an order that allows ambiguously broad authority to sell and/or exchange the assets." They also want to wait until the newly appointed examiner has completed her investigation. [Motion, PDF; Objection, PDF]
The next Celsius hearings are scheduled for 7 October — to focus on key elements on the Celsius claims — and 20 October. [Twitter; Twitter; Notice of adjournment, PDF] Update: The 20 October meeting has been rescheduled to 1 November. [Notice, PDF]
Crypto miners are unhappy. Good.
We wrote earlier about the problems with crypto mining in the crash. Much as with crypto lending, the business model only works when number go up. Right now, bitcoin can't seem to get above $20,000, and that's causing trouble for mining firms.
Computer North, one of the largest operators of crypto-mining data centers, filed for Chapter 11 in Texas. The firm raised $385 million in February — $300 million from debt financing and $85 million from a Series C venture capital round. [CoinDesk]
Chinese bitcoin mining pool Poolin, which had about 10% of BTC hash rate over the past year, has suspended withdrawals. It's not clear how they just somehow don't have the bitcoins. But Poolin is offering its members IOU tokens instead! We're sure it'll be fine. [CoinTelegraph]
Nature Scientific Reports: Economic estimation of bitcoin mining's climate damages demonstrates a closer resemblance to digital crude than digital gold. "During certain time periods, BTC climate damages exceed the price of each coin created; on average, each $1 in BTC market value created was responsible for $0.35 in global climate damages." [Nature]
Ethereum's Proof-of-Stake Merge went through — and the ETH miners are absolutely screwed. Many tried moving to other proof-of-work cryptos, but none of these have market value, as the remaining users of NiceHash found out. [Linus Tech Tips]
The ETHW proof-of-work fork of ETH is trading at around $12. [CoinMarketCap]
So where have the miners gone? Nowhere, for the most part — only 27% are still mining anything. 73% of Ethereum miners have just given up: "About 10.6 million RTX 3070 equivalents have stopped mining since the merge." [Reddit; Reddit]
We strongly recommend that you do not hit eBay for a cheap video card, despite the listings reassuring you that this card was only used by a little old lady to play Minecraft on Sundays and totally not for crypto mining, and that you should ignore the burnt odor and the charred RAM. Unless you're poor, and the card's so incredibly cheap that you're willing to play NVidia Roulette.
How well do miners treat their precious babies? "GPU crypto miners in Vietnam appear to be jet washing their old mining kit before putting the components up for sale." There are real cleaning methods that involve doing something like this with liquid fluorocarbons — but the crypto miners seem to be using just water. Some of it is ozone water, so that's great? [Twitter, video; Tom's Hardware]
Buy your video cards new from the manufacturer, with the manufacturer's seal intact and with excellent warranties you trust in place. Watch out for Amazon — they file any stock represented to them as "new" under the same SKU, including fraudulently-repackaged mining discards.
While you're here, enjoy some NiceHash Mining Accidents from the previous crypto bubble.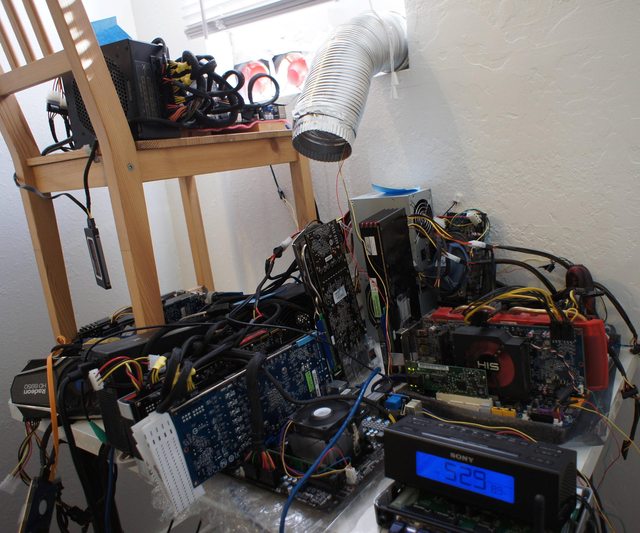 what is that heat tube even supposed to be doing
Your subscriptions keep this site going. Sign up today!