My second post about El Salvador adopting Bitcoin, last June, called it a "Tether scam." It wasn't the particular scam I thought it was at the time — but it's turning out to be a different, and bigger, one.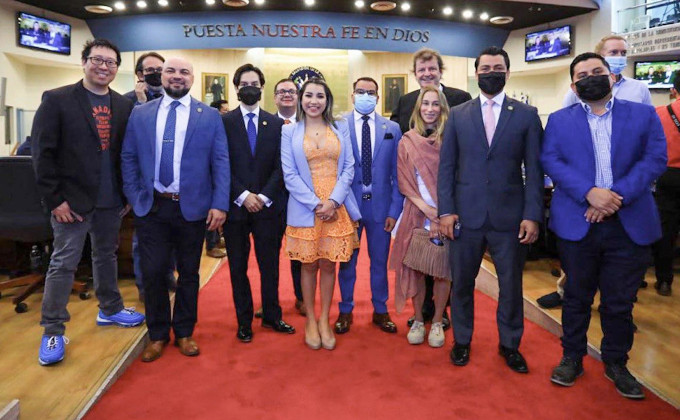 Bitcoin Bonds for all!
iFinex is the parent company of the Bitfinex crypto exchange and the highly questionable Tether dollar-substitute stablecoin. They've opened Bitfinex Securities El Salvador, incorporated on 18 February. El Faro writes this up at length. [El Faro, in Spanish]
Giancarlo Devasini, CFO of iFinex, is called the "Magical Merlin" in this article. "Merlin" was the name Devasini used in October 2018, when he was begging Crypto Capital to send him $850 million so that Bitfinex wouldn't run out of cash — which he said would make Bitcoin crash below $1000.
The $1 billion sovereign debt "Volcano Bonds," as they were announced in November, are apparently just being called Bitcoin Bonds now. I'm not seeing Bitcoin City being talked up so much lately either.
Samson Mow from Blockstream, who designed the bonds, says that Bitcoin Bonds are the only way for President Nayib Bukele to dodge the country's oncoming sovereign debts. Mow said to El Faro: "El Salvador has already bet everything. The fates of El Salvador and Bitcoin are linked."
It was Mow who introduced the government Bitcoin team to iFinex. Mow and Devasini posed for a photo with eight deputies from Bukele's Nuevas Ideas party on 8 February.
Bukele tweeted on 20 February to announce (in English) that he would be sending "52 legal reforms" to the Assembly — including "new securities laws". Everyone's presuming he means new laws to facilitate the Bitcoin Bonds. [Twitter]
"The plan is simple," Bukele tweeted: "as the world falls into tyranny, we'll create a haven for freedom."
Bukele seems to mean freedom in the anarchocapitalist sense — i.e., freedom of money, rather than of any other human rights.
The Bitcoin Bonds are going on sale between 15 and 20 March. The original $1 billion of bonds is claimed to be fully subscribed already. Another $500 million will be issued. There's talk of another $4 billion to $5 billion of Bitcoin Bonds, to help pay the $800 million Eurobond loan that's due in January 2023. [Elsalvador.com, in Spanish; Twitter; WSJ, paywalled; La Prensa Gráfica, in Spanish]
El Salvador is also negotiating to borrow up to $1,840 million from the CAF Development Bank of Latin America. [Elsalvador.com, in Spanish]
Paolo Ardoino, CTO of iFinex, did one of his few press interviews with El Faro in January. Ardoino has spoken with the President's brother Yusef Bukele about how to proceed with the new securities laws. [El Faro, in Spanish]
Ardoino says that iFinex helping to write the laws on how iFinex can sell Bitcoin Bonds is not a conflict of interest, because they're not charging a commission on the bonds. iFinex is just doing the bonds for free 'cos they're nice, see. Ardoino says that iFinex doesn't have any sort of contract with El Salvador as yet.
Ardoino also mentioned that you might be able to buy the Bitcoin Bonds with tethers — not just actual dollars the country could pay other debts with, or bitcoins. I suddenly have a few ideas on how the original billion-dollar bond issue might already be fully subscribed.
Party, party
The crew doing the Bitcoin Bonds has been living it up in El Salvador, to great attention from the local press — people from iFinex, Samson Mow, Simon Dixon from BnkToTheFuture, and RT broadcaster and Bitcoin maximalist Max Keiser and his wife Stacy Herbert. [Elsalvador.com, in Spanish]
Max Keiser had suggested Bitcoin bonds to the government way back in June 2021. [El Faro, in Spanish]
Mow, Keiser and Herbert took a military helicopter, piloted by an El Salvador Air Force captain, to La Unión, the alleged future site of Bitcoin City. It doesn't get much more libertarian than that. The local press coverage was not positive concerning the private partying on public funds. [Elsalvador.com, in Spanish]
Everything's coming up iFinex
Bukele brought companies in to work on the Bitcoin project based on whether they were politically reliable — without paying too much attention to competence.
The companies were mostly friends of Bukele's long-standing "shadow cabinet," who are associated with the Venezuelan opposition to Nicolás Maduro. Shadow cabinet leader Sara Hanna has advised Bukele since he was the mayor of Nuevo Cuscatlán, around 2012 to 2015. [El Faro, in Spanish; El Faro, in Spanish]
Hanna and cryptocurrency promoter Lorenzo Rey designed the Chivo network. Rey promoted the Dash altcoin for payments and remittances in Venezuela — though a lot of the Venezuelan merchants listed as accepting Dash couldn't be verified as … existing at all. [George Donnelly]
The companies running the Chivo network are being replaced with companies affiliated with iFinex.
NetKi, owned by iFinex, are now doing Chivo wallet identity verification. NetKi's press release talks about onboarding "4 million users" — a number that's frankly not plausible — so the system would still be full of fake identities. [press release]
AlphaPoint supplies a white-label Bitcoin exchange service, which Bitfinex has used on and off since 2014. AlphaPoint is taking over the Chivo Wallet project — in the hope of implementing a payment system that works. AlphaPoint will also be installing 1,500 Bitcoin ATMs. [Elsalvador.com, in Spanish; CoinTelegraph; press release]
As it happens, Banco Hipotecario loaned $1.5 million to Athena Holdings El Salvador SA de CV in December 2021, using their 200 Chivo ATMs as collateral. Athena Holdings El Salvador was incorporated in November 2020. Parent company Athena Bitcoin, Inc. co-signed the loan. [Elsalvador.com, in Spanish]
Athena Bitcoin is now suing its former CTO Shaun Overton over the El Salvador deal. Athena alleges that Overton breached confidentiality agreements by revealing bugs in the ATMs, illegal discrimination in hiring … and claims he deliberately hired incompetent staff. (?!) The case is 4:22-cv-00073-O. This comes after Overton sued Athena for breach of contract in December. [Protos; El Faro, in Spanish]
Why is Chivo so bad?
The Bitcoin Italia podcast investigated the story of Chivo — and why it's not very good. [Bitcoin Italia]
Nayib Bukele has been into Bitcoin for years. He tweeted about it in 2017. [Twitter; Twitter] A local Salvadoran tells me that Bukele said on TVX Television as far back as 2015 that he funded his campaign for Mayor of San Salvador using bitcoins — though we can't find the original.
A team from Cardano came to El Salvador in early 2020 to promote their minor altcoin ADA as a possible legal tender crypto, and negotiated up to mid-2021. Apparently, negotiations failed just a few weeks before Bukele's big announcement about Bitcoin in June 2021 — and the whole project was scrapped.
With just a few weeks to launch, the project was outsourced to Athena, who had already been contracted to supply ATMs for the project. The ATMs are old stock from a Chinese company that's gone bankrupt — Athena can barely update the software.
Athena ended up producing the Chivo wallet and network, under the supervision of Sara Hanna. The requirements were:
Internal database of dollars and bitcoins;
Must interface to the Bitcoin blockchain;
Must interface to the Lightning Network;
Must allow interoperability with other wallets;
It must be impossible to withdraw the $30 signup bonus;
The Bitcoin Trust at Bandesal must not dry up, and must have sufficient liquidity at all times.
The solution was to throttle outside services as needed. Everything worked as long as you stayed inside Chivo — but connections to the outside world would fail as needed.
Chivo's Lightning Network node was apparently contracted out to a competent company. But too much use of Lightning would cause too many outbound transactions, and Chivo might have to throttle the channel. So the Lightning option in the Chivo wallet was hidden, to discourage its use — users were pushed onto the main Bitcoin blockchain for external transactions.
(Anita Posch says Algorand was also involved, and Chivo uses the Algorand blockchain internally in some manner.) [Bitcoin Magazine]
What's next?
The next big news is likely to be the precise details of the securities legislation — and then the bonds themselves.
There was also talk of El Salvador rescinding its extradition agreement with the United States. [La Prensa Grafica, in Spanish]
I hear rumours that the Tether crew were apparently pushing to break this extradition agreement. Can't think why.
Tomorrow: the rest of the news since January!
Your subscriptions keep this site going. Sign up today!