Bitcoin is crashing, sell sell sell! BTC-USD on Coinbase was at $43,511 on Thursday 20 January, but has been skating down since, and has been knocking its head against $34,000 for much of today.

Who cashed out?
It's not clear why this particular drop happened. The usual answer is "shenanigans" — the Bitcoin price is known not to respond much to market signals. The market is thin enough and unregulated enough that internal manipulations swamp external signals.
Kevin Werbach and Brian Feinstein of the Wharton School, University of Pennsylvania, wrote the standard study on the topic, focusing on BTC and ETH. Werbach tweeted: "Under every model, no significant impact of regulatory announcements on volume; virtually none on price." [SSRN, PDF; Twitter]
When real markets catch a cold, Bitcoin gets COVID — as happened in March 2020, when Bitcoin crashed in lock-step with all the other markets. The regular stock market is worried about Russia invading Ukraine, but hasn't gone down hard yet. (Or at least not on that scale.) I think the last time Bitcoin moved on real-world events was when China kicked out the crypto miners in May 2021.
You should always assume shenanigans first. Were there a lot of long margin traders who needed to be burnt? Who needed actual dollars in a hurry? That sort of question.
I'm pretty sure the root cause is that retail crypto investors mostly went home a while ago — the mass-market phase of the 2021 Bitcoin bubble seems to have run from February 2021, when Elon Musk announced that Tesla had bought bitcoins, until June 2021, shortly after Tesla sold. Crypto is suffering a supply chain shortage of greater fools.
🚨 🚨 🚨 🚨 🚨 🚨 🚨 🚨 🚨 🚨 1,000,000,000 #USDT (1,000,000,000 USD) transferred from Tether Treasury to #Binancehttps://t.co/pctmfmlhGy

— Whale Alert (@whale_alert) January 22, 2022
Tether to the rescue?
Inflows of stablecoins are commonly used to help the Bitcoin price do what the whales need it to. But tethers haven't been pumping fake dollar liquidity into the system of late. Although a billion tethers were sent across to the Binance crypto exchange around 16:30 UTC today. [Twitter]
The price of both Tether and USDC during this crash has been bobbling around $0.96 to $1.02, when both usually hold much closer to $1.00. And 3.3 billion USDC seems to have been redeemed recently — though we'll have to wait for the next attestation to see if the redemption was in dollars or other assets.
Outdoor miners
In a more serious price crash, miners will end up having to shut down a lot of capacity, as happened in November 2018.
CoinTelegraph cites Charles Edwards of the Capriole crypto investment fund saying that Bitcoin mining's present break-even price is around $34,000. This figures in a lot of obsolete mining rigs that were still profitable while number was up. [CoinTelegraph]
Digiconomist suggests the break-even price is around $17,000 for a current AntMiner S19 if electricity is 10c/kWh, [Twitter] and told me it would be around $8,700 at 5c/kWh, assuming 10% overheads.
Miners already can't sell all the BTC they mine without crashing the price. Miners have been borrowing from their fellow crypto bros, such as Galaxy Digital, Silvergate and DCG, using their unsold bitcoins as collateral. [The Block, 2021] Imagine if the miners have to sell up.
Magic bean collateral
A lot of large holders are also looking at borrowing against their bitcoins.
Whales want to realise the value of their holding — but just selling them risks another crash. So the whales are now trying to borrow actual dollars from the likes of Goldman Sachs and JPMorgan, using their unsaleable holdings as collateral. Which isn't so easy, 'cos the banks are brighter than to sign up as the bagholders of last resort.
MicroStrategy's Bitcoin holdings are underwater at around $30,000. The company is one of the large holders who planned to borrow actual dollars against their bitcoins.
Even if Bitcoin goes back up, MicroStrategy's official accounts are going to stay terrible. Bitcoin is accounted as an intangible under Generally Accepted Accounting Principles (GAAP) — and if the value of an intangible goes down, it can't go back up again. So MicroStrategy proposed using non-GAAP standards to account its Bitcoin holdings to investors, because Bitcoin is volatile as hell — but the SEC said no. I'm told commissioner Hester Peirce wanted to let this through, but the other commissioners didn't. [Bloomberg]
And the last time bomb:
The 140,000 BTC that was left in the bankrupt Mt. Gox exchange has yet to be released to creditors. But I'm sure the creditors will exercise restraint and not rush to the markets all at once.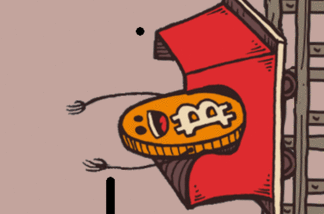 Your subscriptions keep this site going. Sign up today!