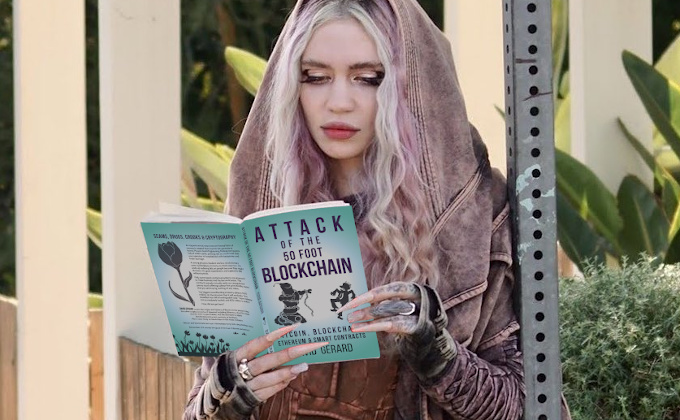 I got Musk and Grimes together, I can break them up again.
"Libertarian" is when I take your money, it's different if you take mine
Centralised DeFi protocol Compound accidentally paid out $90 million of COMP tokens to its users late on 29 September, in an upgrade error. [Twitter]
Compound founder Robert Leshner showed his exemplary customer service chops by asking his customers to give it back — "Otherwise, it's being reported as income to the IRS, and most of you are doxxed." [Twitter, archive]
That is: he threatened his users that they would have to … obey the law. Paying taxes was the most powerful threat Leshner could think of. I suppose this is getting back to Bitcoin's libertarian roots.
Two hours later, Leshner tweeted that "this was a bone-headed tweet/approach. That's on me" — though not actually apologising as such. [Twitter, archive]
In June, Leshner had tweeted: "Crying to meatspace courts deeply undermines the 'code is law' principles that DeFi was founded on. This is a slippery slope that ends with the end of DeFi." [Twitter, archive]
So blame Robert if the "can't sue me, bro" kayfabe breaks.
The next thing that needs to happen is for the IRS to subpoena the very touchable, venture capital funded, company Compound as it successfully did the Coinbase and Kraken crypto exchanges.
Fainting goats
In El Salvador, President Bukele has decreed that gasoline will be 20c/gallon cheaper if you pay with Chivo. That will definitely attract users. If the payment network can be made to work reliably. [Twitter]
Bukele has released statistics on how Chivo's doing. 142 new users per minute! 57 millisecond latency! 65,437 transactions in the air any given second! Bukele notes: "Remember a single transaction takes several secs. Don't try to figure out total daily transactions with this."
Even assuming several seconds for a transaction, Chivo would be doing more transactions a day than Visa does worldwide. Someone's feeding Bukele numbers that please him, but which fall apart under the slightest examination. [Twitter; Twitter; Twitter]
Bitcoin Magazine put up a picture on their Twitter of a "Bitcoin" store called "GBTC Finance" and featuring clothes and keyrings and so on covered in Bitcoin logos — and tagged it "Just another day in El Salvador." The store is actually in Barcelona in Spain. And only accepts filthy fiat in euros for all its Bitcoin logo merchandise. [Twitter]
Regulatory clarity, Chinese edition
In spectacularly good news for Bitcoin, China has brought exemplary regulatory clarity to cryptocurrency! All financial transactions related to cryptocurrency are now illegal. [PBOC, in Chinese; Bloomberg]
The People's Bank of China severely tightened regulations on crypto in May. This is much more of the same, with multiple other government agencies, including law enforcement agencies, signing the notice.
PBOC has hated crypto for a long time — they think crypto is just speculation, and they worry it could affect the real economy.
PBOC kicked out the exchanges in September 2017 — but you could still buy and sell crypto like any other property.
Mining continued — because the provinces like selling electricity — until May 2021, when the provinces were put on notice that they had to meet national CO2 goals.
The new notice specifically bans crypto mining. The province of Inner Mongolia seized 10,100 mining rigs. [CoinDesk] And two large Ethereum mining pools, SparkPool and BeePool. have shut down, dropping the hash rate by 5%. [Decrypt]
Fly-tipping on Twitter
Twitter will be letting you tip other users in Bitcoin! If you want to use Strike.
Twitter added the "tip jar" feature in May. If an account is set up to receive tips, you can click on the dollar-note icon, and select a payment channel; you'll be redirected to the payment website in question.
The motivation was all the poor and marginalised people with pinned tweets listing how to send them money to live. So Twitter started this feature with "creators, journalists, experts, and nonprofits." [Twitter]
Twitter doesn't touch the transaction at all — Know-Your-Customer and anti-money-laundering are between you and the payment provider.
The help page says that "Twitter will not receive any portion of these payments"  — but that wording looks carefully chosen not to preclude Twitter from shaking down payment providers to be listed at all. [Twitter]
The tip jar icon is now being rolled out to everyone — and Strike has been added as a payment provider. Tipping is not visible on the web interface or Android app as yet; I'm told some users can see it on iPhones. [Twitter]
Adding Bitcoin tips on Twitter isn't user-driven. It's Jack Dorsey doing a deal to add a feature because he likes the idea of it — not to provide a payment channel that satisfies the needs of people who aren't bitcoiners.
It's possible that bitcoiners will start using the tipping feature performatively. I'm not sure it has legs, though.
Whenever there's a new channel for money transmission, the most creative users are crooks. The keenest users will be the people who currently run Twitter Bitcoin scams.
Twitter will then claim they had nothing to do with it — except the bit where Twitter bring the scammers and victims together, and supply the scammers with a ready crop of victims.
New Money Review quoted me on Twitter's exciting new old feature. [New Money Review]
The iFinex Expanded Universe
Tether boosters have been talking up their great victory! in the consolidated antitrust class action suit against the iFinex companies, in which plaintiffs claim that Tether and Bitfinex issued unbacked tethers to artificially inflate the price of Bitcoin.
iFinex and Reggie Fowler — Tether and Bitfinex's money mule until he was busted in 2019 — had brought a motion to dismiss the claim. The judge, Katherine Polk Failla, dismissed some claims — but others stand.
This does not mean the claims have been found to be true — it just means the original suit presented sufficiently substantial allegations to go forward.
Tether's claimed win is that Judge Failla did in fact dismiss claims under anti-racketeering law RICO — the court found that the harm the plaintiffs suffered was sufficiently distant from alleged criminal acts such as wire fraud that they couldn't bring that particular claim.
These claims stand: three Sherman Act monopolisation claims; Commodities Act claims regarding market manipulation and principal-agent liability against Reggie Fowler; and common law fraud.
These claims were dismissed: one Sherman Act monopolisation claim; Commodities Act claims regarding principal-agent liability against Tether and Bitfinex; RICO claims; and common law fraud in representing USDT as being backed by dollars.
The defendants must now answer the Amended Complaint by 28 October 2021, and the parties must file a case management plan and joint status letter by 18 November 2021. [Opinion and Order, PDF, archive; case docket]
Things happen
On 23 September, the front page of bitcoin.org was hacked, and linked to a scam where you could supposedly get free money! No, not the one it's been running since 2009, called "Bitcoin" — this one was a Bitcoin doubler scam. Site operator Cobra confirmed the compromise, and took the site down while trying to work out how the hacker had got in. [CryptoNews]
Kentucky orders an emergency cease-and-desist against crypto lender Celsius to stop offering interest-bearing accounts. [The Block; Kentucky Department of Financial Institutions, PDF, archive]
Customers of popular crypto exchange Coinbase complaining about money disappearing from their accounts earlier this year seem to have been correct — Coinbase has disclosed that SMS-based multi-factor authentication was bypassed for 6,000 customers between April and May 2021. Coinbase is reimbursing the customers in question. [Bleeping Computer; Coinbase blog; notification letter, PDF]
The US Treasury is taking stablecoins seriously, and moving to provide regulatory clarity! Specifically, they're going to regulate stablecoin issuers as banks. [NYT; WSJ, paywalled]
Bitcoin has no association with neo-Nazis, you guys, it's all lies from the international banker conspiracy. [AP]
The Kraken crypto exchange has been fined $1.25 million by the CFTC for offering off-exchange margin trading, and failing to register. "As a result, actual delivery of the purchased assets failed to occur." Commissioner Dawn Stump concurs with the ruling, but says the CFTC needs to make it clearer how to comply. [CFTC press release; order, PDF, Stump statement]
NBC News: Bitcoin miners align with fossil fuel firms, alarming environmentalists — with a quote from me. [NBC]
Bud to Bitcoin: How Strike's Jack Mallers stumbled from cannabis to crypto — including details of previous Mallers dalliances with Tether I wasn't aware of. [Protos]
Hot takes
Ed Zitron: The Internet of Grift: NFTs are an even more insidious form of grift than regular crypto products. [Substack]
Left Reckoning podcast, Episode 37 — Blockchain, Smart Contracts, & False Promise ft David Gerard. My segment starts 30:22. We talk about the libertarian origins of Bitcoin, El Salvador, banking the unbanked, Jack Dorsey of Twitter, proof-of-work crypto mining, how crypto is marketed, smart contracts, DeFi as piñata, gold bugs, and the desperation that drives people to think buying crypto lottery tickets is a good idea. I'm on video for this one too, waving my hands demonstratively. [YouTube; Patreon]
Looking forward to reading these! @CarolineWMWong @davidgerard pic.twitter.com/ANIqk6h8Yi

— Helen Patton (@CisoHelen) September 21, 2021
Hah, they got back to me. I've now sent them a book recommendation for @davidgerard's excellent book https://t.co/6HvRgY7FtY https://t.co/yHakYqaSs3

— Rob 💙 (@rrcollier) September 22, 2021
We wanted to understand what happens if the US defaults on its debt. So we talked to three cryptocurrency enthusiasts at a Tesla charging station in Mountain View.

— New York Times Pitchbot (@DougJBalloon) September 22, 2021
guys who got into crypto bc their friends told them they could flip jpgs for easy cash love to tell u abt how they're fighting for a free financial future liberated from oppressive governments

— stephanie (@isosteph) September 27, 2021
anarchy has been used as marketing for the surveillance state since forever https://t.co/CMTdCydEY0

— danny "disco" mcClanahan (@hipsterelectron) September 27, 2021
"we will redistribute power by inventing new property rights that you buy with fake internet money" is definitely a sensible proposal

— lando contrasts (@mountain_ghosts) September 26, 2021
my new startup is a fintech exclusively focused on offering financing solutions for mattress purchases. we think we will make $11,000 every 9 years. currently we've received $34 billion in direct investment and will destroy the economy if we go out of business

— gangstalking unionizer (@ByYourLogic) September 25, 2021
most people that make fun of the tide pod challenge haven't eaten a single, delicious tide pod https://t.co/BWv36P1ANs

— zaratustra in the outlet by the light switch (@zarawesome) September 27, 2021
Your subscriptions keep this site going. Sign up today!