The Bitcoin narratives aren't working. The Bitcoin trading economy is all but dead — "The market has been seeking bitcoin's next big catalyst for two years … the sobering reality that creating new global monetary standards requires more than computer code."
But don't worry — institutional investors will definitely parachute in and save the price! … oh. Crypto "hedge funds" are closing down — because "crypto hedge fund" means some bozo with pretensions and a large holding, who made money while the bubble was going up — while institutions sit this one out, thanks.
(I don't expect the "institutional over-the counter traders" narrative to stop for a moment.)
Mike McGlone from Bloomberg Intelligence brings us more narratives — if Bitcoin drops to $6500, that's actually good news for 2020. Makes it more like gold, y'see. Also, Tether's legal troubles are really good news for Bitcoin too. up uP UP!!
Larry Cermak: "Everyone is freaking out that billions of dollars in BTC is being moved but in reality, it's the same address constantly moving the same stash." Likely explanations include this being an attempt to fake daily trading volume — there is no metric in crypto that someone won't try to rig for the sake of narrative.
In the meantime, the barts continue.
I'm sure institutional investors love the phrase "4yr HODL period". Brb pitching to Goldman with my rage comic themed "Le BITDA" graph

— Toby Pinder (@tobypinder) December 8, 2019
Dash senior advisor "MooCowMoo" does a dash with the Dash — MooCowMoo ran a Masternode Shares service, masternode.me, and had advised users on 10 August that he was shutting down … but didn't quite get around to the bit where he gave people's Dash coins back.
Fernando Gutierrez from Dash was quick to state (archive) that "Moocowmoo was never hired by DCG and left the project years ago" — and never mind the current dash.org pages calling MooCowMoo a Dash Core Team member and linking his GitHub, or recommending masternode.me.
I must say, I was sorely disappointed to hear such disconcerting news about esteemed senior financial adviser … (checks notes) … ah, "Moo Cow Moo."
Fortunately, after the story appeared on Bitcoinist on 2 December, someone reported on Reddit that MooCowMoo finally started returning the Dash. The poster blames a Dash "hater" for daring to tell people about the problem at all.
Investors will get an extra hour in the Dashcoin ball pit.
Masternode.me is, today, still telling people to sign up, and send in their Dash.
Apparently, my blog is news central for dumb crypto scams now: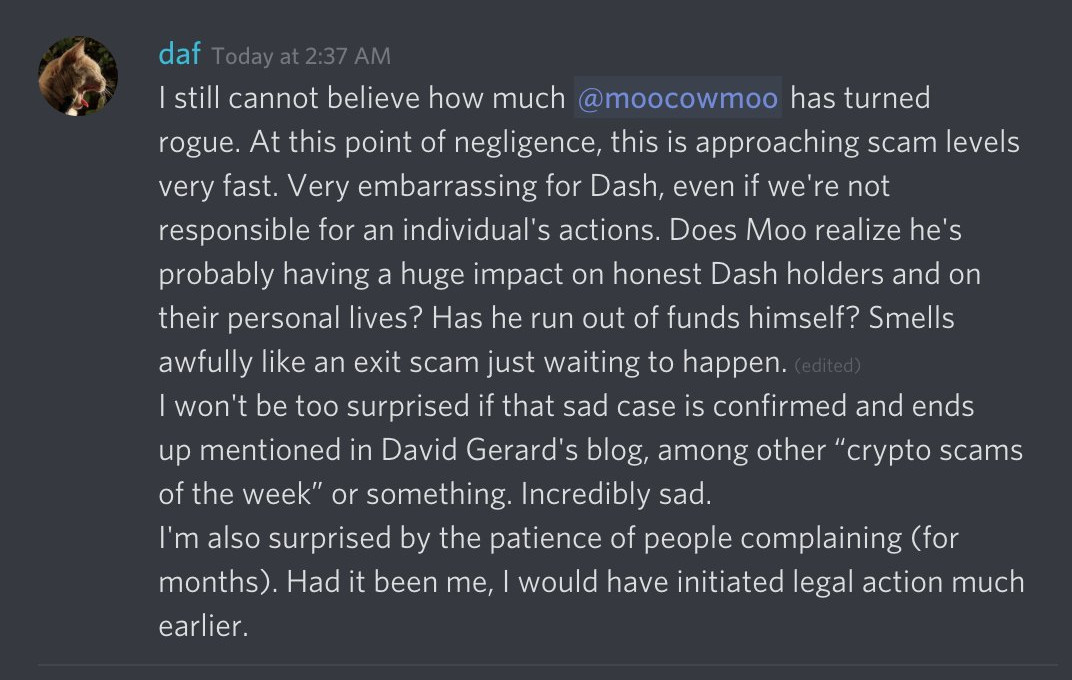 Bitfinex goes Lightning Network! This is, yet again,  Bitcoin reinventing the financial system from first principles, badly — in this case, moving from real-time gross settlement and push payments, to deferred net settlements and pull payments. Just like real banking! Except worse — the Lightning system is massively dependent on credit, drains liquidity, deters consumers by its dependence on pre-funding, suffers from having no compulsory clearing cycle, and doesn't pay those taking risks to provide liquidity well enough at all. Bitcoiners who are LARPing at doing finance could do with reading this article.
There's a new research paper, A Cryptoeconomic Traffic Analysis of Bitcoin's Lightning Network — Lightning is "economically irrational", "payment fees will rise significantly", and "payments are easily de-anonymizable" "even if transactions are onion routed." None of which should be news to anyone who isn't trying to use Lightning as part of a Bitcoin "number go up" narrative.
There is now a Lightning Network ATM! In keeping with the status of the Lightning Network project, it's made of cardboard. I'm sure this will be fixed in eighteen months.
Other than being economically irrational, fraught with privacy issues, users losing thousands by mistake, and critical bugs being disclosed 90 after discovery, Lightning Network is just 18 months away!

MORE: https://t.co/k2WY8w04Cq pic.twitter.com/7WjdLX5DIj

— CoinSpice (@CoinSpice) November 27, 2019
Bitcoin is green, actually, as we see in the Wyoming "blockchain rush" — where a miner is trying to buy an obsolete coal-fired power plant.
Canadian crypto miner Great North Data has filed for bankruptcy. Creditors include the Atlantic Canada Opportunities Agency (ACOA) and the Business Investment Corporation of Newfoundland and Labrador, i.e., the taxpayer.
Great North Data was also sued by Bitmain in 2017 — after Bitmain shipped AntMiner hardware to Great North Data to run at their facility, Great North Data asked Bitmain to create an invoice to transfer ownership of the miners to them for import duty and tax purposes. Great North Data didn't pay for the miners, and then claimed they owned the miners based on the invoice.
Bitcoin: Nerds pretending they understand money.

Ethereum: Nerds pretending they understand finance.

XRP: Nerds pretending they understand securities law.

— Libra (@LibraReserve) November 10, 2019
The central banks' talk of launching Central Bank Digital Currencies is all bluff — "ECB insiders say it has no laboratory working on a digital euro and little intention to create one any time soon. Most of these comments seem designed to jolt the private sector banks into improving the inefficient, costly and time-consuming world of cross-border payments."
The European Central Bank states this pretty directly in last week's note Innovation and its impact on the European retail payment landscape — they want better consumer payments, they have no plans to allow Libra-like private stablecoins, and they're waving around the threat of a CBDC euro if the commercial banks don't do better at payments.
The US sees no need for a CBDC dollar at present — and Treasury secretary Steve Mnuchin is fine with Facebook doing Libra as long as it's fully compliant with anti-money-laundering rules, and has had a dozen meetings with Facebook about this.
I didn't see this one at the time — Jameson Lopp's analysis of the Libra technical white paper, from June. He describes what Libra's vague plans meant in Bitcoin terms, and what they implied for Libra's intended governance.
https://twitter.com/karbonbased/status/1140987155176706049
The Leibowitz class action against Bitfinex and Tether for manipulating the price of Bitcoin proceeds. Roche Freedman have succeeded in serving notice of the action upon Phil Potter, have a default against Reggie Fowler, and the lawyers for Ludovicus Jan van der Velde and Giancarlo Devasini have refused to accept service on their behalf — claiming they don't know where to find their own clients. Tether, Global Trade Solutions and Crypto Capital Corp are also proving difficult to serve.
The SEC, in its case against Telegram, has asked the US court to request deposition of UK resident and citizen John Hyman — the SEC asked Hyman nicely, but he refused. This international request is under the Hague Evidence Convention — in the same manner as in Kleiman v. Wright. Only the request letter is visible on the public docket — but Anna Baydakova from CoinDesk has analysed the letter and documents for us.
Did you hear how Softbank — the giant Japanese tech investor, most famous for massively overfunding WeWork and Uber — is getting into crypto? A press release on the SBC Wallet Card (archive) was reprinted by large swathes of the crypto press. The only problem is — the press release was fake. Anthony Peyton was literally the only person to bother checking with Softbank, who confirmed it was nothing to do with them.
Keybase is a company running a key directory — it maps cryptographic keys to social media identities. It was very popular with security, cryptography and open-source software professionals. Then they took money from Andreessen Horowitz — thus mandating growth at all costs. Then they took money from Stellar. Then they airdropped Stellar on their user base — and now the crypto spammers are making Keybase unusable. And Keybase considers the spam a feature. And the old users are leaving Keybase to the crypto spammers.
It's simple, you put the triple C-rated smart contracts inside B-rated smart contracts and then package those smart contracts with other B-rated smart contracts inside a A-rated smart contract.

Then you convince people to trust your smart contract with their ETH. pic.twitter.com/ejTDvHKJ9f

— Libra (@LibraReserve) June 29, 2019
The New Economy, New City panel for Intelligence Squared on Thursday went well, and was lots of fun! I argued what I always argue — that "blockchain" for enterprise is snake oil and nonsense, and at best superfluous. But maybe you can use it for marketing. No video or audio, sadly, but there were some photos (below).
One proponent tried putting forward the UK government welfare trial — mentioned in chapter 11 of Attack of the 50 Foot Blockchain — as a blockchain success story. This was the one that failed so hard, that even the government that thought Universal Credit was a functional idea thought the blockchain attempt was no good. Apparently, they should have blockchained harder.
Never believe any blockchain success story, until you've investigated it yourself — and particularly don't believe any blockchain success story without enough details for you to check on it.
Is all the hype about #blockchain and #cryptocurrencies fad or fiction? Our panellists including @davidgerard @LucieMunier, @stevetdavies1 and @lindayueh have views representing both sides of the #coin. #NewEconomyNewCity @YourRoyalDocks @intelligence2 pic.twitter.com/uxEcO8JxJQ

— RAD London (@ABP_London) December 5, 2019
#NewEconomyNewCity Panel Discussion: Blockchain: Paradigm Shift or Passing Fad? with Lucy Munier @GovchainR; 'Attack of the 50 Foot Blockchain' author @DavidGerard; and Steve Davies (@DriversRepublic), PwC Blockchain Lead; chaired by @LindaYueh #iq2 https://t.co/gdAh8R8C5H pic.twitter.com/0xPFeTr1Pn

— Nico Macdonald (@Nico_Macdonald) December 5, 2019
I did Michael Nye's What Is Crypto podcast a few weeks ago, and it's up! Not on the main site as yet, but here's the SoundCloud.
Twitter can be odd at times. I noticed @davidgerard liked a completely unrelated tweet of mine, and clicked on his profile (as I didn't recognize the name) just to see he wrote the book I recommended a few days ago, and even had sitting in front of me. https://t.co/vcKFxHO9kr pic.twitter.com/TF0PVunOOz

— Lester🐺Covax (@LesterCovax) December 5, 2019
Wife: So what's happening in Bitcoin these days?

[Leans over my should and checks out my Twitter feed]

Wife: Wait I thought Bitcoin was about digital money or something. What… what is this, exactly?

Me: We pivoted. It's all memes now.

— 𝕄𝕚𝕜𝕖 (@mikeinspace) December 7, 2019
*Muscat kills journalist for exposing his money laundering*

BLOCKCHAIN BROS: Malta is a bastion of innovation. Prime Minister Joseph Muscat is a technology hero!

*Muscat resigns in shame, incoming murder trial*

BLOCKCHAIN BROS: *checks notes* love the… uh… crypto valley.

— CasPiancey (@CasPiancey) December 1, 2019
Your subscriptions keep this site going. Sign up today!