The biggest news this week is the SEC going in hard after ICOs, which I covered at length earlier today. But — why would you do an ICO in the first place? Hacker Noon is a crypto and blockchain blog. It's doing a fundraiser to expand the business. Did it choose to do an ICO? No, it chose to do a small equity offering under Title III Regulation Crowdfunding. Because Regulation Crowdfunding or Regulation A seem actually easier than doing a fully compliant ICO — and you can sell to retail investors.
This is not investment advice because I am not someone who ever gives that but I will say that if I owned just about any tokens right now (I don't) and needed the cash anytime in the next 12 to 24 months I would be getting the hell out of them while there's an order book.

— Palley (@stephendpalley) November 16, 2018
The other big news this week was the price of Bitcoin dropping $1000 in one fell swoop — someone appears to have dumped a massive pile of coins at around 1600 UTC on 14 November. Nobody knows who, or has a solid reason. I would guess that someone got squeezed and had to sell up fast.
Tether crashed to 95.5c around the same time — which may be why a pile of tethers wasn't released to prop up Bitcoin. Someone keeps trying to pump it up, a few million actual-money dollars at a time — and traders keep cashing it out immediately, apparently willing to accept 98c for these "dollars."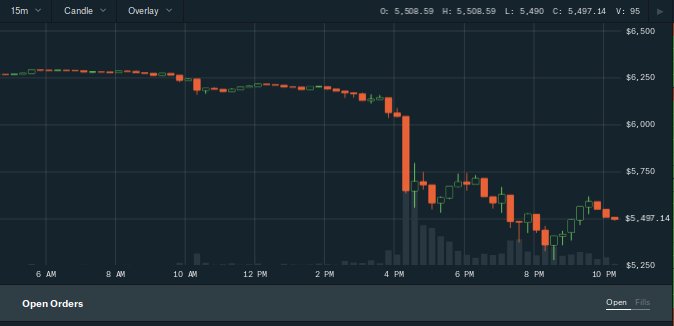 Crypto boosters used to claim that video-card-based coin mining was a sustainable income stream for Nvidia, and would fund lots of research and development. It turns out this was dead wrong.
Cryptocurrency mines in China are getting shut down for "strict" tax inspections. I wrote how this was on the way in January this year.
Bitcoin miners turn out to be terrible customers — here's a story from northern Sweden about miners skipping town, leaving their bills unpaid. It turns out swarms of locusts aren't sustainable.
Bitmain stated rather lower profits in the final IPO prospectus than it did in the prospectuses for previous funding rounds.
Bail Bloc is back! Having failed to make money for its charity, it now fails to notice that the crypto bubble popped nearly a year ago. From the FAQ, 16 November: "as can be verified with hashrate per wattage calculators, mining Monero is financially viable even when considering the cost of electricity." Their chosen calculator, cryptocompare.com, on that day: -76% payoff. They also still recommend you steal the electricity — maybe they've returned to bail out the people who tried doing Bail Bloc last time. Their current bail charity is the Immigrant Bail Fund, who you should donate actual money to.

Amy Castor: Binance's regulatory arbitrage. And Larry Cermak on Binance in its own words. Larry's piece got a bit of flak for being too positive about its subject, but "opportunistic with regulations" says everything you need to know about Binance.
After $30 Billion Invested, Most Crypto ICOs Have Nothing to Show. This piece from CryptoCoinsNews seems to be about hyping up Binance's on-exchange token BNB — "Tens of thousands of merchants have also recently started to use BNB to accept crypto payments." The justification for this appears to be that it's been added by CoinPayments, who allow merchants to take a vast array of altcoins. The "tens of thousands" appears to be in error, though — CoinPayments' own store directory shows 430 merchants total.
Survey of 1000 US investors: none — actually zero — think owning Bitcoin is a good idea.
But, institutional investors! Whoops — it turns out that regulatory headaches from coin splits are one of the reasons institutions are reluctant to touch cryptos. Here's the KPMG report, which was substantially written by Coinbase.
The Bitcoin Community is under massive coordinated outside attacks from the Bitcoin Community — but rest assured, they will continue to shoot back until their feet are completely obliterated. "The latest ideological dispute was over 'bitcoin cash', a clone of the original that was the result of another such fork last year. It split into two different versions on Thursday. Such dilution is precisely why cryptocurrencies are ultimately doomed to failure." Jemima Kelly goes in hard on the Bitcoin Cash split.
"A commercial site distributing child pornography from Nigeria cannot be run profitably without an economical method of receiving consideration" — that sentence is literally Craig Wright's idea of how to convince people that Bitcoin is good actually (archive).
FFS Google what kind of AI are you training pic.twitter.com/Jd5D9YQp0C

— Leo Weese 獅草地 (@LeoAW) November 18, 2018
You'll be amazed to learn that Google isn't giving away crypto on Twitter — the Ethereum scammers hacked the @gsuite account.
Mainstream crypto adoption continues! Bitcoin overtakes iTunes vouchers as the most common payment demanded by tax scammers.
Imogen Heap is still pushing blockchains, and music that acts as spyware.
Bank Underground: The seven deadly paradoxes of cryptocurrency.
Is the "Blockchain Trilemma" soluble? Can you have all of decentralisation, correctness and cost efficiency? Abadi and Brunnermeier think "no". David Rosenthal also has a blog post on the subject.
AsicVault/AsicFuel ICO: the scam goes orbital — a hardware crypto wallet scam that transmuted into an ICO scam … that will totally launch a satellite in 2022.
TRT World: How the IMF and central banks are taking on cryptocurrencies — with quotes from me: "Bitcoin holders have this fantasy of taking over the world of financing when they don't understand it."
"The anarcho-capitalist dream of freedom from the fiat markets ended up as stablecoins they hope that Wall Street will take seriously," I told Hannah Murphy for the FT's stablecoin feature.
I see pic.twitter.com/579v54KHLI

— Buttcoin (@ButtCoin) November 17, 2018
I found the #bitcoin machine. pic.twitter.com/SXdXnhtOO2

— Prof. Steve Hanke (@steve_hanke) November 11, 2018
Your subscriptions keep this site going. Sign up today!