Since late 2013, China has effectively dominated Bitcoin in both mining and speculation — with Western usage, apart from the actual developers of the software, being effectively a sideshow. Other cryptos followed, with ICOs being huge in China for much of 2017.
Then in August came first rumours of a shutdown of crypto trading on exchanges, and in September the People's Bank of China told exchanges to cease trading within the next month or two. Exchange executives were asked not to leave the country while the PBOC was investigating, "to assist refunding work." LocalBitcoins usage went up accordingly.
(I'm pretty sure most of the local interest in cryptos was speculation internal to China. It was a common claim for years that a huge Chinese use case for Bitcoin was to get money out of the country, past currency controls — buy electricity in yuan, sell bitcoins for dollars. This was highly plausible, but I looked hard and couldn't find any clear evidence of it, and can state with reasonable confidence that nobody actually has solid numbers. The Council on Foreign Relations says that "Bitcoin may have been a proxy for downward pressure on the yuan, but bitcoin outflows only ever made up a very very small amount of Chinese capital outflows." Local analysts are also sceptical that this was ever much of a thing that was really happening.)
Everyone had one question: with the exchanges gone, what would be the fate of the miners?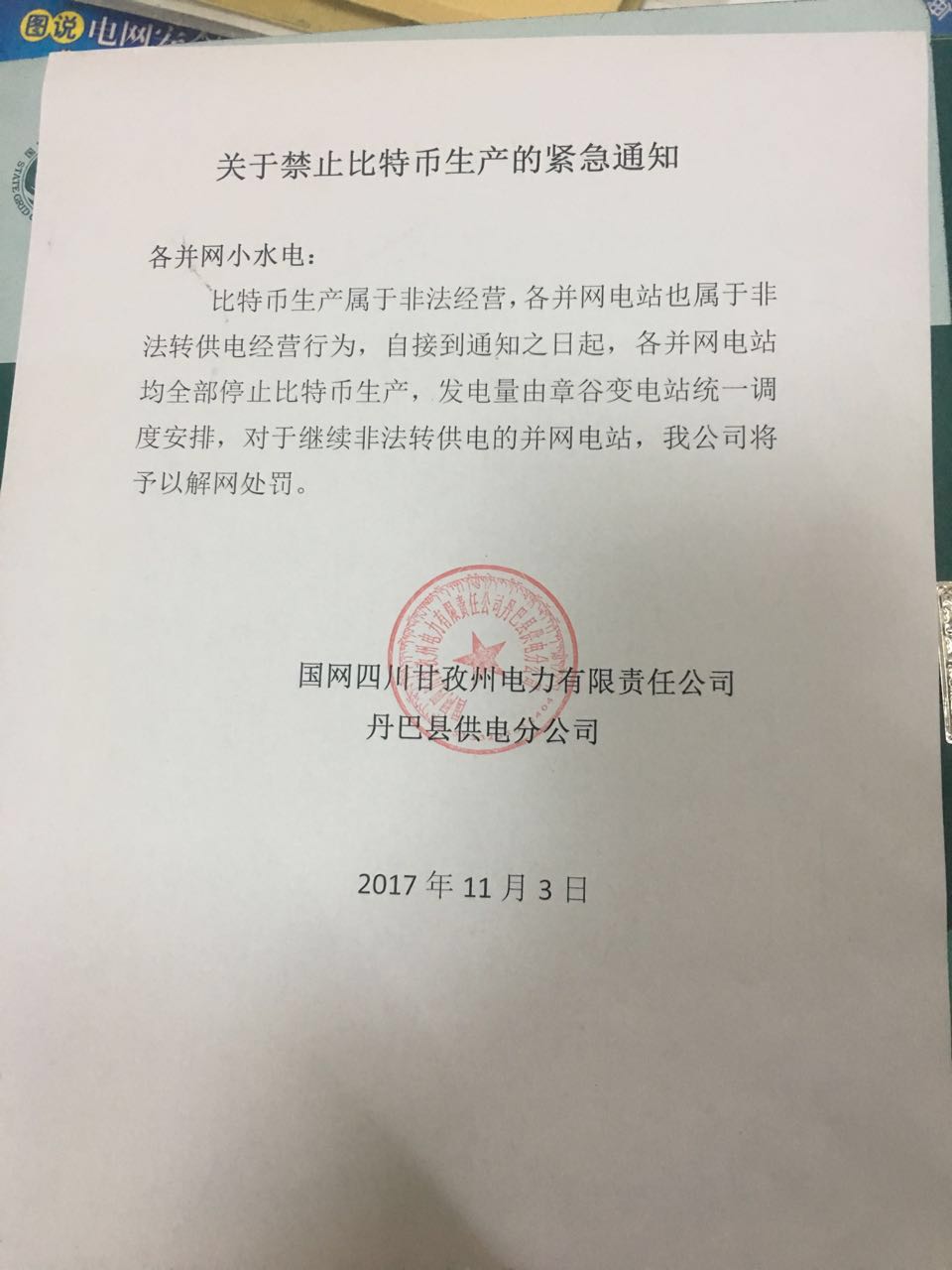 Bitcoin mining had relied for years on overbuilt power plants that weren't well-connected to the national grid — so the surplus was cheap or near-free for miners to use. But in November, Sichuan Electric Power Corporation told its increasingly grid-connected power plants to stop selling electricity to crypto miners.
The PBOC remains unhappy at cryptos running in the country — they fear that Bitcoin mania might affect the real economy, and the People's Daily calls Bitcoin "just a tool of speculation."
A local report in YiCai (translation) attributes this to both economic concerns over crypto trading, and the waste of electricity involved. The Internet Financial Risk Special Rectification Office had apparently been meeting with local governments as far back as 20 November last year.
On Wednesday 3 January 2018, a closed-door meeting on how to curb mining became public. Provincial governments have been asked to "guide" miners towards an "orderly" exit from the Bitcoin business.
cnLedger notes: "The first steps would be canceling preferential benefits and strict in checking taxes etc, and monitoring activities." Local offices have been asked to report monthly on the Bitcoin mining companies — name, founding date and financial and tax details — and power consumption, rent or land price subsidies and electricity prices and subsidies.
The large Bitcoin mining businesses aren't giving up entirely, but they are moving to other countries. BTC.Top is setting up operations in Canada. Jihan Wu of Bitmain is setting up regional headquarters in Singapore, and mines in the US and Canada. ViaBTC mines in the US and Iceland.
Your subscriptions keep this site going. Sign up today!