David Alan Golumbia, author of The Politics of Bitcoin: Software as Right-Wing Extremism, died on 14 September 2023 of cancer. He was 60.
David's friend George Justice announced David's death on Twitter last night: [Twitter, archive; Twitter, archive]
I am very sad to inform this place, which he pretty much hated, that @dgolumbia died this morning. Any of his friends can contact me for further information. The love he shared with his friends and his brilliant research and writing are his legacy.

His book Cyberlibertarianism will be published by @UMinnPress under the brilliant editorship of @noctambulate. He cared about his research, his friends, his family (including Lucky). And he shaped the way I think of books, music, art, and ideas for over 35 years.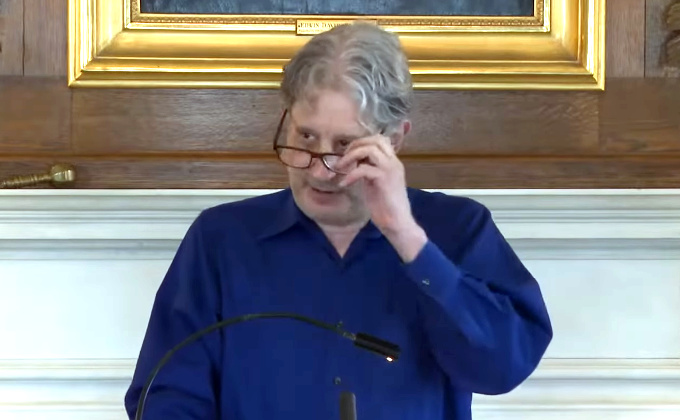 David was a professor of English at Virginia Commonwealth University — he was that Marxist college professor you hear so much about.
His first book was The Cultural Logic of Computation (2009), setting out how the mere fact of applying computers to bureaucratic issues consistently turns into a gateway for control over people.
David worked in financial software in the 1990s before getting the hell out of tech, never to return. He was broadly of the view that social media was a mistake, the Internet was a mistake and computers were a mistake. I could dispute the details on any of these, but his arguments were pretty convincing.
I first found David and The Politics of Bitcoin (2016) via a helpful comment on Financial Times FT Alphaville when I mentioned I was writing a book about bitcoin. I knew I had to have a chapter about bitcoin's roots in the conspiracy fringes of libertarianism, and The Politics of Bitcoin did the hard bits for me.
I acknowledged my crib in a footnote at the start of the chapter and set to plundering David's reference list. When Attack of the 50 Foot Blockchain came out in July 2017, I emailed him a copy, and we struck up a friendship. I've continued to loudly and repeatedly recommend The Politics of Bitcoin to anyone in hearing range through the six years since.
David was also the first person to use Attack as a college text. [VCU, archive]
You may enjoy David's opinions of crypto and its fans in 2018's "Zealots of the Blockchain." [The Baffler, 2018]
I ranted about a terrible blockchain book on David's Facebook in December 2018. By April 2022, I finally got it together to finish my review so he could publish it in Boundary 2 Online. Anyone who knows David's thoughts on the 1990s Wired crowd will be able to spot precisely which sentences were suggested by the editor. [Boundary 2]
David's upcoming book Cyberlibertarianism is his magnum opus, years in the planning and construction. I think The Politics Of Bitcoin started as a section of it.
David was worried about getting Cyberlibertarianism properly finished and out after he was struck ill. I last chatted with him just last month — "sorry for delay I am sick as a dog & have been for ~two months," he wrote — and he lamented how "I've had to pull back from almost everything. Very possible I won't return, if you get my drift. My new book is almost finished and now it's not clear it ever will be." I suggested he trust his editor to take care of the details.
Here's a talk from July last year about Cyberlibertarianism. [YouTube]
David was someone you could talk about ordinary sensible things with, like why Brix Smith was the most important member of the Fall. George Justice tweeted about an indie pop mixtape David had made for him. [Twitter, archive]
I never managed to meet up with David in person. He was apparently the first choice critic for the Blockchain: Utopia or U-turn? conference in Athens in February 2019 — I was the substitute — but he couldn't fly due to recent eye surgery (if I recall correctly).
Erez Raviv wrote a very good obituary in Davar, which is quite readable in English through a translator. [Davar, in Hebrew; Google translation]
So many are posting memories of David today. He was renowned for encouraging people. He firmly understood "always lift up your mates."
David's funeral will be 12:00 noon Tuesday 19 September at Beth El Memorial Park, Livonia, Michigan. There will be a live stream for those who can't attend in person. Update: Video is now up! What an excellent eulogy. [Ira Kaufman Chapel]
"When it comes to speech, the fascist position usually appears to be that they can say anything, while everyone else has to listen to them."

I'm just going to leave this here as my final tweet.#fascism #ElonMusk #Twitter #freespeech #freedomofspeech https://t.co/7JIJBlNh7O

— official parody of David Golumbia (@dgolumbia) December 11, 2022
Your subscriptions keep this site going. Sign up today!