On 1 December, the Libra Association announced a change of name. It is now the Diem Association!
This "denotes a new day for the project" — a Novi Diem, if you will. [press release]
And yesterday, 2 December, a group of Democratic legislators from the US House of Representatives announced the Stablecoin Tethering and Bank Licensing Enforcement (STABLE) Act. If an institution issues tokens backed by a reserve, then it will be required to register as a bank. [Press release; act, PDF]
This was put forward at this time in direct response to Diem's plans to launch as early as January 2021.
The US has a fair chance of obliterating the US crypto trading stablecoin market in the quest to rein in Facebook's bad idea.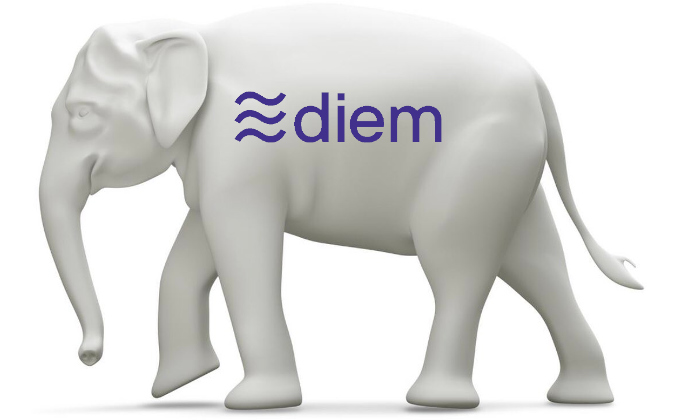 Carpe Diem
Stuart Levey, CEO of Diem, told Reuters: "The original name was tied to an early iteration of the project that received a difficult reception from regulators. We have dramatically changed that proposition." [Reuters]
This will totally fox the regulators, who definitely won't be able to tell it's still Facebook's same bad idea, with all the same problems.
The current plan is still to issue a Diem Dollar, as the Financial Times revealed last week.
Diem is waiting on regulatory approval, including from FINMA, the Swiss regulator. They don't list other approvals they're waiting on.
And the US may have one doozy of a regulation waiting for Diem!
Wildcat banking, right, but on the blockchain
The point of stablecoins — either crypto trading or retail versions — is to have dollary things that somehow aren't regulated like dollars.
The STABLE bill proposes that if you issue banknotes — sorry, tokens — and you say they're backed by a reserve, then you're doing a thing that has been regarded as "banking" for the past couple of centuries. So you've got to register as a bank, comport yourself in the manner of a bank, be audited to the hilt, and so on.
The bill was introduced by Rashida Tlaib (D, MI-13), Jesús "Chuy" García (D, IL-04) and Stephen Lynch (D, MA-08), in order to:
protect consumers from the risks posed by emerging digital payment instruments, such as Facebook's Libra and other Stablecoins currently offered in the market, by regulating their issuance and related commercial activities. Digital currencies, whose value is permanently pegged to or stabilized against a conventional currency like the dollar, pose new regulatory challenges while also represent a growing source of the market, liquidity, and credit risk.
The problem here is systemic risk — specifically, that large stablecoin reserves are the same sort of money-market fund that caused the 2008 financial crisis. (See Libra Shrugged, chapter 7.)
MMF regulation tightened, so stablecoins need the same — and particularly if they get within a mile of retail.
The motivation is that low- and moderate-income citizens were the ones most screwed over by the previous crash — and the legislators don't want to let that happen again.
It was García who brought in the "Keep Big Tech Out of Finance" bill in October 2019, specifically in response to Facebook's Libra plan. (Libra Shrugged, chapter 13.)
Prof. Rohan Grey of Willamette Law did a lot of the work on this bill over the past few months. Grey's spent the past day on Twitter patiently explaining to crypto fans, in small words, over and over, what the actual text of the bill says and means. [Twitter]
This bill is unlikely to become law this legislative session. If the House passes it next session, it goes to the Senate. If the Senate passes it, it goes to the President, who will be Joe Biden by that time. If the President passes it, it's law. But even in its present state, it's a declaration of intent.
History repeats, because fools don't learn
Crypto people are allergic to history — which is why they keep reinventing existing stuff, badly.
They don't like being told "your bad idea failed before" — because crypto's a new paradigm!
History is bunk — in Silicon Valley, we're enlightened by our own amazing intellects. (This is the thesis of Libra Shrugged.)
This is the attitude that led to Facebook proposing a Libra Reserve plan that closely recreated the money-market funds — the things originally called "shadow banks" — that caused the 2008 financial crisis.
Facebook was so contemptuous of history — even with an academic economist, Christian Catalini, on board — that they forgot what had happened just eleven years before. Then they were actually surprised when regulators around the world hit the roof over Libra literally within hours.
It was the "Shadow Bank of Libra" aspect that upset regulators and governments. Even the potential for sanctions evasion was secondary to that.
There's no way stablecoin issuance shouldn't be regulated as banking — it's blatantly shadow banking.
Under current Swiss stablecoin regulation, Diem might already need to register as a bank: "Where the token is linked to a specific fiat currency with a fixed redemption claim (e.g. 1 token = CHF 1), classification as a deposit under banking law is indicated." [FINMA, PDF] So I'm sure they could register in the US as well just fine.
I urge everyone in crypto who's outraged by the STABLE bill to read the Minneapolis Federal Reserve interview with Prof. Gary Gorton, a Yale University finance economist, and a renowned expert on shadow banking. He goes through the history of a whole lot of financial instruments that didn't work out so well — and which you'll recognise as paper versions of ideas being thrown around in the crypto space. [Minneapolis Fed]
Yes, but what about Tether?
The biggest existing stablecoin is Tether, by far the most popular cryptocurrency by trading volume.
Tether claims a reserve backing of nearly $20 billion — but has never successfully concluded an audit, despite claiming for years that it was regularly audited.
(If you're not up on Tether, the best explanation of Tether ever written is Patrick McKenzie's piece from 2019. I wish I'd written it.) [Kalzumeus]
Then there are other crypto trading coins like USDC, which claims a $3 billion reserve. USDC does balance attestations — but has never had an actual audit. The accountant, Grant Thornton, doesn't check the bank accounts — it just trusts what Centre (Circle and Coinbase) tells them: [Centre, PDF]:
We have examined management of Circle Internet Financial, Inc.'s assertion that the following information (hereafter, the "Reserve Account Information") in the accompanying Reserve Account Report as of August 31, 2020 at 11:59 PM Pacific Time ("PT") ("Report Date and Time") is correctly stated, based on the criteria set forth in the Reserve Account Report.

• USD Coin ("USDC") tokens issued and outstanding = 1,467,498,769 USDC
• US Dollars held in custody accounts = $1,477,969,595
• As of the Report Date and Time, the issued and outstanding USDC tokens do not exceed the balance of the US Dollars held in custody accounts

Circle Internet Financial, Inc.'s management is responsible for its assertion.
Tether, USDC and other crypto trading stablecoins are secondary to the threat of Facebook's dumb idea — but they'd definitely be covered by the STABLE Act if they touched the US in any manner.
Tether claim they don't touch the US. This is known to be false. The New York Attorney General has already found an extensive list of past Tether clients in New York state, including Michael Novogratz's Galaxy Digital — who claimed zero exposure to tethers as of 2019, but are rumoured to still be borrowing tethers from Tether, Inc. in 2020. Tethers are also traded on the US-based Kraken exchange. [Kraken]
USDC has recently hooked up with Visa, if at a couple of removes [Forbes] — so the STABLE bill authors definitely have these guys in mind as potential systemic risks. [Twitter]
What happens next?
The STABLE bill has been introduced in the last two weeks of this Congressional session, to head off Diem [Twitter] — so it's unlikely to pass this time. But it's a hot prospect for next session, particularly if Diem tries to go live — these legislators are pissed. And Diem is going to have to set itself up properly as a bank in the US.
And whatever happens to Tether will be hilarious.
---
Update: Rashida Tlaib interviewed on what she was thinking; Rohan Grey interviewed on what he was thinking. [Wired; Decrypt]
The regulatory frameworks chasing you offshore are there because in the 1920s a bunch of guys had the same innovations. https://t.co/3KoITgx8Xp

— Buttcoin (@ButtCoin) July 22, 2019
Your subscriptions keep this site going. Sign up today!