By Amy Castor and David Gerard
"it was the best of times, it was disbursed for crimes" — men with puns, SomethingAwful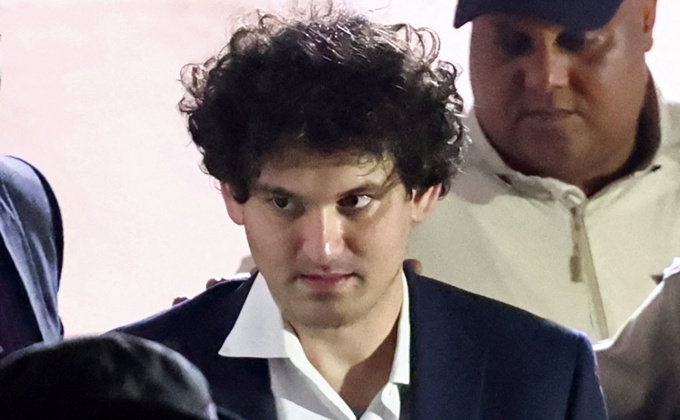 Caroline realised the other guy in the prisoner's dilemma was Sam, and mashed the "betray" button as hard and fast as was humanly possible.
Sam, I am
Sam Bankman-Fried is now on U.S. soil, after waiving his right to contest extradition from the Bahamas. He appeared before Magistrate Judge Gabriel Gorenstein in the Southern District of New York at 1 p.m. ET on Thursday December 22.
He was released on bail for a $250 million bond — "the largest ever pretrial bond," apparently — secured only on his parents' home in Palo Alto, where he will be living. [Twitter; Reuters]
SBF will surrender his passport and remain in home confinement with electronic monitoring — he'll wear a bracelet. He will also be required to undergo regular mental health evaluation and treatment. No financial transactions over $1,000 except legal fees, no new lines of credit, and he can't start a business. Also, no firearms. [Appearance bond, PDF]
That is: Sam lost all his money in crypto, and has moved back into his parents' basement.
He will go before the judge again on 3 January via Zoom to enter a plea to the eight counts against him. His lawyer is Mark Cohen of Cohen & Gresser.
It's possible Sam will shut up now. We wouldn't bet on it, though.
Update: A lot of people are confused as to how a $4 million house can secure a $250 million bail. We've written an explainer.
The prisoner's dilemma
While SBF was doing his public relations tour confessing financial crimes at anyone who would hold still long enough, Caroline Ellison (CEO of Alameda) and Gary Wang (CTO of FTX) were talking to their attorneys, and quietly doing deals with prosecutors.
Ellison and Wang are pleading guilty to fraud charges brought by the SDNY. They are cooperating with the SDNY investigation.
Ellison pleaded guilty to seven counts, including wire fraud, conspiracy to commit money laundering, conspiracy to commit securities fraud, conspiracy to commit commodities fraud, and conspiracy to commit wire fraud. These are the same crimes as SBF, except for the campaign finance charges. [Indictment, PDF]
Wang pleaded guilty to four counts, including wire fraud, conspiracy to commit commodities fraud, and conspiracy to commit securities fraud. [Indictment, PDF]
Per Ellison's plea agreement, she will be freed on $250,000 bail — though she won't be allowed to leave the U.S. We're not sure what the blacked-out bits in her agreement are. [plea agreement, PDF; CoinDesk]
Ellison's plea was entered on Monday December 19 — but it wasn't released publicly until Sam was in the air and on his way to the U.S.
U.S. Attorney Damian Williams made a video announcement as SBF was in an FBI Gulfstream flying from the Bahamas to New York: "If you participated in misconduct at FTX or Alameda, now is the time to get ahead of it. We are moving quickly and our patience is not eternal." [Twitter, video]
Who was Williams speaking to in particular? People he may have had in mind include:
Nishad Singh, a cofounder of FTX;
Sam Trabucco, co-CEO of Alameda Research, who stepped down in August;
Ryan Salame, co-CEO of FTX's Bahamas subsidiary, FTX Digital Markets;
Ramnik Arora, SBF's "key lieutenant," and the conduit to Sequoia Research;
Dan Friedberg, FTX's chief compliance officer, and formerly a colleague of Stuart Hoegner of Tether at Ultimate Bet.
There are likely others as well. We expect more superseding indictments to come.
SEC charges against Ellison and Wang
Ellison and Wang have also been charged by the Securities and Exchange Commission with defrauding the equity investors in FTX. [Press release; complaint, PDF]
The SEC's complaint against Ellison and Wang is built on how the two ratted out SBF. A few things that stand out in the charges:
FTX was diverting customer funds to Alameda from the start. The two companies were part of a single fraud from day one.
Wang, a programmer, created the back door that allowed Alameda to divert FTX customer funds. Ellison used those misappropriated funds for trading on Alameda.
Alameda was owned 90% by SBF and 10% by Wang. SBF was always in control of everything, and Ellison and Wang took direction from him. So much for Sam's "gosh, I don't know" defense:
Bankman-Fried remained the ultimate decision-maker at Alameda, even after Ellison and Trabucco became co-CEOs in or around October 2021. Bankman-Fried directed investment and operational decisions, frequently communicated with Alameda employees, and had full access to Alameda's records and databases.
FTT — the FTX on-exchange token, which they accounted as billions of dollars of their assets — is a security under US law.
They manipulated the price of FTT tokens a whole lot, by buying large amounts on the open market — allowing Ellison and Alameda to borrow more against their FTT on hand.
The misappropriation of customer funds wasn't a one-off thing. SBF, Ellison, and Wang dumped cryptos from FTX into Alameda faster in 2022 — particularly after Terra-Luna crashed in May — but they'd been doing this since FTX started. This was a "brazen, multi-year fraud."
There are actually people surprised that FTT was deemed a security. But the SEC has consistently said for many years that pretty much all crypto tokens are securities under the Howey test.
This is because almost all crypto tokens are blitheringly obviously securities under the Howey test. They were created to make money and were marketed to others as ways to make money from the efforts of others. The Howey test is not complex.
FTT being deemed a security is important because other exchange tokens may be treated as securities by the SEC, especially now that the public, the government and the regulators are on side with going after crypto crooks. And a lot of exchanges have such tokens.
When Binance started trading its BNB supermarket loyalty card points, David suggested that Binance should not sell BNB anywhere near the US because it was blitheringly obviously a security. Binance did so anyway, so they should expect some interesting times in the future.
"Regulatory clarity" has only and ever meant that crypto promoters wanted a way to do something that was hilariously and obviously illegal, but using "crypto" as the excuse.
The CFTC has also filed civil charges in an amended complaint that now lists Ellison and Wang in addition to SBF. [Press release; Complaint, PDF]
About that FTX money
John Jay Ray III, the new CEO of FTX in bankruptcy, is looking to claw back as much dirty money as possible.
This includes political donations, but also those who tried giving their political donation to charity: "Recipients are cautioned that making a payment or donation to a third party (including a charity) in the amount of any payment received from an FTX Contributor does not prevent the FTX Debtors from seeking recovery from the recipient or any subsequent transferee." [press release]
Bernie Madoff's Ponzi scheme donated hugely to charities and nonprofits, and quite a lot of that money was clawed back — because it was stolen money. A Government Accountability Office report from 2012 outlines how the clawbacks went in the Madoff case. Exceptions can happen on a facts and circumstances basis — e.g., a hospital that was allowed to keep some of the money because it would have shut down otherwise. [GAO, PDF]
Of course, most of FTX's charitable donations were to their fellow Effective Altruists — who tend to pick super-effective charity goals like the happiness of 1054 future hypothetical human emulations, fighting Roko's basilisk, or buying castles in Oxfordshire or the Czech Republic. So we should expect that to be clawed back in full. [Truthdig; iRozhlas, in Czech]
(Hello, sincere EAs reading this who live on beans and work very hard to make the world a better place in actually practical senses! Ever get the feeling you've been cheated?)
Media outlets are also returning SBF's dirty money. ProPublica is returning $1.6 million from SBF's family foundation, Building a Stronger Future. Vox is returning $200,000. The Intercept is still working out what to do with the $500,000 it received in September, which was part of a $4 million grant. [Washington Post]
As John Ray sorts through the FTX/Alameda chaos, he's in his element: "I am drawn to crisis," he told the WSJ. [Wall Street Journal, paywalled]
Ray is the son of a plumber. He grew up in rural western Massachusetts and went to UMass Amherst for his undergraduate degree — a state school, for those who didn't have the grades or couldn't afford to go to Harvard, MIT, Tufts, or Amherst College.
You could see the twinkle in his eye when he testified in front of the U.S. House. He absolutely enjoys this work and clawing back as much money for FTX's victims as he can.
The Block looks into the future of crypto
Crypto industry news outlet The Block just found out that, for all its claims of independence, it was running on totally-not-stolen FTX customer money loaned to its now-ex-CEO, Mike McCaffrey, by Sam Bankman-Fried.
This has been a slight shock to the system — especially as they now need to work out what to do when John Ray comes knocking on the door wanting the money back.
That sucks to find out, and the Block crew have our sympathies. On the other hand, LOL.
The Block's 2023 Digital Assets Outlook is out now! You can guess before opening the report that it needs to be optimistic as hell, no matter the tawdry details of grim reality — because the one thing The Block can't say is "welp lads, I guess we're buggered."
The executive summary will give you the flavor — the report is a series of attempts to put a positive spin on the entire crypto industry being in the toilet. Exchange internal supermarket loyalty card points are doing better at keeping their price than bitcoins. AAA games with NFTs aren't something that will never happen, LOL — they're just delayed. And so on.
The body of the report isn't much better. If you want to know the future of crypto mining, our August writeup on the bitcoin mining scam is so far working out exactly as we said.
In any case, this is all good news for bitcoin. [The Block; report, PDF]
The future of crypto in 2022
Amy wrote about the future of crypto after FTX for Al Jazeera. [Al Jazeera]
She didn't write this in Al Jazeera, but we'll say it here — the entire game in crypto right now is pretending you're solvent when you're not. All the retail dollars have gone home. Most of the influx of cash dropped off in 2021, and what was left dried up after the Terra-Luna crash in May.
Pretending you're solvent means tricks like these:
Making up a new form of magic bean from thin air, and giving it a hypothetical dollar value in your account books — though you could never sell them for that much.
Going on national TV to say how you're "financially strong," to fend off a bank run.
Getting attestations, if you can find an accounting firm who will actually do this and not scrub the reports from their website days later.
Moving funds around to make sure they're there on the morning of an attestation and can be moved to be there for someone else's later attestation.
Networks of loans between companies, all accounted as assets on each other's books.
Buying up other companies, so you can use their assets to cover holes in your books.
There's been a few companies, such as FTX, doing the above. Perhaps you can think of some companies doing these things now.
We were both hoping for a quieter Christmas. But this is fun too.
Your subscriptions keep this site going. Sign up today!