What's happening with Bitcoin in El Salvador? President Nayib Bukele is day-trading by phone with public funds and tweeting about it, and blowing hundreds of millions in public funds on magic beans. But there'll be new Bitcoin laws soon! And Chivo still doesn't work properly. And there's sanctions for corruption in the air.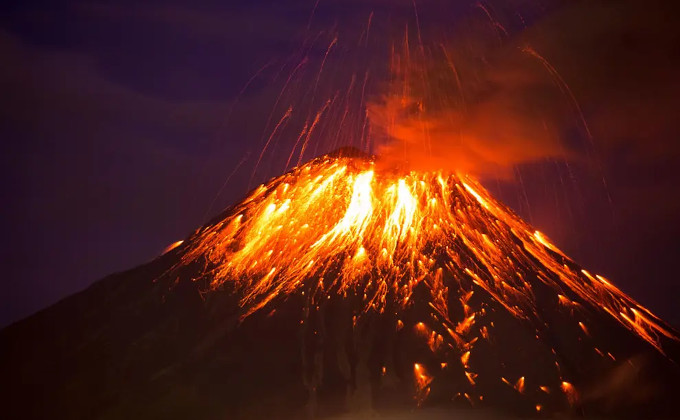 Not actually in El Salvador. This is Tungurahua in Ecuador.
A bad debt follows you
Alejandro Zelaya, Minister for Finance, said in an interview on local television that the government is preparing "about twenty" bills to provide the legal infrastructure for the $1 billion Volcano Bond announced in November. [Elsalvador.com, in Spanish; Reuters]
This will be the legislation to be written by iFinex — home of the Tether stablecoin and the Bitfinex crypto exchange — who are issuing the bond. Just the sort of reputable company you want on the task.
Zelaya spoke of issuing further bonds in Bitcoin to pay $800 million of Eurobonds that come due in January 2023. "We are going to abandon the traditional market." I'm sure the bond market will be delighted to hear that!
El Salvador's existing sovereign debt is trading at its lowest price since issuance, hovering around 50-60 cents on the dollar — the worst performance for undefaulted sovereign debt in the world. This is specifically because buyers are spooked by Bukele doing insane things with bitcoins, like day-trading with public money from his phone. [Bloomberg]
Zelaya also claimed the government is talking to investment banks he can't name, who are, apparently, super-keen to give El Salvador a ton of fresh dollars when the country's previous bonds are in the toilet. [El Mundo, in Spanish]
Money from nothing
Bukele has spent millions of dollars on bitcoins with public funds — but there's no documentation at all of who has control of the coins, where they're custodied or how any of this is managed. Zelaya says the purchases are managed by a team at Chivo SA de CV.
This is while the deficit — which El Salvador must borrow to fund, 'cos they can't print their own dollars — is at $919.2 million up to September. [La Prensa Gráfica, in Spanish]
Bukele has already claimed to be building a veterinary hospital with the "profits" from national Bitcoin purchases — but there's no mechanism for profit without selling the bitcoins. Unless he pays absolutely everyone involved in bitcoins. [Elsalvador.com, in Spanish]
Asociación Nacional de la Empresa Privada (ANEP), the business association, questions the tax-free status of Bitcoin City. With no taxes, how will this benefit the country? If it's by creating jobs, this need to be quantified — and there's been no detail on this at all. [Elsalvador.com, in Spanish]
Fainting goats
Here's a long Twitter thread of Salvadorans who say money disappeared from their Chivo wallet. They're mainly hardcore Bukele fans … because there's nobody else left using Chivo. (There are several news articles based on this thread — the thread is the source.) [Twitter]
Small business people have no patience with Chivo's dysfunctionality. Some use Muun Wallet for greater reliability — though fees with Muun are not subsidised. [Elsalvador.com, in Spanish]
When Amazon Web Services US-East-1 went down in early December, Chivo went down with it. You'd hope a national payment system would be a bit more robust. [Elsalvador.com, in Spanish]
A FUSADES survey shows only 10% of Salvadoran businesses made even a single sale via Bitcoin in November. (Up from 8% in October, though!) 36% of businesses surveyed accept Bitcoin; 54% don't, and have no plans to. [La Prensa Gráfica, in Spanish]
El Salvador was sent $6,767 million in remittances between January and November 2021, with 95% of that coming from the US. Only $44.6 million of this was via cryptocurrency channels; it's not clear how much of that was via Chivo. [Elsalvador.com, in Spanish]
The @chivowallet Twitter account hasn't tweeted since 3 November 2021. [Twitter]
Galoy, who develop the Bitcoin Beach wallet, have secured $3 million in venture capital funding to fix the wallet's interface to the Lightning Network. Galoy is talking about starting a Bitcoin Beach Bank in 2022, dealing mainly in bitcoins. [Galoy press release; CriptoNoticias, in Spanish; YouTube interview in English]
Corruption!
Chief of Cabinet Carolina Recinos has been sanctioned by the US for corruption — allegedly enriching herself with COVID-19 contracts. Recinos is a director of ETESAL, which is one of the owners of Chivo — and local human rights group Cristosal thinks this may mean trouble for Chivo. Recinos was already on the US's Engel List of corrupt and undemocratic actors. [Treasury; Reuters; Elsalvador.com, in Spanish]
Daniel Gutiérrez, director of the Florida International Bankers Association (FIBA), worries that Bitcoin in El Salvador makes monitoring money-laundering risk much harder for US banks. This is likely to cause problems for Salvadoran banks' US relationships. Sergio Alvarez-Mena of Charles Schwab says that El Salvador is already becoming a major problem for US banks. [El Nuevo Herald, in Spanish]
Journalists from El Faro were warned in November by Apple that "state-sponsored attackers may be targeting your iPhone because of who you are and what you do." I wonder who would tap El Faro journalists' phones. [El Faro, in English; El Faro, in Spanish]
There's a lot more going on with El Salvador and Nayib Bukele than Bitcoin, of course. Bukele's party is long known to have negotiated with the drug-running gangs that plague El Salvador in order to reduce the country's murder statistics — and Bukele's office shut down the anti-corruption investigation into the negotiations. Bukele or his family members have not yet been added to US corruption or sanction lists … [Reuters]
Your subscriptions keep this site going. Sign up today!