The Libra book is proceeding full steam ahead — I have just a few chapters to go for the first draft!
Of course, they're the trickiest chapters — including a chapter on Central Bank Digital Currencies, for which I have a couple of thousand pages of reading to refresh myself on. So I might be some small time.
I'll need to talk about Facebook Pay — so I need to cover its earlier history as Messenger Pay, a.k.a. Messenger Payments. So once again, here's my homework.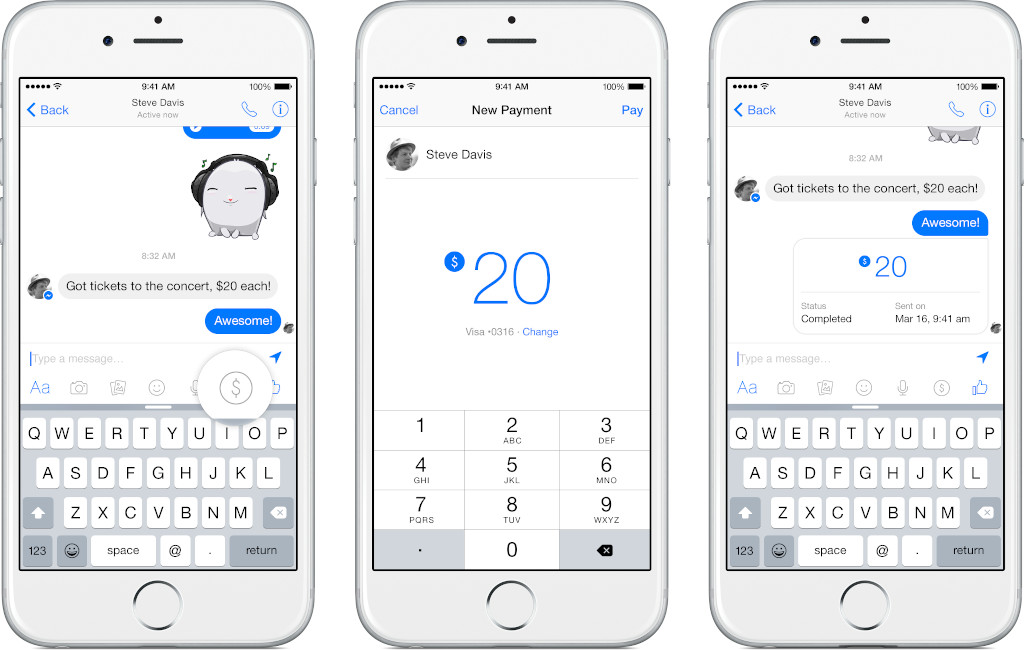 David Marcus joins Messenger
David Marcus was the President of PayPal. In 2014, he met with Mark Zuckerberg for dinner, expecting to discuss a business partnership with PayPal — and was surprised to be offered a job at Facebook, running Messenger. He accepted, and started at Messenger in June.
Marcus wrote on LinkedIn at the time: "I realized that my role was becoming a real management one, vs. my passion of building products that hopefully matter to a lot of people." [LinkedIn]
Messenger was originally just a chat service built into Facebook. But Facebook spun it out through 2014 as its own site and phone app. This annoyed a lot of users, but Zuckerberg said that "if we wanted to focus on serving this well, we had to build a dedicated and focused experience." [The Verge, The Verge]
Marcus was a payments guy of long experience. I don't know if he started the project himself, but in 2015, Facebook launched Messenger Pay — to allow payments between users.
Messenger Pay
Facebook had been set up to take people's money since 2007 — for advertisements, for the Facebook Marketplace, and for Facebook Credits game coins. But this was the first time Facebook had offered transactions directly between users.
Messenger Pay was launched in the US on 17 March 2015. You connected your existing debit card, then you could send money by opening a message, tapping the "$" icon, entering an amount and tapping "pay." You could receive money by connecting a debit card for the money to be sent to. [Facebook]
The money transmitters did the hard bits of Know-Your-Customer, and Facebook just brought the users along and collected the data — the things it was good at.
There was no transaction fee — what Facebook got out of this was keeping you on the platform, and showing you ads. And, of course, that juicy, juicy personal financial data. [TechCrunch]
The catch was that Messenger Pay ran on the existing US banking system — which could be painfully slow. Banks sending each other money via ACH could take days.
Messenger Pay was for person-to-person payments — a direct competitor to PayPal's Venmo. Over its first two years in the US, most transactions were less than $50. PayPal didn't get involved in Messenger Pay at launch in 2015, though in October 2017 you could finally connect to PayPal as a back-end service. [PayPal blog]
The service opened in the UK and France in November 2017. Facebook's announcement post called it "one of the most requested features in Messenger." [Facebook]
Marcus spoke to Wired about the UK launch: "It's very much a country by country thing. Sadly there is no way for us to roll out a solution across Europe in one go." [Wired]
The users fail to show up
Messenger Pay didn't end up taking over the world — Facebook and Messenger have massive reach, but that wasn't enough.
The UK and French versions of Messenger Pay were shut down on 15 June 2019 — apparently from a lack of users.
Facebook told TechCrunch: "After evaluating how we give people the best experiences in Messenger, we made the decision to focus our efforts on experiences that people find most useful. Users have been notified in preparation for this change." [TechCrunch]
Facebook Payments International emailed their few users to let them know. [Twitter]
Coincidentally, the European services shut just a few days before the Libra launch on 18 June!
You may be on Facebook lots — but would you trust Facebook with your money? For most people, the answer was "no."
In fact, it was still "no" for Libra — analyst Brent Thill at Jefferies surveyed 600 US social media users in July 2019. 80% said they were unlikely to buy into Libra — mainly because they didn't trust Facebook. [CNBC, video]
Facebook Pay — Messenger Pay as back end
In November 2019, Messenger Pay was given a facelift, and re-announced as Facebook Pay — with promises of Instagram and WhatsApp integration.
The loved one told me in January 2020 that people with business pages had been getting Facebook Pay promoted to them as a way to buy ads on Facebook — offering £20 free advertising if you sign up for it, So, much as they did in the dying days of Facebook Credits, then.
Facebook Pay was the back end for Facebook's attempt to enter the Brazilian payments market with WhatsApp Pay in June 2020.
Facebook took the same approach with Brazilian regulators that they'd taken with Libra — give them only the vaguest details, then try to launch at sufficiently large scale that it's politically difficult to shut you down. The Central Bank of Brazil was not quite this naïve, and cut Facebook off quick-smart. WhatsApp Pay was finally allowed to proceed on a strictly limited scale in July.
Facebook's various financial initiatives — Novi (formerly Calibra), Facebook Pay and WhatsApp Pay — were consolidated in July into Facebook Financial (F2), with David Marcus in charge.
"We have a lot of commerce stuff going on across Facebook," Marcus told Bloomberg. "It felt like it was the right thing to do to rationalize the strategy at a company level around all things payments." [Bloomberg]
Libra still has no launch date.
Newsletter quote of the day: "If Libra is the Thanksgiving turkey you tried deep frying but caught on fire, Facebook Pay is the backup rotisserie chicken."

— Morning Brew ☕️ (@MorningBrew) November 13, 2019
Your subscriptions keep this site going. Sign up today!