In response to the New York Attorney General's ex parte order against Tether and Bitfinex last week, general counsel Stuart Hoegner and outside counsel Zoe Phillips of Morgan Lewis have filed a thunderous pair of affidavits just today — asserting that New York has no jurisdiction, none of Bitfinex or Tether's actions are within the ambit of the Martin Act … and that the $2.8 billion worth of tethers are only 74% backed:
Tether has cash and cash equivalents (short term securities) on hand totaling approximately $2.1 billion, representing approximately 74 percent of the current outstanding tethers.
Also, banks run fractional reserves, so Tether should totally be able to. Though they don't want bank-style regulation, for some reason.
Why have I wasted my whole day off reading NYSD court filings

— guglielmo (@Ben_Munster) April 26, 2019
Bitfinex's Reddit representative garbis_bitfinex posted an official response to the NY AG filings … but hadn't read them himself before doing so.
And the moderator of Reddit /r/bitfinex announced an "Ask Me Anything" — three hours before the NY AG's order was announced. There were a number of pointed questions. The AMA will apparently happen on Friday 3 May, but this one is only for questions about the Bitfinex programming API.
Remember how Bitfinex got hacked in August 2016, and 120,000 bitcoins were stolen? (See chapter 8 of Attack of the 50 Foot Blockchain.) Just a few hours before the NY AG's order was announced, on 25 April, $1.6 million worth of coins from the hack moved for the first time.
There are rumours of a plan to plug the hole in Bitfinex/Tether's accounts after $850 million was "seized and safeguarded" by Polish, Portuguese, US and UK authorities — Bitfinex is thinking of running a $1 billion exchange token offering! I would say "you'd need to be nuts to spend a single penny on such a thing," but that would be assuming the slightest rationality of the crypto market.
And the latest, just in — the US Attorney General has just charged two individuals, Reginald Fowler and Ravid Yosef, with "bank fraud and operating an unlicensed money transmitting business" — specifically, supplying "shadow banking" services to various crypto exchanges, by lying to banks about what they were opening accounts for:
Hundreds of millions of dollars flowed through the Crypto Companies' accounts from banks located across the globe.
Fowler and Yosef operated as Global Trading Solutions — which Bitfinex operated through for a time last October. Here's the indictment (PDF).
These didn't age very well… #tether #fud pic.twitter.com/jmID8iMf3c

— David Shares (@DavidShares) April 26, 2019
People are buying bitcoins to get rid of their tethers, and also their "US dollars" trapped on Bitfinex. This drives the visible price up — another example of the "Tether premium."
If you want to see the Tether and Bitfinex premiums live, see the bottom of the cryptowat.ch BTC/USD page. At 22:15 UTC on 30 April, the exchanges you can get actual US dollars out of were around $5265, the tether (USDT) exchanges were clustered around $5320, and Bitfinex BTC/USD on Bitfinex was showing $5597 — a whopping $330 premium over the price on Coinbase.  I'm sure there won't suddenly be problems withdrawing cryptos from Bitfinex …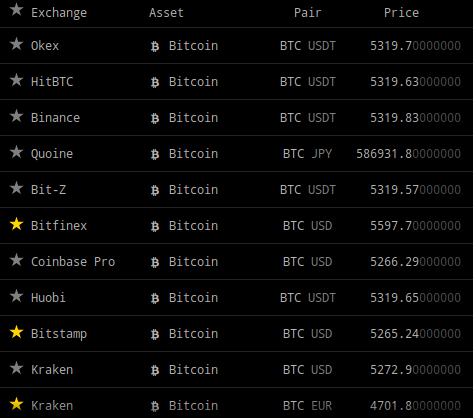 I recommend Izabella Kaminska, Frances Coppola and Amy Castor's summaries of the Tether mess. David Silver has a good Twitter thread. My own commentary in Decrypt last month still stands. Tim Copeland from Decrypt has also written up what little is known about Crypto Capital, who did payment processing for QuadrigaCX as well as Bitfinex. And let me remind you of Amy Castor's Tether timeline, which she keeps updated. I was also quoted in the Economist on Tether.
(Izabella and Frances' article titles allude to MF Global, a major derivatives broker that went bust in 2011. It turns out that commingling company and client funds during your less-solvent moments is horrifyingly illegal. Nobody went to jail, but the CEO did get a lifetime ban and a substantial fine.)
Guys I have read crypto twitter and been told this is likely the only shady thing Bitfinex has ever done so calm down

— Bennett Tomlin (@BennettTomlin) April 26, 2019
Your subscriptions keep this site going. Sign up today!