How to lose $3 billion of Bitcoin in India. This story also links to cryptocurrency ponzi scheme BitConnect — the scheme collapsed in January, but the tokens were still circulating … until yesterday, when it was delisted from its last exchange, TradeSatoshi. WHAT AM I GONNA DO?
There's a ruling in the Tezos consolidated class action. Stephen Palley summarises: Arthur Breitman, Kathleen Breitman, their company Dynamic Ledger Solutions and the Tezos Foundation remain in the case; Bitcoin Suisse AG and Tim Draper are dismissed, and Draper can only be re-added if the plaintiff comes up with a convincing new motion within twenty days. The Tezos Foundation was sufficiently focused on the US to be considered under its jurisdiction. Palley: "None of this is really surprising." Amy Castor notes that the "worst thing for Tezos is judge concludes that there was lot of contact with the U.S. in terms of marketing and selling the token. If the SEC is watching (which they likely are), this is not a good thing."
Tiny coin EXP got a quote for getting listed on Binance — a mere 400 BTC. That's 40% of their market cap. Binance disclaims the email. Amy Castor has heard quotes around $4 million for exchanges to list a coin.
Wall Street Journal: "We tracked a bunch of pump-and-dump schemes in real time. This is what it looks like." (archive)
Footballer Hal Robson-Kanu plans a sports-based blockchain. Everyone should read this article — I think I could fill three buzzword bingo cards off it. Also, Robson-Kanu's claims about personal data and the GDPR — a plan to "hold biometric data from athletes' training sessions from all over the world, information that has never been public before" on an immutable blockchain — strike me as an excellent way to get fined 20m EUR or 4% of turnover.
There's a ridiculous ICO for tokens representing the value of the land underneath Lords Cricket Ground in London — land which isn't free for reuse any time in the next 119 years.
Fondu (not "Fundo") is a website-based Ethereum ICO generator. I'm sure it'll all be fine, fine.
A somewhat coherent blockchain-related DNS proposal: make W3C DIDs usable in TXT records.
BitFi's terrible vendor response to having their device completely rooted by hackers won them a Pwnie Award at DefCon in Las Vegas!
How the problem with Augur — the possibility of assassination markets and even securities fraud — resolves itself: it turns out nobody cares. There's about 30ish to 60ish users a day at present. "The market cap is roughly $269.2 million. That means that each active user is now worth roughly $9 million."
After probably their worst social media day ever, Voatz have responded to everyone's security concerns! "In the West Virginia pilot, a paper ballot is printed for each mobile ballot submitted on the blockchain, then tabulated like a normal absentee ballot." Well, that sounds … superfluous. And XKCD knows the score: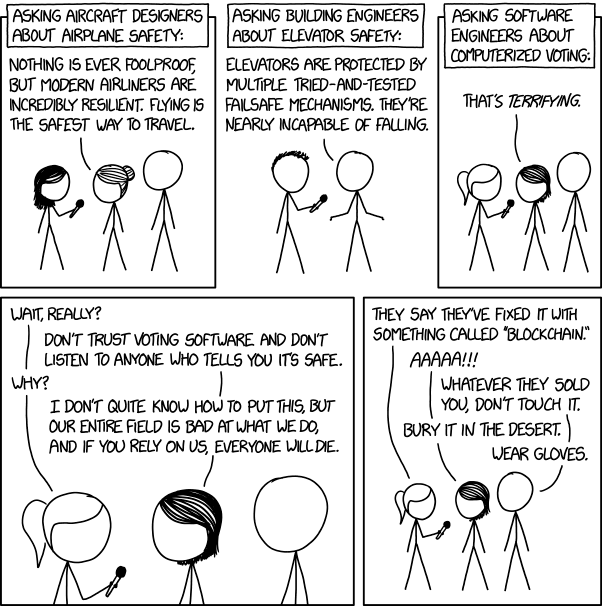 Preston Byrne on the Grant Shapps ICO saga — he considers it glaring evidence that crypto regulation in the UK is asleep at the wheel.
I still have paperbacks here, if you want a signed copy! We don't have T-shirts yet, but we clearly need to get on with them:
Great read. Ordering my custom 'I survived The Attack of the 50 Foot Blockchain' stickers & T Shirt right now. Thanks @davidgerard. And thanks @julsimon for the recommendation! pic.twitter.com/ui1iYh4z3r

— Ian Massingham (@IanMmmm) August 7, 2018
@davidgerard I have saved a huge graph of my 10s of thousands of Linkedin 'friends' and in 10 years time I will remind everyone who used to have a job title of 'blockchain visionary' or a 'crypto ninja' and such.

— Lech Rzedzicki (@xchaotic) August 7, 2018
Ahahhahahahahahhahahahahahhhahhhahahahhhahahahhahahahahha.

No. pic.twitter.com/igoNINgDyE

— Ben Grubb 🐛 (@bengrubb) August 10, 2018
PR emails to ask whether I've read their email about "the smart multi-use padlock with anti-hacking protocol and Blockchain technology." Yes, sadly

— Rory Cellan-Jones (@ruskin147) August 10, 2018
So far you've come up with a database holding a few numbers run by three guys in China.
Good start.

— Trolly McTrollface (@Tr0llyTr0llFace) August 7, 2018
https://twitter.com/jebus911/status/1027245160705482753
— Buttcoin (@ButtCoin) August 9, 2018
Could they also have had a solution for the scaling problem…? 🤔$BTC pic.twitter.com/O0mFO4K5Nz

— Randall_Maller (@Randall_Maller) August 10, 2018
Your subscriptions keep this site going. Sign up today!