Part 1: KodakCoin announced, stock price rockets
Part 2: KodakCoin restrictions, the KashMiner scam
Part 3: KodakCoin presale, prehistory, hot takes and harsh realities
Part 4: Kerrisdale Capital's crypto pre-mortem for Kodak
Part 5: The KodakCoin ICO Light Paper
Part 6: KodakCoins on sale, and the Reg A+ escape route
Part 7: The KashMiner that never was
Where are our KodakCoins? We've been waiting months for this marvelous and definitely not completely superfluous initiative to take a questionable paparazzi ICO, add the brand name of a probably doomed NYSE-listed company in dire need of a stock price pump, and move some tokens. (Insofar as they legally can.)
And save professional photography, of course.

The letter
WENN Digital are a new concern formed from two previous companies, WENN Media and Ryde GmbH. They've licensed the "Kodak" trademark for their ICO token offering, KodakCoin — which is intended to be a "utility token" (actually company scrip) on their planned KodakOne professional photography sales site.
Last Tuesday, I got the email that KodakCoin's ICO, sorry SAFT, launched May 21 on ICO platform Cointopia. Today, they finally sent my personal sign-up link!
Subject: The KODAKCoin SAFT Offering / Link to Cointopia

Dear Interested Prospective Investor,

Congratulations! You have been identified as a prospective investor.

We sincerely appreciate your interest in the KODAKOne Platform and our upcoming offering of rights to be issued KODAKCoin via Simple Agreements for Future Tokens (SAFTs), the proceeds of which will be used to help develop and launch the KODAKOne Platform and its digital currency, KODAKCoin.

Over the last few months, WENN Digital — the creator of both the KODAKOne platform and KODAKCoin — has been working with the investment industry regulators to launch a regulated token offering.

During this time period, WENN Digital has been busy building our company and developing our token economy, and over the coming weeks and months, you will begin hearing more and more about our progress.

Please follow this link to our partner Cointopia to make your investment:

Thank you,
Your KODAKOne Team

IMPORTANT: Please be alert and cautious of fraudulent sites. WENN Digital, KODAKOne or KODAKCoin will not be offering tokens through a WENN Digital, KODAKOne or KODAKCoin website. The offering will be facilitated through Cointopia (https://cointopia.com/kodak/) and managed via Pickwick Capital Partners, LLC and Exemplar Capital, LLC – both FINRA-member firms and SEC-registered broker-dealers.
The "fraudulent sites" warning alludes to the incident from early May when a page went up on Hong Kong exchange LBank.io, with KodakOne and KodakCoin logos — that appeared to offer one KODAK token for one Tether, up to a funding hard cap of 8000 ETH. WENN Digital told CoinDesk that there were other fraudulent offerings of the tokens.
So let's see what the genuine site has to offer us!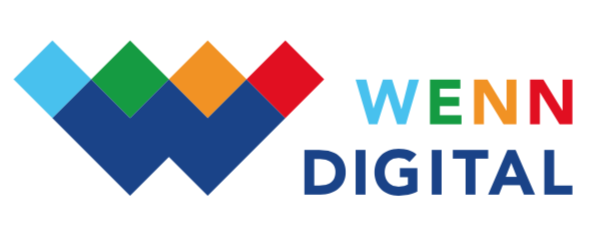 Get your KodakCoin futures!
Let's click "Investor Sign Up" — I register my email. I enter my full name and address. I register as an individual investor. No, I'm not a US citizen. Tax details, government ID — I submit a slightly psychic JPEG. Origin of Funds: "Earnings from Work Related Activities". Proof of address, the same blank JPEG.
Accreditation: but of course. Oh, you want documentation? I submit a slightly psychic PDF.
Participation! "SAFT Investment Details: KODAKOne is a revolutionary new image rights management and protection platform secured in the blockchain that seamlessly registers, manages and monetizes creative assets for the photographic community."
I can choose between USD, ETH or BTC, in that order, and enter a quantity. I think I'll put in for 100 ETH of KodakCoins. It asks for a wallet address … I must have left it in my other trousers, sorry. Hopefully Cointopia won't be too disappointed at my incomplete submission.
The KodakOne platform
The front page is a glossy pile of swooping page elements, mugshots of the team and hype.
Despite being for accredited investors only, they still seem to target photographers themselves — "Reward Creativity: We build innovative blockchain technology that protects, distributes and licenses your work allowing you to focus on creating great imagery."
So, why blockchain? And why should you sign up for their platform?
The product video is ten minutes, but you definitely need to watch it, for what their AI will do for your photos! You'd almost think it was magical, the things that WENN Digital CEO Jan Denecke promises.
The Chief Technology Officer, Volker Brendel, explains WENN Digital's approach to the blockchain — which bits should be decentralised, which bits need that little bit of absolute centralisation. Connoiseurs of extruded blockchain hype guacamole will appreciate this one.
Brendel, by the way, is barred from serving as an officer of a public company in Germany. You'll be delighted to know that isn't a problem for WENN Digital!
Here's the KodakOne system diagram from the original January version of the white paper. Note how the "blockchain" part is literally a bit hanging off the bottom. Also, they misspelt "standard" as "standrad".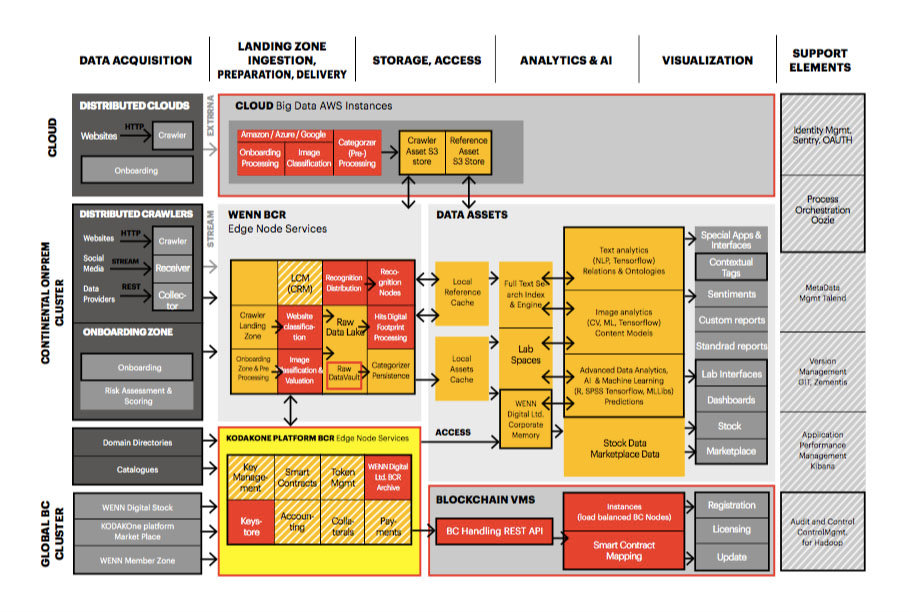 Buy now and beat the rush!
So interest is running hot, right?
Well, not so you'd notice. Nobody seems to be talking about KodakCoin. There's been just about zero social media concerning it — not even in the usual ICO shilling haunts.
The @KodakOne Twitter has 4200 followers, but very few people @'ing it.
Who are the anticipated purchasers? Is there a hidden iceberg of investment interest where nobody's looking?
Or is it just dead in the water, as the shine is off the crypto hype bubble, and the token is all-but-untradeable?
I think you'll find it's a bit more complicated than that
The KodakCoin offering was initially supposed to happen in January. What's the holdup been? Regulatory delays, apparently.
Jan Denecke, speaking to Vanessa Brist — content marketing manager at CrowdfundX, "a fintech marketing firm that leverages a combination of Artificial Intelligence (AI) and digital marketing to help issuers acquire retail investors and shareholders at scale" — explains that they want to do "the most compliant ICO in the world!"
I'll cover this more in the next Kodak post (coming soon!) — but there's a new April version of the KodakCoin white paper. The offer therein differs in noteworthy ways from the March light paper, and even more so from the original January white paper — which was not widely available, but was covered in the New York Times and in a Seeking Alpha post. (And I have a copy here, but you'll need to wait a few days.)
The January white paper mentions selling SAFTs in Germany — but this article in Handelsblatt (paywalled, sorry!) notes that WENN haven't registered with BaFin, the local regulator, and Germany is not mentioned in the April white paper.
Also, if you want to know about KodakCoin, Kodak's press office will refer you to WENN Digital. Kodak Germany's press page doesn't mention it.
(Handelsblatt also describes the offering as "highly dubious", "a half-baked marketing gag" and "a stumbling company with a fading name looking for a capital strike." If you have paywall access, it's well worth your time. It's not the most sympathetic piece.)
The differences are even bigger between the April white paper and the original January press release — e.g., WENN Digital's precise operational status … or, indeed, whether it can be said to exist at all:
January press release: "WENN Digital's live operational copyright infringement management system is delivering revenues to photographers worldwide today and will form Phase 1 of the KODAKOne platform."
April white paper: "WENN Digital is a newly formed Delaware corporation which has no operating history and will not have any operations unless and until the consummation of the business combination transactions described in the Offering Memorandum between it, WENN Media and Ryde. The closing of each of these acquisitions is conditioned upon, among other things, WENN Digital's receipt of $10 million in proceeds from the offerings on or before July 31, 2018. There can be no assurance that the closing conditions will be met and that the business combination with WENN Media and Ryde will be consummated."
That's quite the change in status. What could have brought this on?
I don't have smoking gun evidence of this. But it looks to me very like Ryde/WENN wanted to do their original questionable paparazzi ICO in the standard ICO manner — sell unlicensed securities to the crypto trading public in the throes of the Bitcoin bubble — and when that failed, they scored the Kodak licensing deal … and NYSE-listed company Eastman Kodak, who have almost nothing left to their name but the fact of an NYSE listing, flatly insisted that WENN do this in the most painstakingly regulation-compliant manner possible. Because companies that have been listed for decades know that you do not mess with the SEC.
So, what now? They have a token they can only sell to rich people — and those buyers can only sell it after a year.
Fortunately, WENN Digital chairman Cameron Chell explains a possible way forward:
The present Regulation D 506(c) investors have a one-year lockin — but Chell wants to do a Regulation A+ offering later this year, in the form of tokens, which they hope to subscribe their Regulation D investors to — so that those investors will have something they can trade. He also suggests that WENN might trade these new tokens that they'd be offering under Reg A+.
Regulation A+ is part of the crowdfunding section of the JOBS Act of 2015. It lets you crowdfund a security offering of up to $50 million — including sales to the public.
You can get the SEC to check over your offering first, and you can test the waters and withdraw your offering if the public isn't going for it. It's more restrictive than the usual ICO token free-for-all, but much less so than Reg D 506(c).
It's still "blockchain," though — Chell talks of running this on Patrick Byrne of Overstock's t-Zero blockchain-ish trading platform.
(Chell has had his own series of stock exchange bans, so evidently WENN Digital have a standard they're working to.)
I suspect this is WENN Digital's get-out — the original KodakCoin ICO looks dead in the water, but if WENN can attach the licensed Kodak brand name to this new offering, then it'll give them something to make the original KodakCoin offering even slightly attractive, and get money from not-so-rich people.
Your subscriptions keep this site going. Sign up today!