Poloniex was bought by Circle in February, and is re-verifying everyone's Know Your Customer identification … and you can't have your money until you can verify yourself. "As soon as you submit this information, we will take steps to verify it and re-enable trading and transactions for your account. Please rest assured that your funds remain safe and accounted for while you complete this process."
Propose a word for this: When a blockchain project makes serious errors in their base consensus protocol, and when it's pointed out or discovered, they can't easily hard fork, so they double down on their previous bad decisions, and/or paint it over with complexity and excuses.

— Bob McElrath (@BobMcElrath) May 28, 2018
Emin Gün Sirer's Choose-Your-Own-Security-Disclosure-Adventure! "Almost every project I know, some worth many many billions, is being run as if it's Billy Bob's Software Shack and Associated Slack Channel of Speculators and Online Mob."
With the various 51% attacks against Verge and Bitcoin Gold in recent weeks — here's the cost to 51% attack various coins. Most of these coins cost very little to attack. Even Bitcoin would cost only $647,837 (as I write this) for a one-hour attack.
EOS token bagHODLers might be worried that this will negatively impact the price of their "investment".
Rest assured that your tokens are absolutely unrelated to EOS, or anything else. They were worthless and useless from the beginning. https://t.co/TqFe3pzLJJ

— Trolly McTrollface (@Tr0llyTr0llFace) May 29, 2018
David Rosenthal on the crypto miners: "Despite all the hype about decentralized cryptocurrencies, they aren't. They are dependent upon the self-restraint of a small number of dominant players, who could at any time blow the system up, but don't want to kill the goose that lays the golden egg."
Why the real financial system will never use cryptocurrency for serious transactions: the assumption that bad transactions are reversible goes really quite a long way up.
Podcast 2 from HARKII, on Isaac Mao and Musicoin, a musical blockchain initiative. Musicoin is its own blockchain, not a token. I'm not convinced by the pitch, but he's sincere, he's got a small community going, and he's realistic about scaling issues and that decentralisation is functionally a myth.
I got an Ethereum scammer at last! (Not hard, seems all you need to do is answer a @VitalikButerin tweet.)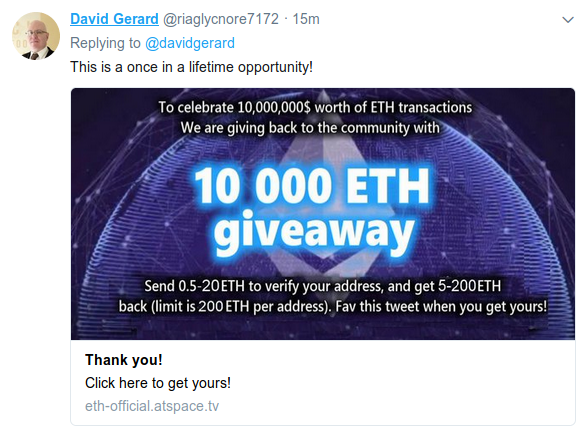 https://twitter.com/wimdetroyer/status/1000328453156196352
I approached The Wall Street Journal to ask if they're supposed to disclose whether or not @paulvigna holds Bitcoin and Altcoins and they told me the best way to find out is to, "Ask him nicely."

I believe an institution with integrity would disclose that on their own. Weird.

— CasPiancey (@CasPiancey) May 29, 2018
if CNBC put conflict-of-interest ownership disclaimers on its crypto coverage, they'd be as long as the article itself.
Also you should TOTALLY buy [altcoin-of-the-week]
(next week: said coin crashes)
Crypto is like being a mall ninja, an Internet Tough Guy, *and* a Navy Seal Pasta.

dunning-krugering your way through one art is not enough. you have to dunning-kruger your way through *all* of them https://t.co/SkSBae2cZw

— Buttcoin (@ButtCoin) May 25, 2018
wasn't the blockchain supposed to be PayPal for the blockchain pic.twitter.com/6xAwYd1TOz

— Buttcoin (@ButtCoin) May 28, 2018
Oh dear pic.twitter.com/xpJAvnAf7V

— Best of Nextdoor (@bestofnextdoor) May 29, 2018
lmfao the doorbell was torn off, the lobby empty, the back porch flooded, and the power cut off for nonpayment pic.twitter.com/2ESyvJ7oGv

— limp_bizkit_vs_harry_potter_-_jk_rollin'.mp3 (@killhamster) May 31, 2018
i hate it when i slip up and do that

dont fire me roger k pic.twitter.com/g1mmgxxdoU

— Buttcoin (@ButtCoin) May 31, 2018
Your subscriptions keep this site going. Sign up today!