Salvadoran Bitcoin Law critic Mario Gómez, who tweets as @mxgxw_alpha, [Twitter] was arrested without charge at 7am local time (12:00 UTC) this morning, 1 September.
The police took Gómez' phones — they actually snatched the phones out of his mother's hands — and a soldier (!) demanded his mother hand over Gómez' computer. [Twitter; Twitter]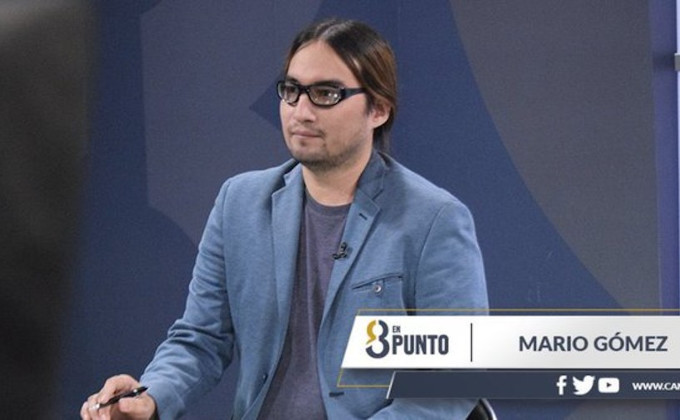 The arrest
Gómez sent a message around 6:30am saying that he was being taken to the Monserrat police delegation (the name for a local division): "Alerta me lleva la policía a la delegación de Montserrat sin decirme porque. Por favor hagan buya si es necesario."
Gomez' mother Elena described the arrest: [Twitter] "We drove out from our home in our neighbourhood, and we hadn't gone very far when the police stopped us and asked for Mario's ID and the vehicle registration. The officer inquired about issues with his driver's license or vehicle registration and said they'd verify the documents, and asked if he'd had any accidents. Mario recently renewed his vehicle registration and had no issues doing so, so there is no pending issue with the vehicle.
"After that, the officer asked him to come with them to the police delegation. I told them I was coming with them, they stopped him from using his phone. I wanted to keep his devices, but an officer came and snatched them from me.
"The vehicle stayed where they stopped us, so I don't think there was really an issue with the vehicle. They let me out of the delegation around 7:30am, and I haven't heard from them since."
When the reporter asked her if she knew about any threats against Mario from the police, she said "no".
The OIE (Organo de Inteligencia del Estado) is claimed to have been following Gómez since 1:00am this morning — two police cars waiting outside where he was staying last night, which wasn't his home. [Twitter; Twitter]
Gómez's family and the press have been denied access or answers to any questions. [Twitter; Elsalvador.com, in Spanish]
There are no laws in El Salvador to protect your data from the police going through it as they see fit. But I'm told that Gómez is as properly security-paranoid as you'd expect for a loud critic of a local aspiring dictator, and knows his cryptography.
News as of 15:24 UTC is that the arrest is part of "an investigation for possible bank scams" and financial fraud — specifically, sending phishing emails to bank account holders — so they want Gómez's phones and computer. He has been moved to the DCI (Dirección Central de Investigaciones). [Twitter; Twitter]
Friends of Gómez have already cautioned that no allegations of crimes from the authorities should be believed out of hand. [Twitter] Particularly given that this is absolutely not how a phishing investigation or arrest would be conducted.
As of 16:48 UTC: Elena de Gómez and Mario's lawyer have been allowed into the DCI. [Twitter]
The Twitter hashtag for Gómez' arrest is #LiberenAMario. [Twitter]
Update 18:06 UTC: Gómez is being released. [Twitter; Elsalvador.com, in Spanish]
El especialista en criptomonedas y sistemas de información, Mario Gómez, es trasladado de la delegación de Monserrat a la DCI de la PNC.
Foto: LPG/Faustino Sánchez. pic.twitter.com/0cKuGoA84f

— La Prensa Gráfica (@prensagrafica) September 1, 2021
Latest Chivo app slides
The gossip in Salvadoran tech circles is that the arrest of Gómez was retaliation for having been a thorn in the side of the Bitcoin Law — I've quoted Gómez a lot in this blog previously — but more specifically, because he leaked a pile of Chivo app screenshots yesterday. [Twitter thread, archive]
Ya me pasaron un Screenshot
👇👇👇👇 pic.twitter.com/VlgNbrGCP9

— mxgxw.α (@mxgxw_alpha) August 31, 2021
This appears to be the version for use by businesses. You will need to convert BTC to dollars in the app, then transfer it to your account.
Gómez thinks the screenshots are mockups — at this stage there should be a functional demo, and different leaks contradict each other. [Twitter]
One of the example addresses in the slides was an address used by an Elon Musk Bitcoin doubler scam on Twitter! [Twitter, archive]
How's the Bitcoin Law going?
The government has asked for another $53 million to pay for Chivo ATMs, and to pay the $30 sign-up bonus for installing the Chivo app. This is on top of the $150 million to start off the Bitcoin trust fund. [Elsalvador.com, in Spanish]
Here are more rumours which didn't come via Mario:
Strike is still marketing its services to retail companies, per previous rumours. Strike wants to deposit their money in a blockchainy fintech called Prime Trust. The companies have seen extremely negative reviews of Prime Trust, and are having doubts already.
A Chivo ATM is being installed at a power plant run by LaGeo SA, the government-owned geothermal power company — so staff are now wondering if they're going to get paid in Chivo "dollars" too.
Here's a Chivo machine deployed in the wild. Note the well-secured power supply. [Twitter]
Cajero recién instalado en el interior del Mercado Municipal de Artesanías o Excuartel, en la ciudad de San Salvador. Nótese el complejo y protegido sistema de suministro eléctrico para esa unidad. ¿La fijaron al piso o a la pared? #Bitcointenario #NoAlBitcoinEnElSalvador pic.twitter.com/9NFfeRuiXv

— Carlos Cañas Dinarte 🇸🇻 (@ccdinarte2010) August 27, 2021
We're going live in SIX DAYS! It's gonna be great!
Your subscriptions keep this site going. Sign up today!