El Salvador's Bitcoin Law takes effect on 7 September! Is everything in place and ready? Of course it isn't.
There's very little solid news. But the rumours and suppositions have been flying around. Here's some gossip and scuttlebutt, for what it's worth.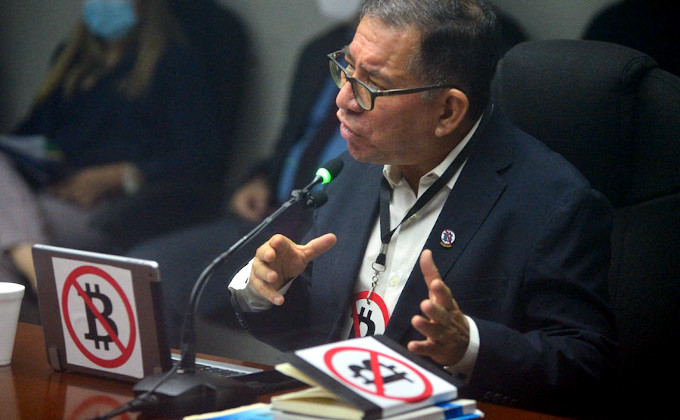 News
The Constitution is being changed at the end of the year. Bukele's main goal is to establish a longer Presidential term, and more relaxed term limits. One of the other changes is to nationalise the pension system. [ElSalvador.com, in Spanish] The government has even put up billboards advertising the pension nationalisation. [Twitter]
Pensions were managed by the government until 1998, but changed to a contribution system. There is over $12 billion in pension liabilities.
Nationalising pensions  is widely seen as a way for the government to get its hands on at least some of these actual dollars, and use the dollars to avoid defaulting on their sovereign debt.
Those who can — e.g., Salvadorans who are US permanent residents — are getting their dollars out of El Salvador as quickly as possible.
Bitcoin came up in discussion of the pension nationalisation, because they're both seen as a way for the government to get real dollars to pay external debts. The real dollars can be substituted with fake dollars, such as unbacked Colón-Dollars in the Chivo system.
Accepting Bitcoin will now be "totally and absolutely optional" according to the Minister of Finance, Alejandro Zelaya ("total y absolutamente opcional") — but Article 7 of the Bitcoin Law, making acceptance of Bitcoin mandatory, is still in place.
Zelaya says that they're about to announce the regulations implementing the Bitcoin Law — but there's no date on this. [ElSalvador.com, in Spanish]
Eugenio Chicas, a former Secretary of Communications of the Presidency, has been loudly making trouble about Bitcoin, and distributing "no Bitcoin" stickers. Chicas' "No Bitcoin" logo has been showing up in Salvadorans' Twitter icons. [ElSalvador.com, in Spanish; ElSalvador.com, in Spanish]
No news
What's happening with the new Bitcoin ATMs? Lots of Bitcoin ATM companies have claimed to have the contract, or a contract [e.g., Twitter] — but there's nothing official, nothing in place as yet, and no news of further ATM deployments.
The Asociación Salvadoreña de Industriales (ASI), a business association, complains that they have no idea what's going on as yet and are having to guess what will happen. [ElSalvador.com, in Spanish]
Rural farmers' markets have no idea about Bitcoin — a lot of the traders are illiterate, in fact — and no interest in accepting it. [ElFaro, in English]
Nobody in the banks seems to have any idea how to proceed as yet — how to correctly handle and account for stored bitcoins whose dollar value is volatile, or whether or how to offer Bitcoin-denominated accounts.
I searched ElSalvador.com for "bitcoin" for the past month. I found a small amount of news coverage, and a lot more articles saying what a dumb and bad idea this was and how nobody's been told anything.
Rumours
Strike has apparently been contacting large retail companies, offering them a solution so they can accept bitcoins. The Strike app would accept bitcoins, and Strike would deposit dollars in the business's account. The fees would be around 1% plus taxes.
The companies in question are still worried about the volatility of Bitcoin, in case the price goes down significantly between accepting the bitcoins and the dollars being deposited.
The government is apparently planning to use Bitso, a Mexican crypto exchange. This is "unconfirmed" even in the rumour. But Bitso tweeted in June that they were "Extremely energized after our visit and work sessions with @nayibbukele's team." [Twitter]
What happens next?
The Ministry for Innovation does not have a good record for delivering new programmes on time. Some expect an announcement that the release of the Chivo Wallet payment system, or the regulations implementing the Bitcoin Law, will be delayed to give time to banks, institutions and businesses. Which they are obviously in dire need of.
Update: Congressman Numan Salgado confirms that the regulations will be published after the Bitcoin Law goes into effect. [Twitter]
One commenter said: "I can imagine how bad they're gonna have it once the regulations are out and they get 1 sprint to make the changes."
Your subscriptions keep this site going. Sign up today!