Bitcoin price shenanigans — after a few weeks wobbling around $6000, the price on WEX hit $8999 yesterday. WEX is the reincarnation of BTC-e, the Russian exchange favoured by money launderers and the Mt. Gox hackers. Tether peaked at around $1.08 per USDT around the same time.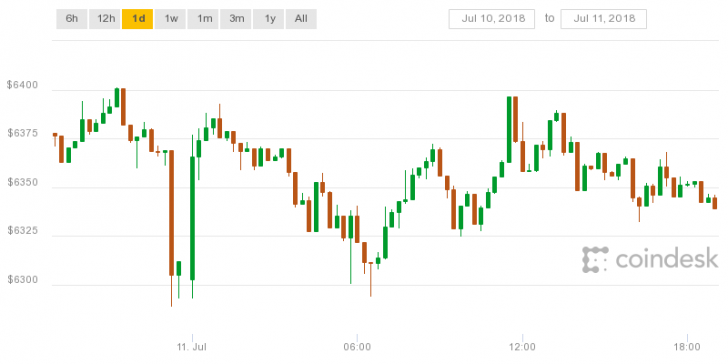 It sure doesn't get more organic than that chart around 00:00 July 12 — mountains of BS are an organic product, right?
Current Tether price status 🤔 https://t.co/xWltbsjP3z pic.twitter.com/KYAgBMDxzG

— Tony "Abolish (Pol)ICE" Arcieri 🦀 (@bascule) July 12, 2018
The US federal government is establishing a cross-agency task force on consumer financial fraud — including that related to cryptocurrencies.
A common proposal is to outsource your oracle to a prediction market — humans betting on predictions — that is also on your blockchain, such as Augur. Somehow, the outcome of a bet is supposed to substitute for direct knowledge of an event having happened or not, with sufficient confidence in the process to let it affect your money. If your question isn't popular enough to attract sufficient uninvolved wagers — it would often be worth it for one party to just bribe the bettors – you will still have the oracle problem in determining whether the event has in fact occurred. You can't get rid of the human element by adding another layer of indirection — it's oracles all the way down.

(Augur has openly bragged that they think running on a blockchain means they can dodge US government regulation on gambling and derivatives, which led to the shutdown of previous prediction markets, despite being a single company with known principals.)
FYI I did actually finish this project in ~2015https://t.co/qBThUFwcNP

Not that I mind other people trying, but there is extreme deception in Augur. Their "March 2018" whitepaper is basically just mine plus a bunch of bizarre decisions. https://t.co/fLNc4C3mQ8

— Paul Sztorc (@Truthcoin) May 12, 2018
LSE runs a scammy-looking cryptocurrency course. FT Alphaville runs a piece on the dubious claims in the prospectus. The professor running it, Dr Carsten Sørensen, literally replies, "Stop being a journalist and just think. You're citing marketing material as if that were the ultimate truth." I'm sure that's a great comfort to any student who ever paid actual money on the basis of an LSE prospectus, foolishly assuming it wasn't a pack of lies.
A Twitter DM – "Anyway we can buy retweets off of you, it won't be promoting anything but information about Blockchains. We're trying to create a transparent and informative account to educate our followers, thanks!" What should I charge? #transparent #informative

— Rory Cellan-Jones (@ruskin147) July 12, 2018
CRYPTOTWITTER: Bitcoin is the RedBull to Tether's Monster Energy Drink. I know what you're thinking: "What's he talking about?" JUST HEAR ME OUT. THIS METAPHOR IS LEGIT.

ME: No.

— CasPiancey (@CasPiancey) July 10, 2018
I feel like in less than 5 years from now, IOTA will be a case study in a text book on why you don't roll your own crypto.

— ☭ꙮGatekeeper Blocker Eevee (╯°w°)╯彡💻🌋ꙮ☭ (@ComradeEevee) July 7, 2018
— emma jacobs (@emmavj) July 8, 2018
Every FT writer has been retweeting this
This bit of the Brexit white paper seems to have been written by someone trying to describe the blockchain without using the word "blockchain".https://t.co/tmMKL3cMwJ pic.twitter.com/o86FpSxcwQ

— Peter Thal Larsen (@peter_tl) July 12, 2018
in theory bitcoin and blockchain are completely different

in practice it's always the same bozos advocating both and the same stench permeates both

— Buttcoin (@ButtCoin) July 8, 2018
I have a new favorite way of dealing with bitcoin nerds pic.twitter.com/dJr7Gz78zy

— Quarantine Goth Ms. Frizzle (@spookperson) July 11, 2018
Your subscriptions keep this site going. Sign up today!