Don't forget to sign up to the Patreon. Your $5 or $20 a month really does help. [Patreon]
Click here to get every new post emailed to you as it goes up!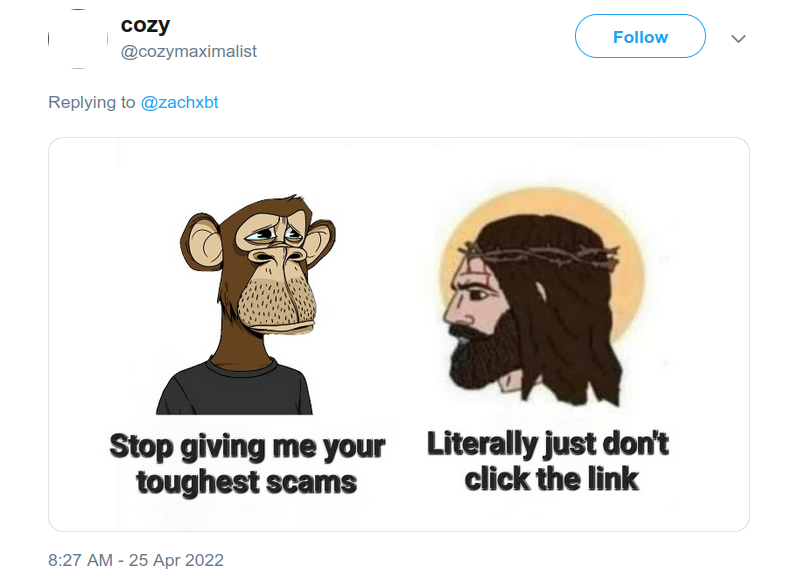 All my apes, influenced
Someone hacked the official Bored Ape Yacht Club Instagram account earlier today, Monday 25 April.
The hacker posted to the Bored Apes Instagram announcing a fake airdrop, with an unofficial "mint" link. If you clicked on the link — goodbye, apes!
The project tweeted: "The hacker posted a fraudulent link to a copycat of the BAYC website with a fake Airdrop, where users were prompted to sign a 'safeTransferFrom' transaction. This transferred their assets to the scammer's wallet." [Twitter]
Yuga Labs got back control of the Instagram … and finally put two-factor authentication on it.
Well-known NFT collections, such as the Bored Apes, have bots watching to buy anything listed below the floor price. So if you steal someone's apes, you can cash out before the NFT is blacklisted by OpenSea.
This means the bot-operating buyer is stuck with stolen goods. Though in practice, the bot-buyer can often sell the ape NFT back to the original owner for more than they paid.
In this search on OpenSea, 8c7934 is the hacker. You can see that OpenSea has finally flagged their address. [OpenSea]
8c7934 transferred out 761.81 ETH (about $2,230,000) — so they've done okay at liquidating their apes. [Etherscan]
The crypto world expressed its sympathy for Bored Apes and their owners: "It's like watching a bunch of people run into a burning building with free money spray painted on it." [Vice]
NFT from a Bridge
Sina Estavi bought an NFT of Twitter cofounder Jack Dorsey's first tweet ever for $2.9 million in March 2021.
Estavi compared Dorsey's tweet to the Mona Lisa. "I believe it's an emerging market and it's just the beginning. All forms of digital arts and creations such as music, photos, videos, tweets and blog posts can be traded in the form of an NFT." [BBC]
Estavi put the NFT up for auction in early April. The highest bid was $277. [Gizmodo]
Between the purchase and attempted sale of his NFT, Estavi went to jail in Iran for "disrupting the economic system" over his Bridge Oracle project and token offering. Officials also seized his Twitter account. [CoinDesk; Mehr News, in Persian]
Estavi put a lot of effort into the public reputation of the Bridge project. Iranian crypto researcher Kave Moshtaq insinuated that Estavi had sent thugs to beat him up for looking too closely into the project, and for showing up in court related to a complaint about Bridge. "After leaving the court, five motorcyclists stopped me in front of the car and hit me. Fists landed on my face." [Twitter]
The Iran Blockchain Community put out a call for information on Estavi after "receiving numerous complaints" about Estavi, Bridge, and Estavi's crypto exchange, CryptoLand, which operated in Iran but was based in Malaysia. [Iran Blockchain Community, in Persian]
Aggrieved CryptoLand investors demonstrated outside the Economic Crimes Court building in Tehran in July 2021. [Twitter]
Mate Tokay, former CEO of Bitcoin.com, had already been planning to sue Estavi for not paying Tokay in Bridge's BRG tokens for his work on Bridge. Tokay warned investors that Bridge was a pump-and-dump — though he didn't say this until he didn't get his own tokens. [CoinTelegraph]
Now that Estavi is out of jail, he says he's trying to make good on investors' money — with a new version of BRG, this time running on Binance Smart Chain.
Previous investors need to send Estavi their phone numbers, with some Tron TRX tokens to verify their holdings. Estavi will send them their new tokens within "a month or two," and return the TRX.
"This gentleman did not swap a single Bridge and started to [list new BRG] in new exchanges," one buyer of the original BRG told CoinDesk. So far, nobody seems to have been given their "new" BRG. But I'm sure it's fine. [CoinDesk]
Fol de rol
Andy Nguyen, a Bored Ape collector, is doing a pop-up burger bar in Los Angeles: "Bored & Hungry." The theme is a Bored Ape that Nguyen paid $267,000 in ETH for. The burgers are apparently worth every penny of a third of what they're charging. Bored & Hungry is open until July. [Amy Castor; LA Times]
There's a pile of lawsuits against OpenSea over stolen Bored Ape NFTs. The plaintiffs allege their NFTs were stolen due to known bugs in OpenSea's code — such as the error that allowed earlier NFT listings to be reactivated in January 2022, letting a scammer buy your ape well below cost. [Vice]
Meet the Fiverr gig workers in poor countries doing underpaid art for NFTs. One Sri Lankan artist, Supuni Suriyarachchi, charges between $500 and $2500 for an NFT collection that takes one to three days. [Vice]
"NFT is so stupid it's actually hard to explain," I tell The Maple about the National Post NFT project. "It is like you purchased a receipt. You have purchased a token that points to a picture." [The Maple]
average conversation with an NFT bro. I promise you will lose brain cells reading this. pic.twitter.com/PmDaVk08tC

— SSG Max 🇭🇰 (@byMaxC) April 14, 2022
the best part about an unregulated currency system is how it requires common sense and vigilance from its holders in order to protect themselves and yet every single person who owns crypto is a credulous, smooth-brained moron pic.twitter.com/DKanf7JySm

— cait (@punished_cait) April 19, 2022
the nft space is a real untamed frontier for scamming and I have to admit I had never seen this one before. this guy gave all his personal info to a lady online who swore she was the pre-eminent NFT lawyer and it turns out shes not a lawyer at all and is now blackmailing him lol https://t.co/7jrO23kG4R

— Steampunk Obama (@KrangTNelson) April 20, 2022
hmm pic.twitter.com/okh27V1RIC

— Molly White (@molly0xFFF) April 23, 2022
🎶
Soon May the Shiller-men come
To bring us scamy NFTs and run
One day, when the pumping is done
They'll leave their bags and go

— Tinfoil 🌻 (@tinfoil_globe) April 23, 2022
Your subscriptions keep this site going. Sign up today!