Prediction markets on Augur — regulated by SMART CONTRACTS! — will solve all ambiguities, and replace lawyers, courts and the spirit of the law! Augur ran a bet on "Which party will control the House after 2018 U.S. Midterm Election?" The Democrats won the election — but the "reporter" on the question is saying technically it's still the Republicans, since it's not January yet. The reporter is "truly sorry for any damage to traders, or to the Augur Community as a whole for this ambiguity" — but not so sorry as not to be this obtuse and obnoxious. There's also gossip of him accepting bribes for this outcome — an obvious prediction market strategy I noted in chapter 10 of the book. "Every story about D&D groups and their use of the 'Wish' spell turns out to be a more accurate prediction of prediction markets than any prediction market could itself produce" — erith.
Remember how the Civil ICO to save journalism went down the tubes and ripped everyone off? That other great blockchain saviour of journalism, Po.et, just laid off a chunk of its engineering team. Po.et is owned by BTC Inc., who own Bitcoin Magazine, Distributed and the Let's Talk Bitcoin podcast network.
The Block ran an article on the Blockchain Terminal ICO being a huge ripoff, run by a serial scammer and convicted hedge fund fraudster. The company objects, and has now sued Larry Cermak, who didn't write the article, and not Frank Chaparro, who did, nor the site itself. The lawsuit is a crazy person rant that even admits the article is sourced.
The IOTA project is still a dumpster fire of toxic paranoia.
The Basis algorithmic stablecoin has shut down and returned the investors' money — it turns out its "bond tokens" and "share tokens" are probably securities. This is quite apart from all its other problems. The people who called out Basis, and similar algorithmic coins, as ridiculous and impossible garbage early on are saying "I told you so."
The AriseBank scam ICO just settled with the SEC — Jared Rice and Stanley Ford are paying a $2.7 million fine, they can't be company directors or officers ever again, and they can't be involved in future offerings of digital securities. Here's the press release. Rice and Ford still have the Department of Justice criminal indictment for wire fraud to deal with.
Crypto hedge fund Pantera admits that maybe a quarter of the ICOs it invested in may have to give all the money back. "While we believe the vast majority of the projects in our portfolio should not be affected, approximately 25 percent of our fund's capital is invested in projects with liquid tokens that sold to U.S. investors without using regulation D or regulation S."
The CFTC seeks public comments on "Crypto-asset Mechanics and Markets" — specifically, Ether and Ethereum. Ether futures are likely stalled until this is completed.
Oh no! Japan might be correctly regulating its overheated crypto market.
Hackers have been scanning and attacking Ethereum miners who've left port 8545 open since 3 December.
Gaming hardware manufacturers Razer have an incredibly scammy deal, where they give you Razer Silver tokens to buy hardware with — if you run their crypto mining software. This is just a front end to Razer's NiceHash account. Also, it's a reskinned version of a similar mining software scam run by a couple of other companies associated with Razer. From the FAQ: "My antivirus software reports Razer SoftMiner as a virus. Is Razer SoftMiner a virus?" "Razer SoftMiner is not a virus or a malware — we use open source libraries to build Razer SoftMiner."
Bitcoin bomb threats are smart in the same way buying drugs on the darknet is — "Pay me ransom in a way that allows third-party verification of my identity via unalterable cryptography, or the puppy gets it."
police in visual contact with suspect behind nationwide bitcoin bomb threat ransom notes pic.twitter.com/Avujo9pE8Z

— Buttcoin (@ButtCoin) December 15, 2018
Early anarcho-capitalist and cypherpunk Tim May has died.
https://twitter.com/JamesLiamCook/status/1074657599189061632
The Block: Mapping out the Coinbase Mafia.
Corey Miller on the EOS Death Spiral. The break-even cost for block producers is $4 per EOS — and it's currently trading around $2.
The Worst Narrative In Cryptocurrencies: "Governments are big bad terrible entities that will print money and ruin society and we can create a better form of decentralized money that won't inflate our living standards away." It turns out this isn't how anything works.
If you've got a problem that can't possibly work, you should give us money to apply a solution that can't possibly work! From PricewaterhouseCoopers in February, the worst future: "Brexit could be the trigger the UK needs to embrace the fourth industrial revolution and unlock the potential of blockchain."
From 2016: The early history of Hyperledger, by Tim Swanson.
Finally — Blockchain comes to the Apple II!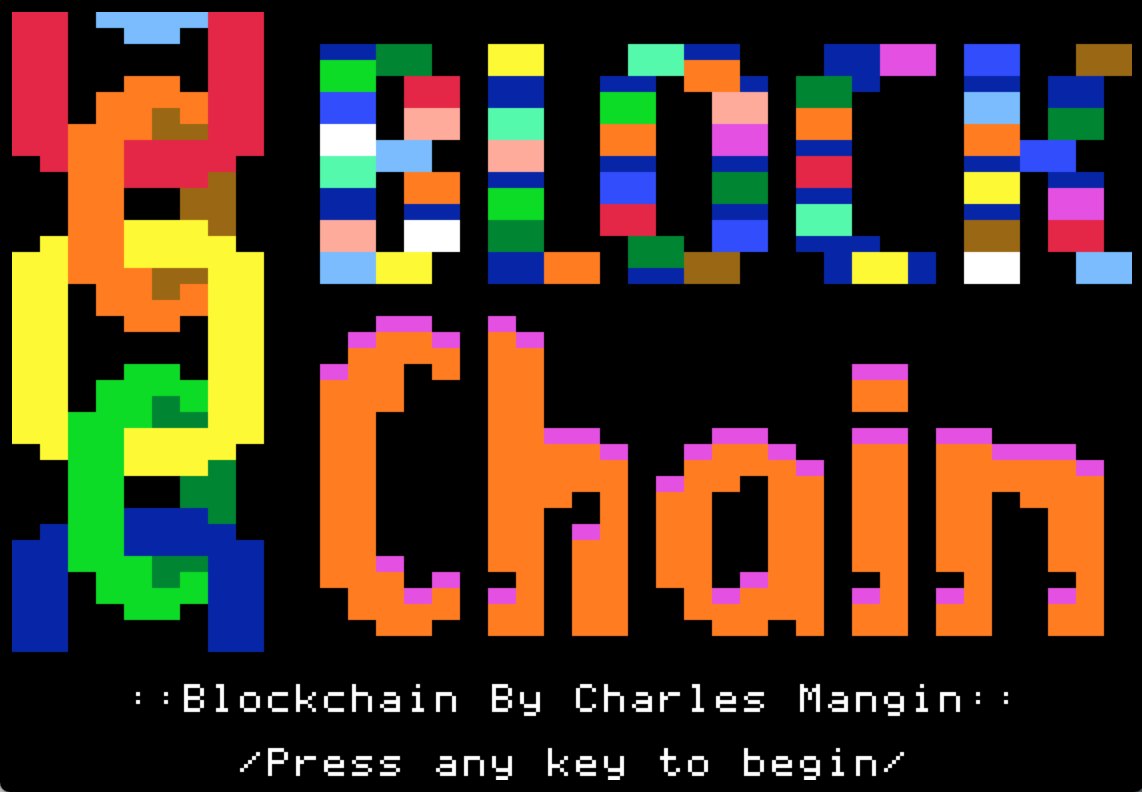 I got up at 5am on Friday to do BBC Five Live "Wake Up To Money", about Initiative Q. You should be able to download it here — Initiative Q is the last story. They interviewed Saar Wilf as well.
https://twitter.com/kcarruthers/status/713517075474427904
Unbelievable. #Bitcoin dropping 80% from ATH and Mr. Satoshi, the CEO, not showing up to provide any kind of explanation.

What's going on here? #Shame #Refund

— Crypto Rand (@crypto_rand) November 21, 2018
Your subscriptions keep this site going. Sign up today!