Crypto traders may not care about market manipulation … but governments do.
The Reserve Bank of India cracks down on crypto exchanges in a correct, thorough and effective manner. "India could be left behind in a crucial area of innovation." Not in this one it won't.
There's also something odd going on with the Twitter accounts of Whalepool members. See also this link-laden Twitter thread.
bitfinex's whalepool soldiers sure are deleting a lot of tweets

— Bitterguy Labs (@ButtCoin) April 28, 2018
Apparently IamNomad locked his account for awhile to do some house-cleaning himself. This tweet in particular is unpinned and GONE… pic.twitter.com/qHPROWBHbE

— Spoofy McSpoofface (@ExkrementKoin) April 28, 2018
IOTA got a long-form writeup in the Financial Times! Mostly about their fan base behaving like belligerent cultists, and documenting the long-running pattern of making threats against people saying anything negative about IOTA. Nicholas Weaver has been having lots of fun with them on his Twitter.
The mainstream coverage of IOTA's abusive behaviour causes fallout — "UCL Centre for Blockchain Technologies is no longer associated with the IOTA Foundation. In relation to recent news report, we reaffirm our support for open security research, as a prerequisite for understanding the assurances provided by any blockchain technology. It is inappropriate for security researchers to be subject to threats of legal action for disclosing their results." (archive)
The IOTA article in Wikipedia got recreated and deleted repeatedly on Monday, to the point where it was salted against recreation — because IOTA cultists just couldn't hold off from being themselves. "If you don't know, IOTA is an underdog that has its knife lined up the the Kaisers heart; we have enemies." um, OK. A draft version has been started, to be based on third-party Reliable Sources, and not entirely on IOTA blog entries.
IOTA is the blockchain currency for body thetans, with decentralized auditing when you get to the Operating Tangle level@jemimajoanna and @alexandrascaggs are clearly (geddit) Xenu here, https://t.co/fr55WE68eT

— Bitterguy Labs (@ButtCoin) April 26, 2018
The IOTA cultists — who make the Bitcoin maximalists seem mild — are not so good at this astroturfing thing:
Top troll tip: if you go to the trouble of using multiple user names to comment, maybe don't just copy and paste the same thing as before. pic.twitter.com/rakK7Is1xG

— Jemima Kelly (@jemimajoanna) April 26, 2018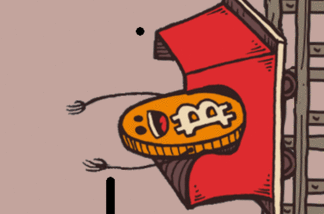 New York Times cryptocurrency reporter Nathaniel Popper gets an ICO promoter asking him to be an advisor. He demurs. It turns out the ICO, urbit.io, has hijacked the name of another blockchain-ish project, urbit.org … which is most famous for being run by the founder of the Alt-Right strain known as neoreaction, Curtis Yarvin. Cryptocurrency as an overcooked lasagna of crooks, scammers and the occasional neo-Nazi.
Yarvin was one of the subjects of Elizabeth Sandifer's Neoreaction a Basilisk (US, UK), the book immediately ancestral to mine! (Yes, the author is called Elizabeth now. You may congratulate her, and also buy her book. My name is in the first sentence.)
Amusing detail in the Silk Road takedown from @davidgerard's book "Attack of the 50ft Blockchain". pic.twitter.com/2aj9ETtcOi

— Stilgherrian (@stilgherrian) April 24, 2018
Oof. pic.twitter.com/XeBopNV0pm

— grubles (@notgrubles) April 26, 2018
and the sequel, Blockchains of Dune by Don Tapscott and Kevin J. Anderson
— RaUL ARTHUR CHARLES AMDERLAINE (@RaUL_AMDERLAINE) April 24, 2018
I saw this first hand. Interviewing candidate who said he was excited about a certain coin. I ask "Isn't that the one with really shady founders?" Him: "… I actually haven't read the whitepaper or anything."

— Chris Lizama (@chrismlizama) April 25, 2018
— Dustin Land (@DustinHLand) April 21, 2018
This multiplayer online crypto investing game is super realistic. You've got everything: "news", "charts", "IPOs", "companies" & "profits".
But to play you WILL need to spend a lot on in-app purchases of coins, because the ones you get for free are pretty useless.
My rating: 3/5.

— Trolly McTrollface (@Tr0llyTr0llFace) April 24, 2018
SFYR pic.twitter.com/JcSCMZlTnI

— Bitterguy Labs (@ButtCoin) April 24, 2018
If all the blockchains got together and protested… @ButtCoin pic.twitter.com/juRnHvZwAZ

— Otsu 光一 (@Brotsu) April 27, 2018
Bring this to your next Satoshi's Vision conference. pic.twitter.com/llJczdZzGA

— 🅂🅃🄾🄿 (@StopAndDecrypt) April 26, 2018

Your subscriptions keep this site going. Sign up today!